Beam Me Up, Scotty! Acoustic Tractor Beam Now a DIY Project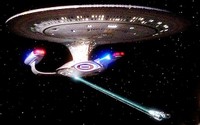 The tractor beam has long been the stuff of science fiction, but it turns out that this technical milestone of nerd culture already exists thanks to developments in acoustic technology. Today, you can find instructions online to build your own tractor beam with a 3D printer. However, because it uses sound, the technology is limited to very small but visible objects. But it's already being used to study the effects on life in space and shows potential as a component in a future medical tricorder. This is just another example of technology predicted by Star Trek.
Acoustic tractor beam technology is so last year. Sure, thanks to a series of coordinated breakthroughs by an international team of physicists from the UK and US tractor beams now exist!