ATSC 3.0: Cord Cutter's Dream or Tiered Internet Nightmare?
ATSC 3.0: Cord Cutter's Dream or Tiered Internet Nightmare?
The FCC has approved the deployment of an innovation in digital broadcast television that could change network TV and wireless networks. The decades old digital broadcast standard that brought us over-air HDTV ATSC 1.0 is about to get a significant upgrade directly to ATSC 3.0. The ATSC is so excited about version 3.0 that not only did they skip version 2.0 (more on that later), they also want everyone to call their new release "next generation TV".
Sorry, but "next generation TV" sounds like something that crawled out of a marketing boardroom. But whatever you decide to call the new standard, if the stated capabilities are real, the ATSC - and cord cutters everywhere are right to be excited.
So, what's all the fuss about this new ATSC 3.0?
If you're thinking the recent hype around ATSC 3.0 means you have to buy a new TV right away, don't worry. Although ATSC 3.0 is coming soon, it's not quite time to go looking for a new compatible TV just yet, and any advice to hold off on the purchase of a new TV so you can wait for one with an ATSC 3.0-compatible tuner may also be misplaced. The fact is we just don't know yet how the business of tech will respond to a world blanketed in ATSC 3.0 signals. But one thing is for sure, ATSC 3.0 should be such a significant paradigm shift that it won't be stuffed into a tuner box inside your TV and forgotten. To reap most of the benefits of the new standard we know of today, it won't matter if your TV is directly compatible or not.

When the next generation TV is deployed it will be the first time that over-air TV will be built on an Internet protocol backbone. This means opening the door to interactive viewing features for televisions, cell phones and other devices. ATSC 3.0 is not only going to be a cord cutter's dream come true, it's likely to give wireless network providers a taste of added competition.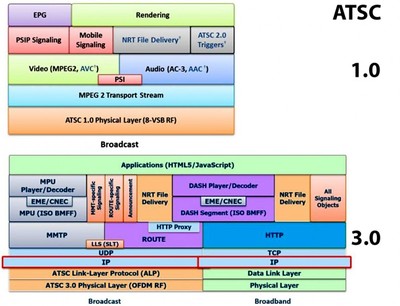 Under the hood of ATSC 3.0 is a digital stack capable of bootstrapping new features well into the future, including transmissions that the ATSC or broadcasters haven't even dreamed up yet. The ATSC's goal was to make this a truly future-proof standard that will relieve today's wireless networks of many of their most common duties. But don't take our word for it - here's FCC chairman Ajit Pai to give us the movie trailer script for ATSC 3.0.
"Imagine a world in which TV broadcasts of your favorite show or new programs were delivered in Ultra High Definition and immersive audio.  Imagine a world in which programming was hyperlocalized and broadcasters could deliver niche content to specific geographic areas within a station's signal areas. Imagine a world that offered Americans with disabilities far better accessibility options for experiencing broadcast television. Imagine a world in which every consumer smartphone could serve as an over-the-air programming device,"

said Chairman Ajit Pai in a prepared statement outlining just a few of ATSC 3.0 capabilities. In other words, ATSC 3.0 will be a free over-air broadcast of the very latest interactive audio and video technology.

ATSC 3.0 Vital Statistics
Imagine a world in which every consumer smartphone could serve as an over-the-air programming device.
Transfer rate: Up to 57 Megabits per second on a 6 MHz channel (up from ATSC 1.0 19.4 Mbit/s)

Video Codec: HEVC/H.265 (ATSC 1.0 used MPEG-2)

Progressive Video: Up to 4K UHD or 3840 X 2160 resolution at 120 FPS

High Dynamic Range (HDR) imaging

3D TV compatible - just in case it makes a comeback

Dolby AC-4 & MPEG-H 3D Audio

Multi-audio track by program

Dynamic range control

Adaptable single frequency network transmission systems for improved over-air reception from ATSC 1.0



But what Happened to ATSC 2.0?
When the ATSC set about improving the digital TV stream, it started off as a logical progression from the 1.0 version that is in use today. It first set about to create a backward-compatible enhancement to resolution. But just as planning was underway for ATSC 2.0, it was already being eclipsed by a much more ambitious plan to totally revolutionize the broadcast medium - the result was ATSC 3.0.

While the new signals won't be backward compatible to your ATSC 1.0 tuner, that shouldn't be a cause for alarm. Once the new broadcast standard is rolled out, networks will share bandwidth so as to send today's digital TV signals alongside the new one. Even if someday broadcasters abandon ATSC 1.0 signals completely, low-cost HDMI or USB dongles could easily take the place of an ATSC 3.0 compatible tuner. We're already seeing this as many TVs sold today are built with no tuner at all - they're referred to as monitors. Low-cost HDMI dongle solutions are plentiful and provide any tunerless HD monitor all the benefits of a smart TV.
ATSC 3.0 Wireless Devices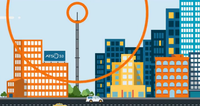 ATSC 3.0 is likely to change our whole concept of a TV tuner. Instead of being part of the internal function of a TV as they are today, many households will find the ATSC 3.0 tuner most beneficial as an external device set-up, alongside the household high-speed Internet modem. We'll be able to plug our new ATSC 3.0 box into into our wi-fi router to extend its capabilities over wi-fi.

The possibilities are significant, as ATSC 3.0 will blur the line between TV and wireless Internet. Sending your home 4K video and multi-channel high-resolution audio is only the beginning. Our very notion of TV will transform as it provides us a free, interactive suite of over-air digital services. For conventional television networks to survive, they'll have to start thinking of themselves not as a broadcast medium, but as competition in the same arena as iTunes, Google Play or Amazon. They'll have to become their own Intranets, complete with in-station apps, programming and features.

We haven't even mentioned that the signal strength of upcoming ATSC 3.0 broadcast promises to be stronger than today's digital broadcast. Those of us who switched from analog to digital over-air broadcast TV learned quickly that our present digital signal strength is weaker than analog. But the new digital standard will make up for this with the inclusion of an adaptable frequency feature that the ATSC says will specialize in, allowing signals to travel further and to penetrate deeper into buildings and basements within range.

That means broadcast TV promises to be relevant again, even as you travel the subway. In the near future you'll be able to pull out your tablet, run your network TV app and start watching a local sporting event.
ATSC 3.0 - The Olympic Connection
While we didn't see much in the way of ATSC 3.0 compatible TVs at CES 2017, next year will be a different story. In fact, ATSC 3.0 may be one of the largest drivers of devices in several categories at CES 2018, from TVs and mobile devices to set-top-boxes, and South Korea is leading the charge.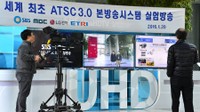 Part of the reason for this is the 2018 Winter Olympics to be held in Pyeongchang, South Korea. As a consumer electronics leader, it's no surprise that South Korea's next Olympic games will not just showcase sport, but also bleeding-edge technology. Korean broadcasters and LG electronics promise to transmit the 2018 Winter Olympics in its full 4K UHD, HDR imaging glory over ATSC 3.0.

In January 2017, LG was already prepared with some of the first fully ATSC 3.0-ready 4K Ultra HD TVs, showcased at CES. By February, LG and Korean broadcaster SBS announced the first ever end-to-end 4K Ultra HD broadcast over ATSC 3.0.

This first in broadcasting was just a test as South Korea prepares for continuous ATSC 3.0 deployment across the nation in time for next year's Olympics. The end-to-end broadcast is an important step forward in proof of concept for the new standard. On the homefront, US broadcasters have demonstrated ATSC 3.0 using pre-recorded 4K UHD material. But the Korean test was the first of its kind because it used a live 4K camera feed complete with real-time IP transmission through the SBS network studio in Mokdong, South Korea.

That's good for South Korea, but US-based networks aren't sitting this revolution out. Presently, UHD broadcasts over "next generation TV" are being tested at WRAL in Raleigh-Durham NC and WJW in Cleveland OH. These markets are destined to be America's early adopters of the format. Over the next couple of years we should see early testing, and then full ATSC 3.0 deployments popping up all over the US. However, the FCC is calling for a voluntary migration to the new standard, so there will be no hard date or a singular nationwide shift. In fact, the FCC proposal will require stations to simulcast today's digital standard alongside next generation TV signals.
Potential Unintended Consequences of an ATSC 3.0 Revolution
Unlike the situation in South Korea, the US transition to television's next generation will likely plod slowly through the continent, arriving first at the larger tech-savvy cities then eventually spreading to everyone else based on projected profit in those markets. There should be a critical mass when the networks find a revenue model for ATSC 3.0 capabilities that makes it a net loss to keep any market back at ATSC 1.0. But what will that look like for us the consumer?

Interactive TV means transactions and revenue streams for networks, either through direct sales or context-sensitive advertising directly to the individual consumer. Direct competition to wireless Internet providers may bring more innovation from ISPs, and possibly relief to your spiralling cell phone bill.

Immediate benefits for cord cutters are obvious - easier-to-receive digital TV transmissions means no reliance on a rooftop antenna, cable or satellite. But it's unlikely ATSC 3.0 will result in any long-term gain for free access to digital entertainment.

In fact, ATSC 3.0 opens the door to fully authenticated, tiered broadcast services. It is surely no broadcaster's long-range goal to rely on the traditional advertising revenue model TV has used for over half a century. Even the influence of online digital advertising is slowly declining, and the next generation of TV will be hungry for new ways to get paid.

Broadcasters may look to a variant of the Netflix model. Perhaps soon we will find ourselves directly crowd-funding subsequent seasons of our favorite TV series. Meanwhile, next gen TV will bring a new meaning to home shopping. Perhaps you'll only have to tap the screen to order replica sunglasses of the ones you're presently watching David Caruso slide onto his face as he utters another dreary quip to start an episode of CSI. Maybe a drone will even drop your new shades off at your front door before the credits on that episode roll. YEAAAAAAAAHHHH!!!!!
The Potential Dark Sides to Free Faux Internet
turning on privacy settings is no guarantee of privacy.
We already mentioned context-sensitive advertising, in any two-way digital digital transmission where you're providing any personal information such as your home zip code, demographic information be sure you look to look for privacy settings and that you have the ability to choose if you want to send your viewing habits, purchases or other online activity. We learned recently that even turning on privacy settings is no guarantee of privacy. But privacy setting do not apply when it comes to the real spying from government agencies like the NSA because when using ATSC 3.0, like any two-way digital communication that knows who you are, you use it under the assumption of surveillance.

Tiered, authenticated broadcast services that look an awful lot like the Internet may seem suspiciously familiar to anyone that was in favor of Net Neutrality. The FCC helped Americans evade a worst case scenario situation by its 2015 move that reclassified broadband Internet to status of common carrier. This means it's illegal for Comcast (or any ISP) to provide tiered internet services, meaning - one inexpensive level of Internet that provides access to its own online content services at high speeds, while throttling speeds on Internet services outside the scope of its own business interests, such as Netflix, YouTube or any number of startups exploring the possibility of Internet technology.
Net Neutrality Recap
A "tiered Internet" was seen as the potential drawback when your ISP also happens to be your content distributor - that's exactly the situation when you subscribe to cable TV and broadband Internet services from the same company. It's a conflict of interests on scale with the prospect of investment firms, banks and insurance companies being allowed to merge. But in this case, a free but selective Internet-entertainment experience, brought to you by many of the same content distribution corporations that lobbied against Net Neutrality, could potentially make a future open-Internet a redundant cost few would be willing to pay for. 
Maybe not at first when ATSC 3.0 looks more like a broadcaster than an online service. But ATSC 3.0 and its "interactive broadcasting" capability coincides with a decline in an open-web experience anyway. Today, apps and one-stop gated experiences like Facebook, Pinterest are the new Internet experience of choice. 
Will the REAL free Internet, please stand up?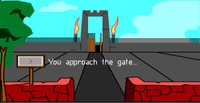 So the question to be answered in the near future is: If everyone receives a (cost) FREE, government subsidized, corporate sponsored over-air, internet-like experience inside a walled garden with pretty curtains covering the bars, will anyone still pay for the open Internet where you're truly FREE to go where you please?

In the 90s we called it surfing the net because it was a novel experience to go where you pleased. The California-inspired verb of choice echoed a no-limits  freedom from "no entry" pages, or any of the consequences of running up against access walls. This was a time when gated, Internet-like communities were the norm. Only the very few could venture outside a Bulletin Board Services and a-la carte online services like CompuServe, Prodigy and AOL. Social media apps inside a free ATSC 3.0 environment could bring a return to these days for the majority of Internet users.

When a content owner becomes an ad-hoc ISP, we know whose content gets priority. Let's go into ATSC 3.0 with our eyes open to the dangers of the tiered Internet services the Net Neutrality Act sought to avoid.
Confused about what AV Gear to buy or how to set it up? Join our Exclusive Audioholics E-Book Membership Program!
Recent Forum Posts:
JohnBrowning posts on January 20, 2020 12:08
And the broadcasters still send up 720p
Wayde Robson posts on January 13, 2020 11:56
BoredSysAdmin, post: 1361397, member: 28046
@Wayde Robson Much better article second time around. It looks like like did your homework

Thanks!
While researching this one I read my way through a kind-of rabbit hole around ATSC 3.0. Putting on my "conspiracy" hat, I really would like to delve into its chances of the broader success some envision for it.
Advocates for the technology seem to talk about it delicately right now, probably because its future remains uncertain. That some major broadcasters in major markets will make it available for some TVs is all we're sure about at present. But nothing beyond that is a slam dunk. And it's capabilities seem to go way beyond just being another digital broadcast medium.
It's difficult to find anyone close to the technology speaking critically about it in either its capabilities or its chances of success. This makes it difficult to gauge exactly what "successful ATSC3.0" really looks like.
The blue sky vision has it being a second wireless Internet. Or it may never be anything more than what it will be by the end of 2020.
I was tempted to try and diagram the "who benefits" equation. Mass-communications industry is tightly wrapped, with wireless network companies that own or are partnered with TV networks. So, it's difficult to tell who would end up competing with who if ATSC3 tuner-chips found their way into every phone.
I really wish the technology the best, the more competition the better for us consumers. So, I hesitate to seem critical of it. But a lot needs to go right over the next couple of years for it reach its "blue sky" potential.
BoredSysAdmin posts on January 09, 2020 21:09
@Wayde Robson Much better article second time around. It looks like like did your homework
highfigh posts on January 09, 2020 08:22
The prospect of TVs spying is one reason I would prefer that they be but purely as monitors, rather than having functions that won't be used, helpful or as useful/functional as when those features are built into other streaming devices. While those other devices will likely spy on us, I would prefer that my electronics not spy one me, by committee.
ryanosaur posts on January 09, 2020 08:11
Post Reply