Goodbye 2016: Lemmy to George Michael - The Year the Music Died
Goodbye 2016: Lemmy to George Michael - The Year the Music Died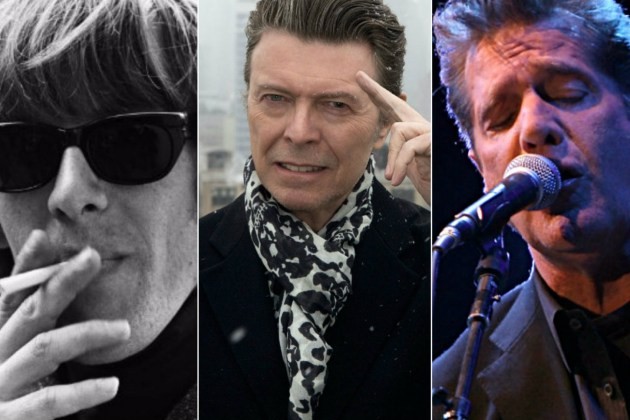 I know it's ridiculous to blame the arbitrary goal posts in time we call a year for the loss of many beloved celebrities in 2016. And I'm certain our perception of 2016 as the grim reaper is skewed by a toxic mix of over-reporting, social media confirmation bias and the damned repetitiveness of hearing about yet another beloved celebrity's death.

When critical analysis is applied to exactly how deadly 2016 was for celebrities, our current year fails to stand out. Stats presented by Snopes shows reporting of celebrity deaths by popular media outlets year-over-year, and there is no significant increase in 2016.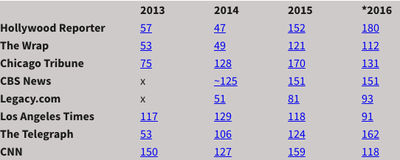 But data aside, I for one will be happy to put this year behind us. It has brought the loss of so many musicians that were loved by so many. For me, the season of high profile music casualties started December 24, 2015 when Lemmy Kilmister, lead singer and songwriter for Motorhead died of cancer at age 70. Motorhead was a cornerstone for both punk and metal. By 1980 the band straddled two musical genres at a time when the music scenes were generally at odds. Long before Metallica, it was Motorhead that united the best of hard-core punk and heavy metal into a single hard-hitting, chainsaw style.

With Lemmy's departure still fresh in our minds we entered January 2016 with a lethal tone already set for the new year. The high-profile musical losses had only just begun.
2016, The Year The Music Died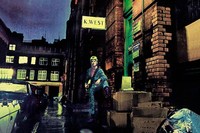 David Bowie - Jan 10, 2016. It's been said that Bowie was so far ahead of his time that he spent the 70s inventing everything progressive and interesting about music in the 1980s. I'm just another faceless fan so I say this with some irony because I didn't actually know him – but I loved David Bowie.

It may have been musically and culturally way before my time (I discovered the album at least a decade late) but The Rise and Fall of Ziggy Stardust is an X-Ray into my soul. The album was released in 1972, and I really wasn't a musically aware teenager until the early 80s. But if the album had been released in 1982 it might not have been as significant to my generation. Every song on that album had a built-in familiarity and reverence. It arrived to me as something that was already in the air but not quite defined. Once I discovered Ziggy Stardust and learned Bowie was a big deal, there remained a world of Bowie's music yet to discover. Many Generation Xers like myself may have felt they grew up under the watchful eye of a wise uncle in David Bowie.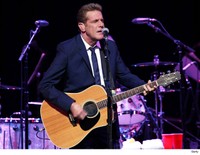 Glen Frey - Jan 18, 2016. Frey was co-founder and frontman for the band that invented a rock genre, the California sound of the 1970s. Volumes have been written about the Eagles influence in music through the 70s. The Eagles were so popular that in retrospect the term arena rock had to be invented to describe the band's live performances. Glenn Frey's many odes to easygoing self-reflection and a laid back manner became the unofficial lifestyle for the decade. It was a peaceful, easy feeling.

By the 1980s Frey had a successful solo career, creating many of the songs that seemed to fill the backdrop of the decade's pop culture. One of those hits was practically inescapable by 1985 – The Heat is On was the theme song to Eddie Murphy and Nick Nolte's comedy 48 Hours. Frey was an artist that proved capable of evolving with the time.

Paul Kanter – Jan 28, 2016. It seemed like just another affront to music too soon after the losses of Bowie and Frey. Paul Kanter was a founding member of Jefferson Airplane, one of the most important bands of the 1960s. Kanter stayed on to guide the music vessel through its Jefferson Starship years.

Maurice White - Feb 3. White was the founder of Earth, Wind & Fire – the most popular funk bands of the 1970s. The EWF guys were still active well into the 2000s, writing new music and renowned for high-energy performances despite their advancing years. Sadly, Maurice White died from Parkinson's disease in Los Angeles CA at 74 years of age.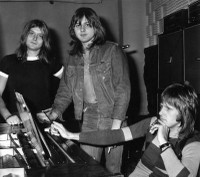 Keith Emerson – Mar 11, 2016 and Greg Lake – Dec 7, 2016. Keith Emerson was the keyboardist for prog-rock band Emerson, Lake and Palmer. Lauded for his technical style, bands featuring keyboards for decades after ELP have Keith Emerson to thank. Before co-founding ELP, Emerson was already breaking new ground with The Nice and after ELP he enjoyed a successful solo career and scoring sound tracks to movies such as Nighthawks starring Sylvester Stallion.

Only six months after losing Keith Emerson, we lost Greg Lake. Lake and Robert Fripp, were the founders of prog-rock experiment King Crimson. Lake was lead vocalist on what is widely consider the original progressive rock album, In the Court of the Crimson King. Lake left King Crimson in 1970 to work with Keith Emerson to form the first-ever prog-rock super group, Emerson, Lake and Palmer. The band was a threesome of already well-known musicians that took prog-rock to a whole new level of popularity selling out giant venues like Madison Square Garden long before bands like Genesis or Led Zepplin had that kind of traction.

Merle Haggard – Apr 6, 2016. While the Nashville system lorded over country music with an iron fist, effectively stifling creativity in the genre, Merle Haggard emerged as the antidote to what had become a complacent industry. Haggard and a handful of country music outsiders defined the "Bakersfield sound", an alternative to the pop country music of the day.

The sound coming out of Bakersfield was leaner, not so overly produced and a little more rough around the edges than what was coming out of Nashville. Haggard found kindred spirits in Waylon Jennings and Willie Nelson and together would become known as country's outlaws, influencing a new generation of raw, back-to-basics music that extended well beyond country.
Prince – Apr 21, 2016. In the 1980s, Prince emerged as one of the greatest talents in music. He had a unique style with frenetic, sexualized energy that combined funk and rock gift-wrapped in pop-music hooks. His music was at once a product of its day and somehow otherworldly. Prince cannot be easily defined by his hits. 80s pop anthems like Little Red Corvette and Let's Go Crazy are only the surface of a deep well of talented song writing. To really appreciate the depth of Prince's work you have to let one of his albums play through. At a time when album was shorthand for a hit song or two and a bunch of filler – Prince gave no filler. Every album Prince created was as lean as the figure of Prince himself during one of his energetic live performances.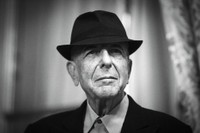 Leonard Cohen – Nov 7, 2016. The Canadian singer songwriter's six-decade career began a career in the late 60s. There is raw power in his lyrical poetry and even if you're not so familiar with Cohen's work you've heard his songs covered countless times. Only Bob Dylan and perhaps Paul Simon carried more renown from the acoustic folk tradition.

George Michael – Dec 25, 2016. George Michael was only 53 years when he died on Christmas day. Another 80s pop music icon taken too soon, George Michael started his professional career the leader of the pop duo Wham and went on to sell over 100 million records worldwide.
2016, The Year the 80s Died
This list was only a sample of the important musicians that died in 2016. There were so many more too numerous to mention in one article. There were also legends from other genres. In sports we lost figures that are easily part of the "best ever" category in their respective games - Muhammad Ali, Gordie Howe and Arnold Palmer.

We can't even talk about the tragedy that was 2016 without mentioning the beloved actors lost this year, from Carrie Fisher and only a day later her mom Debbie Reynolds, to Gene Wilder, Alan Rickman, Garry Shandling, George Kennedy and yes, even Abe Vigoda all lost to us in 2016 – and that's just a tiny sample.

I try to tell myself that when we're tallying up these numbers, we're only shedding undue light on something numerically insignificant from an ill-defined set that we call "celebrity". But it just doesn't feel that way. I'm generally ambivalent about celebrities. I may have appreciated their work but I don't pretend to have known any of them or to mourn them as I would a friend or acquaintance. But this year, I really took some of these losses personally.  Many of these people were such an icon of the 1980s, especially if you grew up then.

Perhaps what really brought the celebrity tragedies of 2016 home was the loss of an old personal friend, Patrick Hunt. I looked up to Patrick, he was a movie fanatic and veteran of Canada's peace keeping campaign in the Congo. Patrick was also a celebrity in his own right, he appeared in bit-parts in several Hollywood films including The Dirty Dozen where he played a Nazi on screen long enough to be gunned down by Donald Sutherland.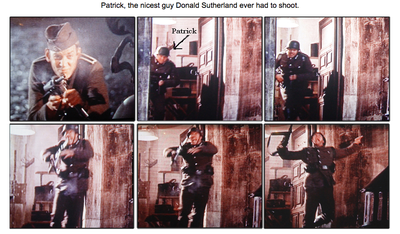 Farewell, Patrick. Good-bye 2016 and good riddance!