Interview Cary Christie of Artison Audio
Interview Cary Christie of Artison Audio
Artison Audio
We got a chance to pick the brain of Cary Christie, a legend in the audio industry and co-founder of Infinity Loudspeakers. This interview will give you an historical perspective of Cary's contributions to the audio world as well as his roadmap for his current company Artison. If you are looking for a killer sound system with high WAF that is virtually invisible, you owe it to yourself to check out the very innovative products coming out from Artison.
Audioholics: Please provide a background of Artison, including the founders, roots, past accolades and the purpose of the company.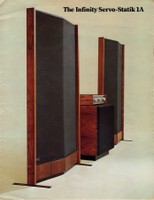 Cary Christie: I have been in the Audio business during the years where it evolved from an enthusiast stereo Mom & Pop shop to where it is today as a mainstream highly competitive industry.  During the early years as a hobbyist I designed and made my own speakers using technologies that were available to improve performance.  I met Arnie Nudell and his friend at a Hi Fi store in the San Fernando Valley…they too were audio enthusiasts.  They had developed a subwoofer with a feedback loop to substantially improve bass performance.  They needed someone to build them some cabinets (I loved rosewood) so we got together and created the Servo Statik One….that was the start of Infinity systems.
If you look at the innovation in that product it pretty much describes what we did at Infinity.  We were always thinking "outside the box", and over the years created several revolutionary products…The world's first servo controlled subwoofer, the first sub/sat system, the first high energy electrostatic, first use of Kapton in a speaker, first class D amplifier, first FET Preamplifier, First Ultra Low Mass Tone Arm, First use of High Energy Rare Earth Magnet speakers (EMIT, EMIM, L-EMIM)…the list is long and fun.
After 25 Years I left Infinity and started Christie Designs, developing Audiophile Level Speakers as a consultant (Epsilon first monopole use of planar drivers). I started Christie Designs which was purchased by Recoton Corp to develop an audio division.  We purchased Acoustic Research where I came up with the idea of making a flat On Wall type of speaker that would go with the "new" Plasma televisions.  My son, Cary II had started an automotive speaker company named Illusion.  One of his products was a driver with an inverted magnet to make a larger driver shallow enough to go in the front kick panel of a car.  We used his woofers in Phantom which was introduced at CES 2000.  This was the first On Wall Speaker designed to focus on the new flat panel display market. I decided to start Artison to focus on this new category of speaker systems with an evolution of Phantom, called Portrait.  
AH: What are the major design goals of Artison Products?
CC: Artison was founded in 2003 to develop speakers and other audio products that would pursue the highest levels of audio performance while finding ways to cosmetically integrate them into a room.  The first opportunity was presented by the plasma flat panel display, which created a new category for televisions and the associated audio components that would be needed to complement this new stylish TV.  We strive to find new and innovative ways to improve performance, shrink size and reduce cost of AV products.
AH: What are the major challenges of meeting these product goals?
CC: Having to find or invent the technical tools available to create a design concept as dictated by the market directed product definition.  A good example is the need for high bit rate wireless transmission chip sets which allow Hi Def audio or internet/router speeds to provide the bandwidth to stream 4K+ content, etc.
Artison Masterpiece LCRDM MK2 Speaker System
AH: Please explain the driver array of products like the Masterpiece LCRDM MK2.  (i.e. why so many small drivers in 2 vertical stacks , where are the tweeters, etc.) 
CC: The two rows of drivers in the Masterpiece are two independent channels …one is ½ of the center channel and the other is either the right or left channel.  By having two center channels that play the same information, the sound appears to emanate from the center of the screen.  The drivers have a response from about 150Hz to beyond 20KHz each.  By arranging them in a short line with a slight vertical arc we create the effect of a single full range driver that is about 1" wide and a little over a foot tall. The advantages are perfect horizontal polar response flat to 14KHz to 90 degrees off axis. The drivers stay in piston mode to 14KHz due to their size and therefore reduce distortion. The speaker is uniformly driven by 8 voice coils so it is very linear. The combined Sd (piston area) allows the drivers to be played as low as 600Hz and keeps the distortion low because of not using the driver in breakup mode. Transient response in the midrange is significantly improved because of the low moving mass.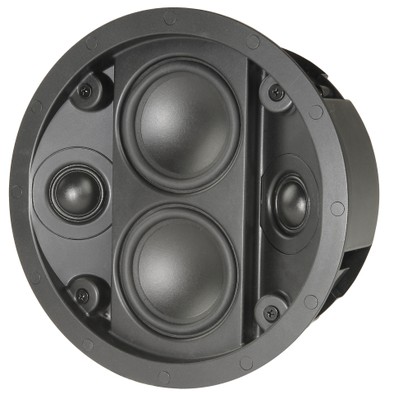 Artison Mezzanine Surround Speaker
AH: How does the Mezzanine surround speaker work? 
CC: Mezzanine is a hybrid design where the audio signal is Monopole at frequencies below 3.5KHz and Di-Pole at the frequencies above 3.5KHz.  Experimentation with a monopole below that frequency and a dipole above that frequency gave a good balance between those sounds that needed a directional component (people, planes, helicopters, etc.) and music where ambience and a non-directional sound is more desirable.
AH: What Artison products do you recommend using as Atmos Height channels? 
CC: The Mezzanine works great for in-ceiling applications.  We have not found a reflected type of design that really works well so we don't recommend or have a speaker for that application.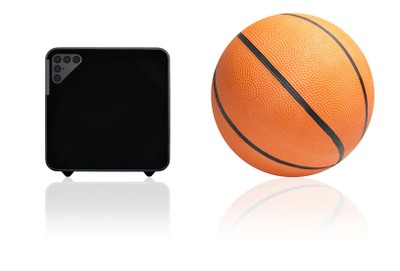 Artison Nano Subwoofer
AH: Tell us about your Nano1 sub.  Why does it cost so much? 
CC: Smaller is always much more difficult and expensive to make….especially if you want performance.  For example, the drivers that are used in Nano are very expensive do to the demands put on a small low frequency driver…XMAX (throw), efficiency, power handling, etc.  The power to get by the stiffness of the small box is extraordinary.  Most of the small subwoofers on the market use a 6.5" active driver and one or two "Passive Radiators" which are basically ports that have a diaphragm tuned to a given frequency.  What this means is that they are not controlled by the amplifier or music signal except to resonate at their tuned frequency.  There is a sort of loose, boomy sound that is produced by these types of designs.  We use 2 active drivers in what we refer to as a Reactance Cancelling Configuration.  Newton's 3rd law of motion is that for every action, there is an equal and opposite reaction. By placing both of the Nano's drivers back to back and in phase, the reactive forces cancel one another out and the energy that is wasted moving the box and creating unwanted vibrations.  The Nano and the other small subwoofers on the market may look the same on the outside, but that's where the comparison ends.
Artison Backpack P5 5CH Integrated Amplifier/Controller
AH: Can you give us some insights of products soon to be released?
CC: Our biggest (already announced and demonstrated) product is "Backpack".  This is a full-fledged Integrated amplifier but measures only 11.75" x 11.75" x 1.125", yet it has five Class D amplifiers that operate in a new way to eliminate the "digital sound" some Class D amps are known for while still being very efficient.  The front three channels are 100 watts each and the two surround amplifiers are 50 watts each.  This is not some mini amplifier struggling to put out 15-25 watts.  With multiple HDMI inputs, decoding capability, and installation flexibility this compact powerhouse will replace many AVR's.  These AV products are designed principally to work with the new streaming software. As audio becomes an expected part of video and we move towards applications that go beyond the traditional Home Theater such as SKYPE and Pandora, etc. the value to a true incarnation of the Holodeck will change the value proposition of an AV system to something that is finally a true investment for the home.

For more information, visit Artison

Confused about what AV Gear to buy or how to set it up? Join our Exclusive Audioholics E-Book Membership Program!
See also:
Recent Forum Posts:
Pun posts on August 28, 2016 02:04
Hey this is deffently off topic but just a question I wanted your opinion, have you had a chance to listen to either preamp from Yamaha or marantz the cx5100 or the 8802a and if yea which would you say out of the two you liked best.

Thanks
chris_w posts on August 21, 2016 06:47
Hi Gene

I love the use of multiple magic pebbles under the large screen in Artison's first picture on their website

I've always thought servo-ing was the way to go for subs as it give so much more control.
The RCC320R & RCC640R look to be an interesting concept, shame we didn't get to here more about them in your interview. BTW are those B200 drivers in there?

Chris
BoredSysAdmin posts on August 11, 2016 10:17
one tiny remark, not interview itself, but on Artison website itself.
Putting QR barcodes to join mailing list on web page is akin to this :
K5fn087Jk4I
j_garcia posts on August 11, 2016 10:01
Interesting interview!
gene posts on August 10, 2016 23:10
We got a chance to pick the brain of Cary Christie, a legend in the audio industry and co-founder of Infinity Loudspeakers. This interview will give you a historical perspective of Cary's contributions to the audio world as well as his roadmap for his current company Artison. If you are looking for a killer sound system with high WAF that is virtually invisible, you owe it to yourself to check out the very innovative products coming out from Artison.
Discuss "Interview Cary Christie of Artison Audio" here.
Read the article
.
Post Reply