Mobile MQA Goes Mainstream Via Tidal's Android App
Mobile MQA Goes Mainstream Via Tidal's Android App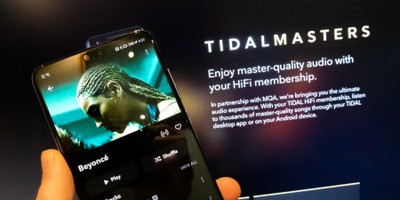 Tidal makes Android Devices MQA ready
The average Joe may be happy to listen to music at the low-resolution quality offered by Spotify and Apple Music, but uncompromising audiophiles tend to prefer the lossless streams provided by Tidal. Two years ago, Tidal upped the sound-quality ante even further with the introduction of its MQA-powered Tidal Masters service, which delivers high-resolution music (usually 24-bit/96kHz, but sometimes higher) guaranteed to sound "as flawless as it sounded in the mastering suite." But Tidal isn't the only option for high-res streaming. A new contender called Qobuz recently launched in the US this year (after a succesful beta-testing program) with a catalog of 40 million CD-quality tracks and over 2 million hi-res tracks. The new service is available on iOS, Android, Mac, and Windows. So how will audiophiles choose between Tidal and Qobuz? Tidal fans will be quick to point out that the use of MQA's clever audio origami tech allows high-resolution files to be "folded" into smaller, standard-resolution packages. As a result, Tidal can deliver high-res music without requiring a huge amount of bandwidth — this is especially important when it comes to mobile streaming. MQA also claims that its files sound better, but for the sake of this comparison, we'll ignore that component. We do plan on doing a full detailed comparison report on Tidal vs Qobuz later this year so stay tuned for that. The folks at Qobuz will surely stress the fact that their FLAC streams don't necessitate the use of any specialized equipment to crank out high-res tunes. Any device capable of playing high-resolution files can handle a FLAC file, whereas MQA is a closed system that requires the use of certified hardware and/or software to deliver the high-resolution goods. So far, the only mobile devices that have been able to decode MQA are a couple of smartphones from LG and Essential, and a few high-end digital audio players from Astell & Kern and Sony. For Qobuz users, the downside is that high-res FLAC files are up to seven times larger than comparable MQA files streamed via Tidal. That's not a problem when streaming at home over broadband, but when you want to stream on the go, it's a different story. Not only will you need a fast cellular connection for your mobile device, you'll also need an unlimited data plan. Without one, you'll chew through your allotted gigabytes of data in no time.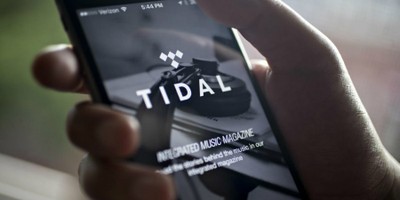 This may sound like a lot of factors to consider, but at CES 2019, Tidal and MQA made a major announcement that might help tip the scales in their favor. The latest update to Tidal's Android app has the MQA core decoder built into the software, making Tidal's high-res Masters content available on all Android smartphones and tablets.
In the press release, MQA's CEO Mike Jbara said,
"We know that most music fans are choosing to stream on their phones. MQA's view is that you should have the best quality sound regardless of where you're listening. We're delighted that, through our ongoing collaboration with Tidal, access to master quality audio is now expanding across mobile."
Lior Tibon, Tidal's COO, added,
"This is a major advancement for the audiophile community and Tidal's HiFi members. As our platform evolves, our partnership with MQA continues to expand and cements our position as a leader in the High-Fidelity audio space."
It's worth pointing out that the MQA core decoder included in the updated Tidal app only performs what MQA refers to as the "first unfold" of the company's audio origami. That means that the resulting audio resolution maxes out at 24-bit/96kHz, even if the original file was 24/192 or higher. The core decoder also doesn't provide MQA rendering — a process in which small audio adjustments are made to compensate for a given DAC's sound signature. If you want the full MQA experience, you'll need to connect your mobile device to an MQA-capable DAC, such as Audioquest's Dragonfly Red. And you'll need to use the right playback software, such as the latest version of the USB Audio Player PRO app, which now includes the MQA core decoder as well. But even without going to these lengths, Android users can now benefit from a large portion of the Tidal/MQA high-res ecosystem, without any extra effort. (It remains to be seen whether Apple iPhone users, such as myself, will eventually enjoy the same perks, but if you're interested in streaming MQA on your iOS device, you should check out an app called Amarra Play.)
The announcement that all Android devices are now capable of decoding MQA (via the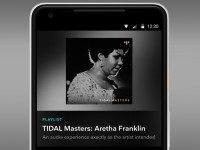 Tidal app) represents a major milestone on MQA's path toward mainstream adoption, but it wasn't the only MQA news to come out of CES. The once-dominant smartphone brand BlackBerry (which now focuses on software rather than on building phones) also demonstrated an MQA-powered "proof-of-concept" listening experience in conjunction with the electric car company Karma.
"MQA in the car is the natural progression, with MQA the only solution for enjoying studio quality sound on the move – be that smartphone, portable device and, now, automobile."
- said Mike Jbara
"We're privileged to be working with so many exceptional partners spanning automotive, hardware manufacturers, music services, and record labels, with the shared aim of delivering the best sounding audio to the widest possible audience."
Will 2019 be the year that MQA delivers on its promise to completely change the landscape of mainstream music delivery? And will Tidal remain the go-to streaming service for American audiophiles, or will Qobuz's native high-res streaming draw listeners away from MQA's potentially confusing ecosystem?
Confused about what AV Gear to buy or how to set it up? Join our Exclusive Audioholics E-Book Membership Program!