Definitive Technology Demand D15 Tower Speaker Review
Definitive Technology Demand D15 Tower Speaker Review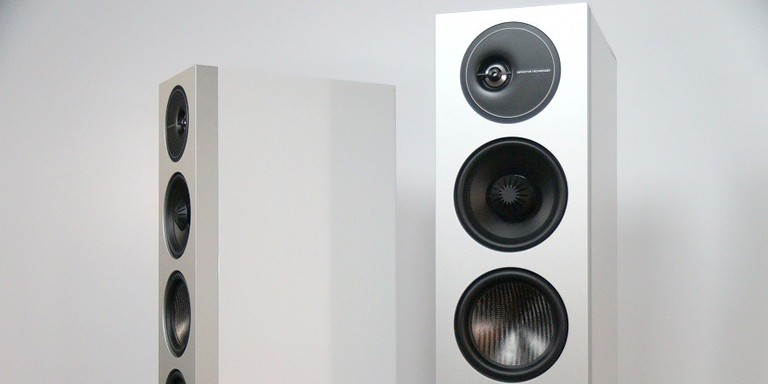 Definitive Technology D15
Product Name: Demand D15 Tower Speaker
Manufacturer: Definitive Technology
Performance Rating:
Value Rating:
Review Date: July 13, 2020 07:00
MSRP: $ 3,398/pr
Type: 3-way Tower Speaker
Tweeter: 1" (2.54 cm) d (Round) Annealed Aluminum Dome and Laterally Offset
Midrange: 5.25" (13.34 cm) d (Round) Polypropylene BDSS Bass - Midrange
Woofer: (2) 5.25" (13.34 cm) d (Round) Carbon Fiber woofer - Mid/Woofer
Passive Radiator: (2) 8" (20.32 cm) d (Round)
Frequency Response: 39 Hz → 24,000 Hz
Nominal Impedance: 8 ohms
Sensitivity (1 watt @ 1 meter): 85.5 dB
Lower and Upper -3dB Limits: 48 Hz → 22,000 Hz
Peak Power Handling: 300 watts
Tweeter/Midrange Crossover Frequency: 2500 Hz
Midrange/Bass Driver Crossover Frequency: 450 Hz
Weight: 52 lbs (23.59 kg)
Dimensions (HxWxD): 40.78" (103.58 cm) x 9.05" (22.99 cm) x 12.86" (32.66 cm)
Available finishes: Gloss Black, Gloss White
Warranty: 5 years
Pros
Very neutral on-axis response
Excellent imaging ability
Very good build quality
Good dynamic range
Extremely good industrial design
Cons
Average low-frequency extension of 39 Hz
Relatively insensitive for floor-standing speaker
Definitive Technology launched their 'Demand' series loudspeakers back in late 2017 with three different bookshelf speakers. Two and a half years later they have finally expanded their Demand series line with two floor-standing speakers and a center speaker with the D15, D17, and D5C respectively. The difference between the two floor-standing speakers is that the D17 uses slightly larger drivers which should give it a bit more bass extension and slightly more dynamic range. In for review today, we have the D15. The Demand towers are unusual in that they occupy a similar price range as other floor-standing speakers from Definitive Technology, namely the BP-9000 series. It is not often that loudspeaker manufacturers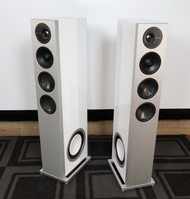 have lines similarly priced in the same company.
There are two key differences between the BP-9000 and Demand product lines. One difference is that the BP-9000 series use a bipolar design where sound is projected from the rear of the loudspeaker. This should make for a sound infused with more late reflections which have been shown to increase listener envelopment, although that may come at the cost of a wide soundstage and precise stereo imaging. Another difference is that the BP-9000 series uses built-in powered subwoofers. That takes a load off of the user-provided amplifier. However, with the prevalence and flexibility of powerful and affordable subwoofers, built-in powered subwoofers are more of an appeal to those who do not want to devote floor space to stand-alone subs.
In comparison, the Demand series is a much more conventional loudspeaker design. The exclusion of rear speakers may make for a more acoustically predictable speaker with finer imaging and a wider front soundstage. The absence of a powered subwoofer section makes integration with outboard subs less complicated. So while Definitive Technology has two different lines occupying a similar price range, in my opinion, they are different enough to justify their availability. Definitive Technology seemed to want to offer a more conventional alternative to their BP-9000 series, hence the reason for the creation of the Demand tower speakers.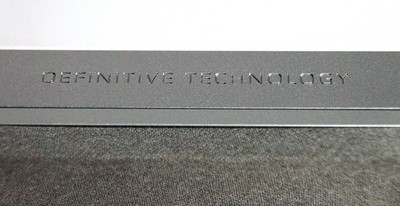 Let's focus on the Demand D15 itself for a moment. At $3,400 a pair, they certainly are not cheap but nor are they extravagantly expensive either. It's a simpler loudspeaker design than Definitive Technology's other floor-standing speakers, and if this simplicity is an exchange of complexity for higher quality, that can be a welcome trade. This is not to say that the design is simple, and we will get into the various aspects of its construction in our 'design analysis' section, but it is a lot more of a traditional loudspeaker than the BP-9000s. There are a lot of traditional floor-standing loudspeakers in its price range, however, so what does the Demand D15 do to separate itself from the rest? Let's find out…
Appearance
Upon arrival, the D15 speakers do need a slight amount of assembly by screwing in a metal plinth to the bottom and screwing feet into the plinth, but that is easy and takes less than 5 minutes. Following directions on the box, this should be done before unpacking the speakers. Unboxing the D15's reveals them to be a strikingly modern design. The boxiness of the cabinet is not at all softened by corner rounding, and, in fact, the design embraces it with hard right angles at all corners. This is an effort to contrast the many circles of the drivers that are emphasized with black cones against the light aluminum front baffle. The all-aluminum front baffle provides a very attractive and high-end element to the appearance, and, to be honest, I am surprised to find something like that in a speaker at a price this low. While the industrial design here is striking, I don't think it is 'loud' in that it will become the center of attention in most rooms. For those who want a tamer appearance, the grille hides the front baffle with a light-silver fabric and gives the speaker a much more minimalist look. The grille uses magnetic adhesion, so it has no grille guides to interrupt the smooth appearance of the front baffle. With the gloss white finish (a gloss black finish can also be had), the grille'd D15 is so minimal that it looks almost like a piece of abstract art. Normally, I think grilles make the speakers just look dull, but that is not the case here. Strangely, there are few images of the D15's with the grille on posted to Definitive Technology's product page.
There are 8" passive radiators on both sides of the speaker that have a gloss white cone and are easily the nicest-looking passive radiators I have ever seen. The tweeter is an aluminum dome that is partly obscured by a phase lens and has a mirror-image offset in a large black faceplate. It almost resembles an eye that is looking off to the side. The midrange driver has a large phase plug that Definitive Technology has used in past designs. I have never cared for the way it looks in the past, but somehow it isn't as visually obtrusive here. The bass drivers have a sleek-looking carbon fiber cone. Altogether, I think it's an interesting looking speaker with or without the grille. I am guessing that even people who normally object to the appearance of speakers will get along with these when the grille is in place. In the Gloss White finish, they would fit right in any brightly colored decor. All-in-all, the Demand D15 speakers look quite nice.
Design Analysis
The Definitive Technology Demand D15 loudspeakers are a three-way floor-standing design that uses passive radiators to augment low frequencies. In such broad strokes, that isn't a particularly unusual design, but there are a host of design innovations that do set the D15s apart from other tower speakers in its class.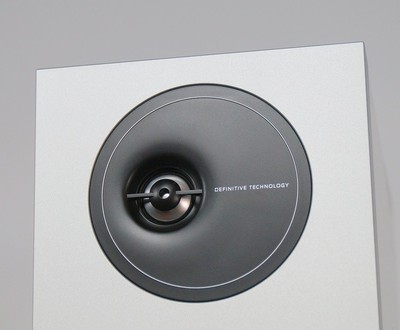 Let's begin our discussion starting from the top and going down, so let's talk about the tweeters. The D15 tweeters use a 1" aluminum dome mounted in a shallow waveguide. The aluminum of the tweeter dome is annealed, which means it has been softened by bringing the aluminum close to its melting point and then allowing it to cool slowly. This process dissolves the crystalline structure of the metal, and, in its recrystallization, it becomes softer. In its softer state, it has increased the damping which can tame break-up modes in higher frequencies. It should make for a smoother sound, especially with those people who are sensitive to higher treble frequencies. There is a plastic piece with partly covers the front of the tweeter that is a phase lens that Definitive technology calls the '20/20 Wave Alignment Lens.' Its purpose is to block sound from the tip of the tweeter dome from interfering with sound emanating from the sides. It could also serve as protection for the fragile diaphragm of the tweeter dome.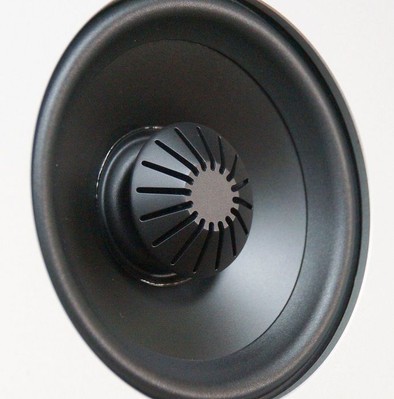 The midrange driver is a 5.25" polypropylene design that is quite unique to Definitive Technology that they call the 'BDSS Woofer,' which stands for 'Balanced Double Surround System.' It gets that name because the cone uses two surrounds: one surround on the outer edge of the cone and one in the inner edge that attaches it to the phase plug. Definitive Technology claims that this double surround system allows greater linear excursion. In theory, it should be possible that two surrounds could provide a more controlled excursion from the suspension components, although I can't imagine that would provide a huge increase in excursion. This particular midrange phase plug is also something only seen in Definitive Technology loudspeakers, and they call it the 'Linear Response Waveguide.' It's the largest phase plug I have seen, and that is probably why Definitive Technology calls it a waveguide, although it certainly does not function as a traditional waveguide. It looks to me like it just does what normal phase plugs do which is blocking wavefronts from the different areas of the cone from colliding and interfering with each other. It just does it a lot more than normal phase plugs.
For the bass drivers, the D15 uses two 5.25" carbon-fiber cones. They look nice and have a beefy surround and so they should be quite capable in bass frequencies. They are also used to power the two 8" passive radiators on the sid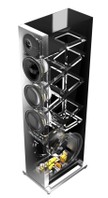 e of the speaker. Definitive Technology claims a lower -3dB limit of 48 Hz for the D15, so these radiators should be very competent down to 50 Hz at least.  I wasn't able to get a close look at the bare drivers since a trim ring covers the frame screws, and removing the trim ring can be a bit risky since it is glued on.
The crossover circuit is a pretty formidable piece that uses a multitude of higher-quality components such as metal-film capacitors and air-core inductors. There is a second-order acoustical crossover between the bass driver and midrange driver at 450 Hz and a third-order crossover between the midrange and tweeter at 2.5 kHz. The D15 has two sets of five-way nickel-plated binding posts for those who want to bi-wire or bi-amp the speakers. This is a feature that most upscale speakers are supposed to have but in reality, it is not very useful. The advantages of bi-wiring or bi-amping a speaker like this are negligible and not worth the potential for problems that can occur for those who attempt those types of connections.
All of this technology is set in a very slick MDF cabinet with the aforementioned aluminum front baffle that is 6mm thick. The side panels and bracing are all 18mm with the bracing designed and positioned with FEA analysis for optimal stiffness of the cabinet. The midrange is enclosed within its own heavily-damped compartment in the cabinet so that back waves from the bass drivers do not affect the cone position. A good amount of polyfill stuffing is placed in the cabinet for internal damping. The speaker is set on a square aluminum bass with the choice of spiked feet or rubber feet. The cabinet feels solid and inert.
The Demand D15 speakers look like a well-designed and competent loudspeaker, but, as with any high-end loudspeaker, its objective is ultimately to sound good. Let's finally give it a listen to see how it achieves that goal...
Listening Sessions
In my 24' by 13' (approximately) listening room, I set up the speakers with stand-off distances between the back wall and sidewall, and equal distance between speakers and listening position. The speakers were set up to face the listening position directly. Listening distance from the speakers was about 9 feet. Amplification and processing were handled by a Pioneer Elite SC-55. No room correction equalization was used. Subwoofers were used for some content that contained deep bass frequencies.
Music Listening
The soundstage was outstanding, and each instrumental section was easily localizable.
One hi-res 96kbps/24-bit album that I found to be a superb recording on Qobuz is a recent release of some Bach works: 'Magnificat' and 'Cantata No. 63, Christen, atzet diesen Tag.' This release, entitled 'Bach: Magnificat (Live, Chapelle Royale de Versailles),' comes from the new classical music label Chateau de Versailles Spectacles, which, as its name suggests, is tied to performances at the historic Chateau de Versailles. The music was performed by La Chapelle Harmonique, which is a choir combined with a period-instrument orchestra that was founded by string instrument player Valentin Tournet in 2017 (when he was a mere 20 years old). The musical artistry and production is second to none in this recording, and anyone looking for some of the finest recorded performances of these pieces by Bach need look no further.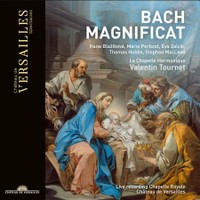 So how did the Definitive Technology D15 speakers sound with such a talented group of musicians performing these exquisite compositions recorded in such a legendary acoustic space? From the first notes, the sound was enthralling. Each musical section was distinct and crystal clear. The vocals, strings, woodwinds, brass, and percussion were all so vividly rendered that I can't help but use the word holographic, much as I try to avoid it in my reviews. Now, much of these qualities are matters of the recording, so it's not as if the speakers can make an unremarkable recording sound amazing, but what I learned right away is that the D15 speakers will allow an exceptional recording to fulfill its potential. The tonal balance across vocals and instruments seemed to be very good. The soundstage was outstanding, and each instrumental section was easily localizable. The lead singers had very well-defined positions throughout the width between the speaker's placement, and the concert hall ambiance extended well beyond the speaker's boundaries. Bass was well controlled with extension that easily covered the lower frequencies contained within this album. I'm not sure what more one could ask for from a loudspeaker in the reproduction of 'Bach: Magnificat (Live, Chapelle Royale de Versailles).' I suppose that a speaker of this design might struggle in a large room if tasked with playing very loud levels, but for a normal-sized room like my 24' x 13' room, they had all the dynamic range I could ask for and would be sufficient in this respect for all but extreme SPL junkies. By the end of this album, I knew that the D15 speakers would be a great choice for any lover of classical music.
For something more focused on a single voice, I found a great choice in the album 'Birds o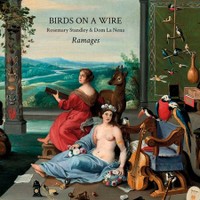 n a Wire' by the duo Dom La Nena and Rosemary Standley who perform together under the name Ramages. This was another hi-res new release that I found on Qobuz. This is folk music that is mostly sung in French but there are a handful of songs sung in English, Spanish, Russian, and Italian. The instrumental accompaniment is fairly simple and mostly only consists of a cello and guitar but occasionally other instruments will make a contribution. This is simpler music and gentle music. Some of the tracks are cheerful and celebratory, but others are sorrowful, and the cello is a great instrument to evoke sadness. Rosemary Standley's smooth voice is the star of this show, and her singing is relaxed and melodic. Her vocal range may be limited but her control within her range is excellent.
Standley's voice sounded lifelike and radiant on the D15 speakers. Her voice was squarely imaged in the center between the speakers. There is no ambiguity in the soundstage of the D15s. The accompanying instruments also had very well-defined positioning. Bass from the plucked cello was strong without being overbearing at louder volumes. The clarity of the individual instruments was terrific even as they took a backseat to the vocals within the recording. These are pretty speakers, so one thought that occurred to me was: were the pretty looks of the speaker biasing my perception of the sound? Maybe, but usually, I suspect pretty speakers put aesthetics and industrial design first and sound reproduction performance second (if even that high up the list in design priorities), however, the overall sound was excellent while listening to 'Birds on a Wire.' These aren't incredibly expensive speakers either. I would have figured that speakers with smooth aluminum front baffle and base with a gloss finish combined with a seriously good sound would cost more than the $3,400 MSRP for the D15s. The speakers that I have heard at audio trade shows that looked and sounded this good were far more expensive than these. How is it that Definitive Technology is able to pull off high-end looks and a high-end sound without a high-end price tag? I would guess the answer is clever design combined with very efficient manufacturing practices (the lack of curvature in the cabinet may be a real advantage in making these speakers affordable). However Definitive Technology accomplished this feat, I am glad they did.
Some years ago I had heard some songs from Roberto Fonseca t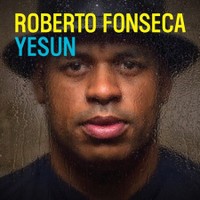 hat I quite enjoyed, and I had always intended to further explore more music by him but it just kept slipping my mind. While browsing through Qobuz's library, I noticed Fonseca's latest release, 'Yesun,' was available in hi-res, so I finally decided to dive into more of his music to get a better sense of him as an artist and also to hear what the D15's could do with his tunes. Fonseca is a Cuban jazz pianist who borrows styles and sounds from many different kinds of music but runs them through his Afro-Cuban sensibilities. There is a wide variety of musical moods and styles on 'Yesun,' and some stray further from Cuban Jazz than others, but the music is always lively, and the diversity of sound and different instruments here makes this a great album to demo on a high-fidelity sound system.  
As with previous music, the D15s give a clear and lucid presentation of each instrument, so much so that I was able to discern microphone setup with respect to many of the individual instruments. Again, the soundstage was sensational; it imaged over a wide breadth of space yet not at the cost of precision. On certain moments during the album, I cranked the volume loud, and the speakers did not lose their composure. The percussion hit with a visceral snap and thud, and the bass scaled with the mids and treble without compressing. The two bass drivers were capable of more output than I would have expected of 5.25" woofers, and I was duly impressed. This is a percussion-rich music which is great for demonstrating the transient character of sound systems, and each percussive instrument was distinct on the D15s, whether that be snares, congas, cymbals, hi-hats, or bass drums. There was no vagueness or overhang that I could detect, and this immediate response made for a lifelike presentation. As with so much else that I had heard on the D15 speakers, I was not left wanting for any aspect of sound in listening to 'Yesun.'
One new release on Qobuz that caught my eye from its title is the compilation 'Music for Cont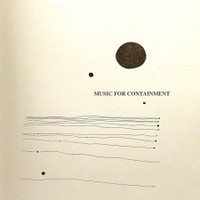 ainment.' It is 33 tracks of abstract and experimental ambient music from artists on the roster of the French electronic music label Mille Feuilles. This music can be quite challenging at times and can range from soothing and calm to harsh and grating. It is strange stuff and certainly not for everyone's tastes, but I appreciate the exploration of different sounds that the artists engage in. There is such a variety of different sounds here that I thought it would be a good show of the range and ability of the D15 speakers. The title of this album makes it all the more apt since, as of the time of this writing, I am was under a Stay-At-Home order in my state thanks to COVID-19. This often dissonant music is a good reflection of the anxiety of the era of COVID-19, although I am sure most people would prefer more escapist music in these times, and I can't blame them.
The stereo effects employed in many of the tracks in 'Music for Containment' are not supposed to be an imitation of a natural audio event, and, instead, they are used for a more conceptual aural space. The D15 speakers adroitly conveyed this use of imaging as a vehicle for an idea rather than a mere reproduction of a traditional soundscape. I have to imagine that the artists of this album probably expected most listeners would listen on headphones, but the atmospheres created by a set of good high-fidelity speakers like the D15s are so much more palpable. The true-to-life imaging, as well as the more tactile bass of loudspeakers, make the listening experience far more concrete than with headphones. It's not easy to discern the intended sound of many of the tracks on 'Music for Containment' owing to their 'Acousmatic Sound' philosophy. Nonetheless, the D15s did realize this music with a good sense of coherence and articulation. However puzzling the musical compositions were, the sound itself was always unambiguous, and the D15s offered a clear translation of the source. Each layer of sound remained distinct on the D15s, and each sound was given a detailed rendering. I'm not sure how many people would enjoy 'Music for Containment,' but those who do ought to give it a listen on speakers on the level of the D15s; I think it is a much richer experience than headphones can provide.       
Movie Watching
O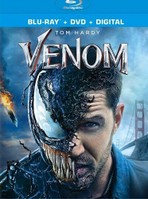 ne movie I watched with the Definitive Technology Demand D15 speakers was the 2018 comic book movie 'Venom.' I had not seen it before, but I knew it would be an effects-laden movie, and I wanted to see what the speakers could do with a wide dynamic range sound mix. I also wanted to see what it could do in terms of bass without a subwoofer. 'Venom' is a major studio production about a guy that gets possessed by a crazy alien demon thing which gives him superpowers, so it looked like it would have a pretty far-out sound mix that would be a good demonstration of dynamic range and low-frequency extension. I cranked the volume and let 'Venom' rip on the D15 speakers, and it wasn't long into the movie when I could hear the passive radiators overloading. I quickly learned that the D15 speakers are not happy in deep frequencies at high volumes. While I could crank music to the same loudness levels and not worry, most music bass does not dig as deep as modern movie bass. Music, especially acoustic recordings, don't really dig much below 40 Hz at high levels, but a lot of modern action and science fiction movies do. Deep frequencies are far more taxing on bass drivers than stuff above 40 Hz. I turned on subwoofers and used an 80 Hz crossover point for the rest of the movie. Once relieved of deep bass duty, the D15 speakers shined. The Venom characters' acrobatic moves sounded vibrant, and all of the car crashes, explosions, and gunfire were potently rendered. Dialogue intelligibility was good as well, and to ensure that was a quality of the D15s, I had set my processor for two-channel operation, and no center speaker was used. 'Venom' was a wild ride as far as sound mixes go, and the D15 speakers can certainly take the listener on that journey- as long as their low-frequency limitatio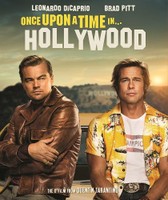 ns are understood.
One movie I had been itching to see since its announcement was 'Once Upon a Time in Hollywood,' Quinten Tarantino's fictional saga concerning Hollywood's brush with Charles Manson. I figured this would be a great way to gauge dialogue intelligibility since Tarantino's movies are heavily dialogue-based and the production quality would be as good as it gets. Tarantino also fills his movies with loads of music, so they are typically a great way to hear some good tunes as well as Tarantino's often brilliant dialogue. 'Once Upon a Time in Hollywood' did not disappoint me regarding my expectations of its sound mix. One aspect that surprised me was the pervasive use of diagetic music sources as an element of the sound mix. The music often comes through authentic period radio broadcasts or record players that the characters are listening to, complete with commercial breaks and station identification plugs. I did notice that soundtrack fidelity of the music sources would not have sounded as good as the equipment they were ostensibly being reproduced on (I doubt that a 1950's MG sports car's radio sounded that good, assuming it even had a radio). However, it was just a clever and perhaps more immersive way to get music to accompany the visuals. The D15 speakers performed superbly in my viewing of 'Once Upon a Time in Hollywood.' The music sounded great and dialogue intelligibility was never less than excellent. This movie was alive with constant music sources, so it was good to listen to it on some speakers that didn't inhibit the sound quality. Even though the music was mostly older recordings, I would implore viewers to use a good sound system for films like this. The sound is so much richer than anything a soundbar or home-theater-in-a-box could have managed.
Confused about what AV Gear to buy or how to set it up? Join our Exclusive Audioholics E-Book Membership Program!
Recent Forum Posts:
Pogre posts on July 20, 2020 13:25
ryanosaur, post: 1405372, member: 86393
If you decide you want to go with an external amp, I would recommend something that runs around 200w into 8 ohms/300w into 4 Ohms. Anything less seems foolish, especially considering the lower sensitivity of those speakers. In the end, it's not so much about SPL potential as it should be about having adequate headroom to handle dynamic peaks.
I only bring these up as they are often overlooked… mind, I am a very happy owner of the previous generation… but the Outlaw Monoblock 2220s are reasonably priced and solid performers.
Now, that aside, any amp in your budget that can deliver good clean power without coloring the sound is worthwhile. I am not a fan of Emotiva, but their owners swear by them and say they are great. I cannot speak to their quality or customer service other than to potentially offer some less than stellar hearsay.
Others here like the Crown XL Amps… 1502 and higher would be the usual recommendation. QSC cinema amps are highly regarded as well. (Both are Pro Models and very capable.)
I'm certain others will chime in.

Is Outlaw doing another 3-Fer for the newer monos? I know they had something going on a few weeks ago…
https://outlawaudio.com/shop/index.php?id_product=45&rewrite=model-2220&controller=product
Yes! Not quite a good as the previous 2200 series bundle, but still not bad. 3 x 200 watts for under a grand.
ryanosaur posts on July 20, 2020 12:38
If you decide you want to go with an external amp, I would recommend something that runs around 200w into 8 ohms/300w into 4 Ohms. Anything less seems foolish, especially considering the lower sensitivity of those speakers. In the end, it's not so much about SPL potential as it should be about having adequate headroom to handle dynamic peaks.
I only bring these up as they are often overlooked… mind, I am a very happy owner of the previous generation… but the Outlaw Monoblock 2220s are reasonably priced and solid performers.
Now, that aside, any amp in your budget that can deliver good clean power without coloring the sound is worthwhile. I am not a fan of Emotiva, but their owners swear by them and say they are great. I cannot speak to their quality or customer service other than to potentially offer some less than stellar hearsay.
Others here like the Crown XL Amps… 1502 and higher would be the usual recommendation. QSC cinema amps are highly regarded as well. (Both are Pro Models and very capable.)
I'm certain others will chime in.
TomS posts on July 20, 2020 12:27
kini, post: 1405366, member: 58144
By the AVR that has the features you want at whatever your budget is, try it and if it can't handle the volume you want then add an amp.

Yes, of course, I was just thinking that if stretching the budget a little for the higher powered AVR would be sufficient maybe that would make sense.
kini posts on July 20, 2020 12:16
TomS, post: 1405363, member: 92286
Thanks Shady and everyone else - what wattage would the external amp need to be, and would a 2 channel amp powering just the front mains be enough, or does it need to be a 3 channel amp powering the center channel also?

This is a little dissapointing I must confess - Right now I have a Pioneer Elite SC-85 powering my system, with BP 8060 mains and center, and the pioneer has no trouble powering everything at fairly loud volumes, (between -5 and -15 master volume, depending on the disc/stream). Everything sounds excellent, so I have no pressing need to upgrade, but the looks/performance of the Demand towers has got me thinking

By the AVR that has the features you want at whatever your budget is, try it and if it can't handle the volume you want then add an amp.
TomS posts on July 20, 2020 11:58
Thanks Shady and everyone else - what wattage would the external amp need to be, and would a 2 channel amp powering just the front mains be enough, or does it need to be a 3 channel amp powering the center channel also?

This is a little dissapointing I must confess - Right now I have a Pioneer Elite SC-85 powering my system, with BP 8060 mains and center, and the pioneer has no trouble powering everything at fairly loud volumes, (between -5 and -15 master volume, depending on the disc/stream). Everything sounds excellent, so I have no pressing need to upgrade, but the looks/performance of the Demand towers has got me thinking
Post Reply