SVS Prime Pinnacle Tower Speaker Review
SVS Prime Pinnacle Tower Speaker Review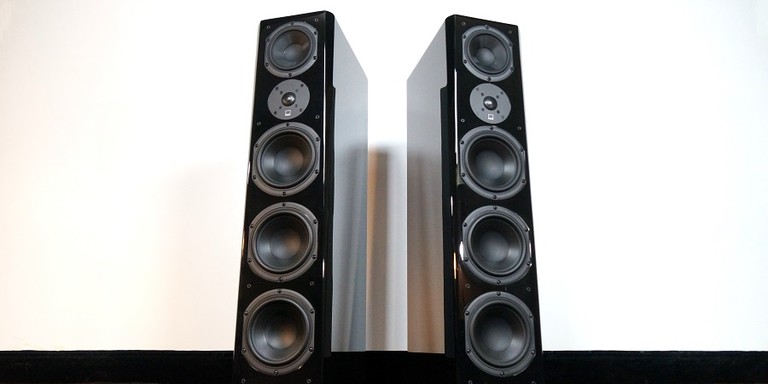 SVS Prime Pinnacle Loudspeakers
Rated bandwidth: 29 Hz-25 kHz (±3 dB)
Sensitivity: 88 dB (2.83V @ 1 meter full-space, 300-3kHz)
Nominal impedance: 8 ohms
Recommended amplifier power: 20-300 watts
5-way binding posts
Triple 2" wide-flared rear-firing ports
Cloth grille with pin/cup retention system
1" Aluminum Dome Tweeter
5.25" Midrange Driver
Triple 6.5" Woofers
3-way crossover with premium-grade capacitors, air-core inductors, and heavy-trace printed circuit boards
Tweeter-to-Midrange crossover: 2.1kHz (12 dB/octave slopes)
Midrange-to-Woofer crossover frequency: 300Hz (12 dB/octave slopes)
Cabinet Dimensions: 40.5" (H) X 8" (W) X 13.4" (D)
Overall Dimensions: 41.1" (H) X 8" (W) X 13.9" (D) (includes grille, feet and binding posts)
Weight Unboxed: 57.1 lbs (25.9 kg)
Pros
Smooth, articulate sound with terrific imaging
Excellent bass performance
Attractive industrial design and finish
Above-average sensitivity
Powerful dynamic range
Good build quality
Cons
Sound may be a bit laid back for those who prefer hotter treble
Not an 8-ohm speaker as advertised
When SVS released their Prime s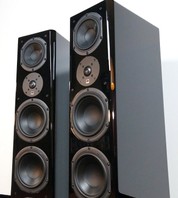 peaker series, Audioholics reviewed the big dog of that set, the Prime Tower, and we quite liked what SVS had produced at the top of that speaker series. It was a not-insubstantial speaker as a three-way tower with two 6.5" woofers, a 4.5" mid-range, and a 1" dome tweeter. For most people, a design like that would pack more punch than they would ever normally use. Yet here, four years later, SVS has launched an even more powerful line-topping speaker for the Prime series, in the aptly-named Prime Pinnacle tower. Along with being more powerful than the Prime Tower, it is also quite a bit more expensive. What compelled SVS to produce an even more potent tower speaker to lead the Prime series? That is the question we will attempt to answer today in our review. SVS sent us a pair of Pinnacle speakers, and now we will see what the Pinnacle brings to the table as the new head of their Prime speaker series. More acoustic firepower is always welcome, but is there any other advantage that the Prime Pinnacle has to justify its existence? Let's dig in…
Unpacking and Appearance
The Prime Pinnacle speakers arrived at my home in a sturdy box with styrofoam pieces protecting the top, bottom, and middle. In my experience, styrofoam isn't a great packing material, but SVS has encased the end pieces in cardboard that can hold them together if they do break. That should help, but the use of polyethylene foam would offer better protection against harsh shipping. The speakers were wrapped in a soft cotton bag that protects it from scuffs and scratches, and an outer plastic bag that protects it from moisture.
Once out of their packing, the Prime Pinnacle speakers are revealed to be attractive in an understated way. I received the Prime Pinnacles in the gloss black finish, which, in my opinion, looks much nicer and more high-end than the black ash finish. For a modest $200/pair upcharge for the gloss black, it is a no-brainer. The gloss black looks far more luxurious and is well worth the extra cost. The only reason I can think of not to get gloss black is if the speaker is going to be placed near a projection screen where the light reflections from the shiny finish can degrade image quality.
With the grilles on, the Prime Pinnacles have an austere handsomeness that looks quite formal. The grilles hide their features and give them a stoic, almost solemn appearance. Their appearance with grille reminds me of a cenotaph or obelisk in that, aside from the small 'SVS' badge at the bottom of the grille, they bear a monolithic quality. I much prefer them without the grilles. With all of their drivers exposed, they look more like a sound system that is ready for action. The midrange, tweeter, and three woofers are practically begging to make some noise. The inverted dustcaps, smooth polypropylene woofer cones, and silky glass-fiber midrange cone nicely compliment the clean, lustrous cabinetry. There is a slight beveling that increases with the height of the cabinet that adds a distinctive stylish touch. These speakers look nice without being flashy or showy. It is a restrained sense of style that seems like something BMW might make if they made speakers.
Design Overview
The Prime Pinnacle speakers are a fairly heavy-duty three-way floor-standing speaker. At first glance, the Prime Pinnacle speakers look like a beefier larger version of the Prime Towers, but there is a lot more to them than that. Sure, they are significantly more powerful than the Prime Towers, but the differences are as much qualitative as they are quantitative. To start with, Prime Pinnacles use a different midrange cone than the Prime Towers. The Prime Pinnacle midrange cone is made from glass fiber much like the midrange cones found in the higher-end SVS Ultra towers, whereas the Prime Towers use a polypropylene midrange cone. Glass-fiber is a lighter, stiffer material that enables the midrange to behave better over a wider range of frequencies. Its larger cone diameter should allow it a wider dynamic range as well.
The tweeter uses a 1" aluminum dome and a chunky iron ferrite magnet instead of the usual neodymium magnets for the motor. It has a metal lattice over the dome to protect it from being poked or pushed in. SVS has intelligently placed the tweeter above the bass drivers but below the midrange so that it is set at a height closer to the ear level of typical listening positions. I have had many three-way floor-standing speakers come around lately that have placed the tweeter at the top of the driver stack which elevates it relatively high compared to the normal ear-level listening height, so SVS's choice of tweeter placement is welcome here. The tweeter and bass drivers are the same as used in the rest of the Prime series. The bass drivers use a polypropylene cone and a cast-ABS fiberglass basket with a hefty ¾" thick x 4" diameter magnet. The midrange also uses a cast-ABS fiberglass basket and a good-sized magnet. The midrange and bass drivers use shorting rings which should extend their frequency ranges while lowering 2nd-order harmonic distortion.
What has to be the most distincti
ve design trait about the Prime Pinnacle is the way it places the bass drivers into their own individual compartments. Many higher-end speakers isolate the driver classes into their own separate compartment so that the backwave pressure created by the rear side of the cone does not impact the cones of other drivers. The Prime Pinnacle does this too, by placing the midrange driver into its own sealed compartment. But what the Prime Pinnacle does that is unique is giving each bass driver its own ported compartment. Furthermore, each compartment has a different port tuning frequency. That means that there are three different ports with their own enclosure space, and each of them is being loaded slightly differently. That kind of layout allows a great deal of freedom for the designer to shape the bass response to any kind of curve that they could want.
In addition to the advantages in low-frequency performance, the compartmentalization of the bass drivers and midrange driver also serves as a very rigid bracing system. The cabinet construction of the Prime Pinnacle as a whole is very good. Construction is MDF with an inch thick front baffle and ¾" thick side-walls and internal walls. Much of the interior surfaces are covered with an acoustic stuffing. The chamfered edges of the front baffle should help reduce diffraction as well as adding a touch of style. The grille frames are on the thick side, so these speakers are likely to perform best without the grilles. The feet are some rubbery cone-shaped things that look as if they are intended to damp cabinet vibrations from being transmitted to the floor. Outriggers or a plinth might have offered more stability, but the Prime Pinnacle seems to have a good footing, and its hidden feet is more in keeping with its austere styling. Speaker wire is connected to five-way binding posts within a terminal cup, and there is no option for bi-amping or bi-wiring, which is a good thing in my opinion.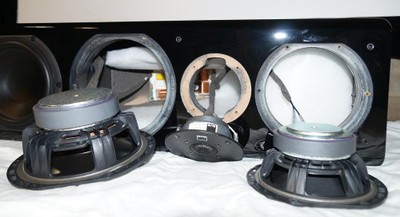 The crossover circuit rests on two different printed circuit boards, with the low-pas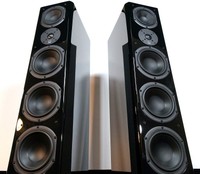 s filter for the bass drivers assembled on a board that is mounted in the middle bass driver chamber, and the filters for the midrange and tweeter on a board mounted in the upper chamber. The Prime Pinnacle crossover circuit is pretty serious with a very stout capacitor and two large iron-core inductors on the lower board, and a gob of similarly beefy capacitors, resistors, and inductors in the upper board. They add up to a 12dB/octave slopes on both the bass driver to midrange crossover and midrange to tweeter crossover at 300 Hz and 2.1 kHz respectively.
So what do all of these components and design decisions give you? With three 6.5" bass drivers each with their own tuned compartment, one attribute that I would expect the Prime Pinnacle to have is a highly-controlled and very powerful bass response. A 5.25" glass-fiber midrange driver should also give it a fair amount of dynamic range in this vitally-important range. I think this design has potential if it is executed well, so let's see how it fares in listening tests and measurement tests...
Listening Sessions
In my 24' by 13' (approximately) listening room, I set up the speakers with stand-off distances between the back wall and sidewall, and equal distance between speakers and listening position. I used various toe-in angles during listening and settled with the speakers facing directly at the listening position. Listening distance from the speakers was about 9 feet. Amplification and processing were handled by a Pioneer Elite SC-55. No room correction equalization was used. No subwoofers were used.
Music Listening
...the Prime Pinnacles did a fantastic job of recreating the soundstage of this complex piece of music.
I find that conventional acoustic recordings with a human voice as the lead instrument is always a great start in ascertaining the tonal balance of a sound system. The more effects processing that is layered on a recording, the less certain the listener can be of what the music is supposed to sound like. That isn't a bad thing, except when the artist and recording engineer is striving for the most natural sound possible. Toward this end, I looked for a largely acoustic recording, and I listened to Melody Gardot's 'The Absence.' 'The Absence' is jazz singer Gardot's travelogue through Latin America, Carribean islands, and the Middle East. It infuses her gentle urbane sensibility with world influences, most particularly bossa nova rhythms.
Being a Melody Gardot album, the produ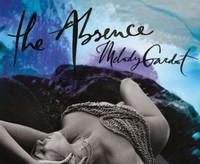 ction quality is top notch, and 'The Absence' did win a Grammy for the best-engineered album. The Prime Pinnacle speakers conveyed a wide yet precise soundstage with Gardot's voice occupying a well-defined center space while being flanked by instruments at various positions to the left and right. Melody uses an ethnically diverse array of instruments along with a traditional orchestral backing, yet with all of these different instruments, there is no confusion or ambiguity in the imaging of all of these sound sources. Credit has to be given the recording for this as much as the speaker system, but the Prime Pinnacles did a fantastic job of recreating the soundstage of this complex piece of music. The tonal balance sounded very good and true to the instruments and voices involved. One thing I noted right away was that the bass was very full, with superb extension. Subwoofers would not be able to add anything to the sound of the Prime Pinnacles in an album like this. There was no discernible bloat or delay in the bass either; it was very nicely synchronized with the music. Maybe there is something to SVS's crazy individually-compartmentalized bass driver enclosure design after all.
...the Prime Pinnacle's ability to image a full orchestra was exceptional.
For an exclusively instrumental demonstration, I once again turned to the 'In a Classical Mood' album collection and this time to a compilation album from that set entitled 'Tender Moments.' Although the theme may be a tad saccharine, the production quality of the various pieces in this album is generally excellent and the choice of pieces is similarly first-rate. The various recordings on this album were taken from other albums and feature compositions by Schubert, Prokofiev, Shostakovich, and Rachmaninov amongst other world-class composers. The performers are groups such as the London Symphony Orchestra, English Chamber Orchestra, and BBC Welsh Symphony Orchestra, and as such, they all give impeccable performances. On the Prime Pinnacles, it was easy enough to distinguish the different venues and recording techniques of the individual tracks. Imaging was again quite good, even for discerning instrument placement in concert halls where the mic had been pulled back. Some of the tracks were from operas, and on these the imaging was outstanding, with very well-defined singer placements. Again, I did not sense any tonal balance issues, and, in fact, some of the pieces were piano solos in which that instrument sounded superb, particularly Chopin's Fantaisie-impromptu as played by Allan Schiller. The soundstage could be quite wide and could be very enveloping depending on the track, and the Prime Pinnacle's ability to image a full orchestra was exceptional. The bass extension of the Prime Pinnacles was more than sufficient for orchestral music, so no sub is needed if your concern is this music type. All in all, the Prime Pinnacle's ability to recreate orchestral music was terrific, and I am sure most lovers of classical and orchestral would be quite happy with these speakers.
I decided to throw on a studio album with a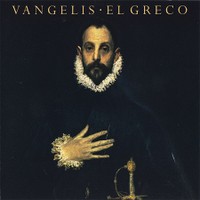 more artificial acoustical scene because that is far more reflective of popular recordings so it is what will be played on these speakers more often than not by most users. For this, I selected Vangelis' 'El Greco,' a 1998 album created largely out of electronic instruments but mixed and processed in a manner that it sounds like it was made with acoustic instruments and recorded in an enormous concert hall. The title and subject of the album are in reference to the Greek master renaissance painter and sculptor Dominikos Theotokopoulos who lived most of his life in western Europe and was widely known as 'El Greco.' The music is a series of movements inspired by El Greco's work and can range from gentle and soft to bombastic and dramatic. The sound of the music is sweeping and cinematic as is usual with Vangelis. It is mostly instrumental but there are some operatic vocals that pop up in some tracks.
The SVS speakers proved to be adept with all aspects of the sound of this album. From quiet passages to rousing crescendos, the Prime Pinnacles gave a detailed reproduction of the recording and tracked the dynamic bursts without fault. The reverb-drenched strings seemed to encircle the listening position to create a nearly surround sound effect. Piano, plucked strings, and vocals all had a strong center image. The Prime Pinnacles brought out a strong atmosphere from this lush recording and did nothing to interfere or diminish the music that I could hear. I was compelled to turn the volume up, not to bring out any particular aspect, but because the sound was so epic that it begged for a high playback level, and the speakers were certainly not holding it back. I quite enjoyed revisiting 'El Greco' on the Prime Pinnacles, and I doubt that anyone would complain about the performance of these speakers on this music.  
Taking a hard turn for something much more abra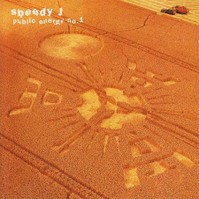 sive, I decided on an album that could give me an idea of the Prime Pinnacle's dynamic range, i.e., how hard can they rock? A terrific album in this respect is Speedy J's 'Public Energy No.1,' a 1997 electronic music release that works well for testing dynamic range due to abrupt changes from quiet to loud passages. It's hard to pin down the genre of 'Public Energy No.1' as a whole since it mixes soft ambient pieces and strange soundscapes with ferocious breakbeats and pounding basslines. It is music that can go from zero to sixty in a split second and just as quickly winds back down. It is an eclectic album, to be sure, but loads of fun for those of us who like something a bit experimental. With the system cranked loud, I launched 'Public Energy No.1' on the Prime Pinnacle speakers to see how hard they can hit. I was lulled into letting my guard down by the first track, which was a serene ambient opener, but then track two gave me a scare when the kick drums hit and sent me diving for the volume control. The rest of the album was similarly jarring, and the speakers were instrumental in producing that effect: one moment peaceful and the next moment a startling flurry of percussion. The Prime Pinnacles had no trouble with elevated volume levels. I didn't sense any distortion or compression, even at thunderous loudness levels. Of course, the bass was quite powerful, and I normally wouldn't dare to have played this album without a sub. But, prior experience had shown me that the Prime Pinnacles were very capable in low frequencies, so I gave them full bass duties. While a powerful sub would certainly be more capable in deep bass than the three 6.5" woofers of the Prime Pinnacles, they did not have any trouble belting out the 40Hz+ low-frequency sounds that comprised the bass in 'Public Energy No.1.' I had the speakers positioned rather far out in the room, and had I placed them closer to any of the walls, the bass would have been even more powerful. It is no mystery that SVS's engineers would be so proficient in creating such a capable bass section since they are so well known for their subwoofers, but the question is why create speakers that are so capable in bass when their bread and butter is subwoofers? These speakers get along just fine without subs. I wouldn't try to run heavy-duty infrasonic bass on them, but their bass ability is more than adequate for most content.
Movie Watching
One movie that I watched with the Prime Pinn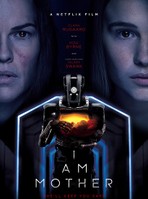 acle speakers was the recent science fiction Netflix release 'I Am Mother.' I set the source to two-channel mode so the towers were handling everything without any assistance from subwoofers or center channel speaker. I wanted to know how the Prime Pinnacle speakers handled the full duty of sound reproduction in a modern movie, so it was given the full suite of dialogue, music, and effects sounds. 'I Am Mother' is an unusual movie set in a futuristic bunker after humanity has been wiped out by some indeterminate event. In order to repopulate mankind, a robot raises a girl to be a caretaker of future generations that are cryogenically stored as embryos. However, the robot's plans are jeopardized after a supposedly extinct human gets into the compound. Dialogue is most prominent in this sound mix, but it does have a plethora of peculiar effects sounds as well as a cool-as-ice electronic music score from Dan Luscombe.
With the Prime Pinnacles, I did not miss the extra channels of sound at all. Surround speakers might have added a touch more immersion, but the width of the Prime Pinnacle's soundstage proved to be quite enveloping on its own. The Prime Pinnacle's center imaging was good enough that the center speaker was unneeded, at least from a central listening position. A subwoofer might have added deeper bass, but I wasn't able to tell that anything was missing since the Prime Pinnacle's bass output was already so adept. For those looking to use two speakers for movie viewing with a simpler two-channel system, I can say that the Prime Pinnacle can fill that order nicely. 'I Am Mother' proved to be a nifty science fiction movie, and the Prime Pinnacle speakers made the viewing experience into an enjoyable listening experience as well.   
I was told that 'Thor: Ragnarok' had a sound mix that I had to hear, so I ga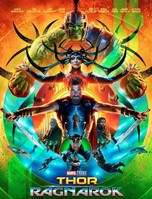 ve it a spin on the Prime Pinnacle speakers to see if the movie lived up to its praise and to also see what these speakers could do on a more rambunctious movie. I haven't kept up with the many Marvel movies, but supposedly 'Thor: Ragnarok' is one of the better outings, so I gave this one a chance whereas I have passed on most of the others. 'Thor: Ragnarok' does have a wild sound mix on account of its mostly cosmic setting. The sleek retro-synth wave score is mixed in with orchestral elements and is bookended by Led Zeppelin's 'Immigrant Song,' and the sound effects reflect the action scenes' mixture of fistfights with futuristic weaponry. Of course, any movie featuring the Hulk will be heavy with bass on the action scenes, and here again, I ran the Prime Pinnacles full range without assistance from subwoofers to really give the speakers a workout. Even with the volume cranked, the Prime Pinnacles reproduced 'Thor: Ragnarok' with imperturbability. The bass was authoritative, and it needed to be to keep up with the mids and treble. A lesser tower speaker might have seen some compression in bass at such a high volume level, but I never sensed that the low-frequencies were not able to keep up with the rest of the range. The Prime Pinnacles managed to keep all of the various aural events clear and distinct even during a complex action scene. The sound never became confused or muddled, and dialogue was clear and succinct always. I always caught the one-liners, even if I didn't think they were all funny. Some bombed jokes aside, I enjoyed 'Thor: Ragnarok,' and the Prime Pinnacle speakers turned out to be an excellent platform to reproduce this epic soundtrack.

Confused about what AV Gear to buy or how to set it up? Join our Exclusive Audioholics E-Book Membership Program!
Recent Forum Posts:
ryanosaur posts on July 16, 2019 19:28
Danzilla31, post: 1326960, member: 85700
What? Your starting to soften your stance on 2 way and 2.5 ways? And they say it never snows on Christmas!
No. Never.
But stand-mounts as mains, yes.
Danzilla31 posts on July 16, 2019 19:09
ryanosaur, post: 1326903, member: 86393
I would definitely tend to agree with this. Granted the BMRs are pretty big for Stand-mounts, but on their own they performed well: paired with the X13s the effect was stunning and very satisfying. In a way, based on that experience I've matured a lot in terms of how I make recommendations to people asking for guidance. Though I still prefer a 3-way to 2- or 2.5-way designs.

That said, I still love towers in general. There's something gratifying in having "totems" anchoring the front of the room like an alter to sound!
What? Your starting to soften your stance on 2 way and 2.5 ways? And they say it never snows on Christmas!
snakeeyes posts on July 16, 2019 18:03
Pogre, post: 1326945, member: 79914
I have a large room and no issues with volume.
That's good to hear. I may try it this fall. I mostly use that room in the cold months since it has a wood stove.
Pogre posts on July 16, 2019 17:59
snakeeyes, post: 1326943, member: 85468
I'm really impressed with their return policy but my main hangup is whether using a bookshelf for a center will be loud enough.
I have a large room and no issues with volume.
snakeeyes posts on July 16, 2019 17:55
ryanosaur, post: 1326904, member: 86393
Do it, Snake!
I'm really impressed with their return policy but my main hangup is whether using a bookshelf for a center will be loud enough.
Post Reply