New Speakers From Revel Be And JBL HDI Series Impress at CEDIA 2019
Revel Performa Be
Summary
Product Name:

Performa Beryllium, HDI Series

Manufacturer:

Revel, JBL

Review Date:

October 11, 2019 07:00

MSRP: $7,000/pair - Revel F226Be floor-standing, C426Be to $16,000/paor - F328Be floor-stander, $5,000/pair - JBL HDI-3800 floor-stander to $1,800/pair - HDI-1600 bookshelf speakers
First Impression:

Gotta Have It!
Executive Overview
The Harman booth at CEDIA is always abuzz with announcements about cool new gear from the conglomerate's suite of high-end audio companies, and this year's show was no different. There were impressive-looking pieces of electronics from Arcam and JBL Synthesis, but metal boxes are never as eye-catching as big loudspeakers, and it was the new bruisers from Revel and JBL that stole the show. Revel was showing a trio of new speakers from the brand's Performa Beryllium range, while JBL showed an all-new, five-strong loudspeaker line called the HDI Series.
New Revel and JBL Speakers at CEDIA 2019

Revel Performa Beryllium

Until now, Revel's Performa Beryllium line included only the F228Be floor-stander ($10,000/pair), and the excellent M126Be bookshelf speaker ($4,000/pair), which James Larson commended in his recent review. Now there are three new models to round out the series: the F226Be floor-stander ($7,000.00/pair), the C426Be center channel speaker ($4,500.00/each), and the imposing flagship F328Be floor-stander ($16,000.00/pair).
"When we introduced the first two Beryllium models...we wanted to bring the magic of the beryllium tweeter used in the Ultima2 range down to much lower prices. Building upon the success of those first two models, we expect a very warm reception for these new additions to the Performa Beryllium series."
 - Jim Garrett, Senior Director, Product Strategy and Planning, Harman Luxury Audio

The slender cabinet of the F226Be floor-stander houses two 6.5-inch cast-frame Deep Ceramic Composite (DCC) cone woofers, a 5.25-inch DCC midrange driver, and the same 1-inch Beryllium tweeter and cast-aluminum ceramic-coated Acoustic Lens waveguide found in the larger F228Be tower. Its enclosure includes internal window-pane bracing to eliminate cabinet-induced coloration. The F226Be takes up no more space than a pair of M126Be bookshelf speakers on stands, yet delivers much greater power and bass extension. It is in production now and should be available by the time you read this.

Harman's Jim Garrett describes the new C426Be as "the granddaddy of Revel center channels." This beastly speaker utilizes four 6.5-inch woofers operating in a dual-ported bass-reflex design, along with the same 1-inch Beryllium tweeter and 5.25-inch midrange driver found in the F226Be and F228Be. The tweeter's waveguide features a new shape that "optimizes integration and reduces the overall stack height of these two vertically-oriented transducers." The speaker includes built-in adjustable legs, allowing for proper positioning whether placed on a shelf or on the optional stand. The C426Be should become available in January of 2020.


Lastly, the formidable F328Be floor-stander is a rear-ported bass-reflex design featuring three 8-inch woofers (with an improved motor structure compared to that found in the F228Be's woofers) and one 5.25-inch midrange driver. The F328Be also boasts a newly-developed 1-inch Beryllium tweeter, which is exclusive to this flagship model in the Performa Beryllium lineup. The new tweeter features "a vented pole piece and a much larger ferrite motor structure that delivers improved dynamics and increased overall output capability," according to Revel. The tweeter is mounted in a new sixth-generation ceramic-coated aluminum Acoustic Lens waveguide, which reportedly provides seamless integration with the midrange driver. Revel says that the new waveguide has a "revised geometry with an overall larger size and contouring at the outer edges that further eliminates diffraction at the transition point to the cabinet baffle." The higher-ups at Harman expect the F328Be to perform so well that the company is actually retiring the highly-regarded Ultima Studio2 (also $16,000/pair) from Revel's premier Ultima2 range. The F328Be is still in development, and is expected to ship in February of 2020.
JBL HDI Series

If Revel's admittedly lofty prices have you looking elsewhere for your loudspeaker needs, the folks at Harman have you covered with the new HDI Series from JBL. Shown for the first time at CEDIA, the HDI Series features "revolutionary" JBL compression driver technology and patented High-Definition Imaging (HDI) waveguides across its lineup. The range includes the flagship triple 8-inch HDI-3800 floor-stander ($5,000/pair), the triple 6.5-inch HDI-3600 floor-stander ($3,800/pair), the 6.5-inch 2-way HDI-1600 bookshelf speaker ($1,800/pair), the quad 5.25-inch HDI-4500 center channel speaker ($1,750/each), and the 12-inch, 1000-Watt HDI-1200P powered subwoofer ($3,000/each).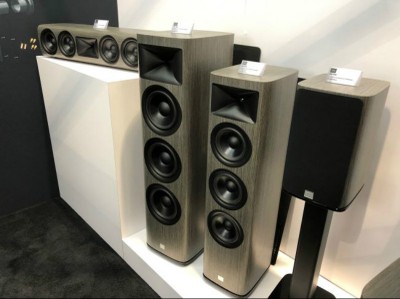 The speakers utilize JBL's patented 2410H-2 compression driver, which was developed using R&D borrowed from JBL Professional's D2 range of transducers. The lightweight, 1-inch annular-ring polymer diaphragm has a V-shaped geometry that is designed to reduce breakup modes, thus reducing distortion. As you would expect from JBL, the 2410H-2 compression driver promises high dynamic capability and a lack of power compression, thanks to the patented HDI waveguide.
"The HDI Series leverages some of our most advanced JBL technologies and acoustic performance capabilities to deliver a premium music and home theater experience. The professional-grade compression drivers and HDI waveguides deliver incredibly realistic dynamics and lifelike imaging that makes music and movies come alive."
 - Jim Garrett, Senior Director, Product Strategy and Planning, Harman Luxury Audio

The woofers and mid-bass drivers on the HDI Series feature cast aluminum frames and Advanced Aluminum Matrix cones that boast the ideal combination of low mass and high rigidity. In order to ensure the highest possible output while maintaining low distortion, JBL has packed a lot of tech into these drivers, including 1.5-inch long-throw voice coils, cutting-edge "symmetrical field" motor structures, flux stabilization rings, and copper shorting rings. The two floor-standers and the center channel speaker are all 2.5-way designs, and the whole range features rear-firing, computer-optimized ports for the best possible bass performance. The beautifully curved, internally-braced cabinets are constructed from 0.75-inch MDF and finished in high-gloss black paint, satin walnut real-wood veneer, or satin gray oak real-wood veneer. The HDI Series is expected to begin shipping in January of 2020.
Initial Impressions
We're always excited when new speakers are released from the Harman brands and this CEDIA 2019 did not disappoint. With prices ranging from $1,800/pair to $16,000/pair, these new speakers from JBL and Revel offer something for everyone. In my opinion, the HDI Series represents JBL's best-looking consumer speaker offering in some time — especially in the lovely satin walnut finish. But those Ferrari-red Revel Performa F328Be towers are really calling my name. Sadly, Jim Garrett said that the red finish option may or may not make it into production. Which of these new speakers would you most like to take home? Share your thoughts in the related forum thread below.

Confused about what AV Gear to buy or how to set it up? Join our Exclusive Audioholics E-Book Membership Program!
Recent Forum Posts:
gene posts on October 09, 2019 02:20
Savant Smart Soundbar, Precision Audio Meets Ultimate Home-Connectivity
gene posts on October 06, 2019 22:36
_Y6zjojfJBQ
utopianemo posts on October 02, 2019 13:54
I'll have to check that end clip out at home on my dual 18" sub setup. I love how the low frequency waves cancel out all other sounds. At home, on certain very low frequency-heavy clips, those large sine waves literally cancel out my voice. I'll talk to somebody ten feet away and almost no sound I'm making reaches them.
hangin7 posts on October 01, 2019 18:55
CyberAthlete, post: 1341296, member: 56538
Doesn't sound like (pun intended) that they're any different in drivers than the ones they're replacing. Just an aesthetic over haul but that's about it.
Your joking right,aesthetic overhaul better reread dude!!!!!
VonMagnum posts on October 01, 2019 07:42
Sadly, according to the Monoprice web site, that "beast" only supports 11.1 DTS:X. With 15.1 support, it really NEEDS DTS:X Pro….

Edit: I've been told elsewhere it WILL be getting DTS:X Pro early next year. That would improve things quite a lot.
Post Reply