5 Killer Tower Speakers Under $2K/pair Compared for 2019!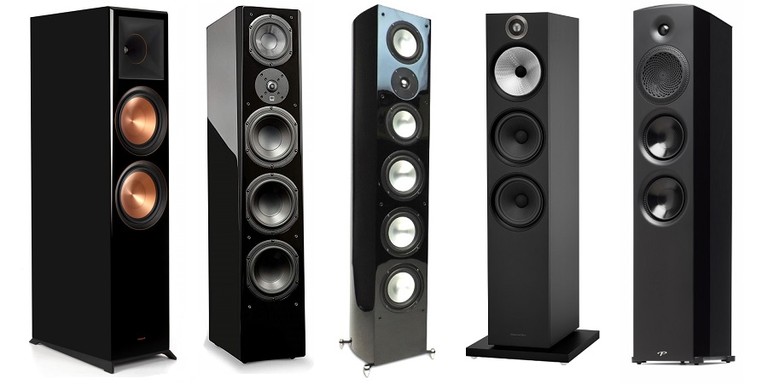 5 Best Tower Speakers Under $2K
Summary
Product Name:

R-55E, Premier 800F, RP-8000F, 603, Prime Pinnacle

Manufacturer:

RBH Sound, Paradigm, Klipsch, B&W, SVS

Review Date:

July 20, 2019 01:30

MSRP: $2,000/pair RBH-R55E; $2,000/pair Paradigm 800F; $1,200/pair Klipsch RP-8000F; $1,800/pair B&W 603; $1,600/pair SVS Prime Pinnacle
First Impression:

Gotta Have It!
Speaker Model
RBH R-55E
Paradigm Premier 800F
Klipsch RP-8000F
B&W 603
SVS Prime Pinnacle
Sensitivity
88 dB (2.83V @ 1 Meter)
89 dB
92dB @ 2.83V / 1m
88.5dB spl (2.83V, 1m)
88 dB (2.83V @ 1 meter)
Frequency Response
35Hz-30kHz (±3dB)
±3dB from 43 Hz - 25 kHz
32-25kHz +/- 3dB
48Hz - 28kHz ±3dB
29Hz-25 kHz (+/-3 dB)
Tweeter
1" (25mm) Aluminized nano-silk dome
1" (25mm) aluminum dome
1" Titanium LTS Vented Tweeter
1" Decoupled Double Dome aluminum tweeter
1" Aluminum Dome Tweeter
Midrange
2 x 5.25" (133mm) Aluminum cone
6-1/2" Carbon-Infused polypropylene cone
6" Continuum cone FST midrange
5.25" Midrange Driver
Woofer
3 x 6.5" Aluminum cone
2 x 6-1/2" Carbon-Infused polypropylene cones
Dual 8" Cerametallic Cone Woofers
2 x 6.5" Paper bass cones
Triple 6.5" Woofers
Weight
55 lbs.
53.4 lbs.
60 lb
69.9 lb
57.1 lbs
Dimensions
WHD 8.19 x 47.25 x 11.73"
(HxWxD): 41.5" × 9.125 × 13.75"
43.12"(H) x
10.90"(W) x
17.56" (D)
(HxWxD): 41.5" x 12.6 in" x 14.6 in"
41.1" (H) X 8" (W) X 13.9" (D)
MSRP (pair)
$ 2,000/pr. (Gloss black); $1,750/pr. (Phantom Black)
$ 2,000/pr - 800F Premier Tower Speaker
$ 1199/pair - Base price: ebony or walnut finish, $1500/pair - gloss black
$ 1,800/pr
$ 1600/pr - Premium Black Ash Finish, $1800/pr - Piano Gloss Black Finish
Executive Overview
$2,000 seems to be a 'sweet spot' for the middle range of tower speakers for many of the major loudspeaker manufacturing brands. Within the last year alone we ended up reviewing five of them, and that is a lot considering the narrow price range. In this article, we will compare the speakers that we looked at in this category. However, this is not a shoot-out article where we determine which is the best since they all have different strengths and somewhat different design goals. Rather, we will take an overview of the different speakers and allow the reader to determine which best suits their desires. Upwards of $2k/pair seems to be an area where a decent three-way tower speaker can be delivered, as all of the speakers seem to have reasonably good build quality, aesthetic design, and sound quality. A lot of factors just seem to come together at a certain level of quality in this price range. If this is your budget range you're in a great price point to be shopping in due to the wide range of choices. There is something for every taste here.
5 Killer Tower Speakers for 2019 Compared YouTube Videos Discussion

>Buy Now< MSRP: $2,000/pair (Gloss black), $1,750/pair (Phantom Black)
The first speaker in the series that we reviewed in this price range was RBH Sound's R-55E towers.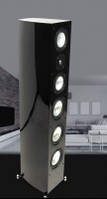 We found the R-55Es to be a gorgeous speaker with solid audio performance - which is usual from RBH Sound. One advantage that the R-55Es had over the other loudspeakers that we looked at in this grouping is that it uses two midrange drivers instead of just one, and three bass drivers instead of just two. That should give it a dynamic range advantage for those who are looking for big output levels. The other speakers in our roundup only used one midrange driver (or none in the case of the Klipsch speaker), and all but the SVS speaker uses only two bass drivers. While a greater number of drivers isn't a guarantee that a speaker will have more headroom, it certainly doesn't hurt, and RBH uses relatively good drivers, so those who are looking for a speaker that will rock hard, the R-55E will foot that bill.
While looks are subjective, the R-55Es had the highest-end look with the gloss black finish, at least in this writer's opinion. The curved cabinet combined with the silver cones contrasted nicely with the gloss black made this speaker look a lot more expensive than it really is. However, RBH Sound didn't dump all of the money into aesthetics at the expense of build quality or audio performance, as the R-55Es were shown to have good part quality with a decent enclosure build, and generally good performance in sound reproduction. They did have a small bump in the midrange which makes them less than perfectly neutral, but it was not obtrusive and it may improve dialogue intelligibility for those listeners who want a little extra help there. In the end, we quite liked the R-55E speakers. They are a great choice for those who want a luxury appearance without a luxury price, and something that can hit hard and sound good in an action movie or live concert recording.  
>Buy Now< MSRP: $2,000/pair (in Gloss Black, Gloss White, or Espresso Grain)
The Paradigm Premier 800Fs are attractive and interesting-looking speakers without be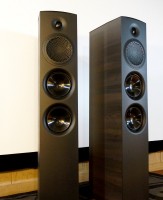 ing flamboyant or splashy. Our review pair came in an Espresso finish which had an understated appeal for those who want a high-end look but don't want their audio equipment to gleam. The 800F has the largest midrange driver among the speakers in our round-up at a 6.5" diameter. That is fairly large for a midrange when combined with dual 6.5" bass drivers and a 1" dome tweeter, but surprisingly this did not incur any real problems in the speaker's directivity since that can be a problem for large midrange drivers. The audio performance that we measured from the 800Fs had a superbly neutral response, and of all the loudspeakers in our round-up, these are probably the most accurate sound reproducers. They had a very flat on-axis response combined with a beautifully smooth off-axis response. This made for a very tonally balanced sound over a wide listening area.
The build quality was very good with above average cabinetry and high-quality components. The 800Fs packs a lot of technology from Paradigm's many patents from higher-end designs. The 800Fs demonstrate Paradigm's expertise in leveraging their engineering experience into an affordable yet technically excellent loudspeaker. I had previously reviewed the far more expensive Paradigm Persona 5F tower speakers which were terrific, but I like the Premier 800F speakers even more than the Persona 5Fs even though the 5Fs are $17,000 a pair and the 800Fs are $2,000 a pair. It's not that the 800Fs are a better speaker, but they managed to achieve such a good sound yet are far more affordable. Lots of speaker manufacturers can deliver a good speaker for a $17k price tag, but Paradigm has delivered an outstanding speaker for a much more accessible $2k, and that is more impressive to me. What's more, they have managed to do that without resorting to Asian manufacturing; these are the only loudspeakers in our round-up that is manufactured in North America rather than Asia.
>Buy Now< MSRP: $1,200/pair (Ebony or Walnut finish), $1,500/pair (Gloss black finish)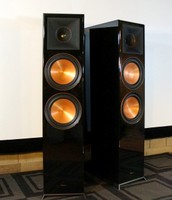 Klipsch has had a reputation for producing "bright" speakers, i.e., speakers with sizzling hot treble, and that is not my preferred voicing for loudspeaker tonality, so it was with some trepidation that I accepted their RP-8000F speakers for a review. However, I was surprised to find that these speakers actually had a very even tonal balance and that the overall sound was quite neutral and balanced. The RP-8000F turned out to be a relatively accurate loudspeaker-- and a great sounding one for that reason. The RP-8000F speakers are a bit different in design than the other speakers in our round-up in that they are a two-way design that uses a horn-loaded tweeter. It is also the least expensive speaker as the gloss black model we reviewed runs at $1,500/pair. The standard finish RP-8000Fs come in quite a bit less expensive than that, and occasionally one can find them at sale prices that put them even closer to $1k/pair rather than $2k/pair, but in terms of performance, they are very much punching above their weight class.
Along with their balanced sound, the RP-8000Fs can also pack a punch if given enough amplification. It's a relatively high-sensitivity speaker with a wide dynamic range, so those who like it loud would do well to consider the RP-8000Fs as a sweet-sounding source of hearing damage. The wide dynamic range does necessitate the largish cabinet, but it's not much bigger than the other speakers in our round-up, although they might be a tad more aggressive looking. The real story of the RP-8000Fs isn't one of loudness but of tonal accuracy. They sound good at any volume level, and audiophiles who normally forego Klipsch due to their reputation as a 'rock music' speaker really ought to give the RP-8000Fs a chance. These are good looking, great sounding, well-made loudspeakers that warrant an audition even by those shopping in higher price ranges. I think anyone who gives them a listen will be as pleasantly surprised as I was.
>Buy Now< MSRP: $1,800/pair (black or white finish)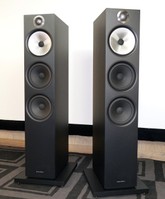 Even though the B&W 603 speakers are the lowest end of Bowers & Wilkins floor-standing speakers, the 603s are still given the design detail attention and build quality that one normally expects to see in more expensive speakers. Bowers & Wilkins chose not to cheap out even on these, their entry level speakers. Of all the speakers in our round-up, the 603s have the most robust and heavy-duty build quality. The cabinet is very well built, and even though the 603s are the smallest speakers in this round-up, they are also the heaviest. The drivers are all very stout with formidable construction. B&W has somewhat different design goals than the other speakers as well. Whereas most of the other speaker manufacturers focused on amplitude response as a criterion for sound quality, B&W is more concerned about phase coherency. B&W believes that time-domain problems are the worst offenders in sound quality and designs their speakers accordingly. The 603s are capable of a neutral sound, but it is a bit fussy about placement in order to accomplish that. The response on-axis is not all that balanced, but we found a very pleasing sound at an angle where these would be facing a parallel direction. While the treble was hot on-axis, it was clear and crisp without being overbearing off-axis. In other words, these sound better when facing straight ahead instead of aimed at the listening position. 
The bass was found to be very deep and powerful with a bit of boundary loading. These speakers have no need for the assistance of a subwoofer for most content, and I felt that subjectively, they had the deepest extension. The 603s have a sharp industrial design and would be a great fit in modern decor. Given their angular shape, low-frequency response, and off-axis response, B&W was making the 603s for how they will most likely be used instead of how tower speakers are ideally used. Normally, the ideal placement for a tower speaker is to have it pulled out in the room by at least a few feet and facing the listener. That, of course, is not how many people actually place their tower speakers. Usually, tower speakers get placed close to a wall and face outward in a parallel direction. B&W wisely built them to work well in that orientation. This makes them a very practical loudspeaker if a potential owner knows that they will end up in such a placement.
>Buy Now< MSRP: $1,600/pair (black ash), $1,800/pair (gloss black)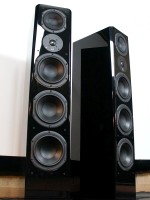 SVS already had a contender in the $2k/pair price range with the acclaimed Ultra Towers but decided to release a different tower speaker design nearing the same price point but with a somewhat different objective. Hence the reason for the Prime Pinnacle towers which are different from the Ultra towers and are more suited for different situations. The Ultra Towers have a very powerful and full anechoic bass response, but that can make them tricky to place in-room where acoustic room gain can greatly increase bass output thereby making an otherwise accurate bass response sound bloated and boomy. This makes them unsuitable for a small room and can also have problems being placed close to a boundary such as a room wall or corner. While the Prime Pinnacle towers will not quite have the same deep bass prowess of the Ultra Towers, they will be able to play a lot nicer in many domestic placement situations. The Prime Pinnacles use a unique and effective low-frequency shaping system in which each of the bass drivers is differently tuned so that the response can be carefully shaped to whatever the designer wants. With three 6.5" bass drivers, the Prime Pinnacles have no shortage of bass output capability, but the bass can sound more natural over a wider range of circumstances due to its innovative tuning system.
The sound character of the Prime Pinnacles is articulate yet easy-going; the response has a slight downward slope in high frequencies that give them a warm sound signature. A lot of speakers tend to be voiced with a slight rise in treble frequencies which can emphasize detail but such a response risks making the speaker bright and fatiguing to listen to for prolonged periods. By having a slight taper on the highs, the Prime Pinnacles are very easy to listen to all day long yet still retain the detail and ambiance of upper treble frequencies. They have a tremendous dynamic range as well, so those looking for home theater speakers that can slam have a great choice in the Prime Pinnacles. What's more, they are very attractive in the gloss black finish that we had as a review unit. It's a simple and straightforward industrial design that looks great and could fit well in almost any interior decor. In our review, we found the Prime Pinnacles to be solid speakers that don't have any real shortcoming or compromises, and since SVS offers a 45-day home trial with no risk, you don't have to take our word for it; you can see for yourself without any cost except for a bit of your time.
Conclusion
There are plenty of other great tower speakers in the $1.5k t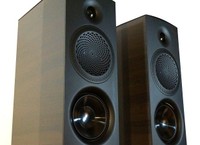 o $2k price range that we haven't had a chance to review, so while the speakers we have had the opportunity to cover in this comparison article are proven solid choices, don't let that discount you from looking at other brands as well. Reputable brands such as PSB, KEF, Dynaudio, Revel, Definitive Technology, and MartinLogan all have some very nice looking speakers in this range, but Audioholics doesn't have the time to cover them all (this year at least). However, when Audioholics does review a loudspeaker, it's worth paying attention because the reader will always get a good explanation of how the speaker performs, why it performs that way, and how best to use it to get the greatest performance out of it. Stick with us at Audioholics to stay on top of the latest in tower speaker design; you may find the perfect tower speaker for yourself. Of course, your perfect choice may already be here in this selection of very capable towers.
Confused about what AV Gear to buy or how to set it up? Join our Exclusive Audioholics E-Book Membership Program!
Recent Forum Posts:
Grandzoltar posts on August 08, 2019 13:18
noclue, post: 1328733, member: 78065
Nice to see towers reviewed in this price range. But in my humble opinion if there is not a outstanding center to go with them then i have no use for them. I would like to see the best combo for 2-3 k that includes the two towers and a center
Of that group the Paradigm 600c or smaller 500c is going to be the best center speaker imho.
shadyJ posts on August 07, 2019 23:16
_Mithrandir_, post: 1331349, member: 88476
All 5 of the speakers reviewed here seem like a great addition to most home theaters. I have also been considering Salk Songtowers. They fall around $2k per pair. Without listening in person (yet) to each of these as well as the Salk pair could anyone shed some light as to how they would compare? Besides reputation and custom cabinets that are stunningly beautiful, why wouldn't anyone just opt for these?
One advantage that these speakers would have over Songtowers is dynamic range. These speakers will be able to handle louder levels with less trouble than Songtowers.
_Mithrandir_ posts on August 07, 2019 20:01
All 5 of the speakers reviewed here seem like a great addition to most home theaters. I have also been considering Salk Songtowers. They fall around $2k per pair. Without listening in person (yet) to each of these as well as the Salk pair could anyone shed some light as to how they would compare? Besides reputation and custom cabinets that are stunningly beautiful, why wouldn't anyone just opt for these?
noclue posts on August 07, 2019 12:49
I just want to say that I am a firm believer in Arc room correction or just Anthem now no longer will i use demon or other AVR that use Audyssey room correction. even my wife noticed a huge difference once i set it up
I am sure Dirac live is as good or better but have no need to change at this point
trmoore2 posts on August 02, 2019 20:44
I would also audition the Revel F36 model before purchasing. I heard this model at an audio show, and they are terrific for the money!
Post Reply