Revel Performa M126Be Bookshelf Speaker Review
Revel Performa M126Be Bookshelf Speaker Review
Revel M126Be
DESCRIPTION: 2-way Bookshelf Loudspeaker
HIGH-FREQUENCY DRIVER COMPONENTS: 1" Beryllium dome with acoustic lens waveguide
LOW-FREQUENCY DRIVER COMPONENTS: 6.5" Deep Ceramic Composite (DCC) Aluminum Cone with a cast frame
FREQUENCY RESPONSE (-6dB): 54Hz - 44kHz
RECOMMENDED AMPLIFIER POWER: 50 - 150 Watts
CROSSOVER FREQUENCY: 1.7kHz
NOMINAL IMPEDANCE: 8 Ohms
SENSITIVITY: 86dB (2.83V @1M)
FINISHES: High-gloss Black, White, Walnut and Metallic Silver
DIMENSIONS (H X W X D): 15.2"x 8.3" x 10.3" (386 x 211 x 262mm)
NET WEIGHT: 22 lbs / 9.97kg
Pros
Very natural sound
Excellent imaging ability
Exceptionally neutral response over a very wide angle
Good bass performance
Looks very classy
Easy electrical load plays nice with almost any amplifier
Revel Performa M126Be Introduction
Loudspea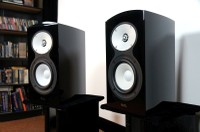 ker manufacturer Revel has been a consistently reliable brand for high-quality speakers ever since its inception by Sidney Harman in 1996 as a luxury brand segment of Harman International's family of audio businesses. Leveraging Harman's highly-regarded research into the human perception of what constitutes good sound reproduction, Revel makes speakers that uses their findings towards producing perceptually high-fidelity loudspeakers. They combine the engineering for high sound quality along with exquisite industrial design for loudspeakers that perform as high-end as they look. In 2018 Revel released the Performa Be loudspeaker line which served to fill in the very wide pricing gap between the Performa3 line and their top-end Ultima2 line. Presently there are only two speakers in the Performa Be line: the M126Be bookshelf speaker and the M228Be tower speaker. Today we are going to look at the M126Be bookshelf speaker.
The Performa3s was a highly-regarded speaker line, and the Performa Be speakers look to be a premium 'no-compromises' version of the Performa3 design that spares no expense in maximizing the potential of that platform. That sounds like the recipe for a very good speaker, so we're very excited to have a pair of the Performa Be M126Be bookshelf speakers in for review. These are not inexpensive. At $4k a pair they are the latest bookshelf speaker, loaded with cutting-edge technology from one of the most admired engineering teams in the loudspeaker industry. The question is do they live up to these very high expectations?
Monoprice THX-365T & Revel M126Be YouTube Reviews Discussion

Appearance
The Revel M126Be is a really good-looking speaker, but a bookshelf speaker at this price point had better look nice. The M126Be can be had in four different finishes: gloss black, gloss white, gloss silver, and a polished Walnut wood finish. We received the gloss black finish. One distinctive styling cue is the rounded side panels and top panel that give the M126Be a much softer aesthetic than a box with a bunch of 90-degree corners. The top of the speaker has a 'top cap' that is a piece apart from the rest of the enclosure and is finished in a scratch-resistant high gloss; it almost resembles the hood of a car. Indeed there is nearly a sense of automotive styling here as the speaker looks like it has a modern car's aerodynamic shaping.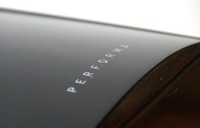 It reminds me of a high-performance luxury car like a Mercedes-Benz or upper-tier Audi. Doubtlessly, the solid color gloss finish is a factor in this. With the grille on, the M126Be looks nice but fairly inconspicuous, and I prefer these speakers with the grille off since it reveals an elegant font baffle arrangement. The tweeter and woofer are mounted in a curved fixture that surrounds them both, and the woofer cone and tweeter waveguide have a cream white color and texture that makes for a nice contrast with the black surround and driver frame. One aspect that helps maintain a clean appearance is the grille uses magnetic adhesion, so there are no grille guides to interfere with the clean front baffle. This is a very high-end looking speaker that has a graceful and uncomplicated appearance that could easily fit in any interior decor, even a very luxurious one.
Design Overview
As previously mentioned, the Performa Be speakers are like a deluxe version of the Performa3 speakers. The Performa Be speakers use the same basic design as their Performa3 counterparts, except that everything has been taken up a notch so that the Performa Be speakers can be considered the Performa3 platform that has been pushed to the upper limits of what is possible in that basic design.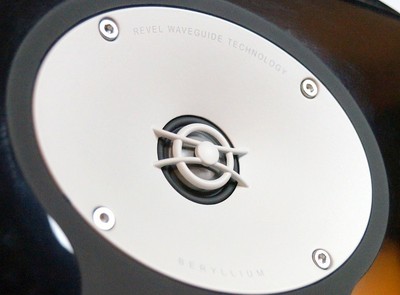 To start with, let's talk about t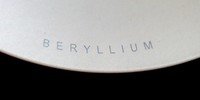 he tweeter. Revel decided to use a Beryllium diaphragm tweeter in the M126Be, hence the 'Be' in the Performa Be series name ('Be' is the atomic symbol for Beryllium). Beryllium is expensive but is one of the best diaphragm materials for a tweeter dome. Ideally, a Beryllium dome should be able to play up to extremely high frequencies very smoothly with little distortion compared to other dome materials such as the Performan3's aluminum diaphragm tweeters. This is on account of its low weight combined with its very high stiffness; this Audioholics article on how to identify high fidelity loudspeakers discusses the matter of diaphragm composition and
Beryllium's advantages here. It is three times stiffer than conventional diaphragm materials such as aluminum but exhibits three times the damping and is only half the weight. The reason why it isn't more widely used is expense: I am told that an aluminum dome normally costs under 25 cents whereas a Beryllium dome costs over 30 dollars (and that's not counting the motor structure or other parts of the driver itself). The Beryllium tweeter is mounted in Revel's latest generation waveguide so that directivity is better controlled than previous Revel waveguides. When we remove the tweeter driver from the cabinet, it is absolutely massive and is by far the largest tweeter motor I have personally seen to date. Part of the reason why it is so large is because of the two 3 ⅓" ceramic magnets which give the tweeter a major boost in sensitivity. Ceramic magnets also have the advantage of better heat dissipation over the Neodymium magnets that most tweeters use. 
The woofer cone is made from a material that Revel calls 'Deep Ceramic Composite' aluminum (which I am guessing is a heavily anodized aluminum), which should be a somewhat higher-performing cone material than the regular aluminum used in the standard Performa3 speakers. It has a very substantial ½" roll surround, so it looks to be capable of high-excursions. Looking at the driver removed from the cabinet, we see a heavy-duty cast aluminum frame along with a beefy motor section that uses a ⅘" thick, 4.7" diameter magnet with a vented backplate. It has a new optimized motor assembly versus the Performa3 driver. This is a formidable 6.5" woofer, but I would expect nothing less at this price point.
The crossover circuit in the M126Be has highe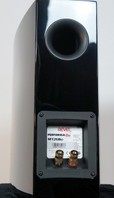 r-quality parts than the Performa3 speakers such as air-core inductors and film capacitors. When we take a peek at the crossover board, we see three good-sized air-core inductors, two big film capacitors, and two resistors. These components add up to a 2nd order crossover on the tweeter and a 3rd order crossover on the woofer at 1.7 kHz.
The cabinet is made from ¾" MDF panels with a window brace between the tweeter and woofer. Amp connectivity is made from a very solid five-way binding post befitting the high-end construction of the rest of the speaker. The M126Be has a rear-mounted 1 ¾" port that is equally flared on both ends. The port is designed using fluid modeling, but such a relatively large port in a bookshelf speaker will do a lot to ensure port turbulence never becomes a problem even without sophisticated physics modeling. The speakers also come with port plugs for instances where boundary gain gives too much of a boost to bass frequencies. There is a generous amount of stuffing on the inside that is lining the walls instead of floating freely. The knock test doesn't reveal any kind of hollowness or ringing, and that is not surprising since these speakers are a hefty 22 lbs. each even though they are just average-sized for bookshelf speakers. They have the solidity and weight that one would expect from a luxury item.
Listening Sessions
In my 24' by 13' (approximately) listening room, I set up the speakers with stand-off distances between the back wall and sidewall, and equal distance between speakers and listening position. The speakers were set up to face the listening position directly, as was prescribed in the owner's manual. Listening distance from the speakers was about 9 feet. Amplification and processing were handled by a Pioneer Elite SC-55. No room correction equalization was used. Subwoofers were used for some content that contained deep bass frequencies.
Music Listening
In evaluating the sound of a loudspeaker, a great place to start is an acoust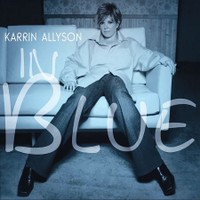 ic recording that places emphasis on a clean vocal lead. For this task, I selected Karrin Allyson's 'In Blue,' a 2002 bluesy jazz album in which the multiple grammy-nominated Allyson covers a range of blues classics from Bobby Troup, Blossom Dearie, and Joni Mitchell. Allyson's rich, sultry voice is backed by superb instrumentalists with saxophone, percussion, bass, and piano accompanying her singing. The recording quality is outstanding and this album could and should be used as reference material for high-fidelity sound systems everywhere. From the first note, I was taken by the M126Be's realism in reproducing 'In Blue.' Imaging across the entire soundstage was beautifully realized. Allyson's voice was squarely anchored in the center with the instrument sounds being given their own space around her. The sound was like listening in a club at a mid distant seating position, unlike many other jazz records that place the listener in the front row where the instruments are further off to the sides of the listening position. I can enjoy recordings engineered to imitate either vantage point, but the imaging capability of a sound system needs to be very good to convincingly pull off the soundstage of 'In Blue' and luckily the M126Be speakers excel in this respect.
Along with the superb imaging, the tonal balance was also magnificently rendered. I didn't sense any misplaced emphasis on any particular sound nor did I sense any deficit in any range. Allyson's voice sounded natural, and the instruments also had an even tonality that surely is what the recording engineer was going for. The bass reproduction from these average-sized bookshelf speakers was very good, although the addition of a subwoofer would no doubt have given the lower notes a bit more heft. For this type of music, however, the M126Be speakers had sufficient low-frequency extension. The illusion that a good pair of speakers can cast from a stereo recording is always a cool magic trick and in this particular case, the M126Be speakers created a jazz ensemble in my home theater room that was vivid and nearly tangible. 'In Blue' is a superb recording that should be paired with a superb sound system, and the M126Be speakers certainly qualify in that regard.      
Imaging across the entire soundstage was beautifully realized on these speakers...

For music on a larger scale, I chose an orchestral recording, again taking from the 'In Classical Mood' series. The album was entitled 'Twilight,' which is a compilation of different tracks united by a theme of its namesake, the onset of night. The tracks in this compilation are pulled from a host of other classical albums and include pieces by composers such as Elgar, Beethoven, and Chopin. Most of the pieces were performed by major players such as the Berlin Radio Symphony Orchestra, Alan Schiller, and English Symphony Orchestra. The recording quality is generally quite high, even though the tracks were taken from a variety of sources, so they have different sound engineers and recording techniques. The M126Be speakers reproduced these pieces with aplomb. The M126Be speakers were able to convey the differences in the authoring of the tracks by the sound engineers so that the differences in venues, performers, and recording techniques were clearly heard.  The soundstage in each of the songs was meticulously rendered, and my listening room was aurally transformed into a number of different concert halls for the duration of this album. Instrument sections were intelligible and easily localizable within the soundstage. The M126Be's low-frequency extension was good enough for these particular recordings, however, the addition of a subwoofer might be desirable for orchestral recordings that bring in deep bass elements. That being said, I would guess that their bass extension is adequate for most classical music. While I don't think the tonality of the speakers would leave anyone wanting, those who crave the dynamics of a live orchestra may want larger speakers, and I would guess that their tower speaker siblings, the F228Be speakers, would fill that role. Even so, these speakers have a terrific dynamic range for their size. Many of the tracks in 'Twilight' are on the mellow side of classical music, but some of them have some boisterous moments which exhibited a wide dynamic range and good transient behavior from the speakers. I think that the M126Be speakers did a superlative job in replaying 'Twilight,' and I think any classical music lovers would agree.       
Another kind of c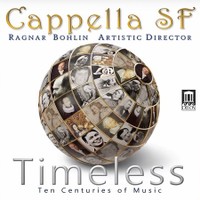 ontent that I like to use to assess a speaker's sound is chorale music because it still places a focus on human vocals but covers a wider range of frequencies than music with a single vocalist. I think it's a great music type to detect any potential shortcomings in the tonal balance of loudspeakers. An album that I used toward this end is 'Timeless: Ten Centuries of Music' which I saw had been very highly praised in other publications. 'Timeless' traces the evolution of chorale music over the past millennium over 16 tracks from nearly ancient compositions to modern-day pieces as performed by the Cappella SF and conducted by Grammy-winning chorus director Ragnar Bohlin. The production quality is first-rate, as would be expected from an album by the highly-regarded Delos label, and it can be had in a 24bit/192kbps WAV file for those who want the highest possible fidelity. I only had the CD-quality FLAC but that is good enough for me because I have trouble hearing above 18 kHz; audiophile bats and dogs may prefer the 192kpbs sampling rate format, however. As a musical experience, hearing 'Timeless' on the M126Be speakers was sublime. I was cat-sitting during this listening, and the cat agreed with my assessment of the quality of this musical performance; it had been wandering around for all the other material I had been playing, but for this music, it perched itself on an end table and seemed entranced by this sound. The soundstage presented by the album and the speakers were as good as anything I have heard in my room; it was wide, and the acoustics of the setting was vividly captured so that the venue, the St. Ignatius Church in San Francisco, was practically realized in my listening room. The imaging was exceptional, and I could nearly pick out individual singer positions within this 25-singer choir. Voices had an excellent level of detail, and the choir as a whole could be quite vibrant at times which the speakers did nothing to hinder in the slightest. I could use 'Timeless' as replayed on the M126Be speakers as a reference point for superior audio reproduction. I believe this is the sort of experience that could open the eyes of the uninitiated to the power of high-fidelity audio.    
It was impressive to hear such a big sound from modestly-sized speakers.
The base specs of the Revel M126Be speakers suggests an average bookshelf speaker; there are many two-way bookshelf speakers using a 6.5" woofer and 1" dome tweeter. But after seeing the heavy-duty motors of the M126Be drivers, I thought that maybe these could jam a lot harder than your average 6.5" woofer/1" dome tweeter bookshelf speaker, so I decided to play an album that could get loud without much letting up. An album I selected to rock these speakers was 'Sequentaria' by Jeffrey Koepper, released in 2008. 'Sequentaria' isn't an especially loud album itself but it's the type of music that I like to play loud. It is electronic music that is heavily reminiscent of the kind of music Tangerine Dream was famous for in the 1970s and '80s which relied heavily on arpeggiated sequences along with sweeping atmospherics which combined to form a wall of analog synth sound. Koepper sticks pretty close to this formula but carves out some interesting new rhythms and melodies with vintage synth sounds. The pulsating bass lines and harmonically-rich lead synths create a very dense sound which is a good stress test on a speaker if played loud.
Even at loud volumes, I did not hear
any complaints from the M126Be speakers during the playback of 'Sequentaria.'. I did not deliberately seek to drive them into distortion, and I am sure I could have if I had wanted to, but at the levels I was listening to 'Sequentaria,' which was likely quite a bit higher than what most people would, the speakers were unperturbed. I was again surprised at how solid the bass was while listening to this album. The M126Be speakers produced a full, meaty bass sound. A subwoofer might have made the bass a bit more authoritative, but the low-frequency behavior of these speakers was considerable on their own. It was impressive to hear such a big sound from modestly-sized speakers. The M126Be speakers also did a great job in recreating the supernatural soundstage of this electronic music soundscape. All manner of buzzes, beeps, and drones whirled about over the entire front area of the listening position, and these speakers were able to throw sound well outside the boundaries of their placement. For those listening in a central position, good speakers such as these with proper placement and the right recording can really capture much of a surround sound experience without the need for physical surround speakers. 
Movie Watching
I had heard high praise for 'Lo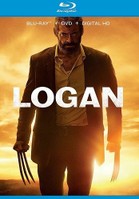 gan,' the last film of Hugh Jackman's tenure as Wolverine, but had not had a chance to see it yet, and what better way to watch it than with a pair of high-end speakers such as the Revel M126Bes. A film like this is bound to have a top-notch sound mix with a wide dynamic range, so I thought it would be a good opportunity to see how the M126Be speakers could handle some heavy-duty action sounds effects. I did engage the subwoofers for this viewing as I guessed this movie would have substantial bass below the speakers' specified -6 dB point of 54Hz. I also set the receiver to not use a center speaker and use the M126Be speakers to create a phantom center. I did this since so much of the sound would be coming from the center channel that it wouldn't really be much of a demo of the M126Bes if I left the center speaker in the mix. I played the movie loud and found that this movie benefited from a louder level than most modern action movies because 'Logan' wasn't wall-to-wall action scenes that so many other action films tend toward and instead spaces out the action. The M126Be speakers were a great fit for the movie and were able to handle the wide dynamics with ease. Dialogue, music, and effects sounds were all kept distinct and separate. Even though it was just these two bookshelf speakers carrying the load from 80 Hz+ with no assistance from a center speaker or surround speakers, they still presented a cinematic experience, and I did not miss the center or surround speakers. It does help that I can sit in a location that is equidistant between the speakers, otherwise center channel content and surround content would get heavily anchored toward the speaker that the listener is closest to, but that would be true of almost any speaker (the exception being narrow dispersion speakers with a hard toe-in). What was demonstrated here was that listeners can still get a big-screen experience without needing big speakers; they just need high-performing speakers.
Something else that I watched with the M126Be speake
rs was the new Amazon TV series, 'The Boys.' This show is a dark comedy about some vigilantes who decide to take down a group of reckless superheroes who abuse their powers. This is a major production from Amazon, and no expense is spared bringing this story to the screen. As such, I thought it would be good material to see how the M126Be would handle a television production. I viewed this series in 2.1 mode so that the M126Be speakers would be given dialogue duty along with the rest of the content that a center channel normally carries. 'The Boys' turned out to be a bloody, satirical look at superhero culture, and the M126Be speakers delivered the goods with respect to sound reproduction. Dialogue intelligibility was crystal clear, and effects sounds such as gunshots and various superhuman deeds shine when the sound mix calls for them to do so. Since the dialogue is filled with quick jokes told by characters with thick accents, a good sound system might be a requirement for getting the most from the verbal sparring in 'The Boys' without missing anything, and the M126Be speakers work well in this regard.
The music was anchored by an original instrumental score from Christopher Lennertz and peppered with an eclectic mix of punk, rock, and pop tunes ranging from The Clash to Jane' Addiction to The Spice Girls; the M126Be speakers helped to make the soundtrack a delight to hear. Speakers as expensive as the M126Bes aren't necessarily needed for a show like 'The Boys' to be an enjoyable aural experience, but the better the sound system that can be given to such a dense sound mix, the better it will sound, and the M126Be speakers did not constrain the sound mix in any way that I noticed.

See also:
Confused about what AV Gear to buy or how to set it up? Join our Exclusive Audioholics E-Book Membership Program!
Recent Forum Posts:
RichB posts on February 01, 2020 15:26
KEW, post: 1366782, member: 41838
I have a Grotto which is a very nice music sub.
I did not know there was a "Grotto i"!
Looking at the spec's it first looked like they primarily added peak power capabilities more than any thing else, but then I saw that the cabinet is larger in all dimensions and weighs another 11 pounds???

I love this little sub because it puts clean bass and seemingly nothing else. It is small and has a corner design.
I wish more did and I would replace my Velodyne HGS-15 with 2 more compact 12" subs.
- Rich
KEW posts on February 01, 2020 13:53
RichB, post: 1366778, member: 11091
It is the Marin Logan Grotto i which was a really nice compact servo sub:

https://www.martinlogan.com/en/product/grotto-i

- Rich

I have a Grotto which is a very nice music sub.
I did not know there was a "Grotto
i
"!
Looking at the spec's it first looked like they primarily added peak power capabilities more than any thing else, but then I saw that the cabinet is larger in all dimensions and weighs another 11 pounds???
RichB posts on February 01, 2020 13:34
KEW, post: 1366674, member: 41838
Is that the Martin Logan Grotto subwoofer?
Or is there another Grotto?

It is indeed disappointing that the details useful for wall mounting are not included in the owner's manual!
FWIW, My Energy OMD-5 actually was supplied with mounting brackets that were very simple (inexpensive) and effective because their use was integrated in the cabinet design. I wish more companies thought that way!

It is the Marin Logan Grotto i which was a really nice compact servo sub:
https://www.martinlogan.com/en/product/grotto-i
- Rich
KEW posts on January 31, 2020 19:40
RichB, post: 1357055, member: 11091
I have a Grotto I sub that I should be able to blend-in to take up the slack.

- Rich

Is that the Martin Logan Grotto subwoofer?
Or is there another Grotto?
It is indeed disappointing that the details useful for wall mounting are not included in the owner's manual!
FWIW, My Energy OMD-5 actually was supplied with mounting brackets that were very simple (inexpensive) and effective because their use was integrated in the cabinet design. I wish more companies thought that way!
ryanosaur posts on January 31, 2020 14:33
RichB, post: 1366591, member: 11091
The M126Be's are in house.

I will be placing them on my white Omnimount wall mounts.
Life would be a lot easier if Revel would provide product dimensions, screw size (including depth), and a template.
I will use white Azek to adapt the mount to the speakers.

Are mechanical specifications too much to ask?

33739

- Rich

Ha! I think speakers should come with inserts ready for a universal bracket… something like a VESA mount. For all the random wall mount needs, it would be an easy adaptation in the manufacturing process to install t-nuts sandwiched in a 1/2"+1/4" thick rear panel!
Post Reply