JBL's Retro-Styled 4349 'Studio Monitor' Loudspeakers Are For Pros & Home Listeners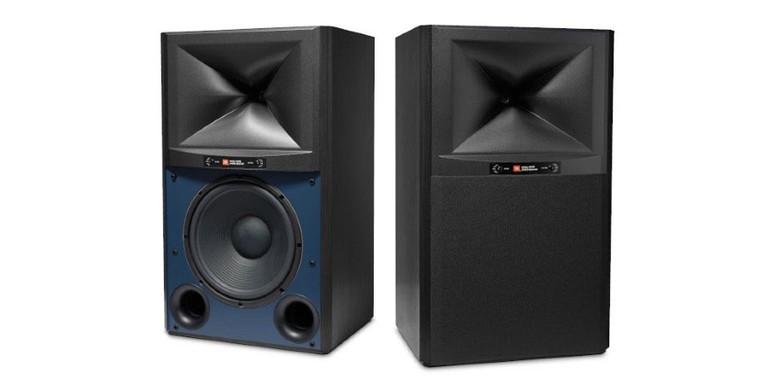 JBL 4349
Summary
Frequency Response: 32Hz–25kHz (-6dB)
Impedance: 8 Ohms
Sensitivity (2.83V/1m): 91dB
Dimensions (H x W x D): 29" x 17.5" x 13.5"
Weight: 83 lbs
Executive Overview
The JBL HDI-3800 loudspeakers, which so impressed Audioholics reviewer James Larson earlier this year, certainly benefit from a thoroughly modern aesthetic design, but the HDI Series is the odd man out among the company's recent offerings. In the last few years, JBL has introduced a number of high-end loudspeakers that embrace a more classic look. The 4312SE 70th Anniversary Studio Monitor kicked things off in 2016, but it was 2018's launch of the 3-way L100 Classic ($4,000/pair) that made the strongest statement about JBL's celebration of 1970s styling. After all, the original L100 was iconic for its looks as well as for its sound, and was JBL's biggest seller of all time. Then at CES 2020, the company showed off the smaller, 2-way L82 Classic loudspeaker ($2,500/pair). The L100 Classic and L82 Classic both meld retro looks with 21st-century internals — such as the wave-guided 1-inch titanium dome tweeter that handles the high frequencies in both models. These speakers have enjoyed both critical and commercial success, but some JBL fans simply can't live without the higher sensitivity and resultant sonic immediacy of a good horn design. To this day, JBL's largest, most expensive, and most ambitious speakers rely on horns to help deliver the hard-hitting get-up-and-go that the brand is known for. The newest of these is the 4349 Studio Monitor ($7,500/pair), which continues the company's nod to retro aesthetics but eschews a dome tweeter in favor of a patented compression driver mated to a large-format HDI (High-Definition Imaging) horn. The low frequencies are handled by a 12-inch woofer. JBL claims that "the resulting 2-way design is a triumph for accurate sound reproduction and an affirmation of Harman's unique capacity to deliver professional-studio-grade performance for discerning consumers." Despite the "Studio Monitor" moniker, the 4349 is intended for professionals and home listeners alike.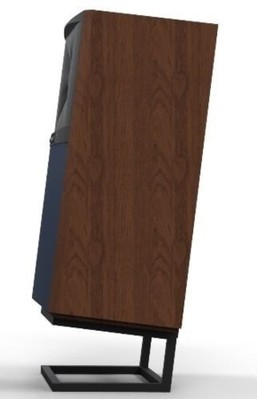 There are several patented JBL technologies at play in the 4349 Studio Monitor, but the star of the show is undoubtedly the proprietary compression driver, which employs dual voice coils, dual motors, and a pair of lightweight, 1.5-inch annular ring diaphragms made from Teonex polymer. Dubbed the D2415K (the "D" stands for "dual"), this driver has been used in previous JBL designs, and is derived from the "D2" range of transducers from the JBL Professional line. The D2415K reportedly offers excellent high-frequency extension thanks to its low-mass, and the diaphragm's V-shaped geometry is said to reduce breakup modes, thus eliminating time smear and reducing distortion. Its dual-everything design results in extremely high efficiency and "incredible dynamics with accurate reproduction and a lack of power compression," according to JBL. In the 4349 Studio Monitor, the D2415K is situated in the throat of JBL's revolutionary HDI horn, which is designed to deliver neutral frequency response both on-axis and off-axis.  The unique HDI horn geometry is said to achieve "exceptional high-frequency detail and uniform directivity for smooth in-room response," while providing "a seamless transition between the high and low frequency drivers."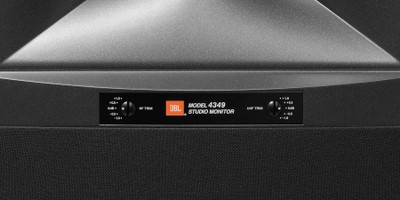 To dial in the speaker's sound to suit both the listening environment and individual preference, the user can adjust two trim dials — labeled HF (High Frequency) and UHF (Ultra High Frequency) — which allow for ±1dB tone adjustments in half-dB steps. These are located on the front panel directly below the horn. JBL says that the tone controls "work in conjunction with an advanced crossover network design that features air-core inductors, cast wire-wound resistors, and low-ESR metallized film capacitors in a multi-cap configuration to optimize the performance of (the) drive components. The multi-cap technique improves series capacitance by averaging their values while lowering ESR and distortion." Below about 1.5 kHz, sound reproduction duties are handed off to the 4349's 12-inch cast-frame, Pure-pulp cone woofer, which promises high output with low distortion thanks to a 3-inch long-throw voice coil and dual-opposing spider dampers. The cone's lightweight, rigid diaphragm is said to help eliminate breakup modes and ensure pistonic motion throughout the woofer's impressively wide operating band. The 4349 Studio Monitor is a bass reflex design, employing a pair of front-firing, computer-optimized, flared ports. The heavily-braced cabinet features 1-inch-thick walls, providing a solid foundation for the drive units and contributing to the speakers' hefty 83-pound weight.
The new JBL 4349 Studio Monitor enables music lovers at home to enjoy the same exceptional dynamics and accuracy that producers and engineers employ in leading studios. Now, by virtue of a transformative driver, mathematically brilliant horn and woofer design, and classic good looks — great sound has never been more at home. Every detail of the JBL 4349 Studio Monitor has been examined and every assumption has been challenged. The result is a monitor loudspeaker that defies comparison and provides anyone, anywhere with a love of music to re-discover every track, re-visit with every artist and re-trace every musical journey. I promise that new nuance, new energy, and new dynamics will be revealed!
— Jim Garrett, Senior Director, Product Strategy and Planning, HARMAN Luxury Audio
The 4349 Studio Monitor's classic design combines a blue front baffle with your choice of furniture-grade veneers: satin walnut wood or satin black walnut wood. Both color options sport large black horns, but the satin walnut option brightens things up with a blue cloth grille, while the black 4349 comes with a black grille. Dual sets of gold-plated binding posts adorn the otherwise unblemished sheet of wood veneer on the back panel. At 29 inches tall, the 4349 Studio Monitor is larger than a typical bookshelf speaker but still requires stands to place them in an optimal position for listening. JBL's low-profile JS-120 floor stands ($300/pair) are the obvious choice, providing not only the correct height but also the correct angle, as the speakers are meant to lean back slightly in order to deliver the intended frequency response, imaging, sound staging, and detail in a wide variety of listening environments. According to Jim Garrett of JBL's parent company, HARMAN Luxury Audio, the 4349 Studio Monitor "will transform how music is enjoyed and appreciated at home, (enabling) a wide range of music lovers to have a world-class, studio-grade experience in rooms of all sizes." If you want to hear them for yourself, visit your local dealer and share the experience on our forums.


Confused about what AV Gear to buy or how to set it up? Join our Exclusive Audioholics E-Book Membership Program!