PSB Imagine T3 Tower Loudspeaker Preview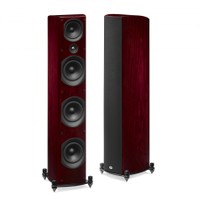 The Imagine T3 is PSB's new flagship loudspeaker and continues the legacy of Founder and Chief Designer, Paul Barton. The T3 is a sleek, five-way transitional design loudspeaker that's triple ported, ti-amp capable, and has lots of options to fine-tune the sound to your room. The Imagine T3 has reported bass extension down to 24 Hz. Check out our full preview of this great-looking, new flagship speaker from PSB.
PSB calls the Imagine T3 a five-way transitional design floor standing loudspeaker. It's a triple-ported design with three-pairs of binding posts and can be tri-amped and reaches down to 24 Hz.