Sonus Faber Tower Speaker Comparison and Design Overview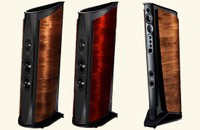 Italy's Sonus Faber has been crafting finely sculpted speakers near Vicenza for over 30 years. Today, we take a comparison look at the range of tower speakers Sonus Faber offers, from the merely expensive to the truly high end price range, to find out what you get when you mortgage your house for a sweet new set of speakers. We explore their marketing claims to see if they have any merit and take a close look at design details behind each of the speakers.
Audioholics has a look at the the full range of finely sculpted speakers by Italian manufacturer, Sonus Faber, in this tower speaker comparison.