KEF Reference Series and Blade Two Floorstanding Speaker Preview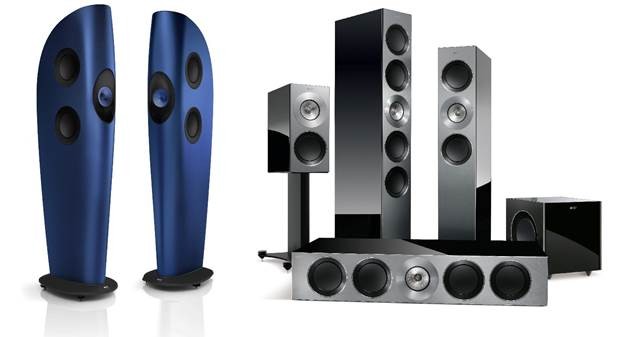 KEF Blade II Floorstanding Speakers
Summary
Model
BLADE TWO
Design
Three-way bass reflex
Single apparent source
driver configuration
Drive Units
Uni-Q driver array:
MF: 125mm (5in.) Li-Mg-Al /LCP hybrid cone
HF: 25mm (1in.) Al dome
Bass units:
LF: 4 x165mm (6.5in.) aluminium
Frequency range free field (-6dB)
34Hz - 45kHz
Frequency range typical in room bass response (-6dB)
25Hz
Frequency Response (±3dB)
40Hz - 35kHz
Crossover frequency
320Hz, 2.4kHz
Amplifier requirements
50 - 400W
Sensitivity (2.83V/1m)
90dB
Harmonic distortion 2nd & 3rd harmonics (90dB, 1m)
<0.5% 40Hz - 100kHz
<0.2% 200Hz - 10kHz
Maximum output (peak sound pressure level at 1m with pink noise)
116dB
Impedance
8 Ohms (min. 3.2 Ohms)
Weight
41 kg (90.2 lbs)
Dimensions - with plinth (H x W x D)
1461 x 338 x 475mm
57.5 x 13.3 x 18.7 in.
Finishes
Piano black
Snow white
Racing red
Warm metallic grey
Light metallic silver
Frosted blue
Frosted copper black
Executive Overview
Back in 2009, KEF showed off their Blade concept speaker. It was a no-holds-barred speaker that was designed to inform the rest of their speaker designs for the foreseeable future. Two years later, they announced the Blade speaker. At $30,000 a pair, they had taken their concept speaker and found a way to transform it into something they could mass-produce. Since then, nearly every speaker offering has had the phrase "based on technology developed for the Blade speaker" (or similar) in their marketing blurbs.
Back when I reported on the Blade speaker in 2011, I likened the Blade to concept cars from automobile manufacturers. Even if KEF didn't sell a single pair of the Blade speakers, just building a speaker so advanced would teach the engineers within the company a lot about what could be done. With our recent reviews of KEF offerings, it seems that they have found ways to integrate the technology in the Blade Concept speakers into the rest of their line.
And we've certainly liked what we've heard.
KEF has decided to expand the family of Blade speakers with the new Blade II floorstanders. These new Blade Two speakers feature updated drivers, a slightly smaller form factor, and a reduced price. At $24,000 a pair, they may not be on your Christmas list (they might make your "win the lottery" list) but they are less expensive than the original Blade speakers.  Kef claims the Blade Two have been developed with a smaller footprint in mind for urban and European markets, where there are more space constraints.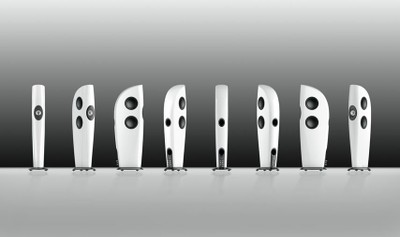 This is probably an image of the original Blade but they look the same.

The Blade Two speakers feature KEF's signature Uni-Q driver. Featuring a 1" aluminum dome tweeter mounted in the center of a 5" midrange, the Uni-Q has been tweaked for this speaker. Like previous iterations, it sports a "tangerine" waveguide. The concentric driver is the only forward-facing driver on the speaker. The parabolic curvature of Blade Two's high-density polyurethane enclosure increases cabinet rigidity and houses four side-firing 6.5" aluminum cone woofers (two on each side). The bass drivers are decoupled from the enclosure and are opposing for a "force-cancelling" effect. The original Blade speakers had 9" drivers and a slightly larger enclosure.
With the smaller bass drivers and the smaller enclosure, you'd expect slightly less bass out of the Blade II speakers. You'd be right...sort of. Both the speakers have a -3dB rating at 40Hz. However, the original Blade speakers were rated down to 28Hz -6dB and 20Hz "in room." The new Blade II speakers are rated down to 34Hz -6dB and 25Hz "in room." Frankly, if you are pairing the Blade speakers with a subwoofer, you could save $6,000 and get the new Blade II speakers and likely not notice the difference.
For more information, check out the Kef Blade Two Info Page
The New Kef Reference Series
KEF is putting new technology to work in their Reference line speakers. The new line has the upgraded Uni-Q driver and the upgraded 6.5" woofers. There are five Reference designs: a three-way bookshelf speaker, two formidable three-way floor standers, a three-way timbre-matched center channel, and the powerful twin-driver subwoofer, which utilizes KEF's 'force-cancelling' technology. The Reference's distinctive front baffle is made from laminated aluminum and resin composite which is formed in extreme temperature and pressure to add rigidity to the cabinet structure and providing acoustic damping. Pricing for the Reference speakers are:
REFERENCE 1: Three-way bass reflex bookshelf – $7,500 /pair
REFERENCE 3: Three-way bass reflex floorstander -- $13,000 /pair
REFERENCE 5: Three-way bass reflex floorstander -- $18,000 /pair
REFERENCE Center: Three-way bass reflex center channel -- $7,500 /piece
REFERENCE Subwoofer - $5,500 /piece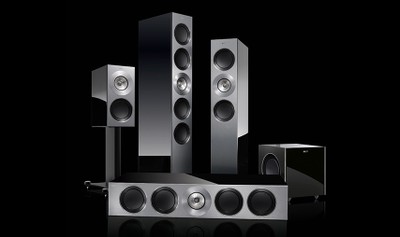 Conclusion
When a new, smaller version of a flagship speaker is released, we often think that the company is trying to make it more affordable. That doesn't seem to be the case with KEF's Blade II. Instead, KEF is using their flagship speakers to inform the rest of their speaker lines. When they needed different drivers, they first moved to the Blade speaker and came up with a new design that could trickle down to their other speakers. Now they not only have an upgraded Uni-Q concentric tweeter/midrange driver, but new 6.5" bass drivers. Of course, they immediately put these drivers and technologies into an upgraded Reference line. We expect to see many more speakers with cues from the Blade Two speakers. Or, if you have $24,000 for the pair, you can buy these now!

Unless otherwise indicated, this is a preview article for the featured product. A formal review may or may not follow in the future.