KEF M500 On-Ear Headphone Review
KEF M500 On-Ear Headphone Review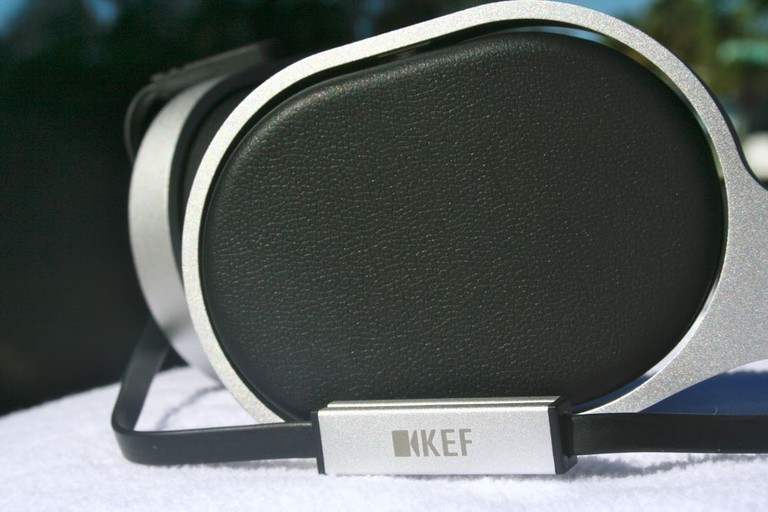 KEF M500 On-Ear Headphone
Driver: 40mm
Frequency Response: 20Hz~20kHz
Sensitivity: 103 dB±4dB (IEC-318 at 1KHz)
Impedance: 32±15%Ohm
Maximum Input Power: 30mW
Noise Attenuation: -20dB
Cable length: 1.3m
Connector: 2.5/3.5mm
Pros
Comfort
Sound Quality
Looks
KEF M500 Introduction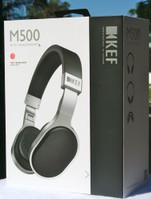 The bitterest meal you can eat is one made of your words. That's right, when you are forced to re-evaluated everything you "knew" to be true, admitting you were wrong is something that few are willing to do. Look at the state of the world today. Do you think our government would be so deadlocked if they were willing to admit that, just perhaps, their ideology was, in fact, a touch flawed from time to time? Do you think so many people would be suing each other if not that both parties were unwilling to see that the other person does have a point and that they are at least partially responsible for the current situation?
In the spirit of making the world a better place, I, Tom Andry, was wrong.
I'd like to say that makes me feel better and that a rainbow just appeared over my home but it isn't true.
I stated in a recent review that on-ear headphones could not be comfortable. I may not have used those exact words, but the inference is pretty clear. In my defense, I've worn more than my fair share of headphones and on-ear headphones have never, ever, been comfortable.
Until now.
KEF contacted Audioholics about our interest in reviewing their new M500 headphones. As the resident headphone dude (that should be on my card), the task came to me. Now, I'd seen the KEF headphones at this year's (technically last year's but whatever) CEDIA and my initial reaction was, I'm ashamed to say, that they looked stupid.
That's right, stupid.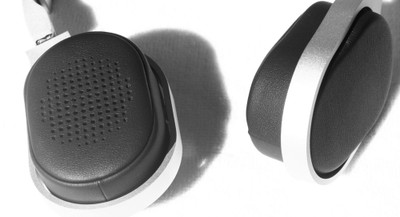 I mean, look at that. Tell me your first reaction wasn't, "Huh?"

Now, I loved the industrial look of the headphone. The aluminum band was solid and robust, the headband covering was supple and reasonably padded, and the design was well thought out. But it was the earcups that prompted my response. They have a nearly unique (at least in modern headphones) design with a cover that stretched clear across the cup. While it is perforated, I felt like such a design would be uncomfortable and would perhaps harm the sound quality. As you can tell, these are the words I'm currently eating. Nom.
First Impressions

The KEF M500 headphones come with two cables (one with in-line controls) that are the more popular flat style. There is a carrying case that is in the shape of a clamshell and is rigid. KEF has included not only a 1/4" adapter, but the two pronged adapter for use on airplanes. My experience with the airplane adapter isn't that they don't work, I'm sure they do, but that the ports in the airplane are often so abused that they rarely allow a solid connection. During the course of this review, I didn't have a chance to take a flight anywhere so I couldn't test it out.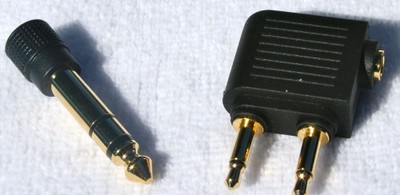 Pictured: Things that will be constantly in your way until the night before your flight.

The carrying case is solid and has a separator for the headphones and the extra cables. They really couldn't have made the case smaller and given you enough room for the cans and the accessories. The case is very firm and I have no doubt it will protect your $300 headphone investment from all but the most egregious abuse. The outside of the case is smooth and the only addition I might have requested is some way to clip it to your bag, backpack, or luggage.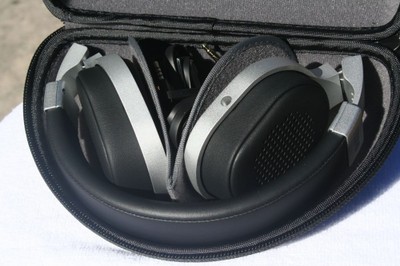 That hole on the earcup on the right is for the cable
In an unusual turn of events, I wasn't the first one to try out the KEF M500 headphones. I happened to be hanging out with Clint DeBoer on the set of him and Andrew Gash recording a series of video reviews. Clint was doing some work and needed headphones. While he had some nearby, I offered him the KEFs. The first thing I noticed about them was their ability to isolate noise. Clint, like all of us at Audioholics.com, doesn't listen to music overly loud. We care too much about our hearing. But when Clint put on the M500s, I couldn't hear his music and he couldn't hear me. When we removed the headphones, I could hear the music but the isolation when he was wearing them was outstanding. If you are planning on using your headphones in a busy or crowded area and don't want to disturb your neighbors, these are for you.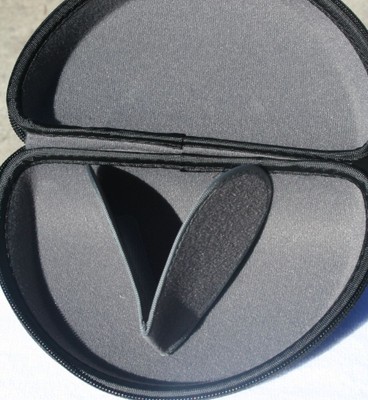 That wedge is attached to the bottom