thinksound On1 On-Ear Headphones Review
thinksound On1 On-Ear Headphones Review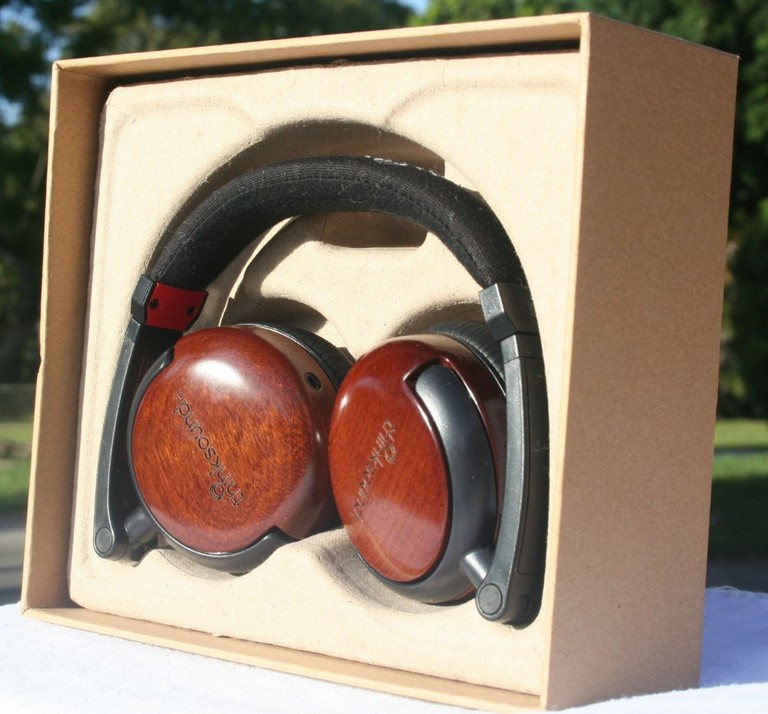 thinksound On1 supra-aural headphones
Hand crafted natural wood housing for accurate music reproduction
Award-winning thinksound™ signature acoustics
(2) 4.5' long detachable cables – (1) with mic control and (1) without
Single button microphone + call/music control
Compatible with iPhone,® Android® (see thinksound.com for more)
Plug: 3.5mm gold plated stereo plug for increased sound clarity
5Hz-22kHz frequency response, 50 ohms, 40mm dynamic driver
Passive noise isolation minimizes ambient sounds
Kevlar® reinforced, tangle-resistant fabric cable
Memory Foam ear pads for maximum comfort and wearability
Passive Noise Isolation minimizes ambient sounds
Sweat-resistant design, perfect for the gym
Flexible metal headband with comfortable fabric overlay
Sweat-resistant design, perfect for the gym
Cotton Carrying Pouch
Two (2) year limited warranty
Pros
Neutral presentation
Light
Little noise leakage
Green
Cons
Noisy fabric covering on cables
Slight distortion at the lowest bass frequencies
thinksound On1 Introduction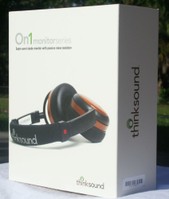 There are a lot of ways to market a speaker or a set of headphones. You can push the aesthetics, the construction, or the name brand. You can brag about the size (big or small), the loudness, or which celebrities endorse them. But if you want to get the attention of those that care about sound, you should be trying to convince us that your product isn't going to affect the sound in a negative way - or a positive way for that matter. I've reviewed headphones that have proudly bragged about their built-in bass boost. Proudly! As if that were a good thing. Sure, for those that only listen to one type of music, they may be interested but those of us that actually care about music want our speakers to get out of the way and just let the music play. We want to hear the music as the artist intended, not artificially extra bassy or otherwise distorted.
When I got the press release about the thinksound On1 headphones, I only saw the first line before I sent off a request for a review sample. "High definition, supra-aural studio monitor with passive noise isolation." I had to double check that they were headphones when I read "studio monitor" but the inference was clear - they are going for a headphone that will present your music as it was intended. Now, the "passive noise isolation" is akin to claiming that pants have "passive leg warming" as any headphone will provide some amount of passive noise isolation - so will putting your fingers in your ears (though that may be considered active I suppose). The studio monitor thing? Yeah, that got my attention.
There are other reasons people might have been drawn to the thinksound On1 headphones. Their stated goal is to create the best sounding headphones they can while maintaining the smallest Eco-footprint possible. This means utilizing wood earcups, recycled materials, and more to minimize the carbon footprint of their headphones. While I don't go seeking out green products, I certainly appreciate them for what they are trying to do. Given the choice between a product that claims to be green and one that doesn't, well, I'll take the one that sounds better. But if they both sound the same, I'd probably go with the green one.
First Impressions
With a product that purports to be green, first impressions mean a lot. It is the same with "fashion" products - if they are bragging about their aesthetics, they better bring something to the table. The thinksound On1 box was a mix of gloss white and recycled brown. The gloss white cover was reminiscent of Apple products (which seem to be perfectly okay for Eco-conscious people to use even though Apple is far from a green company). The interior box had the look and feel of recycled material with a little hemp (I'm calling it hemp though it may have been cotton) string to pull the box free of the white sleeve covering. Inside was a cotton or hemp pouch for carrying your new headphones along with a very short manual which consisted mostly of "treat your headphones well or they'll break" warnings.
Wood and recycled material

There were two different cables, both fabric covered, included with the On1 headphones. One had a single button in-line control with a microphone and the other did not. Both were looped and tied with another small piece of the cotton/hemp string. The inside molded form held the headphones securely and seemed, again, to be of a recycled paper product. The box itself is fairly attractive and one of the few boxes that I could see people keeping around to store their headphones in rather than just discarding in favor of the carrying case. The pouch, on the other hand, while perfectly serviceable, didn't have any sort of padding or protection for the headphones. The weave was thin enough that I could see light through the bag - even with both of the layers on top of each other. It really didn't seem like the bag would survive much abuse and, more importantly, wouldn't protect your new headphones at all.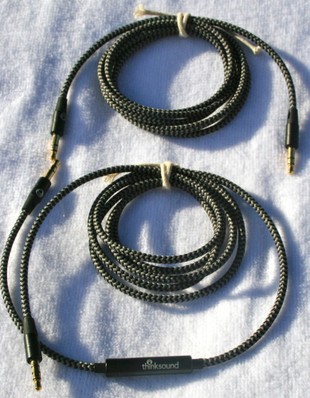 Very pretty cables, at the very least

One of the selling points of the thinksound On1 headphones is their weight. At 6.5 ounces, they barely weigh anything at all. When I first picked them up, they really felt more like a toy than a set of quality cans. thinksound has obviously run into this misconception before as they included a few images of someone abusing the heck out of their headphones to show you that they are durable. This was in contrast to the manual that had all sorts of warnings against wrapping the headphone cable around the headphones, removing the headphones by pulling on the cable, and making sure you grasp the connector when removing the cable. I've included the images they sent me below for your amusement.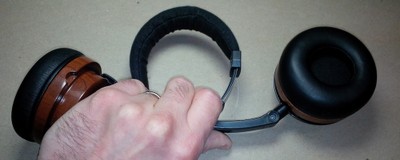 Ouch!


I'm glad they did this because I wouldn't


See also:
Confused about what AV Gear to buy or how to set it up? Join our Exclusive Audioholics E-Book Membership Program!
Recent Forum Posts: