Onkyo ES-HF300 On-Ear Headphones Review
Onkyo ES-HF300 On-Ear Headphones Review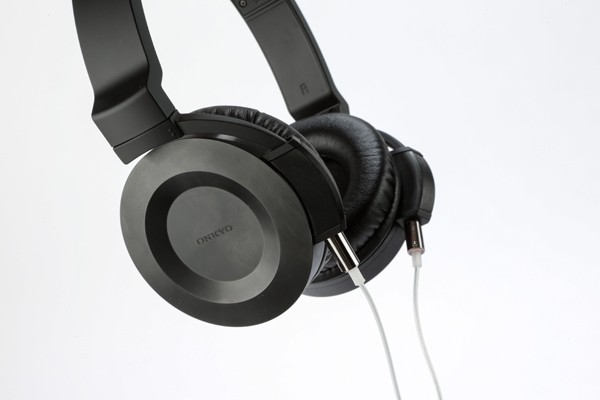 Product Name: Onkyo ES-HF300 Headphones
Manufacturer: Onkyo
Performance Rating:
Value Rating:
Review Date: December 18, 2013 15:00
MSRP: $ 179
Driver
Type
Titanium
Driver Size
40 mm (1 9/16")
Frequency Response
10 Hz–27 kHz
Maximum Input Power
1000 mW
Output Sound Pressure Level
97 dB/mW
Nominal Impedance
Nominal Impedance 32 Ohms
Cable
Type
Oxygen-Free Copper with Thick Elastomer Sheath
Length
1.2 m (47 1/4") (x1)
MMCX Connector
Gold-Plated Detachable
Stereo Plug
Gold-Plated 3.5 mm (1/8") L-Type
General
Weight (without cable)
240 g (8.5 oz)
Pros
Portable, easy storage, low power requirements - perfect for mobile devices
Warm, easygoing sound for music
Bass delivers but thankfully not too overboard
At $179 one of the best buys in personal hi-fi
Cons
While not "noise cancelling", closed-back design's acoustic isolation could be troubling while on a walk
Bass can be overwhelming if you're not inclined to enjoy a bit of boom
Over ear design fits snugly, the large headed among us might find them too tight
Onkyo ES-HF300 Introduction

Before the ES-HF300, Onkyo had never made a pair of headphones; but this newcomer to the market has been producing quality hi-fi for decades. In the analog era, Onkyo was a respected name, even when "Made in Japan" wasn't exactly considered an asset in American markets. Fast-forward to the digital era and Onkyo has become known for crushing cost-to-performance expectations with products that compete way above their price range. And now, the company is bringing its combination of value and performance to the crowded headphone market.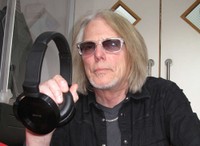 Former Thin Lizzy guitarist Scott Gorham (now Black Star Riders)
approves Onkyo headphones for work in the studio
Contrary to the trend of the dumbing down of audio (fueled by over-compressed digital files and streaming music), personal hi-fi has experienced an awakening in recent years, as evidenced in the expanding headphone market. Sightings of full-sized headphones out on the streets are growing as fast as the popularity of lossless flac (Free Lossless Audio Codec) and 24-bit 96kHz resolution files. Meeting the demand are electronics shops, whose shelves are packed with headphones complete with packaging and brochures that pay obligatory lip-service to quality sound reproduction. While there are many great headphones out there, too often stylish designs and a hip celebrity endorsement beats sound quality in the arena of popularity.
Onkyo enters this flooded market with both an on-ear and in-ear offering. The on-ear headphones come in two varieties, the ES-HF300 and the ES-FC300. The only difference between the two is the HF300 includes a 6N oxygen-free copper cable that Onkyo claims delivers superior sound because it presents almost zero resistance to your audio signal. The FC300 model has a flat cable of that's said to be of lesser quality. Also, while the HF300 and its superior cable are available only in black, the FC300 comes in white, violet and black. Besides those superficial differences, the headphones themselves are identical.
Out of the Box Impressions

Packed in a flatter-than-expected box was a pair of collapsible headphones with the Onkyo name etched into both brushed-aluminum driver housings. A plush carrying bag was separately wrapped in plastic and the thin, white oxygen-free cable was tightly secured in the packaging by its unusual snap-on connector.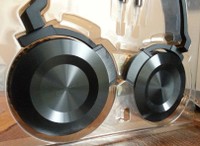 When unpacking, it's immediately apparent that these headphones (although full-sized and meant to be over-the-head) are designed to be portable. Once you pop them out of the plastic packaging, you'll notice the highly touted cable isn't exactly a generous length. At about 4 feet, it's typical for use with a mobile device but music-listening in the living room will almost certainly require an extender cable.
The build quality is solid and stylish. Hard flat-black plastic joins wide brushed-aluminum driver housings, while contact points are treated with delicate leatherette cushions on the headband and ear-cups.
The headband adjusts with sturdy snaps to secure the ear-cups into a comfortable position. The cable secures near the back of each ear-cup separately using a proprietary connector that snaps into place but can break away in the event of an accident.
The headphones are snug but fit comfortably on my head. While Onkyo calls them on-ear (or supra-aural) headphones, they fit fully over and around my ears making them more of a circumaural design. Although they feel comfortable and seem suitable for long listening sessions, for some that snugness might start to feel tight after a while, especially for the larger-headed among us. These headphones aren't designed to feel light and loose on your head – but that's probably best for use with your mobile device.
The headphones themselves are beautiful to behold, rugged and refined at the same time. The tough brushed-aluminum driver housings are a "closed back" design, meaning they'll provide a sense of acoustic isolation from your environment with no vents from your ear to the outside world. The circular shape of the outer ear-cups is designed with a nod to control dials you'd find on an Onkyo receiver.
The headphones collapse flat and pack away nicely for storage, fitting perfectly into the carrying bag that has a soft interior for protection.
Inside the aluminum housings are 40mm (1 9/16") full-range titanium drivers that Onkyo promises will reproduce a wide frequency spectrum, with detailed performance in the mid-to-high ranges and with sensitivity suited to hi-resolution lossless recordings at 192/24. Meanwhile Onkyo says its dual-chambered drivers will optimize bass response, providing low frequency weight without "boomy" bass.
Confused about what AV Gear to buy or how to set it up? Join our Exclusive Audioholics E-Book Membership Program!
Recent Forum Posts:
Wayde Robson posts on December 20, 2013 17:39
I guess to summarize. These headphones won't replace my Koss electrostats but they're awesome headphones. My wife loves 'em for the office. They're efficient and work well off the amplification you'd get from your average mobile device… but that's not to say you won't get better performance with a DAC and amp.
Post Reply