Yamaha Pro 500 Headphones Review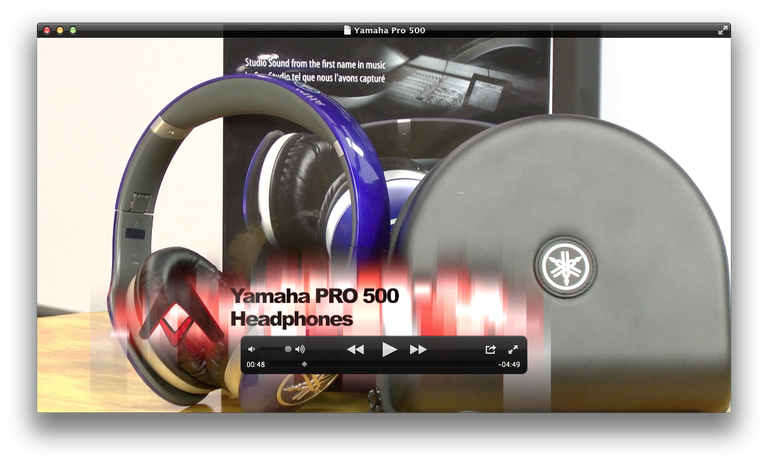 Yamaha Pro 500 Headphones Video
Summary
Design: Over-ear, closed back, rigid aluminum alloy earcup
Driver Type: Dynamic, neodymium magnet
Driver Unit: 2" (50 mm)
Impedance: 23 ohms @ 1kHz
Maximum Power: 1,000 mW
Sound Pressure Level: 106 dB ±3 dB (1 kHz, 1 mW)
Frequency Response: 20 Hz – 20 kHz
Weight (without Cable): 13 oz (369 g)
Ports: Dual 1/8" (3.5 mm) input/output, one each on the left and right earcups
Cable Length: CABLE A: 4 ft (1.2 m) detachable, tangle-resistant flat cable with remote/mic optimized for Apple devices; CABLE B: 10 ft (3 m) detachable, tangle-resistant flat cable
Connectors: CABLE A: Gold-plated 1/8" (3.5 mm) male-to-male mini stereo with L-type on one end; CABLE B: 1/8" (3.5 mm) male-to-male mini stereo
Included: Semi-rigid carrying case; detachable, tangle-resistant flat cable (4 ft/1.2 m) with in-line remote/mic optimized for Apple devices; detachable, tangle-resistant flat cable (10 ft/3 m); gold-plated 1/4" adapter; cleaning cloth
Executive Overview
It's been a little while since I did a real over-the-ear headphone review. It's not that I've lost interest in headphones, it's just that I hadn't experienced a set that impressed me enough from the outside so as to draw my attention. The Yamaha Pro 500s grabbed our attention... from across the room. They're a bold design, with a folding unibody that is about as far a cry from the well-regarded Yamaha HP-1 Orthodynamics as you will find. They actually fit in well with the European-sleek look that dominates recent products from Beats, Fanny Wang and even Denon. Our review sample came in Racing Blue but the phones are also available in Piano Black for the less adventurous. They break down into a pretty compact package- all of which fits into a cool case. I'm just going to go over a few basic physical details and then get right to the listening tests, because after doing a bunch of these reviews...well, that's what really matters. In fact for most of you that's really all that matters.
But I don't want to gloss over the fit, because we found these phones to be just a hair too small in the ear cup - they don't quite encapsulate your entire ear. Overall, however, they run a bit large- which is great for my huge melon, but if you have a pinhead, like Clint over there, you're going to get a little sore up top where the extra weight gets supported by a very small area at the top of your head. The primary cord is a flat rubberized model that can be plugged into either earphone cup- very handy and ingenious. The multimedia cord, also flat, provides the expected three-button smart-phone-compatible controls but even that is a bit fancy, with a subtle rocking action providing the button activation for the volume controls above and below the central button which bears Yamaha's logo.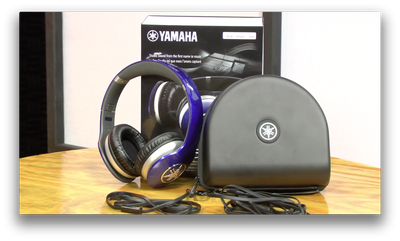 Ok, as promised... The sound. We started with some contemporary tracks, in order to see how it did with modern compressed music. Perhaps surprisingly, it rendered even busy tracks like Avril Lavigne's "Take Me Away" bearable and quite listenable. Compressed tracks, however, regained little dynamics- the PRO 500's played them back pretty much as flat as they were when they were over-mastered. If anything, the Yamaha Pro 500's seemed to temper the highs so that they reduced the expected fatigue you'd get from this kind of music. "Beautiful Love" by The Afters was a much more tame track, but it also brought out the more delicate nature of these headphones. I really like how they render male vocals in particular, as exhibited by Josh Havens' firm but soft tenor.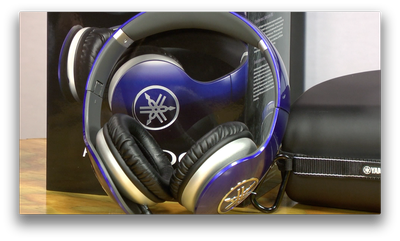 We next decided to queue up some classic rock music, which has some greater dynamic range and a more open arrangement of instruments as well. I couldn't think of anything more classic than Boston, so we brought up the familiar "More Than a Feeling" and kicked back to enjoy the wide-panned drums and guitar harmonies. The PRO 500s definitely tempered the ultra high frequencies present in this song and high hats and cymbals took on a more more laid back sound than I'm used to. It wasn't at all diminishing, more like a different way of voicing the phones. With "Saturday in the Park" by Chicago, the vocals were clearly forward in the mix, not slightly recessed as they are with our comparison Denon AH-D2000's. This gave them additional clarity, but perhaps at the expense of some high frequency detail. "Leave It" by Yes demonstrated an uncanny and convincing separation and sound stage that rivaled anything we've heard in over-ear headphones. When listening to this track on a pair of V-Moda M-80's the song sounds flat compared to the vastly superior dynamics present on the PRO 500's.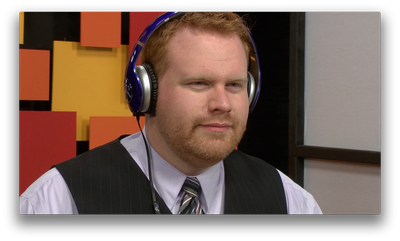 For a bass-rich experience, I brought up my tried and true Seal tracks, first listening to "Crazy" and then bringing up "Dreaming in Metaphors". Both songs brought forth a pleasing amount of bass, though some of the known-subsonics lacked just a touch of the extension I knew was present in the song. Even without this, the bass was palpable and the phones put a serious amount of drive in the lower frequencies, reaching far below what is typical for headphones that are more linear (non-DJ style) and not attempting to artificially inflate the bass response. Believe it or not I also place Toto in this music category. The kick and bass are rich and powerful in most of the songs on their Past to Present album. In "Hold the Line" I wasn't disappointed as the kick drum powered through the track, bringing out a highly detailed bass response in the Pro 500's.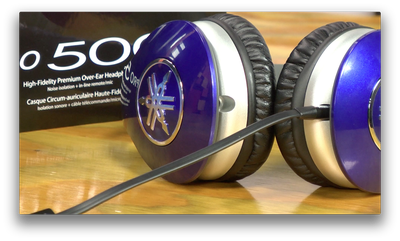 So where do we end up? Well, the Yamaha Pro 500's are a beautifully-designed pair of headphones. They are going to look good and sound great. If you want pristine articulate highs at the expense of bass and midrange these may not be for you. If, however, you want a well-rounded linear set of headphones that are true to the music and perhaps favor the midrange just a tad bit for clarity and detail, these are sure to please. At $399 they are priced right and we think they are going to be very popular for the person who doesn't want overemphasized and bloated bass, but a smoother, more articulate headphone.
This week we want you to tell us: Which headphones or earphones do you use? Give us the brand and model when you comment on this video. And please subscribing to our channel so we can keep calling our editor-in-chief a pinhead and get paid for it. Our Facebook page is really getting popular, so don't miss out on that—Like us at facebook.com/audioholics and you can even follow us on Twitter @AudioholicsLive.

Unless otherwise indicated, this is a preview article for the featured product. A formal review may or may not follow in the future.