V-Moda V-80 True Blood Headphones Review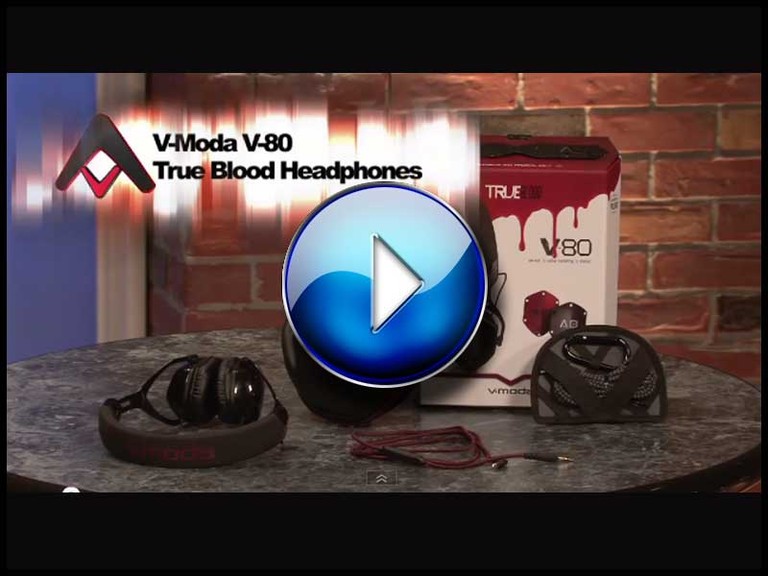 V-Moda V-80 True Blood Headphones Video Review
Summary
40mm Dual-Diaphragm drivers
Vibrant Bass, Vivid Mids, Vivacious Highs
BLISS Noise Isolation
V-PORT 3D Soundstage
Lightweight, steel construction
Ergonomic Steelflex Headband
Exoskeleton blood vial case
Military-Level quality (MIL-STD-810G)
Kevlar reinforced cables pass 1 million flex cycles
Executive Overview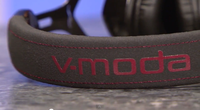 Themed products aren't typically my thing, but the new True Blood-branded headphones from V-Moda just... well, they caught my eye. For starters, they have this brushed metal plate that covers the left and right on-ear headphones - in fact much of the headband itself has steel reinforcements - and you can twist and flex it and it won't break. Also, the way everything is bolted together reminds me of what headphones designed for military spec would look like - well, actually, it turns out these phones are mil spec - something called 810G, which tests against environmental conditions, vibration and impact.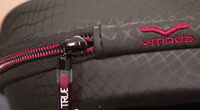 What the True Blood brand contributes is the leather, black, and red color scheme that infiltrates every aspect of these headphones; from the red aluminum V-moda chevrons above each ear, to the interior red cloth and black microfiber suede of the headband. Even the detachable cable has this cool black/red woven look to it and it doesn't exhibit a lot of noise when you bump it. They also penned some of the marketing to reflect the True Blood roots - so you see a lot of "Supernatural sound" and "Immortal durability" in the literature. Oh, and the "Exoskeleton blood vial case" is almost... organic-looking, like some sort of shrink-wrapped leather, fleshy Batman suit for your headphones. I couldn't decide whether it was really, really cool... or just... disturbing.
Now, V-moda claims the headphones are rated to over 70 drops, though they don't state from what height... Actually it's likely related to that mil-spec I mentioned earlier. They also put the kevlar-reinforced cables through over 1 million bends. Clearly build quality and durability is an important factor - and all joking aside - when you look at the V-80's and all the detail that's put into their design - well, they sell that pretty well.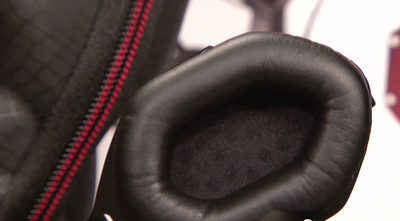 For on-ear headphones, the V-moda V-80s are extremely comfortable. I wore them for several hours while doing a series of reviews and they don't exert a lot of pressure - my ears really didn't get tired of wearing them. That's likely due to the ergosoft memory foam earpads which seemed to conform well to the shape of my ears. They also deliver a fair amount of sound isolation, which is great for when you're traveling. One of the included cables works with your iPhone to allow you to make and receive calls plus control your music. It worked great for us and makes these headphones a lot more versatile.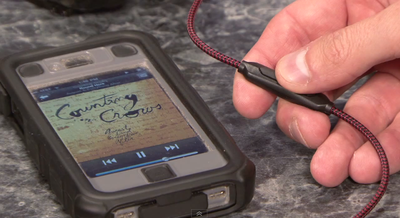 And while we've said a lot about the physical headphones, it's really the sound that matters - and that was, well it was surprisingly good. These are the first headphones in a long time that at least competed with our reference over-the-ear headphones. Bass in particular was surprisingly deep, with some mid-bass emphasis, but nothing that made them sound fake. They definitely came across as authentic, not like they were trying to fool you into thinking there was more bass than there was. Somehow the 40mm dual-diaphragm drivers just pull it off. And not just on the lows, the highs were clear, but not necessarily airy - there did seem to be a slight advantage with our reference phones, but still, these imaged incredibly well. Both male and female vocals were clean and defined and music of all genres had a nice "live" feel.
For $230 the V-80 True Blood headphones are VERY expensive and there is a lot of competition. If you're a die-hard True Blood fan, or you just like headphones that are different, they might be hard to pass up. All we can say is that they sound great, are very durable and if you put them on you likely will forget they are there and just lose yourself in the music. And really isn't that the point?

Unless otherwise indicated, this is a preview article for the featured product. A formal review may or may not follow in the future.
Confused about what AV Gear to buy or how to set it up? Join our Exclusive Audioholics E-Book Membership Program!