V-Moda Crossfade M-100 Headphones Review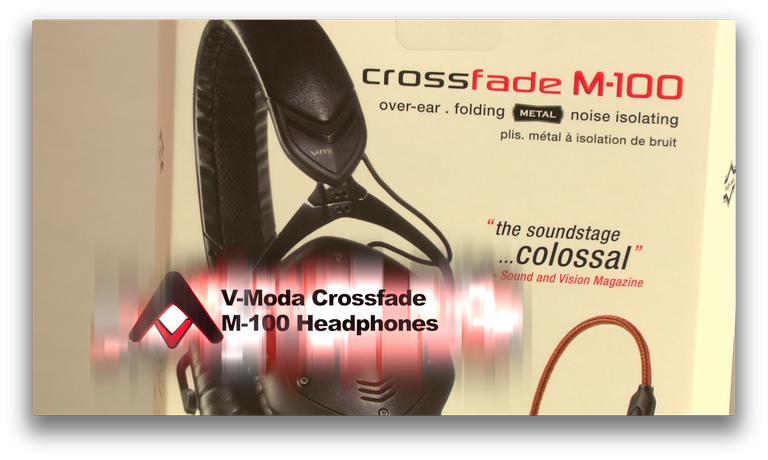 v-moda Crossfade M-100 Headphones
Summary
General
Type Over-ear (Closed)
Cable type: Removable single-sided cable
Other features
Inline controls Volume, Mute, Microphone
Foldable design
Noise isolation
Connections: 3.5mm stereo, 6.25mm stereo (gold plated)

Weight: 1.79 pounds
Colors: Matte Black, Shadow, White/Silver
We reviewed the v-moda V-80 (M-80) headphones some time ago, but these v-moda Crossfade M-100 headphones are the bigger brother over-ear models and they're geared towards the user who wants audiophile quality that's stylish, portable and durable. Now, that's four very distinct design goals, and to pull it off is a tall order.
Let's start with audiophile quality. The M-100's use a pair of 50mm drivers that have a soundstage that's got to be heard to...well, you just won't believe it unless you hear it. I listened to a lot of tracks on these headphones, like "Cool Change" by Little River Band, and it sounded like I was sitting in on a private recording session with lead singer Glenn Shorrock (Shore-rock). Then the drums and bass kicked in and the soundstage practically exploded into the room-at least, that's what it sounded like. Other tracks really showed off this mixture of detail and soundstage as well, like Michael Jackson's "Rock With You" whose intimate lead, and the wide synths and backing vocals filled the space around me as I listened.
V-Moda M-100 Headphone Review
Here's how v-moda describes how they arrived at the sound of their M-100 headphones:
50mm Dual-Diaphragm Driver: Inner and outer rings separate the bass from bleeding into the mids and highs
Master Crafted Materials: More expensive driver and components than peer headphones at this price range
Modern Audiophile Tuning: Crowdsourced alongside the producer and audiophile community to fine tune the sound and ergonomics
Analog Noise Isolation: Naturally cut out the distractions of jet engines, crying babies and crowd noise

No Batteries or Artificial Processing: Powerful, pure sound without the two extra digital-to-analog conversions of battery powered headphones
Minimal sound leakage
Consistent Driver Quality: The Crossfade sound is quality tested at 6 frequencies to maintain stricter consistency than the competition, often by an order of magnitude
And the M-100's not only sound good, they look cool as well, with lots of metal accents and a design that would satisfy Tony Stark. You can also customize these phones with a choice of three base colors (black, white and silver) and colored metal shields and logos. You can even put your own logo right here (on the metal shields).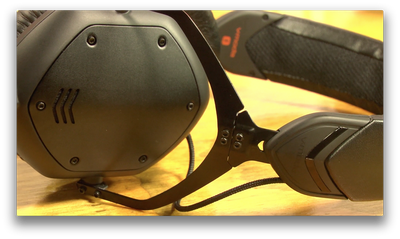 In terms of portability, v-moda's M-100s have several things going for them. first, they fold down really small for over-ear phones. The case for these is nearly half the size as the noise canceling audio-technica's I usually bring on trips. And speaking of noise canceling, the M-100s don't have active technology, they're just sealed so good you reject ambient noise naturally. And they really do work well. The added benefit is that you don't have the electronics in the way messing with the sound—and you don't need a battery. I also loved the Shareplay audio cable which was included. It features an additional input, so someone can piggy back off your phones when watching a movie or listening to your iPod.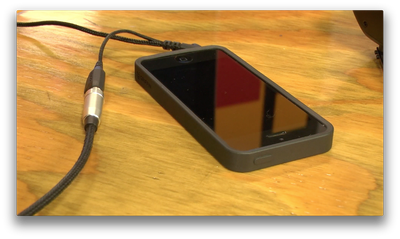 v-moda also spec'd these to 810G which means, among other things, they can handle 6' drops, 1 million cable bends, and you can stretch out the headphones flat without breaking the metal headband. But more important than that—they're just comfortable. I found I could wear them for hours on end with no apparent pressure points.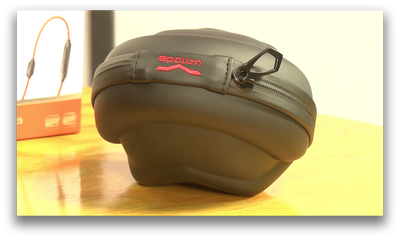 Now, $300 isn't cheap for headphones, but for these...for these I'd spend the money...That is, if I was looking for a set of headphones to last me a long time and which would also provide high quality audio performance.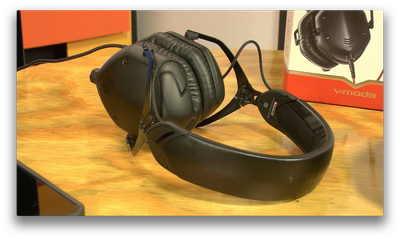 And that's where I think we end up. The v-moda Crossfade M-100s are noise isolating headphones that work—far better than any active phones I've heard. And since they block about 75% of the same noise, they are quite possibly the better option. And where do you want your money to go—towards noise canceling or towards sound quality? Yeah, me too.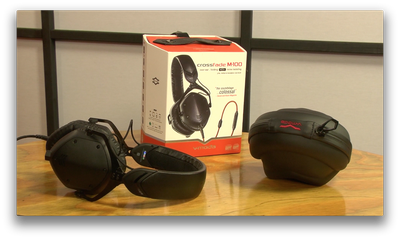 Here's the question of the week: Would you customize your headphones if you could? Would you add a logo on the side or do you just want some color choices? Leave us a comment below the video and let us know. And subscribe to our YouTube channel for all the latest video reviews. Our Facebook page is really on fire, with lots of of neat products and fun home theater tidbits, so Like us there at Facebook.com/audioholics.

Unless otherwise indicated, this is a preview article for the featured product. A formal review may or may not follow in the future.