Sennheiser Momentum Over-Ear Headphones Review
Sennheiser Momentum Over-Ear Headphones Review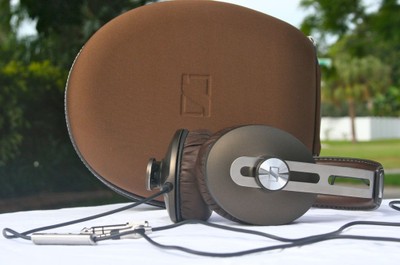 Sennheiser Momentum Over-Ear Headphones
Ear coupling: Circumaural
Transducer principle: Dynamic, closed
Frequency response: 16-22,000 Hz
Sound pressure level (SPL): 110 dB (1 kHz/1 Vrms
THD - total harmonic distortion (1 kHz, 100 dB SPL): <0.5%
Contact pressure: Approx.2.8 N
Loud rating: 200 mW
Weight: 190 g
Cable Length:

Cable 1: 1.4 m iPod®/iPhone® cable with integrated smart remote and microphone
Cable 2: 1.4 m cable for computers, phones, music players and any device with a headphone output

Connector plugs

Cable 1: 3.5 mm rotatable plug

Cable 2: 3.5 mm straight plug

Warranty: 2-year
Pros
Build quality and aesthetics
Sound quality
Angle cable end
Cons
Overly large case
Small earcups
Sennheiser Momentum Introduction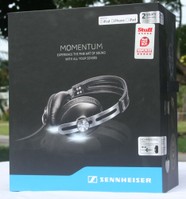 If you've stepped into an audio store of any kind, or the headphone section of a big box store, you know the name Sennheiser. The first "real" headphones I bought were Sennheisers. I used them until the pleather on the cups cracked and started sticking to my ears (they were on-ears). I remember buying them and thinking I was a crazy person for spending $50 (might have been $80, I can't honestly remember) on headphones. Before that, headphones were something that came with the walk (and later disc) man. You didn't buy them - you received them with your purchase.
I've been fortunate (if you want to call it that) that I was never really one for concerts when I was young and impressionable. Many people in the audio world will tout their long history of live concerts as part of their resume. Well, I've heard plenty of live music but in more controlled settings (bars, nightclubs, orchestras, etc) plus I'm a musician (or was back when I was younger - piano and bass) but concerts aren't my thing. The few I've been to have been good ones (I saw Primus and Pixies open for Jane's Addiction in San Fransisco back in the day) but I always left with ringing ears.
While one concert won't damage your hearing, repeatedly exposing yourself to loud sounds can.
Curious about my hearing, I had myself tested. People mostly have themselves tested when they think they have hearing loss. The audiologist was surprised that I was there to see how well I could hear. To the best of his ability to detect, I had no discernible hearing loss. The headphones he used to test me?
Sennheisers.
The Momentum series is the newest line from Sennheiser They are priced in the getting-more-crowded-by-the-second $350 range of headphones. To my mind, this is the tipping point of headphone purchases. If you are willing to spend $50, you are probably willing to spend $100. If you are willing to spend $130, you'll probably spend $180. But if you are willing to spend over $180-$200, you'll probably stretch your budget to around $300. After that, you stop asking what people will spend because the sky is the limit. Those shopping in the $300-$350 bracket are connoisseurs that just aren't sure they need to drop four figures on a set of cans and probably don't have a headphone amp lying around. They want the best possible performance they can get in a package that they'll proudly show off to their friends. A bit of it is showing off, for sure, but sound quality will be paramount.
Momentum First Impressions
As you'd expect with $350 headphones, the Sennheiser Momentums came in a very nice box with a very professional design. Inside, the case was enclosed in black foam that was carved out to perfectly fit the case. The large case. The ridiculously large case. Just look at it.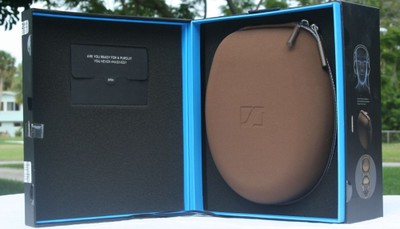 Okay, I should have put something in the pic for reference. It is about the size of a baseball cap

Okay, Sennheiser is making a statement with the Momentum case. The Momentums, regardless of name, are not for exercising or traveling. Yes, you can take the case with you and yes, you'll probably have to count it as a second checked bag, but the real purpose of the case is two fold. First, it will protect the headphones. The case is firm but not hard, The edges are reinforced and the flat surfaces are thickly padded. The outside and in are covered in a soft fabric that just begs to be touched. And thus we arrive at the second purpose of the case - to convey the sense of quality. While the case may be overly large and impractical for a lot things we expect cases to do (make travel easier, compact the headphones), they do tell the world that you have headphones. Not only that, you have QUALITY headphones. Someone will look at your hatbox-sized case and ask you about it. And you'll say it is for your headphones. Eyebrows will be raised, impressions will be made, and you'll walk away with your head held high.
Theoretically.
Once the case is opened, you'll find the Momentum headphones and a small compartment. The Momentums have the more traditional (and coming back in style) exposed slide mechanism. The cable plugs into the left headphone to help you remember which side is which. The inside of the metal slide is etched with an R or L and there is are three braille dots on the left side. The cable is removable but it is not interchangeable with other cables. There is a twist lock to keep the cable from pulling loose accidentally and the connector is smaller than the traditional 3.5mm plug.
The compartment cover is covered in velco so it sticks anywhere inside the case
There are two included cables, both 1.4 meters. The one that comes connected to the Momentum headphones has the inline controls and a very interesting termination. The end has an adjustable right-angle connector which you can adjust from straight to ninety degrees to the side. The angle is hard to adjust so you'll have to do it manually and it will stay where you put it. I'm in love with this termination as it makes it very easy to use the headphones no matter where your gear is located. I often connect to my phone which will alternate between being on a table, in my back pocket, and in the side pocket of cargo shorts/pants which all could benefit from slightly different connector angles. My only complaint is that they only included the adjustable termination on the cable with the in-line controls. The other cable has a traditional, straight termination. I don't know why they didn't include this killer termination on both cables.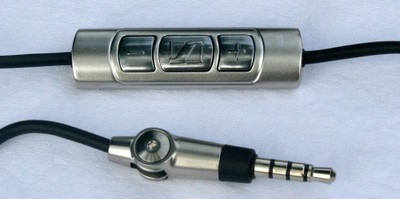 Ooooh...shiny

The in-line controls are very shiny with rounded front and back with tapered sided. There are raised plus and minus signs and a Sennheiser logo on the center button. While it looks like this would make the controls easy to find without being able to see them, it actually doesn't work all that well. I found myself having to run my finger up and down the control unit and estimating which of the raised areas was the center, plus, or minus. I could do it but an indentation at the center button works much better. The control unit does look pretty though. 
The cables are rubber coated rather than the more fashionable fabric coat or flat cable I've been seeing more and more of lately. Let me give Sennheiser a slow clap for this one. The rubber coated cable might not be as sexy as some of the other cable solutions but it has one thing going for it - it is far better at suppressing noise transference to the headphone. Sure, it might not be as interesting feeling as a fabric cable and it might not be as resistant to tangles as a flat cable but it also doesn't introduce noise to your playback every time to move your head.
It's looking at you

Confused about what AV Gear to buy or how to set it up? Join our Exclusive Audioholics E-Book Membership Program!
See also:
Recent Forum Posts:
AVisualGeek posts on December 13, 2014 19:53
I was in a deep search for some good headphones First I thought, maybe the beats, but then I didn't want to look like one of the poser kids walking around with headphones on that are more about design than they are function. I started to read some reviews, and the Bose sounded like a good option but I know they are known for being over-priced and not always worth it. Then I saw these and the on-ear model and read some reviews. Not only did they claim they sound really nice, but they look exquisite (fancy and not in the trendy kind of way). Reviews (like:
http://pocinc.net/blog/product-reviews/review-sennheiser-momentum-on-ear-headphones/
- on-ears model) painted them as being better than your normal pair of headphones and I needed to see for myself. What does "better than normal" sound like? I have to admit, my ears are liking these! They sound super expensive hah. I am pretty happy with the choice.
WDesmet posts on August 15, 2014 13:18
Purchasing Sennheiser Momentum

When I bought the Momentum I was already surprised by it's looks.
What a nice design. I bought the ivory version with alcantara on top of the headset.
It was the first time I bought an on-ear headset so I was curious.
The first time I used it I was flabbergasted by it's sound. After all, it was 20 years ago that I bought
a new headset.

+ Clear sound
Good bass
Nice design

- The Price
robertotey posts on July 22, 2014 06:25
Sennheiser Momentum v Final Audio Design Pandora IV

It's quite a big step up price wise, but after auditioning I went for the Final Audio Design Pandora IV.

I use headphones mostly on the road (hotel rooms, trains, etc), so the extra size of the Final Audio Pandora is no problem.

I can highly recommend auditioning the Pandora IV before taking the plunge.
lillyblack82888 posts on July 15, 2014 17:44
Sweet! Sometimes comfort isn't the most important thing.
Steve81 posts on April 24, 2014 19:07
I'm not a big headphones guy, but I picked up a set of these to try out to replace my Grado SR225s and some Klipsch in-ears. Mostly just listening at home, but I wanted a closed back so I don't disturb my wife at night and I didn't really want another set of in-ears. Enjoying them so far breaking them in with Hell Freezes Over.
Post Reply