Sennheiser HD 600 Headphone Review
Sennheiser HD 600 Headphone Review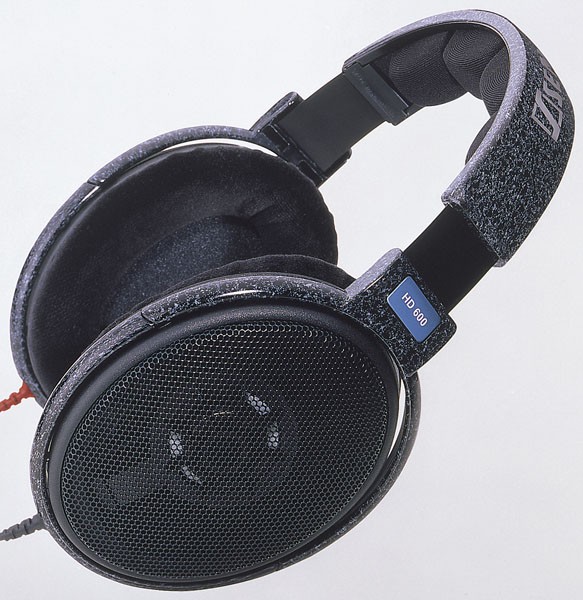 Sennheiser HD 600 Headphone
Transducer Principle:  Dynamic, open
Frequency Response:  12-39,000 Hz
Nominal Impedance:  300 ohm
Weight  (w/o cable): 9.2 oz
Characteristic Spl: 97 dB
Ear Coupling: Circumaural
Headband Pressure: 2.5 N
Distortion: Less than or equal to 0.1%
Pros
Phenomenal fidelity
Unparalleled comfort
Works well with a variety of sources
Cons
Big and bulky
Too nice for a travel companion
Introduction
It's not often that I review headphones as most of the models I've heard aren't much to write home about. However, upon speaking with Ivy Scull of HeadRoom, she sold me with a pretty convincing argument about the sonic joys of a quality set of cans (headphones that is). I asked her to send me a reference performance headphone system that is also comfortable to wear. I found the Sennheiser HD 600's to be a truly amazing set of cans. They sounded great with virtually anything I attached to them, but reached their full potential with the best electronics unlike any other headphones I have listened too. Their comfort was of equal measure to their sonic performance which in my experience is a rare balance to find in headphones. Sennheiser's unprecedented reputation for headphone excellence is well warranted and secure.

Confused about what AV Gear to buy or how to set it up? Join our Exclusive Audioholics E-Book Membership Program!
Recent Forum Posts:
Davidka1 posts on April 08, 2014 11:38
Thanks Adam!
I now see various forums going on, so perhaps I'll also post it there.
Adam posts on April 08, 2014 09:01
Davidka1, post: 1027364
I am new to Audioholics. Did I post the above question in a wrong location ?
Welcome to the forum!
Not really a "wrong" location, but this is a thread about a product review, so you might not get as many people reading your question as you would if you created your own thread. I saw your question yesterday, but I just don't have any advice for you.
Davidka1 posts on April 08, 2014 04:11
I am new to Audioholics. Did I post the above question in a wrong location ?
Davidka1 posts on April 07, 2014 02:52
Any suggestions for closed back noise isolating traveling headphones closest to HD 600

Given that Sennheiser HD 600 are my favorite headphones, sound wise, would someone please suggest a "similar" quality traveling headphone for me ?:

I understand that achieving similar sonic characteristic like the open back HD 600, would be difficult with closed back (a requirement for avoiding leaking sound from disturbing other passengers on an airplane).

I've auditioned thus far the PSB M4U 2, Momentum over the ears, B & W P5, P7, and read about KEF M500, V-Moda -100, and others. The reviews on Amazon.com, are very critical on the built quality of many of these headphones, but I am not sure if these are authentic reviews or "maliciously", written by competitors ? Also in the audition room locally at the Good Guys store, the setup was mediocre in terms of the signal splitters for the various headphones, such that noisy hiss sound leaked through many of them, and it is difficult in a short listening time to get the full impact sometimes.

Thanks in advanced,
MichaelCorrano posts on February 28, 2014 07:09
Too great that they can spoil the fun

I found the sound quality so amazing with these that I was able to identify subtleties with these that I wasn't with other headphones, and now I'm very picky with which studio produced my music, otherwise I end up hearing very subtle buzzing sounds, etc…

Its good if you are a sound engineer… It will give you an advantage.
Post Reply