thinksound ms01 Monitor Series Earphones Review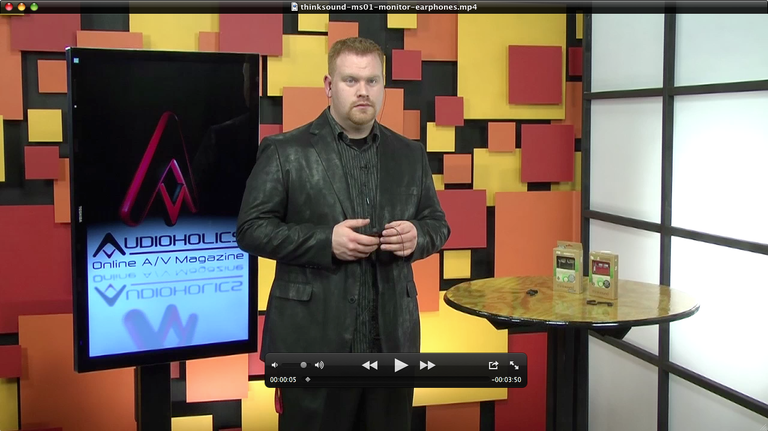 thinksound ms01 Monitor Series Earphones
Summary
Model: ms01 8mm in-ear high definition monitor
Colors Available: Gunmetal Chocolate
Appearance: Wood housing with aluminum baffle
Weight: 9.5g
MSRP: $119.99
You know what's fun? Going to an intimate live outdoor concert and then listening to the live CD afterwards. It was fresh in my mind - and putting on the ms01's I was quickly impressed by how accurately the sound closely resembled what I had heard. This was especially made possible since the artist, Tom Conlon, uses the same RE20 mic for recording as well as his live performances. This is a great mic that's used by a lot of radio personalities (and it also makes a pretty good kick mic). It's an intimate microphone that captures every nuance of a voice. Given this, it's no wonder the recording and the live performance both sound so similar.
I'll get back to the sound in a minute. The thinksound ms01's use an 8mm driver and they come with 4 pairs of comfortable silicon ear inserts. Fitting them isn't going to be a problem and even after wearing them for hours they remained quite comfortable. The ms01's were voiced by Aaron Fournier, who is the CEO of thinksound, but also an audio engineer. And he involved several Grammy winning musicians and producers in the process, which is pretty cool. The goal was to design a truly full-range studio in-ear monitor.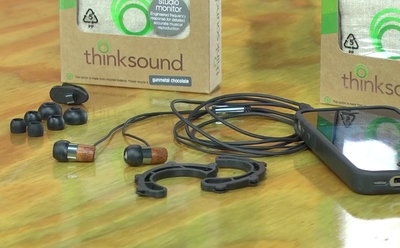 After listening to a variety of music, we'd have to say they really pulled it off, and without the hassle of some of the more finicky in-ear phones that require precised placement. The ms01's were easy to throw in and you immediately got crisp clear highs and percussive bass that felt, at times, as if I had a tiny kick drum in my ears. At times male vocals sounded almost too present, but at proper volume levels it remained really enjoyable to listen to. Specifically, we loved the song "Emmanuel" by Conlon that featured his expressive tenor voice as well as a really percussive guitar track. This is guitar and male vocals at their best and the ms01 earphones brought back the live performance in my living room. These phones really make you want to close your eyes and just listen... for hours.
There's not much else to say, unless you're really into the environment. Thinksound uses PVC-free cables, and even a hand crafted wood housing. Each pair even comes in a cardboard container with a cotton carrying pouch and rubber earhooks that can be used to help situate the earphones in your ear. About the only negative we found was that there is a fair amount of cord noise - so just get settled and you'll be fine. If you're wanting a pair of earphones to go jogging with, these might not be the best choice. So what's the bottom line? Well, they're $99 and they come with a one year warranty - and we think that's a pretty good deal for this level of quality. If you're looking for something with a mic and a call button, the thinksound has a ts02+mic model for around $90.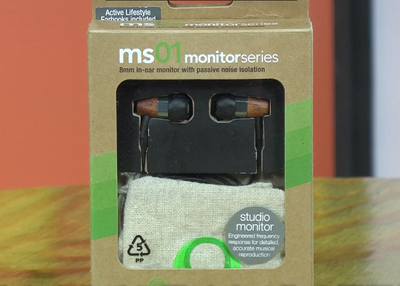 Now, on to business. How much would YOU pay for a free video of great electronics gadgets and gear? Don't answer just yet, because with every video comes a free membership to the Audioholics forums and full access to our full video library. How much, you ask? Just click that 'Like' button in YouTube and subscribe to our channel. And, as a special bonus offer, if you 'Like' us at Facebook.com/audioholics or follow us at Twitter @AudioholicsLive we'll throw in tons of free A/V electronics news and new product info. Hurry now, supplies are limited.

Unless otherwise indicated, this is a preview article for the featured product. A formal review may or may not follow in the future.