Axiom Audio M80 v4 / M100 v4 Tower Speakers Overview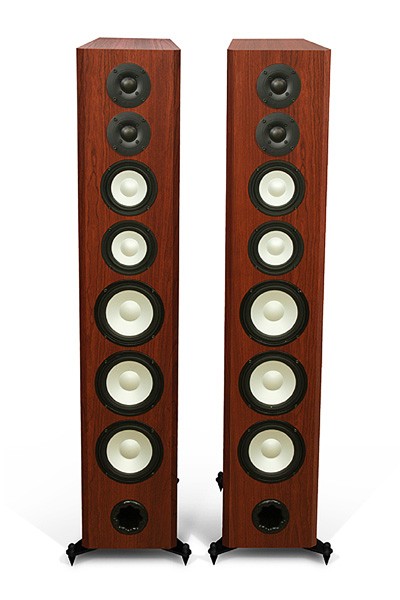 Axiom M100 V4 Cherry Finish
Summary
Product Name:

M80 v4 and M100 v4

Manufacturer:

Axiom Audio

Review Date:

December 26, 2014 12:00

MSRP: $1890/pair -$3500/pair
First Impression:

Mildly Interesting
M80 v4 Tower:
Enclosure: Triple Vortex / Reflex
Max Amp Power: 400 Watts
Min Amp Power: 10 Watts
Freq Resp +/-3dB (Hz): 31 Hz – 20 kHz
Impedance (Ohms): 4 Ohms
SPL Anechoic 1w/1m(db): 88 dB
X-Over 160 Hz & 2.3 kHz
Tweeter: Dual 1"
Midrange: Dual 5.25"
Woofer: Dual 6.5"
Dimens. H W D: 39.5" x 9.25" x 17"
Weight (lbs) 56.8 lbs each

M100 v4 Tower:
Enclosure: Triple Vortex / Reflex
Max Amp Power: 400 Watts
Min Amp Power: 10 Watts
Freq Resp +/-3dB (Hz): 31 Hz – 20 kHz
Impedance (Ohms): 4 Ohms
SPL Anechoic 1w/1m(db): 88 dB
X-Over 160 Hz & 2.3 kHz
Tweeter: Dual 1"
Midrange: Dual 5.25"

Woofer: Triple 6.5" High Power
Dimens. H W D (inches): 47.5" x 9.25" x 17"
Weight (lbs) 70 lbs each
Executive Overview
Axiom has updated their M80v4 tower speakers and added a new flagship called the M100v4.  The two towers both sport dual 1" titanium tweeters, dual 5" aluminum mids and two 6.5" aluminum woofers for the M80v4 and three higher excursion 6" aluminum woofers for the M100v4s.  The M100v4 costs almost $1k more than a pair of M80v4's just for an additional 6" bass driver.  Axiom has substantially raised the prices of their products over the last decade which no longer makes them the value proposition they once were.
The M80V4 is similar in design to the original M80ti in terms of driver topology, cabinet size and shape.  It's a 3-way, 4 driver ported tower with all the drivers facing forward and recessed into the baffle with one forward firing port and dual rear firing ports.  The midrange itself has no HPF crossover on it because it is our understanding that Axiom feels its critical to run the driver full range so the 5" mid contributes to the upper midbass.  However, as we've found with M80V3's and prior versions, at loud listening levels, the 5" mid would often get stressed and would show itself in loss of clarity in the vocals.  This also taxes amplifiers more since at frequencies below 20Hz, the mid acts as a parallel resistance with the other woofers making the impedance dip below 4 ohms.  We found similar issues with the Axiom Outdoor M3v3's in that the 6.5" driver ran fullrange without a crossover causing it to operate into it's breakup mode which became audible at even modest listening levels.  However, some purists may prefer the minimalist approach that Axiom takes here despite the inherent tradeoffs.
The M80v4 speakers require robust amplification to work their best and they do have the capability to play substantially louder than their bookshelf speakers.  However, the M80v4's cost almost double of the original M80s despite the cabinet is still vinyl wrapped and no longer comes standard with dual binding posts for biamp/biwiring.  To upgrade the dual 6.5" bass drivers to their HP versions will cost you a staggering $490/pair!  If you want a wood veneer, bi-amp capability and the high performance woofers, prepare to spend almost $3k/pair. 
At this price point, there is some serious competition out there from both ID and Brick&Mortar Speaker Brands as you can see in our comparison article.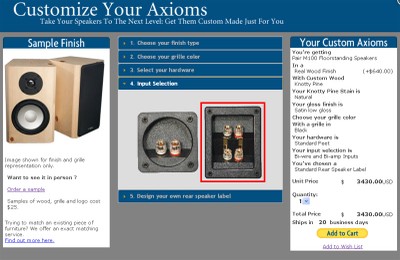 Axiom Customize Yours M100V4's
The M100V4's build upon the M80v4's but add an additional 6.5" bass driver.  They come standard with HP woofers but their starting price is $2,790/pair.  That's $410/pr more than a pair of M80v4's with HP woofers.  So, you're paying a whopping $210 per 6.5" woofer for this upgrade!  To get a custom veneer finish and bi-amp capability will set you back almost $3500/pair.  Again, stiff competition resides at this price point.  There are many competitor ID speakers out there that offer standard veneer finishes, HP woofers and premium components for significantly less.  Many of Axiom's competitors offer 45 day RISK FREE trial with paid shipping both ways.  Axiom requires you to pay return shipping and only gives you a 30 day trial period on their products.  However, they do offer upgrade capability but will prorate the value of your Axiom products based on their age.
Axiom also rebrands these speakers for Bryston but with upgraded woofers and more cabinet bracing and an extended warranty.  However, the similar models from Bryston cost significantly MORE and also come standard in vinyl finish with a hefty premium for a real wood veneer.
Axiom vs the Competition
Can Axiom speakers compete in a fiercely competitive ID marketing place in today's age where premium parts and real wood finished are standard from their competitors costs hundreds and sometimes thousands less?  The answer to this question may be highly dependent upon brand loyalty of their existing customer base.
If you're an Axiom fan and want to get more reasonable prices on their speakers, it may behoove you to check out their factory outlet store and/or B-stock items.  It's not uncommon for them to offer substantial discounts on their products that will get them closer to the original prices when they were first introduced about a decade ago.  Axiom does offer excellent customer service and they are easy to get a hold of if you have product problems or require technical support.
Please share your Axiom experiences on our forum.
Unless otherwise indicated, this is a preview article for the featured product. A formal review may or may not follow in the future.