Triad DS700se Two-Way Invisible Loudspeaker Preview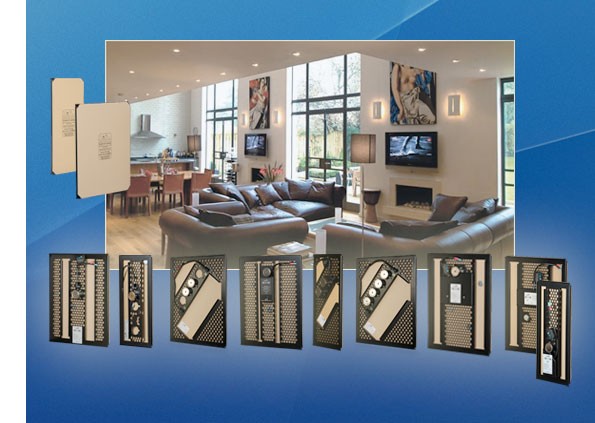 Triad DS700se
Summary
Dimensions of the DS700se high-frequency panel (inches): 17-23/32 x 13-37/64 x 1-37/64
Dimensions of the DS700se low-frequency panel (inches): 17-23/32 x 7-7/8 x 1-37/64

Power-handling per channel (continuous / peak): 100W/200W
Frequency Response: 50Hz – 20 kHz
Sensitivity: 87dB/2.83V/1m
Impedance: 4 Ohms
Executive Overview
Have you ever pined for a completely invisible speaker? No, of course not. You're an Audioholic and Audioholics like big speakers that shake the rafters and threaten the structural integrity of your home, the sanity of your neighbors, and the patience of the local law enforcement officials that have to keep coming to your home to tell you to turn it down.
Don't they know that Pacific Rim just came out?
But one thing that Audioholics also have are spouses and many of them would love a speaker that didn't take up 25% of the usable floor space in any given room. Of course the first thought many of us have is for on or in-wall speakers. But even in-wall speakers aren't really invisible - there is always a grille involved and no amount of paint can hide it.
Enter Triad.
A while back, Triad put out an invisible speaker system called the DS500 (your kids just got excited because they think you are getting them a Nintendo DS). This speaker installed in the wall and was mudded and painted over for a completely invisible finish. The driver was the entire front of the inclosure so there was no need for a grille. But there was a problem - the single speaker solution had a very high crossover point. Triad suggested a 120Hz crossover point for this speaker.
I can hear the Audioholics reading this saying, "No, no, nope." Guess what? Triad heard you too.
Pictured above - Triad DS700se Invisible Speaker.
The new DS700se is their latest addition to the DesignerSeries speaker line. Featuring the same invisible design, the DS700se is a two-channel solution with two separate vibration panels to install per channel. This improves the bass response all the way down to 50Hz which should make even the most discerning Audioholic happy.
Like the other panels in the line, the DS700se has a powder-coated aluminum frame, an extremely rigid aluminum honeycomb core with paper skin covering (this is the part that vibrates to make the noise), and electro-mechanical drive devices. The panels each come without a back-box but Triad offers one for an additional charge. the DS700se is designed to fit between the studs in standard installations (meaning you didn't add on to your house with your handyman friend). The impressive thing is that the DS700se are less than two-inches thick which will allow installation in even the most challenging rooms. The high frequency panel is 17-23/32 by 13-37/64 by 1-37/64 inches and the low frequency one is 17-23/32 by 7-7/8 by 1-37/64 inches.
The Triad DS700se Invisible Speaker from the side.

Each DS700se comes shipped with a HPF-2 limiter/filter protection unit. We're wondering exactly what the tolerances are for these speakers. When we are talking low frequencies, we wonder how loud they can play before they start to crack the paint. The DS700se are shipping now at $2250 per channel. The speaker has a 10 year limited warranty - likely limited to the speaker and not the surrounding wall.
Edit: I emailed Triad and they set me some actual pictures of the Triad DS700se speakers. When I initially wrote this, I couldn't find any so I made due.

Triad DS700se High Frequency Unit
Triad DS700se Low Frequency Unit
Conclusion
Invisibility and speakers don't often go together. Triad is challenging that notion with their DS700se invisible speaker. Mounted in the wall and mudded in and painted, this speaker is about as invisible as you can get. Now featuring two panels per channel, the DS700se improves upon the previous Triad models by extending the bass down to 50Hz. At $2250, you may not see the speaker, but you will see your bank account take a hit to install a full system.
For more information, please visit www.triadspeakers.com.

Confused about what AV Gear to buy or how to set it up? Join our Exclusive Audioholics E-Book Membership Program!
Recent Forum Posts: