MartinLogan Neolith ESL Loudspeaker Review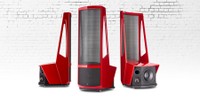 Take the legendary name of MartinLogan and marry it with a cost-no-object loudspeaker and you've got the Neolith. This is largest and most expensive loudspeaker that MartinLogan has ever produced. Do the 6ft, nearly 400lb Electrostatic Neoliths deserved to be mentioned in the ranks of the best-of-the-best or did we uncover some chinks in the loudspeaker's armor? Watch our recently added YouTube Video Overview and read our review to find out.
The MartinLogan Neolith loudspeaker features the largest electrostatic panel they've ever produced. Exceptional bass, superb soundstage, tremendous dynamics results in a mesmerizing experience.