Definitive Technology BP9000 Series "Atmos-Enabled" Speakers Preview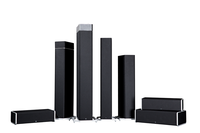 Definitive Technology announced the launch of the BP9000 series loudspeakers—its 4th generation of Bipolar tower speakers, matching center channels, surrounds, and a height speaker module, designed to offer true, full-range performance for listeners seeking the highest quality audio reproduction. The A90 represents a true transcendence in design from its ho-hum A60 model it replaces. Definitive Technology has stepped up its game both in performance and aesthetics. Just take a look at the full BP9000 speaker setup in the lifestyle photo. Who wouldn't want this speaker system in their living room? The added Atmos support is just icing on this very tasty looking cake.
The Definitive Technology BP9000 Series of "Atmos ready" towers, center and surround speakers represents a transcendence in design, performance and function. Who wouldn't want them in their home?