Legacy Audio Pixel and Theater Towers Preview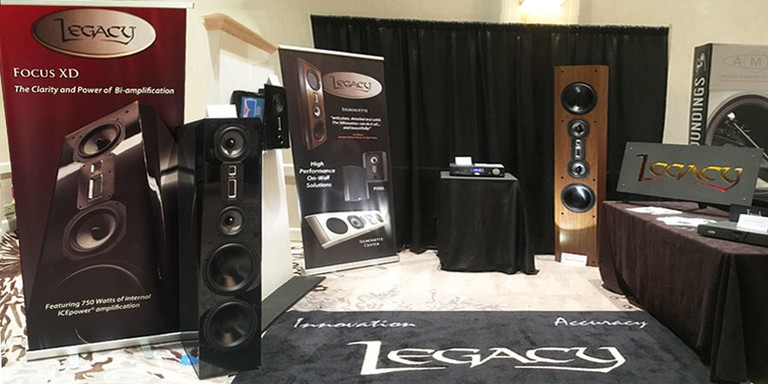 Legacy Audio at AXPONA 2016
Summary
Pixel On-Wall

System Type: 2 Driver, 2 Way
Tweeter: 4" AMT folded ribbon
Midwoofer: 7" Silver/Graphite, cast frame
Impedance: 4 Ohm
Recommended Amplification: 25 - 200 Watts
Weight: 31 lbs each
Dimensions (HxWxD): 18.875 x 16.625 x 5.25
Shipping Weight: 70 lbs per pair
Theater Towers
System Type: Sealed symmetrical array, internally powered bass section
Mounting: Floor standing, against wall
System Directivity: 65 degrees horizontally, 55 degrees vertically
Projection Distance: 8-45 feet
Tweeter: 1" folded air motion ribbon
Midrange: 4" folded air motion ribbon
Midwoofer: (2) 7" Silver/Graphite with cast frame
Subwoofer: (2) patented 12" Aura® subwoofers
Low Frequency Alignment: Sealed
Frequency Response (Hz, +/-3dB): 18-30k
Sensitivity (Room, dB @ 2.83V): 95
Crossover Frequency (Hz): 120, 2.8k, 8k
Inputs: 1 pair upper frequency binding post, 1 XLR sub
Internal Amplification: 1 internal 500 watt ICEpower® amplifier
Peak Output Current: 35 A per channel
Idle Noise: 80 microvolts
Output per channel: 500W @ 0.05% THD+N (1kHz, 4Ω)
Amplifier Efficiency: 83% (250W, 8Ω)
Protection Schemes:Under-voltage, thermal, over-current, high frequency
Idle Power: 3 watts/per module
Start-up:Soft start, mute/de-mute
Dimensions (inches) HxWxD: 78 x 14.5 x 10.5
Weight: 200 lbs each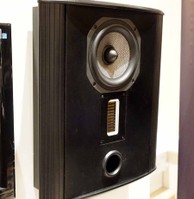 Legacy Audio introduced a couple new speakers at the 2016 AXPONA show which look to be ideal for situations where floor space must be preserved but not at the cost of sound quality. First up is the Pixel, a 2-way on-wall that might make speaker aficionados begin to take on-walls seriously. On-walls have traditionally been hampered in performance from having very little internal cabinet space which can limit the quality of the driver used by not providing enough room for a serious motor, and also greatly reduces bass capability from squeezing the driver in too tightly with the cabinet's internal air pressure. The Pixel solves that problem by giving the cabinet a generous amount of internal room. As a result, with a 5" depth it does protrude out of the wall a bit more than typical on-walls, but it promises to easily outperform the vast majority of them, while not jutting off the wall nearly as much as a wall-mounted bookshelf speaker. It uses a beefy 7" woofer and Legacy's lauded AMT tweeter, a driver type of which Legacy is a pioneer and a quality leader. The design lends itself to both front-stage and surround-channel applications. The unobtrusive shape and mounting plus its availability in a wide variety of fine finishes would help the Pixel fit any decor nicely. The Pixel is priced at $1,800 a pair. 
The Legacy Theater Towers fulfill a similar role to the Pixel speakers, but in a much grander scale. They are intended for applications where wide dynamic range and high sound quality is needed but without eating up a big chunk of floor space from a large cabinet footprint and the stand-off distances from walls typically needed for conventional tower speakers. Like its name suggests, these qualities make it ideal for home theater applications. The driver layout is much like the Legacy Focus speakers except the drivers are raised significantly higher on the front baffle in an effort to cover a wider area with great sound. This is especially handy for those home theaters with rear seating on risers. The rear of the Theater Tower cabinet forms a 90 degree corner and is intended for placement in room corners or along the wall, and can be used to nicely flank a projection screen. This does makes for a fixed toe-in, but the angle of the toe-in is very sensible for good coverage. This design makes it easier to forgo an acoustically transparent screen and the compromises in image quality that sometimes be involved in such screens.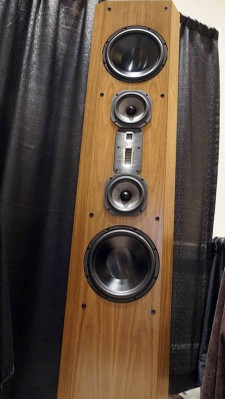 The Legacy Theater Towers are designed to be placed against a wall.
A True Tower of Power 

The Theater Towers have two active 12" subwoofer drivers powered by a 500 watt amplifier, making it very possible to have awesome bass extension and output without standalone subwoofers at all, thereby saving even more floor space. The subs hand off bass to the two 7" graphite midwoofers at 120 Hz, and they take the range up to 2.8 kHz. Above that, Legacy's esteemed AMT tweeters take over, dividing duties at 8 kHz between a 4" AMT midrange tweeter and a 1" AMT tweeter for the highest frequencies. This loadout give the Theater Towers a broad range of 18 Hz to 30 kHz (+/-3 dB) with serious dynamic range potential. The Theater Tower can come in a fully active configuration or a configuration where the only the subs are powered with a passive upper range for which the user can provide their own amp. The Legacy Audio Theater Towers can be had in a variety of fine finishes and will run you $12,000 a pair. They can be ordered at Legacy Audio dealers.

Unless otherwise indicated, this is a preview article for the featured product. A formal review may or may not follow in the future.