Monitor Audio PL500 II Tower Speakers Preview
Summary
Frequency Response: 22Hz - 100kHz
Sensitivity ([email protected]): 91dB
Maximum S.P.L.: 120dBA (pair)
Nominal Impedance: 4Ω (4.2Ω min. @ 120Hz)
Power Handling (RMS): 400W
Recommended Amplifier Requirements (RMS): 150 - 400W
Cabinet Design: Four HiVe®II ports, Sealed mid-range TLE enclosure
Drive Unit Compliment:


4 x 8" RDT®II long-throw bass drivers
2 x 4" RDT II mid-range driver
1 x MPD high frequency transducer
Crossover Frequency:


MF/HF: 3.6kHz
LF/MF: 460Hz
External Dimensions (Inc. plinth) (H x W x D): 71" x 19 13/16" x 24 5/8"
External Dimensions (Inc. feet & spikes) (H x W x D): 72 3/4" x 19 13/16" x 24 5/8"
Weight (each): 218lb
Executive Overview
Audiophiles at AXPONA would have been remiss not to be present when one of the decades-long leaders of the British manufacturing industry brought in their new flagship speaker. The stately Monitor Audio Platinum Series PL500 II looks to be the loudspeaker equivalent of a Bentley automobile, with its Santos Rosewood veneer coated with 11 layers of gloss piano lacquer and a front baffle upholstered with high-quality Inglestone leather. Its 6 foot height and 220 lbs weight makes it a formidable visual presence in any room; a monumental, opulent monolith which is almost intimidating, and perfect for the delivery of those high-brow symphonic recordings for discerning listeners. Of course, we were using them to rock out to Daft Punk.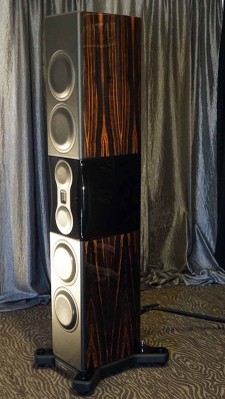 The Monitor Audio Platinum PL 500 II Tower Speaker
Luxurious appearance is nice and all, but it isn't worth much if the speaker can not perform. To say the PL500 II can perform is an tremendous understatement. Four eight inch bass drivers, two four inch midwoofers, and MPD tweeter (Micro Pleated Diaphragm, similar to an AMT driver) give the PL500 II's enormous capability. The drivers themselves are built from a spare-no-expense, state-of-the-art design design philosophy, much like the rest of the speaker. The cone of the woofers are a new composite design of extremely thin, low mass skins which are very rigid, and which Monitor Audio claims reduces distortion over 300 Hz by over 8 dB. Precise cone geometry, high performance suspension, thermal optimization, and a new type of coupling of the voice coil to cone are just a few of the other innovations in the bass drivers and midwoofers. In addition, the rear chamber of the midwoofers are sealed within the driver structure itself in a tapered line enclosure, in an effort to optimally damp standing waves from creating unwanted resonances in the cabinet. Monitor Audio calls their tweeter a MPD high frequency transducer, and it is based on the AMT tweeter. Monitor have increased the number of pleats and decreased the height from traditional AMT tweeters, and this has enabled them to achieve a flat response out to 100 kHz.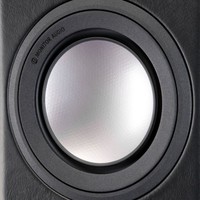 Just look at the bullet list of specs for the PL 500 II's and you will understand how serious of a speaker it is:
4 x 8" RDT®II long throw bass drivers
2 x 4" RDT II mid-range drivers
MPD (Micro Pleated Diaphragm) high frequency transducer designed specifically for Platinum II
4 x HiVe®II ports
New patented 'DCF' (Dynamic Coupling Filter) mechanism for more natural sound
Bespoke speaker terminals and footings
Underhung, edge-wound voice coils: greater driver efficiency and lifelike dynamics, less distortion
Bolt through drivers: clearer sound and cleaner aesthetics
Anti-Resonance Composite (ARC) mid-range housings and baffle components: reduced cabinet vibration, purer sound quality
TLE (Tapered Line Enclosure) sealed internal enclosure for mid-range drivers: greater sound accuracy and reduced cabinet vibration
Hand-upholstered front baffle: the very highest quality Inglestone leather supplied by Andrew Muirhead
Individual driver grilles
Finish options: Santos Rosewood or Ebony natural wood veneers with clear gloss piano lacquer, or Piano black gloss lacquer
The Devil is in the Details

The curvature of the cabinet isn't just for aesthetics; curved surfaces have more strength than flat surfaces and do more to suppress the resonances of standing acoustic waves within the enclosure. Baffle components and the midrange housing is constructed from a special polymer which helps to damp vibrations which, along with the heavy internal bracing, creates an extremely inert cabinet. The drivers are mounted using a long bolt which is tightened from the back of the cabinet. This gives the drivers equal clamping force around their edges and acts as additional bracing in the cabinet. It also gives the front a cleaner appearance from the lack of any visible screw heads. The PL500 II is not at all cheap, but is not as expensive as one would expect being the flagship product from a major speaker manufacturer: $30k for a pair seems pretty reasonable given this level of engineering and materials excellence. They may be the Bentley of speakers, but they only cost as much as a Toyota, and their phenomenal sound may be able to transport you to places no automobile could ever go.
Confused about what AV Gear to buy or how to set it up? Join our Exclusive Audioholics E-Book Membership Program!
See also:
Recent Forum Posts:
gene posts on May 08, 2016 17:09
Audiophiles at AXPONA would have been remiss not to be present when one of the decades-long leaders of the British manufacturing industry brought in their new flagship speaker. The Monitor Audio Platinum PL500 II Tower speaker system is a true statement piece of engineering excellence. This flagship 220lbs 3-way 7-driver speaker system is packed with the very latest in drive technology and materials to make it their highest performance production loudspeaker to date.

Check out our experience with them but be warned as some audiophiles may experience side effects of salivation or repeated dreams of ownership.



Read: Monitor Audio PL500 II Tower Speakers Preview
Post Reply