Revel Concerta2 Loudspeaker Series Preview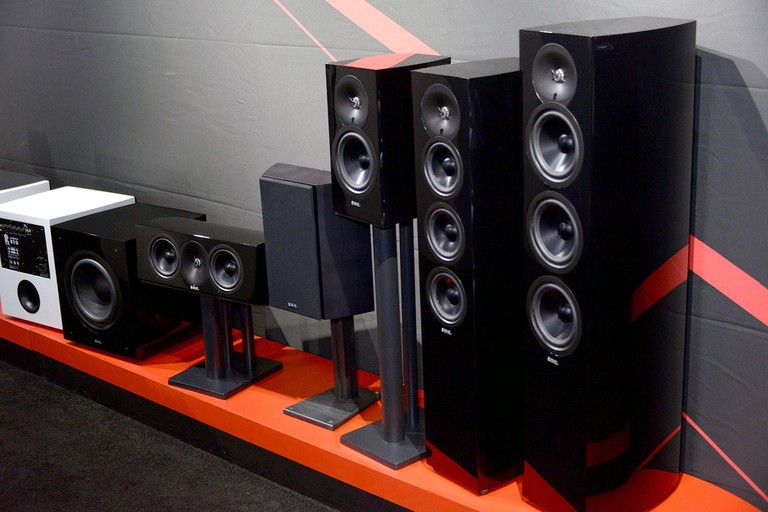 The New Revel Concerta2 Series
Summary
F36 2.5-way floorstanding tower (1-inch tweeter, three 6.5-inch woofers, $,2000/pair)
F35 2.5-way floorstanding tower (1-inch tweeter, three 5.25-inch woofers, $1,600/pair)
M16 2-way bookshelf monitor (1-inch tweeter, 6.5-inch woofer, $900/pair)
C25 2.5-way center channel (1-inch tweeter, dual 5.25-inch woofers, $750)
S16 2-way surround speaker (1-inch tweeter, 6.5-inch woofer, $900/pair)
B10 powered subwoofer (10-inch woofer, built-in 800-watt amplifier, $1,500)
Tweeter: 1" Aluminum with integral phase ring
Woofers: Aluminum cone
Executive Overview
Perhaps more than any other company, Harman, the parent company of Revel, JBL, and more, is known for being a rockstar when it comes to audio research. This isn't meant to diminish other manufacturers, but when you look at the well-loved work of Olive, Toole, and many others, combined with ownership of the no-holds-barred research facility in Northridge, Harman stands out. So when Revel, Harman's luxury speaker brand, told us they'd be unveiling an update to their value-first Concerta line, with the Concerta2 promising top-notch performance based on technology from their high-end Performa3 Series, we were all ears. After seeing these classy speakers in person at CEDIA, which you can experience via the video on our facebook page, and hearing a little demo on the show floor, we can't wait to get ears-on in a dedicated room.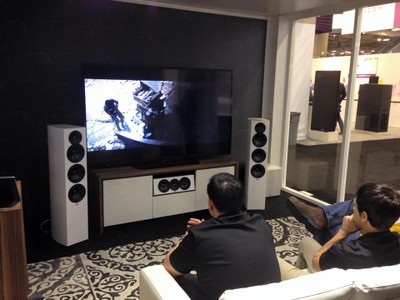 The new Revel Concerta2 in a sleek white finish (black is also available).
The Concerta2 Series loudspeakers are a complete lineup of home theater and music loudspeakers that incorporate numerous design and engineering upgrades to deliver exceptional sound said to set a new benchmark in high-end loudspeaker value. Along with their improved audio performance, Revel Concerta2 loudspeakers have a refined appearance with new curved enclosures, high-gloss black or white finishes, and elegant design accents like magnetic grills. 
The six current models in the Concerta2 Series consist of the following: 
F36 2.5-way floorstanding tower (1-inch tweeter, three 6.5-inch woofers, $2,000/pair)
F35 2.5-way floorstanding tower (1-inch tweeter, three 5.25-inch woofers, $1,600/pair)
M16 2-way bookshelf monitor (1-inch tweeter, 6.5-inch woofer, $900/pair)
C25 2.5-way center channel (1-inch tweeter, dual 5.25-inch woofers, $750)
S16 2-way surround speaker (1-inch tweeter, 6.5-inch woofer, $900/pair)
B10 powered subwoofer (10-inch woofer, built-in 800-watt amplifier, $1,500)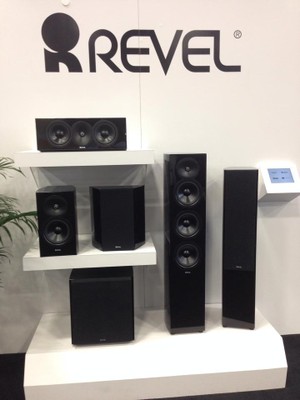 The Revel Concerta2 Lineup
"Our Concerta2 Series isn't just a minor upgrade – it incorporates technologies and materials that are directly drawn from our acclaimed Performa3 loudspeakers along with a host of new design elements," said Jim Garrett, Director of Marketing and Product Management, HARMAN. "The result is a significant leap forward in aesthetics, music and home theater reproduction at prices that make true high-end sound attainable for a wider range of listeners." 
Concerta2 Series loudspeakers employ a 1-inch aluminum tweeter with an integral phase ring, derived from Revel's Performa3 Series, to deliver detailed and transparent high-frequency response. The tweeters are mated to a new, patented fourth-generation Acoustic Lens Waveguide that optimizes the blend between the tweeter and woofers and improves off-axis performance for smoother, more consistent performance over a wide listening area.
The newly designed woofers feature aluminum cones that help keep distortion to a minimum by improving rigidity without increasing mass. The result is transducers that behave like ideal pistons throughout their operating range, which is fundamental to Revel's DNA. 
Every Revel Concerta2 model is designed using computer-optimized driver positioning and crossover network integration, resulting in optimized performance with accurate imaging and a lifelike, expansive soundstage or surround-sound environment for music and movies. The speakers' best-in-class acoustic performance was further verified via their testing in the Northridge, California HARMAN Listening Lab, a one of-a-kind world-class facility purpose-built to advance the science and art of loudspeaker design through meaningful double-blind listening tests. 
The 2.5-way design of the towers and center speakers yields an increase in sensitivity that allows the Concerta2 speakers to match well while playing louder with less power needed than comparable 3-way designs. The S16 surround speakers are a monopole design and feature a keyhole mount, making them equally capable as main/front speakers that can be easily wall-mounted. 
Our Take
The Revel Concerta2 series loudspeakers are shipping now. At these prices, Revel is battling in the value space usually occupied by internet-direct speaker manufacturers, but coming to the table with an established name and heralded legacy. With Harman research and experience informing the sound design, and upscale touches like curved cabinets, high gloss finishes, and magnetic grills lending an air of sophistication, there is no doubt that the Revel Concerta2 Series is worth a serious listen when looking for the best sound for your buck. We are looking forward to doing a detailed review of this new series in the near future.

Confused about what AV Gear to buy or how to set it up? Join our Exclusive Audioholics E-Book Membership Program!
Recent Forum Posts:
Epsonfan posts on September 29, 2019 09:48
Too expensive for me.
sunPin posts on May 03, 2016 23:36
@gene , ever get those Concerta2 F36 speakers in for review? I demoed them and thought they sounded great at low volume, but they broke up at moderate volumes in a largish room. I'd love to hear what you guys think of their depth imaging compared to the GoldenEar Triton Two+ with the folded ribbon tweeter since the F36 started breaking up before I could really get a gauge on how they performed; the GE Triton Two+ depth imaging was very good to my ears.
AKK posts on January 30, 2016 11:23
Hi Gene

Did you get a chance to review these receivers? Am unable to to take a call between Denon X6200 vs Anthem MRX720. You deeper insights into this will certainly aid me into proper conclusions.
Curtis9 posts on January 23, 2016 13:22
Any thoughts on Anthem vs Arcam for us audio guys who also want a good video experience? And would the Receiver or Pre/Pro work best with an Oppo 105? Thanl\ks!
little wing posts on December 08, 2015 10:12
Hello Gene,

Any chance you will get one of these new Anthem receivers for review? When they came out with the MRX 310, 510 and 710 you did a preview as well, but no in-depth review. I think a lot of readers here, including myself are very curious as to how these receivers stack up soundwise to the more mainstream offerings from say Denon, Yamaha, Onkyo, etc. Since Anthem's receivers typically don't have the same feature set as the usual suspects I'm sure some people are wondering if they go with Anthem will they be happy giving up features for the sound quality of the Anthem.

You wrote an article a while back likening today's receivers as a computer with an amp thrown in. Anthem seems to deviate from this thinking, is that a good decision?
Thanks
Post Reply