GoldenEar Triton One.R Tower Speaker Preview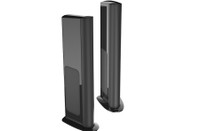 GoldenEar Technology announced the introduction of their newest tower speaker, the Triton One.R. This new reference quality loudspeaker is a smaller, less expensive follow up to the Triton Reference, which has had a remarkable response in the marketplace from both music and hifi enthusiasts. It carries many of the same technologies found in the Triton Reference along with new innovations. Will the new Triton One.R get the same response as its larger predecessor? Read on to find out.
GoldenEar Technology released their follow up to their highly awarded Triton Reference speaker - the Triton One.R. Does this new smaller, less expensive speaker live up to the Reference? Read on.