Sonus faber Debuts New Budget-Friendly Lumina Loudspeaker Range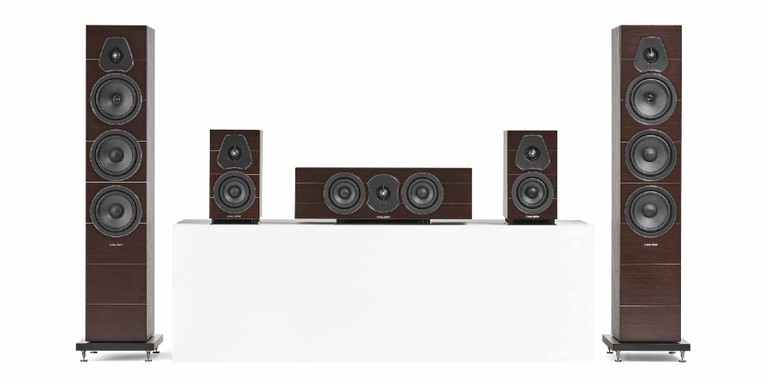 Sonus faber Lumina
Summary
Sonus faber Lumina I two-way bookshelf speaker
Frequency Response: 65 Hz - 24,000 Hz
Sensitivity: 84 dB SPL (2.83V/1m)
Nominal Impedance: 4 ohm
Dimensions (H x W x D): 11" x 5.8" x 8.4"
Weight: 9.7 lbs each
Sonus faber Lumina Center I two-way center-channel speaker
Frequency Response: 65 Hz - 24,000 Hz
Sensitivity: 87 dB SPL (2.83V/1m)
Nominal Impedance: 4 ohm
Dimensions (H x W x D): 6.6" x 20.6" x 8.4"
Weight: 16.8 lbs each
Sonus faber Lumina III three-way floor-standing speaker
Frequency Response: 40 Hz - 24,000 Hz
Sensitivity: 89 dB SPL (2.83V/1m)
Nominal Impedance: 4 ohm
Dimensions (H x W x D): 38.9" x 9" x 10.9"
Weight: 35.1 lbs each
Executive Overview
In the audio world, the name Sonus faber is synonymous with luxury. Sure, the Italian company makes great-sounding speakers, but for many of us, the first thing that comes to mind isn't a smooth and unfatiguing treble. Instead, the name Sonus faber evokes fine craftsmanship, sumptuous wood finishes, lavish leather, and elegant industrial design that would look at home in even the fanciest of digs. So what does a luxury brand like Sonus faber have to offer a potential customer whose budget is more casserole than caviar? The answer to that question comes in the form of a new range of speakers called Lumina, which was recently launched this autumn. The announcement of this new collection came with the expected fanfare of marketing nonsense, but one sentence from the press release struck a chord with me: "The true sound of music is something everyone deserves to have in their homes." You can't argue with that. And that was the simple motivation behind the creation of the new Lumina loudspeakers — make great sound affordable for just about anyone, and look good doing it (this is Sonus faber we're talking about, after all). At this point, if you're anything like me, you may be asking yourself, "How affordable is affordable?" The last article I wrote for this publication was about Wilson Audio's most "affordable" floor-standing speaker, which costs nearly twenty grand. Everything's relative in the world of high-end audio. And so it was refreshing to see that Sonus faber's three-strong Lumina collection really is made for the hoi polloi. The Lumina I is a compact two-way bookshelf speaker that can be yours for $899/pair. The three-way Lumina III floor-stander costs a more substantial (but still terrestrial) $2,199/pair. If it's home theater you have in mind, another $699 will get you a Lumina Center I center-channel speaker. What compromises did Sonus faber have to make in order to reach these price points?
Lumina collection is the new Sonus faber line conceived on the notion that it is important to savor time for ourselves and celebrate life's precious moments. In today's world, we have come to fully appreciate our living spaces where these moments come to life. Our commitment is to deliver a luxury music experience in all Sonus faber homes, which is facilitated through our longstanding tradition of refined materials and careful craftsmanship.
— Sonus Faber
One thing that Sonus faber did not compromise on was place of manufacture. Unlike some of the brand's previous affordable models — such as the Venere series, which launched in 2012 — the Lumina collection is NOT made in China, but in Italy, like the rest of Sonus faber's offerings. That kind of thing matters to some people, and clearly it matters to the folks at Sonus faber. (That's not to suggest that speakers made in China are inferior. In fact, two of my favorite speakers are built there: the $16,000 Monitor Audio Platinum PL300 II, and the $10,000 GoldenEar Technology Triton Reference.) The most obvious cost-saving choice that Sonus faber's designers made with the Lumina series can be seen in the rectilinear cabinets, which lack the signature curves and sophisticated shapes that make the brand's pricier speaker so recognizable and desirable. But this minimalist design is part of the Lumina ethos, which is defined by the name itself. Lumina is Latin for "light," but for Sonus faber, it has another meaning. "LU" stands for "Luxury sound experience." "MI" stands for "Minimalist design." Finally, "NA" stands for "Natural sound." It's all a bit high-concept if you ask me, but I suppose it's fairly clever. In any case, choosing to stick with simple and relatively small rectangular cabinets allowed Sonus faber to focus on craftsmanship and materials, including multilayer wood and real wood veneer on the front baffle, and what appears to be a high-quality faux leather. The company says that the "principal of minimalism directly captures the essence of the product, which was thoughtfully designed in conjunction with the theory 'less is more.' The new collection comprises the core values of Sonus faber and the precious materials that identify the brand." According to Sonus faber, the Lumina's simple cabinets actually emphasize the quality of materials used, and careful attention was paid to the proportions in order to optimize both performance and aesthetics. And of course, a rectangular box is an inexpensive shape to build, helping the company reach those all-important price points without sacrificing fit and finish. The multilayer wood front baffle with real wood veneer is available in either a matte Walnut or matte Wenge finish, both with with maple inlays. Piano Black is the third finish option. These speakers certainly don't look cheap. Hand-applied black leather adorns all other surfaces of the cabinets, and the drivers are surrounded by chrome rings that "highlight shapes and proportions and give brightness to the front baffle." Oh yeah, the drivers. These speakers have to sound good too, right?
The Lumina electro-acoustic project is targeting solutions designed for modern lifestyles and various listening environments, without compromising performance. Multichannel systems and multimedia solutions are perfect for Lumina, offering excellent room coverage for audiences to enjoy a captivating and authentic experience from every seat in the room. Due to updated technology, Lumina speakers are incredibly adaptable and sound excellent wherever they are placed — even close to a back wall or on a bookshelf. The beauty of the new Lumina collection is that they can be placed virtually anywhere and will still deliver a breathtaking performance.
— Sonus faber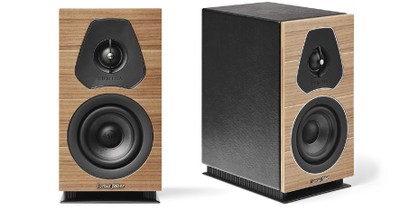 The Lumina I is an extremely compact bookshelf speaker that is designed to work on its own (as a stereo pair) or as the front or rear speakers in a surround-sound setup. At just 11 x 5.8 x 8.4 inches, it's truly tiny — practically a satellite speaker — and should easily blend in to its environment. The Lumina I is a two-way vented box design, with a 4.7-inch paper cone mid-woofer and a 1.1-inch damped apex dome tweeter made from hand-coated silk. The mid-woofer is a brand new design developed specifically for the Lumina collection, and features a custom-made basket and a diaphragm that combines cellulose pulp with other natural fibers. The damped apex dome (D.A.D.) tweeter is a Sonus faber hallmark. The name refers to a production technique of locally dampening the apex of a soft dome tweeter in order to better control the phase behavior of the diaphragm, reducing the early high-frequency rolloff that can plague standard soft dome designs. The tweeter in the Lumina collection is the same one used in the more expensive Sonus faber Sonetto series, and is supplied by the German company Kurt Müller, which has been manufacturing premium loudspeaker parts since 1934. Given the small cabinet size and relatively small size of its mid-bass driver, the Lumina I only digs down to about 65 Hz. But the company claims that the speaker works well near boundary walls and is "able to deliver tons of musical engagement" despite its diminutive dimensions. That said, the 84dB sensitivity rating suggests that you'll need to supply ample power to get the party started. Because it's front-ported, it is especially easy to place, even in small spaces, according to Sonus faber.

The two-way Lumina Center I is similar to its smaller sibling, but uses a pair of 4.7-inch mid-woofers instead of just one. Also front ported, the Lumina Center I is designed to excel in the kind of real-world environments where it's likely to end up: in small and medium-sized living rooms and multi-purpose home cinema rooms, most likely tucked into a piece of media furniture. Slightly more sensitive, with a rating of 87dB, the Lumina Center I won't be quite as taxing on your amplifier or receiver. The Lumina III floor-stander, at just under 39 inches tall, is small enough for most domestic spaces but large enough to ensure "powerful, distortion-free sound and high speech intelligibility for games and movies," not to mention "a broad frequency response, a gorgeous dynamic impact, and a beautiful midrange presentation" for music. The Lumina III is a three-way design utilizing a 5.9-inch paper cone dedicated midrange driver and a pair of 5.9-inch woofers, extending its frequency response down to 40Hz (though no tolerances are given). With a sensitivity rating of 89 dB, they should play nice with a wide variety of amplifiers, and can easily provide immersive sound in any mid-size listening room, according to Sonus faber. A down-firing port is hidden behind the speaker's plinth. All three speakers in the Lumina collection are equipped with two pairs of nickel-plated speaker terminals, allowing for bi-wiring or bi-amping. The crossovers reportedly contain specifically-designed high-performance capacitors manufactured exclusively for Sonus faber. Although the Lumina collection doesn't technically include a subwoofer, Sonus faber suggests pairing the Lumina speakers with the company's Gravis I ($999/each) or Gravis II ($1,499/each) subwoofers. The Gravis I features a down-firing 8-inch woofer powered by a high-current 150-Watt Class AB amplifier, all packed into a sealed enclosure that is not much more than one cubic foot in volume. The larger Gravis II features a down-firing 10-inch active driver and a front-firing 10-inch passive radiator, with a high-current 400-Watt Class AB amp providing the power.
Sonus faber Complete 5.1 Systems Starting at $3,500?!?
I've never been great at arithmetic, but according to my calculator, a 5.1-channel Lumina system starts at around $3,500 for a small-room system based around the Lumina I bookshelf speakers. In a larger room, upgrading to the Lumina III floor-standers and the Gravis II subwoofer puts you at about $5,300. Of course, a more immersive system with height channels, rear surrounds, and additional subwoofers will increase the price, but the point is that Sonus faber is shooting for real-world attainability with the Lumina collection, and if these speakers sound as good as they look, the company may have a big seller on their hands. There is, of course, plenty of competition at these prices, with great choices available from the likes of Elac, PSB, KEF, and many others. Will the Lumina collection succeed in bringing Sonus faber's unique brand of Italian luxury audio to the masses? We shall see.  

Confused about what AV Gear to buy or how to set it up? Join our Exclusive Audioholics E-Book Membership Program!