New Active DSP Rixos Speakers From Grimani Systems Promise Huge Cinema Sound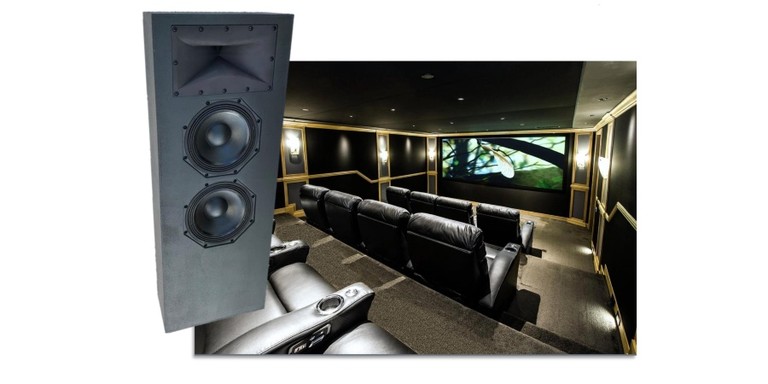 Grimani Speakers
Summary
Rixos-L 2.5-way Active DSP Speaker
Dual 8" woofers / 1" annular driver in CSA™ waveguide
Max SPL 1m Long-Short: 113-120dB 80Hz to 20kHz
600W rack amplifier, DSP x-over and room EQ
Dimensions: 36"H x 13"W x 6"D
Rixos-H 2-way (H1) or 2.5-way (H2) Active DSP Speaker
6.5" woofer(s) and 1" dome in CSA™ waveguide
Max SPL (H1) 1m, Long-Short: 104-112dB 80Hz to 20kHz
Max SPL (H2) 1m, Long-Short: 108-115dB 80Hz to 20kHz
80Hz to 16kHz, +/-2dB.
320W rack amplifier, 2-way DSP x-over and room EQ
7"H x 4"D x Width Variable from 34" to 78"
NEW Active DSP Rixos Speakers From Grimani Systems VPE
Executive Overview
Like many audiophiles, I enjoy basking in the soft glow of vacuum tubes; I admire the hand-polished cabinets of high-end loudspeakers; and I absolutely love the feel of a really expensive, machined aluminum volume knob. But I'll be the first to admit that these trappings of esoteric Hi-Fi, as pleasurable as they may be, have nothing to do with the essence of being an audiophile. Two-channel audio may be the poster-child of the high-end audio industry, but a darkened home theater is probably the best venue for a true audiophile experience. Diehard home theater folks don't care if a speaker is carved out of solid gold; it'll be obscured by a screen anyway, or mounted inside a wall, so who cares what it looks like? The only things that matter are the way a speaker sounds, and the way it makes you feel when playing back your favorite content. In a home theater, the beautifully-milled chassis of a Dan D'Agostino amp would just be hidden away in an equipment rack, so what's the point? In the darkness of a home theater, nothing matters but the quality of the experience. As I mentioned in my recent article about the new speakers from Pro Audio Technology, there's more than one way to put together a great-sounding home theater. You could turn to the makers of traditional Hi-Fi speakers, such as Martin Logan, Focal, Monitor Audio, Revel, or Bowers & Wilkins. They all make impressive products for the home theater market. But those companies merely adopted the darkness of the home theater world. There are other loudspeaker manufacturers that were born in that darkness — molded by it. Their singular focus has always been pure home theater performance. A perfect example is Grimani Systems, co-founded by industry veteran Anthony Grimani and audio engineer/inventor Manny LaCarrubba.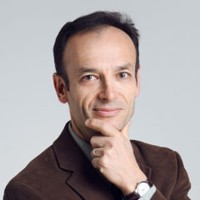 If you've availed yourself of the educational content on the Audioholics YouTube channel, the name Anthony Grimani should be a familiar one. Mr. Grimani has been generous with his considerable knowledge and insight, contributing to videos about room acoustics, home theater bass and bass management, post-calibration system tweaks, amplifier specs, and more. Before becoming an Audioholics YouTube star, Anthony Grimani held executive positions at both Dolby and Lucasfilm THX, and was granted six patents in the area of audio and acoustics. He is a frequent lecturer at the Audio Engineering Society (AES) and at CEDIA, where he earned the CEDIA Top Instructor award and was inducted as a Fellow of the CEDIA trade association. (Here's an in-depth look at a CEDIA course that Anthony taught about acoustic treatments back in 2004.) In 2014, Anthony teamed up with Manny LaCarrubba to create the ultimate home theater audio system, and Grimani Systems was born. Back in the mid 1990s, Manny had developed and patented various acoustic technologies, including Acoustic Lens Technology (ALT), which was licensed by Bang & Olufsen, and is still used in the Danish company's products. (Have you ever seen those B&O tweeters that rise out of the dashboard in a high-end Audi? That's ALT in action.) Building upon that earlier work, Manny went on to design the Conic Section Array (CSA) waveguide, which became the principal tech in Grimani Systems loudspeakers, including the company's two most recent products, the Rixos-L ($8,200 each) and the Rixos-H (starting at $3,900 each). The Rixos-H is a horizontal center-channel speaker, while the Rixos-L is the new flagship of Grimani's super-slim Rixos series of high-performance home theater speakers.
Before getting into the nitty-gritty of the new Rixos series speakers, let's take a look at the Conic Section Array Waveguide, which Grimani Systems describes as "a new class of ultra-wide dispersion device." All multi-driver speakers run into the same problem: while low frequency drivers load sound into the room fairly evenly over a wide coverage angle, high frequency drivers "beam" — as the frequency goes up. The driver beams the sound in an increasingly narrow angle, so that only the listener seated directly in line with the speaker's axis can hear content with the full spectrum of frequencies correctly represented. That's not a huge problem in the context of a high-end 2-channel audio system with a single listening chair centered between the speakers. But in a home theater, there are probably many seats that are significantly off-axis to one or more speakers. If the listeners in those seats are missing out on high frequency information (above about 3 KHz), all sorts of things sound wrong. The sibilance in spoken dialogue, the pluck of a guitar string, and the transient attack of a drum can all sound soft or muffled. On the other hand, an excess of high-frequency information can make everything sound edgy or harsh. The most effective way to mitigate the problem is to force the constant directivity of high frequencies using a waveguide. According to Grimani Systems, the unique geometry of the Conic Section Array waveguide "delivers constant horizontal directivity over a 160-degree coverage angle." That means that there is no roll-off of high frequencies, even at extreme off-axis angles of 70 to 80 degrees. Instead, the overall SPL of the speaker decreases as you move off axis, while the frequency response curve remains flat. By combining a high-quality tweeter with the Conic Section Array Waveguide, Grimani Systems claims to "bring a level of performance that even well-designed audiophile loudspeakers cannot attain, but at sound pressure levels no audiophile speaker could ever achieve."

The second ingredient in Grimani's secret sauce is powerful digital signal processing (DSP), which allows for active crossovers, more efficient amplification, and increased reliability, according to the company. By going the active route, Grimani eschews passive crossovers, which the company describes as damping-factor-killers that prevent the amplifier from exerting control over the motion of the drivers. This loss of control results in "ringing" or "time smearing" in the driver, according to Grimani. The company also points out that a passive crossover network must be tuned to the impedance of the driver it's connected to, but the driver's impedance will actually change while the speaker is in use because the voice coil heats up, changing the resistance of the wire. Grimani says that the effect can be substantial in home theater speakers (which are often tasked with pumping out high-SPLs) causing unintended peaks in the frequency response in the crossover region.
While ANY form of active crossover is vastly superior to passive crossovers (ones that use large capacitors, inductors, and resistors), a digital crossover is more flexible, has less noise and distortion, and is more stable over time than any analog crossover could ever be. Traditional passive crossovers, frankly, have no place in a premium cinema system loudspeaker. They introduce distortion components. They are a potential failure point. They can't be built with nearly as much precision. High order slopes are simply not practical to build.
— Grimani Systems
DSP also allows Grimani to time-align drivers and apply frequency equalization. According to the company, typical audiophile-grade drivers might offer low distortion and excellent frequency response, but they are inefficient and have relatively low power-handling capability. In order to deliver high SPLs, typical home theater speakers are more efficient and handle more power, but with much higher distortion, and a frequency response that isn't as smooth overall. Because movie soundtracks can have extreme dynamic range, a speaker's ability to play loud without getting damaged is certainly of great importance, but at what cost? Grimani uses powerful DSP to combine the high technical performance of an audiophile driver with the robust build and high output capabilities of a home-theater speaker.
Because we have such powerful DSP built into our speaker, we can optimize our drivers for low distortion, high efficiency, and power handling, and not concern ourselves so much with box tuning and frequency response. We have all the signal processing we need to linearize the drivers' response while keeping the size of the cabinet down. Ultra low distortion, ultra linear frequency response, high efficiency, and high power handling give Grimani Systems loudspeakers unrivaled clarity and naturalness of sound with all the dynamic punch you could ask for.
— Grimani Systems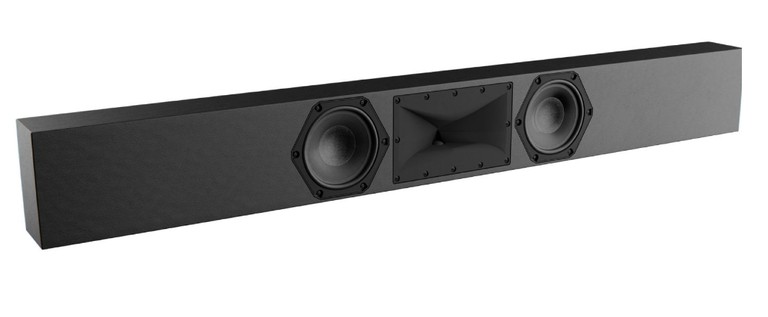 Rixos Series Loudspeakers Overview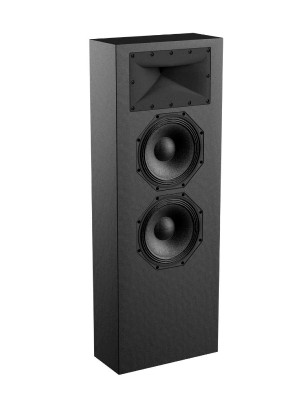 With all that in mind, let's take a look at the newest members of the CEDIA-award-winning Rixos series, starting with the Rixos-L. The new flagship of the series, the Rixos-L is a compact yet powerful 2.5-way active speaker that employs a pair of 8-inch woofers, plus a 1-inch annular (ring) tweeter in the company's signature CSA waveguide. At just 6 inches deep, the Rixos-L can be installed either in-wall or on-wall, and is designed to function as a front-channel LCR speaker in rooms up to 600 square feet, or as a surround speaker in larger rooms. According to Anthony Grimani, the Rixos-L is intended to bring the company's "ultra-high definition" performance into "home cinemas, media rooms, and any space that deserves dynamic sound pressures within a very shallow form factor." As a 2.5-way active speaker, the Rixos-L is tri-amplified by a dedicated 600W rack amplifier controlled by integrated digital signal processing that handles everything from driver frequency response to room correction EQ. The Rixos-L is said to deliver "exceptional dynamics and finesse, wide dispersion, and smooth off-axis response."
While the Rixos-L will likely find its home in a dedicated theater room, the smaller Rixos-H has a horizontal form-factor that allows it to be placed directly above or below a TV, bringing "the same patented design, philosophy, and quality that bedrocks all of Grimani Systems' products" into smaller domestic spaces, such as living rooms, bedrooms, or anywhere that has size limitations. Like the other Rixos speakers, it's an active multi-amplified speaker with integrated DSP and room correction EQ. The Rixos-H is said to provide "the same level of performance and technology" as the company's other home cinema products, but in a more style-conscious package. To that end, the Rixos-H can be customized to match the width of a TV, from just 34 inches up to 78 inches wide. (The max width just so happens to match perfectly with LG's massive 88-inch 8K OLED TV.) In a smaller space, the speaker can be configured as a bi-amplified 2-way speaker (the Rixos-H1), with a single 6.5-inch woofer and a 1-inch dome tweeter in a CSA waveguide. In larger rooms, the Rixos-H2 adds a second 6.5-inch woofer, and is tri-amplified in a 2.5-way configuration. The H2 version starts at 57 inches in width. Both the H1 and H2 versions of the speaker are just 4 inches deep and can be surface-mounted to the wall, or installed as an in-wall speaker for a more custom look. Boasting no off-axis cancellation lobes, the Rixos-H should work well in a wide variety of environments. Like other Grimani Systems speakers, the Rixos-H should also be an unusually low-maintenance product for the end user — calibration, diagnostics, and 24/7 monitoring are all managed over IP networking. How cool is that?
I would love to own a super high-end stereo system with exotic tower speakers, beautiful jewel-like electronics, elaborate audio furniture, and even fancy cables (sorry, Gene!). But I think there's a valid argument to be made that hardcore home theater speakers like the Grimani Systems Rixos are the true, ultimate expression of audiophile sensibilities, where sound quality rules above all else. If you had to choose between a dedicated home theater and a high-end stereo, which way would you go? Share your thoughts in the forum below.

Confused about what AV Gear to buy or how to set it up? Join our Exclusive Audioholics E-Book Membership Program!
Recent Forum Posts:
gene posts on October 14, 2021 15:45
Grimani Systems, cofounded by respected home theater expert Anthony Grimani, has launched two new high-performance on-wall/in-wall speakers. The Rixos-L ($8,200 each) is the new flagship of the company's slim Rixos series, while the Rixos-H ($3,900 and up) is a horizontal center-channel speaker that can be custom-built to match the width of a TV. Both are active, DSP-controlled speakers that utilize Grimani Systems' signature Conic Section Array Waveguide.
Because we have such powerful DSP built into our speaker, we can optimize our drivers for low distortion, high efficiency, and power handling, and not concern ourselves so much with box tuning and frequency response. We have all the signal processing we need to linearize the drivers' response while keeping the size of the cabinet down. Ultra low distortion, ultra linear frequency response, high efficiency, and high power handling give Grimani Systems loudspeakers unrivaled clarity and naturalness of sound with all the dynamic punch you could ask for.
— Grimani Systems

50801



Read:

Rixos Speakers by Grimani Overview
Post Reply