Revel F228Be 3-Way Floorstanding Loudspeakers Reviewed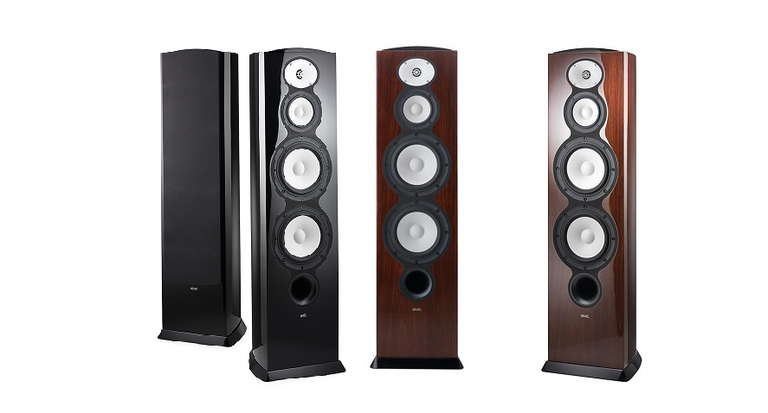 Revel F228Be Tower Speakers
Summary
1" Beryllium dome tweeter

Dual 8" Deep Ceramic Composite (DCC) aluminum cone woofers with cast frames

5-1/4" DCC midrange driver
Frequency response: 27-44,000 Hz (-6dB)
Sensitivity: 90 dB
Impedance: 8 ohms
Dimensions: 11-13/16"W x 46-1/2"H x 13-1/4"D
Weight: 82 lbs.
Warranty: 5 years
Executive Overview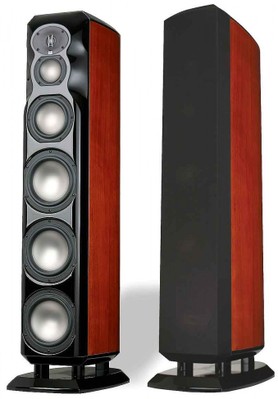 My audiophile journey started in 1988, when I was a fourteen-year-old with a Polk-NAD-Nakamichi system that was pretty slick for a loud-but-bad guitar-playing kid back in Philly. My parents were shocked if not offended to see me spend every red cent of my scant net worth at the time on changing out audio gear for my high school rig. I bought crazy stuff, too, such as Dahlquist DQ-10s (which I blew the hell out of with "Welcome To The Machine"), a more powerful B&K amp, and even towering Acoustat speakers that by no reasonable metric fit into my bedroom.
Since my early days as an audiophile kid back in Philadelphia, my chosen profession for over 35 years (25 as an AV publisher) has allowed me to partake in many more audiophile components, which pretty much made every audiophile dreams come true. I have been blessed to own components from Mark Levinson, Proceed, THIEL Audio, NAIM, Celestion, KEF, Cello, Acurus, Aragon, Krell, Meridian, Classe, (five pairs of) Wilson Audio speakers, MartinLogan ESLs, countless Bowers + Wilkins speakers, signature Paradigm speakers, Focal Sopra No. 2 speakers, Kaleidescape Media servers, ReQuest Servers (ooof), Sonos, more Crestron and Lutron than you can shake a stick at, and so much more. One of the products that caught my attention most over the years was my Revel Salon2 reference, floor-standing speakers. While very hard to drive, even with Mark Levinson 400-watt monoblock amps, these were some of the most balanced, detailed (but not etchy) and well-made speakers that I've ever owned.
So, last year, when I sold off a pair of MartinLogan Summit speakers that had been on loan to me for an extended period of time, I sought out some new speakers for my downstairs media room. I had not I owned MartinLogan ESL (hybrid electrostatic – meaning with the see-through panel on top of a traditional driver) speakers since my early twenties. They were very cool later in life, but I couldn't have picked a worse speaker design for my specific room. My needs in my downstairs media room are for speakers that can image widely. That's the single last thing you can ask a MartinLogan ESL designed speaker to do. I was going to miss the cool MartinLogan visual aesthetic, I was going to miss the gorgeous bird's-eye maple with brushed aluminum finish, but grossly different speakers were in order to get notably better sound in my new media room.

With a few friends left in the audio business and a need for speakers that could image like nobody's business, I ordered up a pair of Revel F228BE finished in white. These speakers retail at $11,000 per pair, and are a three-way design that my friends at Harman suggest are some of the best spec speakers that they've ever made, even if the largest F328Be speakers at closer to $16,000 get more ink. I have a monstrous SVS SB-4000, and that will cover all of the low-frequency material needed.
Design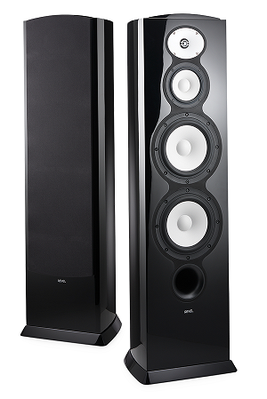 There is some debate about Beryllium drivers among those who know a lot more than you and I do when it comes to loudspeaker design. I personally like their sound, but I know some in the engineering space who think the use of said rare-Earth minerals for drivers isn't meaningful. Harman's engineers see the advantage in BE drivers, clearly. Note: they've mostly never marketed or sold speakers, either, as a little unobtainium goes a long way in a more marketing-driven environment. Where Harman gets some really strong performance is in the integration with the 5.25-inch Ceramic Composite mid-range driver. This is where those open, accurate, and engaging mids come from, while extending as far as any somewhat aged human being can hear into the upper high frequencies. My last hearing test in February 2020 (one of my last pre-COVID trips) had me measuring my upper-end hearing in the high 14 kHz range, although most audiologist are more worried about hearing to about 8 kHz for "intelligibility" for voices, phone calls, TV shows, etc. Us audiophiles (even recovering ones like me and yes, I coined that word many years ago) want to hear like we are golden retrievers. Who can blame us?
One thing that I never really understood about audiophiles is their bias towards larger floor-standing speakers over smaller speakers and a perfectly matched subwoofer. Today's subwoofers (and/or AV preamps or receivers) come with amazing tools to maximize the performance of a sub when paired with a pair of (or more in a surround sound configuration) speakers. The Revel F228Be speakers have a pair of eight-inch drivers that put out pretty good low end but that, respectfully, can't compete with the lowest of lows that come out of today's best well-calibrated subs. Could an audiophile be happy with the lows that come out of the Revel F228Be speakers? Absolutely, they would be just fine. It is just that, for a grand or two more, you can have it all, and that's where I went.

The build quality of the Revel F228Be speakers is very nice. Unlike my last foray into Revel speakers, when they came dressed in black, black, or black, today you can select from a gloss black, a gloss white, a more wood (walnut) finish, or silver. That's an important improvement, especially in more modern decor. The fit and finish of these ported speakers is as good as you would expect from the likes of a Wilson Audio, Magico, Bowers & Wilkins, or another very high-end transducer. Every little detail is polished and fine-tuned, from the design of the box to the way the logo is embossed on the speakers and beyond. I know, that doesn't affect the sound any, but at $11,000, you should expect something more than a stripped-down race car. You deserve the whole luxury audio package, and Revel delivers.
Setup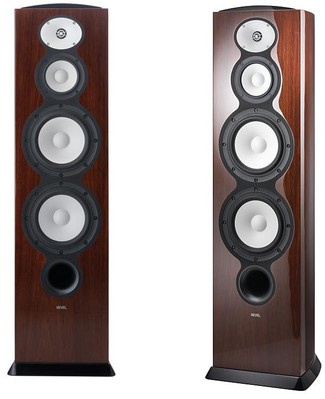 Getting the Revel F228s to sound very good was a pretty simple process. What took me a while was peeling the protective plastic from the speakers, which keeps the paint finish gleaming and perfect. That process alone took me a good 20 minutes per speaker. Getting them to image was a mere fraction of that time, and that was a very welcome change from the MartinLogans in my room, which were very much more head in a vise, compared to these more traditional Revel designs.

The Revel F228Be speakers came with plugs to potentially go in the ports of the speakers directly below the bottom of the two eight-inch drivers. I couldn't really tell what these ports did, or how they improved anything, so they got left out of the setup process after about five or 10 A-B tests on the front port. The spikes for the speakers aren't as fancy as you will see on, say, Wilson Audio speakers, but they are more than suitable for the job and keep the price tag down. Luckily, I have carpet that isn't easily damaged by the spikes. Those with hardwood or stone floors might want to put the spiked speakers on something safe. The time needed to get the Revels sounding the way that I wanted was very short. I used some alignment lasers and a bit of blue 3M painter's tape, but that didn't last long, as these speakers sound pretty good out of the box, and even better when room-corrected to work well with a big, gnarly subwoofer, like my SVS or any number of subs that Revel makes. I owned a gorgeous Revel Sub 30 back in the day, and that sucker rocked – and rocked hard. My SVS does the same for less money in today's dollars, although the finish on modern Revel woofers is really sweet.
Listening To Music and Movies
With my Marantz SR8012 dialed in, and my Halcro 7-channel amp powering the Revel F228Be speakers comfortably, I was able to get into some listening for everything from stereo to stereo + sub to object-based surround sound. "Always On The Run" from Lenny Kravitz's Mama Said record is a nasty-good rock and roll record, featuring Slash from Guns N' Roses on his lovely Les Paul. The "analog" sound, even from a CD-quality digital source in this case (AIFF 1440 rip from CD), had good presence. The horns at the end of the track sounded deep and three-dimensional. The bass without the sub was very tight. With the sub, it sounded big and deep – again, not anything one would complain about without a sub, but more fun with the deep bass in effect.
In a merger of old-school music and newer-school recordings, I fired up "The Carpet Crawlers 1999 remix" from Genesis' Turn It On Again "Best Of" album. It is good to hear Genesis with Peter Gabriel on vocals, as well as the soothing melody from this classic track beaming in a more modern recording than what we hear on the native Lamb Lies Down on Broadway – a progressive rock gem. The layering in the mix was very notable in my listening sessions. There wasn't one bit of digital hash or harshness, but the depth was amazing, despite my final position for the speakers not being all that far from the front wall.
At higher volumes, "Rope" from The Foo Fighter's Wasting Light record sounded really impressive. Again, the vocal layering had a depth that I hadn't heard in my room to date, and was as good as I remember with this track on other deviations of my system in other spaces. The syncopated Dave Grohl fills moved along, leaving me wishing for more rock bands that can play with this level of technical aplomb. The sing-song chorus not only rocks, but holds together nicely at very high, concert-level volumes. I am not bucking up $11,000 for speakers that roll over and play dead when things get going with my music.
Showing my grungy-tastic age, I fired up an underrated recording, Unplugged by Alice in Chains, with the hit song "Would?" The space and openness are what were most striking, paired with a sense of control in the lower end that I couldn't help but like. Going perhaps another level deeper, the speakers don't get in the way of the recording, which is nice. Take a walk around an audiophile show, and you will see/hear a bunch of old guys playing low-intensity music. A Cadillac Fleetwood Brougham will get you and your 80-year-old wife to church on Sunday morning. A McLaren will get you and your wife to church, too, but with a little more style and a hell of a lot faster.
In moving to movies and television, I have to admit that my wife and I have been watching some very clichéd, pandering, Gen-X-focused content, like Cobra Kai, the modern reboot of The Karate Kid, as well as Amazon Studio's reboot of Coming To America – aka: Coming 2 America, which we watched in 4K on Amazon Prime Video. We are not talking about Emmy (my wife is a voter) or Oscar contenders here, folks, but the content is more fun than watching anti-science lies on Fox News or the rising death toll from COVID-19 on MSNBC. Sometime you just need some mindless content, and that is what Eddie, Arsenio and Jeff B delivered. The cast in Coming 2 America is insane. I am not sure that they left too many people out from the original movie, including James Earl Jones, a solid Duke and Duke reference, plus Eddie's barbershop characters, his preacher, and especially my personal favorite band, Sexual Chocolate. There were some high action moments in the film, including the Prince challenge with the lion. Nearly every time Wesley Snipes' General Izzi character was onscreen, there seemed to be some sort of musical interlude, drumming and whatnot. The dry, accurate yet dynamic flavor of the Revel F228s was very well-suited to any number of movie or television soundtracks, be they all-out Hollywood blockbusters, to art films, to streaming 4K food porn documentaries like Somebody Feed Phil. And for the love of God – somebody feed that man, will you?
The Downside
There isn't much to pick on with the Revel F228BE speakers. Physically, I would have rather they be a bit narrower, but that is hard to do with eight-inch drivers packed into the cabinets. The speakers look much better with the grilles on than off, but then they are less "white" with black grilles on. I bet you could have the grilles remade with matching white or gray speaker fabric, if you were that motivated. I am not. The issue here is that in order to not see the grill frames that you might need to use a fabric that is thicker than what might be deemed acoustically optimal. That's a personal decision between you and your interior designer, I guess.

At 90 dB sensitivity, the Revel F228BEs fall right in the middle of the pack in terms of a load to drive. The Halcro amp that I have, although not one of their monster "best amp ever" (did they really say that back in the day?) products, could power the F228 Be's easily – even at high volumes. They are night and day better in terms of sensitivity versus my old Revel Salon2s, which were true power pigs.
The Competition
Focal's Kanta No. 2 speakers ($9,990) are more European in styling, complete with vibrant colors and lush wood tones. The Focal Kantas are easier to drive, and I couldn't have loved their bigger bothers, the floor-standing Focal Sopra 2s, much more. Focal Kanta floor-standers come in around the same $11,000 price, thus they are in the same debate.
Focal Kanta N2 (left) and Paradigm Persona 7F (right)
I have heard that Paradigm's Persona speakers sound very good. Their line brackets the Revel F228 BEs a bit, in that the Paradigm Personal 5F is priced at $9,000/ea. I like the Paradigm's sleeker footprint and bigger choice of designer colors, although Revel has stepped it up a bit in the color department in recent years.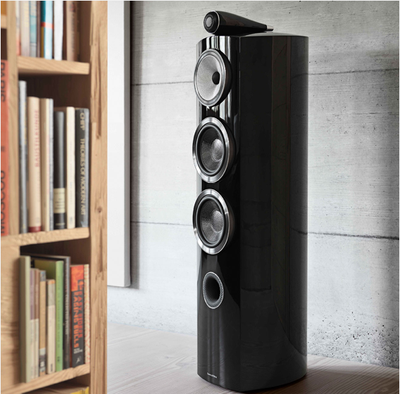 The Bowers & Wilkins 804 D3 at $14,000 per pair has much the same level of engineering that leads to a dry, articulate sound. While the Revel doesn't sound as much "that side of the pond" to me, this is another speaker that tries to get out of the way of the music, which is well appreciated by this listener. As per my girth comment about the Revels in The Downside, the B&W 804D3s are a little more waiflike, and I like that. Their look in this format (meaning the 804) isn't as radical as the 803 or the 802 or 800 D3, which are more modern in their approach.
Conclusion
If you are looking for a speaker that does everything right, be it imaging, dynamics, depth and more, I encourage you to put the Revel F228 BE loudspeakers on your short list of contenders at the $11,000 per pair price point. By no means are these speakers inexpensive and, for thousands less, you can still make excellent sound. What you do get at this price point is more refinement. You get more luxurious finishing touches. Your get a super-sweet tweeter that is nearly perfectly integrated with the speakers in such a way that nearly every genre of music is well-represented on said Revel speakers. I chose to torture test them a bit, as that is the prerogative of a reviewer who was curious specifically about how hard the speakers are to drive. The times I spent with Trane, Miles, Jimi, and Eric Clapton were equally as enjoyable as the moments where I pushed the Revel F228 BEs to the brink.
These speakers can do it all. They look the part. They hold their value nicely and have improved the overall sound of my main music and movie playback system better than ever. For those reasons, I cut the check. If you audition a pair, you might just do the same.

Unless otherwise indicated, this is a preview article for the featured product. A formal review may or may not follow in the future.
Confused about what AV Gear to buy or how to set it up? Join our Exclusive Audioholics E-Book Membership Program!
Recent Forum Posts:
gene posts on February 02, 2022 20:24
dutchholic, post: 1536764, member: 96854
Wow Gene, that is a great honest subjective review of one of the best (proven measured) speakers in the world. I read it with pleasure and I can share those experiences.

In the Summary all the way on the top of the page, the great Revels gets the "First Impression: Pretty Cool" which is exactly the same as the Summary as Paul McGowan's first speaker got(which isn't even measured yet, and with his track record it's probably not even close to the Revels/Perlistens etc. of this world).

So Revel doesn't even get "Gotta have it!" anymore but gets degradated to the same First Impressions as the speaker from mr. marketing mr. McGowan. o_O

Why is this the case? I am quite shocked to be say it lightly, because I understood from audioholics in the past that the new Revel BE serie was really a "Gotta have it!" speaker.

Man some people really put so much on that rating we do on overview / short review articles. In all likelihood I missed that rating which defaults to the middle one before publishing. Jerry didn't even assign a score when he reviewed the F228Be. I own a pair of F328Bes myself so I'm a fan of the series for sure.
I updated.
dutchholic posts on February 02, 2022 18:38
gene, post: 1536601, member: 4348
Jerry Del Colliano bought a pair of F228Bes for his room and did a short subjective review for us.

https://www.audioholics.com/tower-speaker-reviews/revel-f228be

Wow Gene, that is a great honest subjective review of one of the best (proven measured) speakers in the world. I read it with pleasure and I can share those experiences.
In the Summary all the way on the top of the page, the great Revels gets the "First Impression: Pretty Cool" which is exactly the same as the Summary as Paul McGowan's first speaker got(which isn't even measured yet, and with his track record it's probably not even close to the Revels/Perlistens etc. of this world).
So Revel doesn't even get "Gotta have it!" anymore but gets degradated to the same
First Impressions
as the speaker from mr. marketing mr. McGowan. o_O
Why is this the case? I am quite shocked to be say it lightly, because I understood from audioholics in the past that the new Revel BE serie was really a "Gotta have it!" speaker.
gene posts on February 02, 2022 04:38
KEW posts on October 23, 2020 17:54
I F'ed up!
It has been that kind of day!
Strange that the 8" is specified as High gloss and the 6 as gloss!
If I had taken a moment to look at the pictures, they are conspicuously different!
VMPS-TIII posts on October 23, 2020 17:42
KEW, post: 1427573, member: 41838
Based on Crutchfield's website, Revel has done something unusual with the speakers in this line!
For the Model reviewed, there are 3 models that sell for $5000/ea in high-gloss Walnut, Black, and White!
Then they have 4 models for $3500/ea with a lower tier finish - Walnut, Gloss (not High-Gloss) White, Gloss Black, and Silver!


@KEW - The speaker I see for $3500 is the 6" (Revel PerformaBe F226Be) instead of 8" (Revel PerformaBe F228Be)?
Do you have a link for an 8" Revel PerformaBe F228Be for $3500? Thanks!
Post Reply