Polk Audio's Reserve Series Speakers Bring Legend Innovations At Lower Prices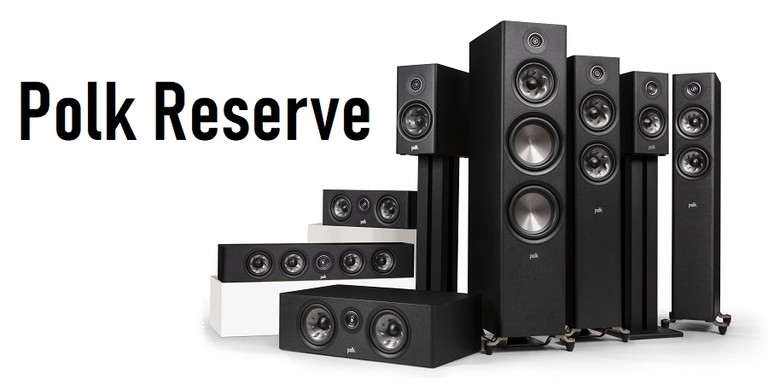 Polk Audio Reserve Series Loudspeakers
Summary
Product Name:

R200 Bookshelf, R300 Center Channel, R350 Center Channel, (slim), R400 Center Channel, R500 Tower, R600 Tower, R700 Tower, R900 Height Module

Manufacturer:

Polk Audio

Review Date:

March 23, 2021 06:30

MSRP: $599/pair - R100 Bookshelf, $699/pair - R200 Bookshelf, $399 - R300 Center Channel, $549 - R350 Center Channel (slim), $599 -R400 Center Channel, $599 each - R500 Tower, $799 each - R600 Tower, $999 each - R700 Tower, $599/pair - R900 Height Module
First Impression:

Gotta Have It!
| | R100 | R200 | R300 | R350 | R400 | R500 | R600 | R700 | R900 |
| --- | --- | --- | --- | --- | --- | --- | --- | --- | --- |
| Speaker Type | Standmount (pair) | Standmount (pair) | Center Channel | Center Channel (LCR) | Center Channel | Floorstanding Loudspeaker | Floorstanding Loudspeaker | Floorstanding Loudspeaker | Height Module (pair) |
| Tweeter | 1" Ring Radiator | 1" Rind Radiator | 1" Ring Radiator | 1" Ring Radiator | 1" Ring Radiator | 1" Ring Radiator | 1" Ring Radiator | 1" Ring Radiator | .75" Ring Radiator |
| Mid-range/Mid-bass | 5 1/4" Turbine Cone | 6 1/2" Turbine Cone | Two 5 1/4" Turbine Cone | Four 4" Turbine Cone | Two 6 1/2" Turbine Cone | Two 5 1/4" Turbine Cone | Two 6 1/2" Turbine Cone | 6 1/2" Turbine cone | 4" Turbine Cone Midbasses |
| Woofers | | | | | | | | Two 8" Woofers | |
| Mid-Range Enclosure Type | | | | | | | | Sealed | |
| Mid-Bass/Woofer Enclosure Type | Rear ETF Port | Rear X-Port Port | Sealed | Sealed | Dual Rear X-Port Ports | Rear X-Port Port | Floor Firing Power Port with X-Port | | Sealed |
Executive Overview
Polk Audio has just launched a new line of loudspeakers that takes many of the innovations from their flagship Legend series and packs them into a much more affordable set that they call the 'Reserve' series. Many of the Reserve speakers have MSRPs less than half of that of their Legend counterparts yet still boast much of the same technology and even deploying a few new technologies of their own. This is great news for those who want the acclaimed high-performance Polk sound but can't swing the Legend series pricing. In our L200 and L400 review and L800 reviews, we found the Legend series to be superlative loudspeakers with extremely accurate responses both on and off-axis. They sounded superbly balanced with an outstanding soundstage, and they also looked very nice and had a truly high-end build quality. They weren't cheap speakers, but they were a bargain for what they provided, and Polk has now brought some of their benefits to an even lower price point. Some things had to give in order to achieve these lower price points, of course, and the Reserve series don't look quite as luxurious as the Legends, but if similar performance is retained, the Reserves may be capable of a high-end sound without a high-end price tag.
Polk Audio Reserve Series Loudspeakers Virtual Press Event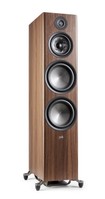 Anyone who has seen Polk's Legend speakers will recognize many of their traits in the Reserve series. The most recognizable Legend feature carried into the Reserve series has to be the turbine cone. The fins in the turbine cones are specially shaped and placed to reduce "break-up modes," which is where the radiating surface, whether that be a dome, cone, or plane, loses its shape from playing frequencies so high that it moves only part of the surface thereby bending the surface instead of moving the entire surface as a whole which retains the surface shape. Break-up modes can be a serious problem with very audibly deleterious consequences.
The fins are only part of the measures utilized by Polk to thwart cone break-up, and one other tactic they use towards this end is the material composition of the cone itself. Polk calls it the foam core polymer injection cone, and it is a very stiff foam that has a dense exterior that sandwiches a light but rigid interior foam structure. It is lighter, stiffer, and better damped than more typical cone materials. The result of the turbine shape combined with the foam core cone are drivers that can play to relatively high frequencies before break-up artifacts start affecting the sound. That means that any cone misbehavior will be filtered well out of audibility so that it does not intrude upon the tweeter's bandwidth.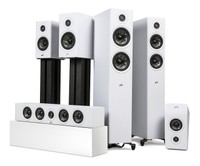 Speaking of the tweeter, Polk uses the same ring radiator tweeter in the Reserves that were seen in the Legends which they call the 'Pinnacle' tweeter. The way the Pinnacle tweeter works is instead of having the voice coil former affixed to a dome as in traditional dome tweeters, the voice coil former is simply connected to two large soft ringed suspension pieces: an outer ring and an inner ring. The inner ring is connected to a stationary rod in the center that also holds that needle-looking phase plug. In normal dome tweeters, the acoustic radiating surface is the dome, but in a ring radiator, the acoustic radiating surface is these two large suspension rings. Normally the suspension bits in drivers are used merely to hold an acoustic radiating surface in a manner where it only has one plane of travel, back and forth. The advantages of this kind of design are that break-up modes are much less of a problem, and it is very light and so can play to very high frequencies easily.
Some interesting design features of the drivers: the midrange and bass drivers use dual opposite-facing spiders so that any bias towards one-way in excursion by one spider is negated by the other spider. This should lower even-order harmonic distortions and well as do more to keep the voice coil aligned and restricted from lateral movements. The tweeter has a copper cap and the midrange and bass drivers have shorting rings; these reduce induction-related misbehavior which extends the response and reduces distortion. The tweeter also has a highly-damped rear cavity that eliminates resonance from backwave radiation.
New Port, less Resonances
Polk has refined and improved their port technology for the Reserve series, and they call their new port design the 'Power Port 2.0.' Power Port 2.0 has a couple of refinements over previous port designs. One way it has improved over previous Power Port implementations is the base and tube have been redesigned to be even less susceptible to turbulence than before. The cone that went up into the port in previous Power Port designs has been elongated into a pole and uses what Polk calls Eigentone Filters. These filters are strategically located to reduce unwanted port resonance. Resonances above the port tuning frequency are usually unintended and can be high enough in level to affect the frequency response. Polk claims that the Eigentone Filters can reduce these higher resonances by as much as 14dB which is a major reduction in loudness. It looks like the Reserve Port Technology is actually better than the Legend's ports despite costing much less! Power Port 2.0 is only available on the Reserve R600 and R700.
T

he Reserve series ('Reserve' is kind of an odd name for a loudspeaker line, now that I think about it; these aren't a fine wine aging in a cask in a basement) has a variety of different speakers for many different situations. They have a small, medium, and a large tower, a medium and large bookshelf speaker, and three different center speakers that include a slim one with four 4" drivers. They also have an 'Atmos' module speaker that can be placed on top of the main left and right to affect an Atmos height channel as well as being wall-mountable. The large tower, the R700, looks particularly interesting as it has two 8" bass drivers that look like they could really punch hard if given enough power.
While the Reserve series is overall similar to the Legend series, they are missing an analog to the L800 sadly, so none of the Reserves uses Polk's SDA technology. That may be just as well since the SDA seems to require a large speaker and a very complex crossover network which probably can't be applied in a loudspeaker of much lower cost than the L800s which would defeat the point of putting it into a Reserve speaker. The Reserves also do not have an equivalent of the L400, which was shown to be an outstanding center speaker in our review. The slim center with the four 4" drivers is specified to be a 2.5 way center, and I would assume the inner 4" woofers carry the midrange frequency up to the tweeter. That would be a good call on Polk's part since all four 4" woofers played the same frequency band up to the tweeter would create a great deal of off-axis lobing as those 4"s would all interfere with each other in midrange frequencies. On the whole, the Reserve speakers don't quite have the same build as the Legends, but they aren't able to at their pricing. They have different cabinet construction, bases, height module mounting, and crossover. They also use a vinyl finish instead of the real wood veneer of the Legends. The Legends are doubtlessly a step up, but the Reserves look like a lot of bang for the buck.
IMAX Enhanced? You Betcha!
It's interesting to note that the beefier Polk Reserve speakers managed to get IMAX Enhanced certification. Readers will remember IMAX launching a performance certification in the fall of last year as something comparable to THX Certification. If they perform as well as the other IMAX Enhanced certified speakers we have seen, that would be a positive sign for both IMAX Enhanced certification as well as the Reserve speakers. The Polk Reserve speakers look to provide a lot of speaker for the money. If they can approximate the performance to the Legends, then they will be a tremendous value going forward - but can they? That is the question we will be asking when we get them in for review. Stay tuned to Audioholics to see how well the Reserve speakers compare to their big brothers, and how much of a loudspeaker you can get for these very affordable offerings.

Confused about what AV Gear to buy or how to set it up? Join our Exclusive Audioholics E-Book Membership Program!
Recent Forum Posts:
Danzilla31 posts on March 27, 2021 20:31
I really really like the look of these Shady

If they can come close to the Legends I'm going for them

Perfect for my bedroom setup

I always really like the signature 60's they didn't have the best measurements and they had some issues nothing major and definetly a house sound but I still liked that sound so I've been waiting for Polk to come up with something new that performed better but didn't have to be they're top of the line speaker

Very hopeful for these
shadyJ posts on March 24, 2021 20:23
Pogre, post: 1470476, member: 79914
The speakers or shady's review? The speakers are available right now. I'm not sure about shady's review tho. I think he's kinda backed up right now.

Yup, there are plans for me to review these, but it won't happen for a little while.
Pogre posts on March 24, 2021 17:17
cbecker33, post: 1470460, member: 7461
Any idea when they will be available?

The speakers or shady's review? The speakers are available right now. I'm not sure about shady's review tho. I think he's kinda backed up right now.
cbecker33 posts on March 24, 2021 16:06
Any idea when they will be available?
panteragstk posts on March 23, 2021 19:35
shadyJ, post: 1470152, member: 20472
You know me, I'm always down for some electrical behavior!

ryanosaur, post: 1470189, member: 86393
Hubba Hubba!
Can't wait to see that phase angle at impedance minima!
*cat-calls

No talk about ports? The most irresistible part of a speaker?
Where's @Danzilla31 when we need someone to talk about ports?
Post Reply