Polk Audio Legend L200 Bookshelf and L400 Center Speaker Review
Polk Audio Legend L200 Bookshelf and L400 Center Speaker Review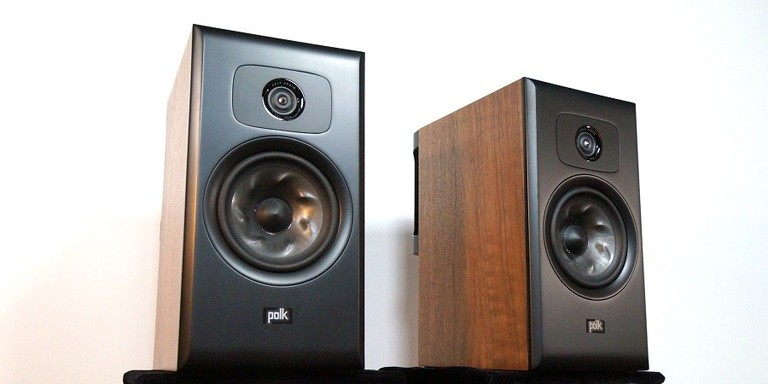 L200:
Type: 2-way vented bookshelf speaker
Tweeter: 1" (2.54 cm) d (Round) Pinnacle Ring Radiator
Woofer: 6.5" (16.51 cm) d (Round) Turbine Cone
Frequency Response: 38 Hz → 50,000 Hz
Nominal Impedance Range: 3 ohms → 4 ohms
Sensitivity (1 watt @ 1 meter): 85.5 dB
Lower and Upper -3dB Limits: 46 Hz → 38,000 Hz
Peak Power Handling: 200 watts
Tweeter/Midrange Crossover Frequency: 2600 Hz
Weight: 22 lbs (9.98 kg)
Dimensions (HxWxD): 15.66" (39.78 cm) x 8.33" (21.16 cm) x 13.3" (33.78 cm)
Available finishes: Black Ash or Brown Walnut
Warranty: 5 years (non-transferable) with 5-year extension upon product registration
L400:
Type: 3-way vented center channel speaker
Tweeter: 1" (2.54 cm) d (Round) Pinnacle Ring Radiator
Midrange: 4" (10.16 cm) d (Round) Turbine Cone
Woofer: (2) 6.25" (15.88 cm) d (Round)
Frequency Response: 42 Hz → 50,000 Hz
Nominal Impedance Range: 3.4 ohms → 4 ohms
Sensitivity (1 watt @ 1 meter): 87.5 dB
Lower and Upper -3dB Limits: 55 Hz → 38,000 Hz
Peak Power Handling: 300 watts
Tweeter/Midrange Crossover Frequency: 2700 Hz
Midrange/Woofer Crossover Frequency: 260 Hz
Weight: 40.8 lbs (18.51 kg)
Dimensions (HxWxD): 9.47" (24.05 cm) x 26" (66.04 cm) x 13.44" (34.14 cm)
Available finishes: Black Ash or Brown Walnut
Warranty: 5 years (non-transferable) with 5-year extension upon product registration
Pros
Smooth yet detailed sound
Very good imaging abilities
Very good bass extension or bookshelf/center speakers
Best dispersion performance from any center speaker reviewed so far
Tasteful appearance
Stout build quality
Cons
A bit tame compared to more exotic designs in the same price range
4 ohm impedance can be difficult load for some receiver amplifiers
Polk Audio wo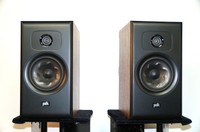 wed the audio world with their massive Legend L800 tower speakers, but those towering speakers have overshadowed the fact that Polk released other speakers in the Legend series also, although those other speakers did not boast Polk's SDA technology. While the L800's SDA technology was indeed impressive, we found the L800s to be a good loudspeaker in a multitude of other ways as well, so it stood to reason that the other speakers in the Legend series should have the same high level of engineering. We decided to put that theory to test, so in for review today we have the Polk Audio Legend L200 bookshelf speakers and L400 center channel speaker.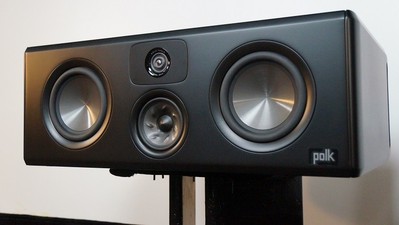 Far from being mere accessories to the L800, the L200 and L400 are quite formidable in their own right, as they should given their pricing. The design, style, and construction of these speakers suggest something that is capable of high fidelity sound. Let's dive in to explore these speakers and then listen to them and measure them to see if they keep the promises they make as a part of Polk's flagship series…
Appearance
The Polk L200 and L400 speakers came well-packed, and upon unboxing, revealed some very nice and conservatively-styled speakers. The Legend speakers play it pretty safe as far as aesthetics go. They have a satin black front baffle with some softly-chamfered edges. The rest of the enclosure can be had in either a Black Ash or Brown Walnut finish, but the Black Ash finish comes with a gloss black front baffle instead of satin black.These are readily discernible as real wood finishes and do lend an element of higher-end panache to these speakers. The grilles are normal black-fabric wrapped frames with a continuous chamfer angle to go with the front baffle. There is a Polk badge in the lower part of the front of the speaker with or without the grille. The grille uses magnetic adhesion so there are no grille guides on the front baffle. The drivers themselves are the only element that lends anything unusual about the appearance of these speakers. The woofer cone has some angled dimples that Polk calls a 'Turbine Cone' that resembles a kind of vortex. It does look slightly abnormal but kind of cool nonetheless. The ring radiator tweeter has a sharp point in the center that looks a bit more distinct than the typical dome tweeter, but again, it looks a bit more interesting for that matter.
Overall, this is a very nice execution of a traditional loudspeaker aesthetic. It should fit in very well with a wide range of interior decors. Both the L200 and L400 are very tastefully designed, and they are not likely to draw attention to themselves. The only caveat is that the L400 is a bit larger than most center speakers. That larger size is necessary for the kind of performance it offers, however. It would be difficult to execute a three-way center in a smaller enclosure, and that three-way design is needed for the caliber of performance that it is targeting. But if you can make it fit, it isn't likely to stand out as much thanks to its restrained styling.
Design Analysis
On the surface, t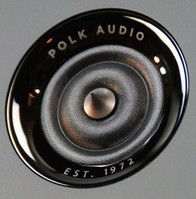 he Polk Legend L200 and L400 look like a typical two-way bookshelf speaker and three-way center speaker, but many of the interesting and distinguishing design characteristics of these speakers are not ones that you would catch at a glance, so let's scratch below the surface. To begin our discussion of the design of these Polk Legend speakers, let's talk about the tweeter. Instead of using a dome tweeter, Polk has opted for a ring radiator which is a very different design than a dome but not one that Polk was unfamiliar with, having used ring radiators on their outgoing flagship LSiM series. The way ring radiators work is that instead of having the voice coil former affixed to a dome as in traditional dome tweeters, the voice coil former is simply connected to two large soft ringed suspension pieces: an outer ring and an inner ring. The inner ring is connected to a stationary rod in the center that also holds that needle-looking phase plug. Whereas in normal dome tweeters, the acoustic radiating surface is the dome, in a ring radiator, the acoustic radiating surface is these two large suspension rings. Normally the suspension bits in drivers are used merely to hold an acoustic radiating surface in a manner where it only has one plane of travel, back and forth.
One of the advantages of ring radiators is that 'break-up' modes are pushed out to much higher frequencies versus typical dome tweeters. 'Break-up' modes are where the radiating surface, whether that be a dome, cone, or plane, loses its shape from playing frequencies so high that it bends only part of the surface instead of the entire surface. It can really hurt the sound quality from any speaker where it is not controlled. Another advantage is that ring radiators can easily play to ultrasonic frequencies since the soft suspension piece being driven is usually much lighter than traditional dome materials.
As was mentioned before, the midrange driver is a unique design in the Legend series. The cone is made out of foamed polymer and is peculiarly shaped such that Polk calls it the 'Turbine Cone.' The cone has seven fin-type protrusions that form a vortex pattern hence the name 'turbine.' The shape and number of these fins are claimed to make the cone stiffer which can drive break up modes higher in frequency where they will be easier to filter out by the crossover circuit. Lower bass is produced by the port which uses Polk's 'Power Port' design that has been seen on previous higher-end speaker lines from Polk. The idea behind the Power Port is that it preserves the laminar flow of air within the port by controlling its contact with the environment from a flared cone piece that is mounted over the port opening. This should protect against port turbulence at higher drive levels better than traditional port designs. I would guess that the plate which covers the port also helps to load the lower frequency output a bit more.
The L200 and L400 have what Polk calls the 'Orth' crossover circuit which is simply named after the lead speaker designer Scott Orth. It's not a distinct topology so much as a design philosophy. I asked Scott what is meant by an 'Orth' crossover, and this was his answer:
"A lot of it is just what I consider competent engineering, but here are some of the key points:"
1. Use as few components as necessary to meet the sonic goals for the speaker.

2. Use component quality judiciously.  Put the money where it matters most.

3. Ensure proper blending between the transducer elements.  This obviously where most of the work happens.  Use whatever order crossover gets the job done with the least amount of parts.

4. Use EQ where necessary to combat acoustically unavoidable diffraction effects.

5. Use impedance compensation to provide proper impedance load to the filters where necessary.  This is particularly important for the midranges.

6. Minimize out of band resonances wherever possible.
The L200's have a crossover frequency of 2,600Hz with an acoustical 3rd-order slope, and the L400's have crossover frequencies of 260Hz and 2,700Hz with 2nd-order slopes between the bass driver and midrange and 3rd-order between midrange and tweeter.
The cabinets of the L200 a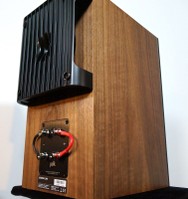 nd L400 are stout affairs and comprise the bulk of their respective weight. I wasn't able to get a close look at the bare drivers since a trim ring covers the frame screws, and I didn't want to risk breaking these expensive speakers to get a peek at the internals. The cabinets feel solid, and a knock test doesn't reveal any hollowness or any feeling of flimsiness. It's constructed out of 3/4" MDF panels and braces with a 4/5" MDF front baffle. The braces are optimally placed according to FEA analysis and laser vibrational analysis. The midrange driver in the L400 is in an enclosed compartment so that back waves from the bass drivers do not affect its position. A healthy amount of foam and polyfill are placed in the cabinet for internal damping. There are dual 5-way binding posts lined with a wire jumper for those who want to bi-wire or bi-amp these speakers. I think the ability to bi-wire or bi-amp is a bit absurd for the L200 particularly, but I get that it is a market-demanded feature for a speaker of this price point. The speakers come with magnetically adhesive grilles that Polk claims do not cause much diffraction, and given the low-profile of the grille frames, they don't look like they would be a significant source of diffraction.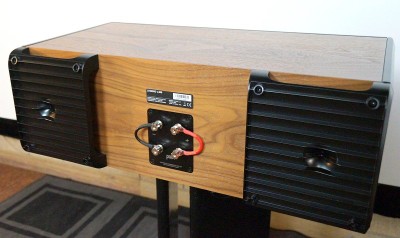 All in all, the L200 and L400 speakers look to be solidly-designed bookshelf and center speakers with some innovations befitting the flagship line from a major speaker manufacturer like Polk Audio. One appealing aspect particular to the L400 is the three-way design and layout of the drivers where the tweeter and midrange driver are vertically-aligned. This alignment of the tweeter and midrange plus the low crossover frequency of the midrange driver to bass drivers should ensure that there are virtually no horizontal off-axis lobing nulls that occur with so many other two-way center speakers with dual active woofers in a horizontal arrangement. That means that the sound projected by the center speaker should have good consistency over a very wide area. This is not the case with many center speakers, especially those that simply plant a tweeter between two woofers on a horizontal plane, but the L400 is a real effort to avoid that pitfall (the problems with that design approach can be read about in our article detailing the difference between horizontal vs vertical speaker designs and in our article about center channel design considerations). And now that we have talked about how the L200 and L400 speakers work, let's see what they sound like…
Listening Sessions
In my 24' by 13' (approximately) listening room, I set up the speakers with stand-off distances between the back wall and sidewall, and equal distance between speakers and listening position. The speakers were set up to face the listening position directly. Listening distance from the speakers was about 9 feet. Amplification and processing were handled by a Pioneer Elite SC-55. No room correction equalization was used. Subwoofers were used for some content that contained deep bass frequencies.
Music Listening
The Polk speakers are on the same level of fidelity as your hi-res recordings...
I recently acquired the music streaming service Qobuz for new music to hear and also to use for loudspeaker reviews. Much of what I had done previously to review loudspeakers with music outside of my own collection was to borrow CDs from my local library, but my state's present COVID-19 lockdown has made that impossible. One recommended album on Qobuz is a recent classical recording of Anton Dvorak's religious works entitled 'Dvorak: Requiem, Biblical Songs, Te Deum' which is recorded in 'high-res,' i.e., 96kHz sample rate and 24-bit depth, for the highly-regarded label Decca Music Group. The recording of Dvorak's religious works was a project started by Czech conductor Jiri Belohlavek who passed away before he was able to complete this selection of music. The mantle was taken up by Jakub Hrusa who brought it to completion. The music is performed by the Czech Philharmonic Orchestra along with the Prague Philharmonic Choir and features a slew of extremely talented lead singers. The music itself is gorgeous yet forceful and dramatic, and the recording quality and production values are first rate.
So how did the Polk L200s fare with th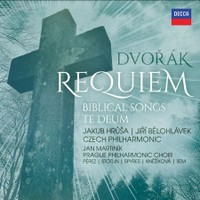 is monumental recording? I played the system loud for a better impact from the wide dynamic range that a recording like this has. The first thing I noticed was a crisp, clear presentation of the instruments and voices. Everything was quite vivid yet I didn't feel this was due to some tonal imbalance or some overemphasis on a certain frequency range. In other words, I didn't feel as though this detail in the sound was due to heightened treble or upper midrange as some other manufacturers will do to artificially project detail. The soundstage was very good, with strong imaging over the width of the speakers. Orchestral sections and choral singers were distinctly placed, and the lead singers' positions were precisely rendered. The speakers had no problems handling louder volumes either, although 'loud' is a subjective matter; what some people consider loud I would consider subdued, but what I might consider very loud some others might only consider to be a moderate volume. The L200s did impress me as powerful bookshelf speakers. Their bass extension is very good for their size as well; I went back and forth between running them full range and crossing the bass over to subwoofers, and, for this music at least, the subs did not bring a whole lot extra to the performance. To be sure, the subs gave a bit more presence to the low end, but the L200's bass extension was so good I could easily have listened to and enjoyed this album without them. Listening to this album on the L200s convinced me that they would be a great choice for lovers of classical music, especially for those who can't accommodate a tower speaker or have room for a subwoofer.
For music that is a bit more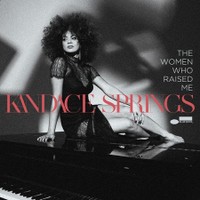 up-close and personal, I listened to Kandace Springs' recent release, 'The Women Who Raised Me,' a vocal jazz album also recorded in 96kHz/24bits resolution. The women referred to in the album title are Springs' influences that include Norah Jones, Billie Holiday, Nina Simone, and Ella Fitzgerald, among other famous names. The album is composed of covers of songs from these artists, but Kandace Springs' lower-tempo and melodic performance of them practically makes them her own. This album is on the mellow side of jazz, to be sure, and that gives room for emphasis Kandace's silky voice as well as allowing the instruments of her band to shine. This album is impeccably recorded, produced, and performed, and I could easily see it carrying away a Grammy for best vocal jazz album for 2020.
The album begins with some strong upright bass plucks in the track 'Devil May Care' that the L200 speakers played with such authority I had to double-check to make sure the subwoofers were not engaged. While these are heavy-duty bookshelf speakers, it was still surprising how capably they could reproduce bass frequencies. Perhaps I shouldn't be surprised given their cost, but it is still impressive that something so modestly-sized is so competent in low frequencies. The center imaging for Kandace's voice was also so good that I checked to make sure that sound was not being matrixed to the center speaker in some multi-channel listening mode that I might have accidentally activated. Again, I should have known that they can image so well given what I had heard from them thus far, but their exacting soundstage was impressive nonetheless. Kandace's voice was exquisitely defined, as was her instrumental backing. The performers were vividly rendered, and these two modestly-sized boxes were able to transform my family room into a jazz club when I closed my eyes. The L200s were comfortable at the robust volume levels I was listening to as well. This superb recording was matched by these speakers, and if you are looking for loudspeakers that are on the same level of fidelity as your hi-res recordings, I would say that the L200s are a great choice after listening to 'The Women Who Raised Me.'  
Sticking with a singular vocal, but doing a hard left in terms of musical style, I listened to the recently released album 'Folkesange' by the Danish group Myrkur.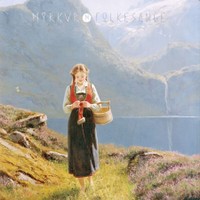 Myrkur is not an easy musical group to pigeonhole, as they started out in the Scandinavian metal scene in 2015 but have evolved to the style in this album, which is very much folk music with an almost medieval sound using a host of primitive instruments. The sound reminds me of Loreena McKinnit's more traditional Celtic folk music but with a darker and sadder inflection. This is a studio album, but studio effects are not overused to the point that the music does not sound naturalistic. The music is quite lovely, even though I don't understand much of the language being sung, and the production is quite good, so the vocals and instruments are pristinely recorded.
Again, the L200 speakers managed a detailed sound, and the primitive instruments played in the recording were sharply realized as was lead singer Amalie Bruun's voice. The music, as reproduced on the L200 speakers, created a sonic space that was both earthy yet mystical, which I would have guessed were the intentions of the artists. The wide soundstage offered by the speakers and listening space had a big hand in contributing to that effect. On 'Folkesange,' imaging was a bit wider than was heard on 'The Women Who Raised Me,' and it sounds to me like this is because the instruments were recorded at close proximity to the microphone. That gives this album a more enveloping sound although at the expense of precise imaging for the instruments. Amalie Bruun's voice was firmly anchored to the center of the soundstage, however, so there was no ambiguity there. The L200s easily captured the low-frequencies again, and the low-tuned kick drum sounded like it could have come from a subwoofer. I very much enjoyed listening to 'Folkesange' on the Polk L200s, and I hope others have the opportunity to hear this captivating album on sound systems of comparable quality for a similarly transportational experience.
Doing a complete one-eight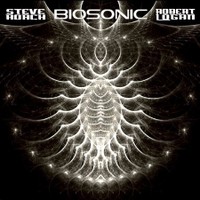 y in music, I decided to listen to something that was purely the product of studio processing and electronic effects, and towards this end I listened to Steve Roach and Robert Logan's 'Biosonic.' 'Biosonic' is an experimental electronic music album composed of some very strange sounds. It presents a very alien soundscape that is held together by bizarre rhythms. While the sounds that make up this album are quite otherworldly, they are still strikingly rendered and mixed, so 'Biosonic' really shines with a good audio system. The variety and range of the sound on this album demands attention. It creates a truly surreal atmosphere and would be a great musical accompaniment to an H.R. Giger gallery exhibition. Such an odd album certainly wouldn't be to everyone's taste, but I think it would grab anyone's attention for at least a few minutes, if only to figure out what is going on with the audio system.
The L200s presented the incredibly odd yet still coherent soundstage featured on 'Biosonic.' By 'coherent', I mean that I was able to track sounds to their locations within the soundstage, even though their locations were in a constant state of flux, although that was a quality of the recording, not anything wrong with the audio system or speakers. Strange noises swirl around the listening position as though the listener were entrapped in some kind of underwater vortex. Other moments presented a more serene listening experience as though the listener was sailing through the upper atmosphere of a gas giant. Many times the album sounds like it's trying to describe something alien that is both simultaneously metallic and organic. On this particular album, the subwoofers managed to make a more significant difference due to the presence of much deeper bass frequencies than the other albums I had been listening to, and that is because those albums were acoustic recordings whereas 'Biosonic' was purely electronic. The takeaway from that is that the L200's low-frequency extension has you covered for most any music made with traditional instruments, but if you listen to more unusual recordings that plumb the depths of bass, you may still want to add a subwoofer. 'Biosonic' was a strange but fun aural journey with the Polk L200s. Many people feel that high-fidelity speakers are mostly just beneficial for acoustic recordings but I wholeheartedly disagree. Rather, I would say the benefit of high-fidelity speakers has more to do with the quality of the recording rather than the type of music recorded. 
Movie Watching
One dialogue-heavy movie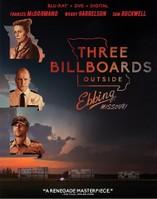 that I had not seen but figured would be a good demonstration of the L400's ability in speech intelligibility is the 2017 crime drama 'Three Billboards Outside Ebbing, Missouri.' In this acclaimed movie, Frances McDormand plays a mother who attempts to spur into action a seemingly abandoned investigation into her daughter's murder. This movie is well-known for the heavy use of profanity, and I didn't want to miss a single swear word in the profanity-laden dialogue, so I was hoping that the L400 could provide very clear elocution of all the conversations in the movie. The sound mix also has a strong musical side with a variety of music from classic pop music from The Four Tops and ABBA to classical and opera pieces, along with a slew of country and folk songs. This is accompanied by an orchestral score by Carter Burwell that places an acoustic guitar at the forefront that gives the movie a western-genre flavor.
On the Polk L200s and L400, 'Three Billboards Outside Ebbing, Missouri' sounded terrific. Every F-bomb was exquisitely rendered, and speech intelligibility was never an issue, despite the accents and drunken slurring of Sam Rockwell's character. The musical score was also presented with the lucidity and liveliness that I had come to expect from the Polk Legend speakers. A movie needs a compelling story and engaging characters to take the audience out of their own lives for a couple of hours and plant them in the unfolding drama, but it's all the easier to disappear in a movie with such a capable sound system that envelopes the viewer. A really good sound system makes you forget it exists so you are only cognizant of the elements of the recording, not any piece of equipment, and the Polk Legend speakers do this wonderfully; they get out of the way of the recording. The sound of 'Three Billboards in Ebbing, Missouri' as reproduced by the Polk speakers was splendid, and I kept getting pulled into the movie where I had intended to make a note of the sound, and I suppose that is a better compliment for the system than dwelling on any one aspect of the sound done particularly well. 
While I had the Polk Legend speakers in my possession, I finally came around to watching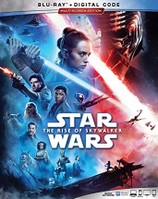 the last installment in the Star Wars series, 'Rise of the Skywalker.' Few movies will have as rich a sound mix like this one. Think about all the different sounds featured in this movie such as the plethora of effects noises from lightsaber duels to starship battles, a wide variety of speech types from human to robot to alien, and topping it all off with John Williams epic orchestral score. I think this is a good contender for a 'Best Sound Mixing' Oscar from the Academy Awards. It was here that I let the speakers stretch their legs a bit so I listened at a loud level. 'Rise of the Skywalker' sounded great on the Polk Legend speakers from the first notes of heralding trumpets in John Williams's score as the traditional 'Star Wars' opening text climbed into space. 'Rise of the Skywalker' is fairly jam-packed with action, so there isn't a lot of down-time for the sound system in this movie. One sonically boisterous sequence is the light-saber sight amidst the crashing waves on the remnants of the death star. Even though the Polk L200s are just bookshelf speakers, I thought they properly captured the thunderous dynamics of this scene, although they were, of course, aided by subwoofers. Speaking of thunder, there was much of it along with lightning on the Sith planet Exegol where the climax is set. The climax is full of lightning bolts and electrical arcs, all of which crackled with life on the Legend speakers. I never got a feeling of compression or distortion during this sequence. The L200s are certainly not wimpy bookshelf speakers, nor is the L400 a wimpy center. However, that is what one would expect of loudspeakers of their cost. Dialogue intelligibility was good throughout, except when R2D2 was speaking which is just beeping and chirping, although that has more to do with him being a droid than any fault of the speakers. The music was beautifully rendered, and it was a joy to hear Williams score again especially reproduced with such clarity and sparkle. Altogether, viewing the latest Star Wars movie was a fun aural experience, and it should definitely be done with high-fidelity speakers such as the Polk Legends when possible.

Confused about what AV Gear to buy or how to set it up? Join our Exclusive Audioholics E-Book Membership Program!
Recent Forum Posts:
ryanosaur posts on May 14, 2020 18:16
Danzilla31, post: 1390949, member: 85700
Ryan

Look Ryan he even agrees with us he's being mean he linked it in the like section!

This is just too much somebody has to reign this guy in!

And all I did is ask if he
Listened
to them, yet. Nothing about his thoughts!
He probably has them boxed up and is using them as a makeshift coffee table while kicking back, drinking a beer, and enjoying those Polks.
BTW: Love you, Shady!
36160
Danzilla31 posts on May 14, 2020 13:32
Ryan
Danzilla31, post: 1390901, member: 85700
Man I'm so with you on this one Ryan Shady is being very mean to us in my opinion. More then usual!

Look Ryan he even agrees with us he's being mean he linked it in the like section!
This is just too much somebody has to reign this guy in!
kini posts on May 14, 2020 12:20
shadyJ, post: 1390289, member: 20472

Polk Audio wowed the audio world with their massive Legend L800 tower speakers, but those towering speakers have overshadowed the fact that Polk released other speakers in the Legend series also, although those other speakers did not boast Polk's SDA technology. While the L800's SDA technology was indeed impressive, we found the L800s to be a good loudspeaker in a multitude of other ways as well, so it stood to reason that the other speakers in the Legend series should have the same high level of engineering. We decided to put that theory to test, so in for review today we have the Polk Audio Legend L200 bookshelf speakers and L400 center channel speaker. Let's dive in to explore these speakers and then listen to them and measure them to see if they keep the promises they make as a part of Polk's flagship series…

READ: Polk Legend L200 Bookshelf and L400 Center Speaker Review

Thanks for another great review. And thanks for the music recommendation. Never heard of Kandace Springs. I now have all her albums in my curation.
Danzilla31 posts on May 14, 2020 10:54
ryanosaur, post: 1390520, member: 86393
*sighs

Man I'm so with you on this one Ryan Shady is being very mean to us in my opinion. More then usual!
Danzilla31 posts on May 14, 2020 10:52
You really aren't screwing around are you guys Shady? First review in a bit and you come out swinging with the Polk legends?

Nice I really like how you checked out the other speakers in the lineup versus the 800's I'm more curious about the rest of the lineup to he honest

That center speaker sounded very impressive from your review
Post Reply