MartinLogan Motion 35XTi Bookshelf Speaker Review
MartinLogan Motion 35XTi Bookshelf Speaker Review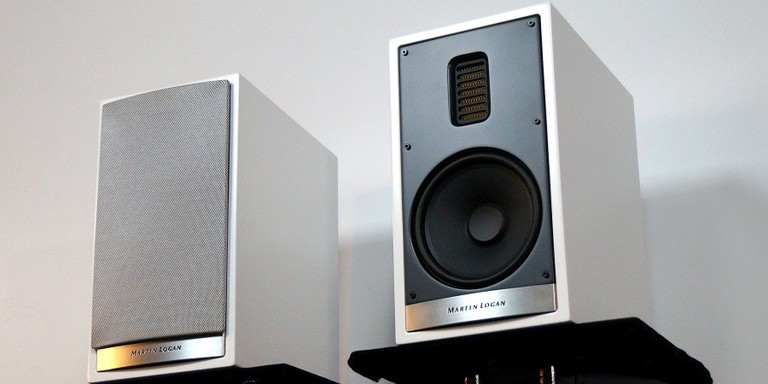 35XTi
Description: 2-way Bookshelf Loudspeaker
High-frequency driver: 1.2" x 2.4" (3.2cm x 6.1cm) Folded Motion Transducer with 4.5" x 2.75" (11.4cm x7cm) diaphragm.
Low-frequency driver: 6.5" (16.5cm) aluminum cone with cast polymer basket.
Frequency response: 50–25,000 Hz ±3 dB
Recommended amplifier power: 20–250 watts
Crossover frequency: 2.2kHz
Impedance: 4 Ohms. Compatible with 4, 6 or 8 ohm rated amplifiers.
Sensitivity: 92 dB @ 2.83 volts/meter
Vented Cabinet
Finishes: High-gloss Black, Matte White, Walnut and Metallic Silver
Dimensions (H X W X D): 13.5" x 7.56" x 11.68"
Weight: 17 lbs. (7.7 kg)
Pros
Excellent imaging abilities
Wide dynamic range for a bookshelf speaker
Nice, detailed sound
Robust components
Classy look, especially with grille
Cons
Prominent upper midrange response
Motion 35XTi Bookshelf Speaker Introduction

Although MartinLogan is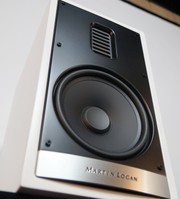 best known for their curved electrostatic panel speakers, one of their best-selling speaker lines is the 'Motion' series that uses more conventional loudspeaker cabinets. However, in keeping with their preference for flat-panel transducers, MartinLogan did opt to use AMT tweeters in the Motion series. While AMT tweeters have become more common in recent years, the Motion series had been using them as a design distinction for some years now, and MartinLogan was the first major speaker manufacturer to put AMTs in affordable speakers. MartinLogan very recently redesigned their Motion line, and in for review today we have the Motion 35XTi, which is the larger bookshelf speaker in this product line. This beefy bookshelf speaker is the successor to the Motion 35XT and is MartinLogan's largest and highest-performing bookshelf speaker. And so, with a pair of Motion 35XTi speakers fresh in hand, let's see what MartinLogan can do in a bookshelf speaker format for $1.3k/pair….
Appearance
Out of the box, the 35XTi speakers look sharp and clean without being overly-styled. It can be had in a gloss black, matte white, and Red Walnut finishes. We received the matte white. The first aspect of their appearance that strikes me is that the grille actually gives them a pretty nice look. Usually, grilles make a loudspeaker look bland, but the grille for our white 35XTi had very classy styling. The grille fabric uses silver and black threading that gives it a slick, silvery sheen. It is stretched over a curved plastic frame and is mounted above a brushed aluminum plate that has the MartinLogan name etched in it (the plate isn't really brushed aluminum, but you wouldn't know that it's plastic until you touch it). This grille blends very nicely with the rest of the speaker. Removing the grille reveals a satin black front baffle. The coppery AMT tweeter is a nice touch against the black baffle, and the woofer has the same satin black texture as the front baffle. The 35XTi doesn't do anything special with the speaker shape; it is a box without curvature or beveling, however, the top of the cabinet does have a slight downward tilt going towards the rear. It uses the boxiness to its advantage to pull off a more stately look by stylizing pieces on the enclosure itself. It is a simple yet attractive look that could fit well in almost any decor. It is also the first speaker I have ever reviewed that I think looks nicer with the grille on than grille off.
MartinLogan Revamps Motion Series Loudspeakers @ CEDIA 2019 YouTube Video Overview

Design Overview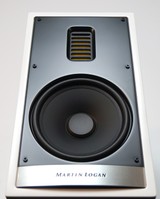 The MartinLogan Motion 35XTi is a two-way bookshelf speaker using a 6.5" woofer and an AMT tweeter. Let's begin our description of the 35XTi by talking about the tweeter. While AMT tweeters are becoming more popular, they haven't yet overtaken dome tweeters as the most widely used tweeter type, but they do have their advantages. The AMT tweeter on the 35XTi is on the larger side with a 1.2"x2.4" size. This should allow a tremendous amount of dynamic range. AMT stands for "Air Motion Transformer". As opposed to conventional dome tweeters that oscillate pistonically, AMT tweeters contract and expand the folds of a pleated membrane to produce sound. To explain using an example, imagine the folded surface of a half-closed curtain- then line the interior folds of the curtain with conductive rods on adjacent sides of the folds, and set two powerful magnets on the sides of the curtain. Run some alternating current through the conducting rods and their newfound electromagnetic field will rapidly collapse and expand the folds of the curtain, and, in doing so, squeeze air in and out of the folds thereby creating pressure waves that we experience as sound.
A major advantage in this design is that since the folds of the diaphragm are much deeper than they are wide, the air is ejected out at a much faster speed than the vibration of the diaphragm itself- as much as five times faster. Another advantage is the very light mass of the diaphragm that makes it very easy to move and to change direction since it does not have the momentum of the weight of typical dome tweeters. These elements give AMT tweeters an extended response well into ultrasonic frequency ranges. Also, since AMT tweeters can have a relatively large radiating surface that couples with the air, they have a very wide dynamic range.
MartinLogan 6.5" Aluminum Woofer (left pic); AMT tweeter (right pic)
The bass driver uses an aluminum cone, and MartinLogan correctly points out that aluminum can act as a heatsink for the coil which can help alleviate thermal issues. The 35XTi uses a raised concave dustcap that MartinLogan claims reinforces the rigidity of the cone while reducing breakup modes. I am told by MartinLogan that it's superior to purely concave dustaps that tend to flex in the midpoint and do little to add structure to the cone. The raised dustcap adds structure and rigidity, which reduces radial vibration modes. Looking at the bass driver removed from the cabinet, we see a large ¾" thick magnet with a 4 ¼" diameter mounted in a cast polymer basket. It is certainly among the beefier 6.5" drivers I have seen.
MartinLogan's literature touts the proprietary Vojtko crossover networks in the new Motion speakers. To quote MartinLogan:

"A Vojtko crossover isn't so much a set of design requirements as it is a philosophy. Vojtko crossovers are designed in such a way that all drivers are kept within their optimal frequency range and balanced with one another. The drivers themselves are as much a part of a Vojtko crossover as are capacitors and resistors."
To me, that doesn't sound like anything new, and I don't see what is proprietary about that. That is pretty much the goal of all crossover designs by any speaker engineer. I wasn't able to get a good look at the crossover network, but MartinLogan claims it uses polypropylene and low-DF electrolytic capacitors, custom-wound inductors, and thermal and current protection.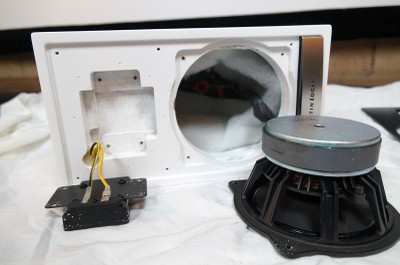 Inside view of MartinLogan Motion 35XTi Bookshelf Speaker

The cabin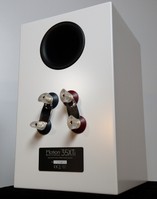 et is made from MDF and uses a hefty 1.2" thick front baffle with 0.7" thick side panels. There is a healthy amount of stuffing inside to damp internal pressure waves. The aforementioned port is mounted in the back and is 7" long with a 2 1/2" diameter. That is a pretty large port for a bookshelf speaker. It is flared on both ends. There are no feet on the enclosure, but the speakers are shipped with some adhesive rubber dome feet that the user has the option of applying if they wish. The 35XTi has some cool-looking 5-way binding posts on the back. They have to be the most stylish binding posts I have yet seen. There are two sets of them so the speaker can be bi-amped or bi-wired. As I have discussed in past reviews, there isn't really a good reason to do this with conventional home audio speakers. Bi-wiring has zero benefits, and the benefits of bi-amplifying bookshelf speakers such as these are very unlikely to be audible. The inclusion of this kind of option is going to cause more problems through misuse and misunderstanding than it will ever solve. Still, it doesn't hurt anything so long as the instructions in the owner's manual are followed, and these binding posts are gnarly, so I'm not going to rag on this too hard.
The overall design suggests a bookshelf speaker with a relatively wide dynamic range. A large AMT tweeter, aluminum woofer with large motor, and large port are all indicators of a system that should be able to stay clean at loud levels. This would all come at the expense of low-frequency extension, however. That is a fine trade-off in my view since I would almost always recommend that subwoofers be used with bookshelf speakers anyway. The bookshelf speakers that do chase after deep bass do so at the expense of sensitivity and dynamic range, but they do have their place and uses. On the other hand, when the use of a subwoofer is assumed, that can greatly open up dynamic range possibilities in a smaller speaker such as a bookshelf speaker. The physical demands of moving air in deep bass is a huge constriction in loudspeaker design for smaller speakers such as bookshelf speakers.
Listening Sessions
In my 24' by 13' (approximately) listening room, I set up the speakers with stand-off distances between the back wall and sidewall, and equal distance between speakers and listening position. The speakers were set up to face the listening position directly. Listening distance from the speakers was about 9 feet. Amplification and processing were handled by a Pioneer Elite SC-55. No room correction equalization was used. After some experimentation, subwoofers were used with most content. 
Music Listening
I always start closely listening to speakers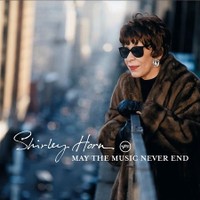 with material that places emphasis on a clean vocal recording. The human voice is the very last thing a loudspeaker should get wrong, and for that reason it is the very first thing that I look at. One album that comes highly recommended for this is Shirley Horn's 'May the Music Never End.' This 2003 jazz album was the last recording by Horn which capped a 45-year career as a world-class pianist and vocalist. The artistry by Horn and her instrumentalist backing of piano, trumpet, bass, and percussion is top-notch as would be expected of such experienced players. The production and recording quality is likewise excellent and was justly nominated for a Grammy for a jazz vocal album. It's an album that is as good as any for high fidelity sound system demo material.
Spinning up 'May the Music Never End' on the MartinLogan 35XTi speakers, the first thing that jumps out at me is how lifelike Ms. Horn's voice seemed. The 35XTi speakers rendered her voice in exquisite detail and impeccable imaging. She was sultry and melodic, and track after track demonstrated her mastery of the torch song. Mrs. Horn's voice was solidly positioned at a center point between the speakers, and I never heard any smearing or ambiguity in the imaging of her voice or that of any of the instruments. The French horn was given the spotlight during some moments and sounded just as richly reproduced as Ms. Horn's voice. After trying the speakers with and without subwoofers on some tracks, I felt that these speakers did benefit from subwoofer assistance. Low frequencies sounded potent down to a certain point but they didn't seem to be reproducing the lowest octave of the double bass as strongly as upper registers. Sometimes when speakers have weakness in deep bass, it can be alleviated by simply moving the speakers closer to the wall. That wasn't quite the case with the 35XTi speakers, where that placement seemed to boost midbass frequencies without shoring up deep-bass output. To be sure, the 35XTi speakers were very listenable without subs on music like this but bringing in subwoofers certainly do give the presentation greater weight and realism. Thankfully, MartinLogan makes some excellent subwoofers as we found out in our review of their new Dynamo series, and a Dynamo sub/35Ti speaker pairing would be a terrific sound system for music like this. With the addition of subwoofers, the 35XTi speakers can beautifully recreate a vocal jazz recording, as I found out in listening to 'May the Music Never End.'
For an aco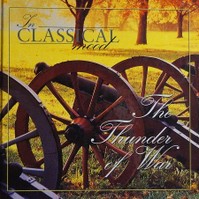 ustic recording on a much larger scale, I turned to orchestral music, once again digging into the 'In Classical Mood' box set. The disc I chose was titled 'The Thunder of War' and it was a collection of classical pieces that shared a theme of war, such as selections from Prokofiev's 'Alexander Nevsky,' Holst's 'Mars: Bringer of War,' and Wagner's 'Ride of the Valkyries.' This is a compilation of tracks pulled from other records, so it uses a variety of performers, but they are all of very high-caliber, such as the London Philharmonic Orchestra, English Chamber Orchestra, and the Scottish National Orchestra. Since this disc uses a variety of different tracks, the productions also do vary, and sound engineering is not the same from track to track. Nonetheless, the production quality is all quite good even though differences in recording techniques can be heard. One reason why I selected this orchestral disc is that it was bound to have some bombast given the theme of this music, and that seemed like a good choice to give the 35XTi speakers a workout.
So with the volume cranked high, I launched 'The Thunder of War' to hear how the 35Xti speakers handled classical music with a bit more verve. As expected, the 35Ti speakers were untroubled by the spirited listening levels. These are not particularly large bookshelf speakers, and it was impressive to hear most of the sound of a full orchestra belted out with such force from these two small boxes. To be fair, subwoofers were engaged, but nonetheless, above 80 Hz, the 35XTi speakers did a stellar job of reproducing the scale of such epic performances. The instruments all had a natural sound, and I didn't notice anything amiss with timbre or tonality. The acoustics of the venues were also recreated with verisimilitude, and my humble family room had the sound of a concert hall, at least in my particular listening position. Again, imaging was quite good, with instrumental sections distinctly localizable. The disc closed out with a very lively recording of Tchaikovsky's '1812 Overture' with a rather grandiose finale complete with cannons and church bells, and those cannon shots still managed to startle me even though I was already listening at an elevated loudness level. That should serve as a testament to the dynamic range capability of the 35XTi speakers.
the 35XTi speakers did a stellar job of reproducing the scale of such epic performances...sounded authentic.

In a recent review, one album that I found was a superb demo for high-fidelity sound was by the chamber choir Cappella SF led my choirmaster Ragnar Bohlin. The performance, as well as the sound quality, was outstanding, so I made a point of acquiring more recordings by this group. They haven't put out a whole lot of records, but one of them is the recently released 'Mass Transmission' where the Cappella SF cover works by the modern composer Mason Bates, who is known for combining electronic instrumental elements with traditional orchestral instrumentation. The tracks on this album are far more experimental than the other performances I have heard from the Cappella SF. As far as chorale albums go, this is an eclectic one, but the artistry is unquestionably world-class as was the production quality from the venerable Delos label. This was not traditional chorale music but it was riveting nonetheless. The 35XTi speakers delivered a very lucid and clear presentation of the Cappella SF choir. The soundstage was broad with the singers spread out over a wide arc in front of the listening position yet imaging was still precise for individual sound sources. There is some especially evocative imaging throughout the second half of the album when some studio-added trickery allowed the sound engineer to have some fun with some stereo effects filters. The choir's singing was quite lovely and ethereal, but, of course, that is mostly a matter of the original performance and also the sound engineering rather than the reproduction side of audio. However, the speakers were able to convey this intended sound and did nothing to inhibit the performance that I could detect. It sounded authentic. The 35XTi speakers made the choir sound like a collection of voices rather than a blob of vocal sound. The voices were unified when they needed to be and individually delineated when necessitated by the recording. Such gorgeous music given such a crystal clear rendition was very much an aural delight. Every music lover should check out the album 'Mass Transmission,' and when they do, they ought to listen to it a high-fidelity sound system on the level of the 35XTi speakers.
For something that would press the speakers quite a bit harder, I turned to one of the most raucous genres of music that I know of, namely, hard Drum'N'Bass. Drum'N'Bass music is an electronic music that uses breakbeats with a very high tempo, lots of heavy bass, and all kinds of bizarre synth sounds. The disc I selected came with a 2007 issue of Resident magazine which was a short-lived Austrian publication that was involved with this abrasive style of music. The disc is a mix of various genre tracks DJ'd by Drum'N'Bass veterans Black Sun Empire. I probably should have saved this disc for a subwoofer review on account of the tremendous bass usage, but it is such a loud album that I think it also works well for pushing any kind of speaker hard and not ever letting up. At the volume levels that I intended to listen to, I moved my listening position back much further than usual, in a small effort to preserve my hearing. This was, after all, a test of how much the speakers could endure, not a test for my ears. Of course, I used subwoofers for this album since I did not think these speakers would be able to tackle the deeper bass of some of these tracks. The 35XTi speakers did not break a sweat playing this album at a high loudness level. They have an astonishing punch for their size and did not lose clarity even when driven really hard, much louder than most people would probably ever push them. The choice to give up extension for dynamic range pays off here, so maybe it shouldn't be surprising that they are so capable, but nonetheless, staying clean at these loudness levels isn't something that most similarly-sized and similarly-priced bookshelf speakers would be able to handle. I don't normally advise that bookshelf speakers be used as party speakers, but in this case, I will make an exception (under the condition that they are used with subwoofers). When paired with a decent sub, they can rock hard, but then the problem becomes one of finding a sub that can actually keep up with them at high loudness levels. At the very least, I would be looking at high-powered 12" subs if not 15"s, and multiples at that. These speakers can take the abuse, but can your subs?
Movie Watching
One movie that is streaming on Netflix that looked as if it could have an i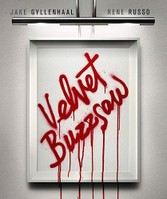 nteresting sound mix was their recent release 'Velvet Buzzsaw,' which stars Jake Gyllenhaal and Rene Russo and is directed by Dan Gilroy. Gyellenhaal and Russo also starred in Gilroy's 'Nightcrawler,' which was one of my favorites from the last decade, so I had high expectations for 'Velvet Buzzsaw.' 'Velvet Buzzsaw' is set in the Los Angeles art world and concerns the cursed art of a recently deceased man which seems to cause misfortune to the people around it. I set the system to a 2.1 mode so that the 35XTi speakers would have to handle everything that the center and surrounds would have received. That should make a good test for dialog intelligibility as well as all of the other elements used for a motion picture soundmix. I found 'Velvet Buzzsaw' to be an enjoyable dark comedy, and the 35XTi speakers did a great job in recreating the sound of this odd movie. The dialogue was crystal clear, and the music, which was a mix of pop, orchestral, and electronic tracks, was as lucid as any of the on-screen imagery. The movie does get into moments of eerie and bizarre uses of sound in some dream-like set pieces, and one such moment was where our protagonist is trapped in a room with floating pendant loudspeakers surrounding him that repeated his critiques in a hellish manner. The 35XTi speaker imaged this scene well, with dialogue emitting from specific locations simultaneously all over a room yet the bits of speech were intelligible if one tried to follow them. A wider surround sound system may have imparted this effect better, but the 35XTi pair did an admirable job of tracking individual sound sources of a wide swath in front of the listening position. 'Velvet Buzzsaw' was a fun and eccentric movie, and the 35XTi speakers are a great choice for those who don't want to miss a word of the witty dialogue and who also like the music score to sound full and engaging.
I had not seen the 2015 sci-fi epic 'Jupiter Ascending' but figured it would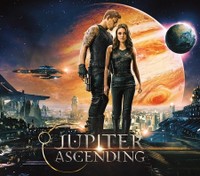 make for a good demo for a capable loudspeaker system, as would any big-budget film from the Wachowskis. I kept the system in 2.1 mode, down-mixing everything but deep bass to the 35XTi speakers and I cranked up the volume to see how much of a big-screen sound these could deliver. 'Jupiter Ascending' has a lot going on, both visually and aurally. There is a variety of action scenes that take place in outer space, Chicago, a cornfield, and a city in the atmosphere of Jupiter, and they involve all kinds of bizarre science-fiction gadgets, vehicles, and weapons. The soundmix has a lot to balance throughout the movie with this abundance of effects sounds, dialogue, and Micheal Giacchino's epic orchestral score that brings in choral elements. The 35XTi speakers were able to tie together all the aural pieces and never gave way to confusion even in complicated action scenes. Dialogue remained intelligible even when spoken by any of the many human-hybrid creatures with their heavily-processed speech. Giacchino's score gave 'Jupiter Ascending' a big-screen sound that the 35XTi's reproduced quite well. It is an epic score that took advantage of the 35XTi's wide dynamic range. The speakers were very capable of reproducing the large scale of this film's canvas and the many colors of its sonic palette. While I found 'Jupiter Ascending' to be a rather scattershot film dramatically, I still enjoyed the exotic art and sound design, and I liked its cosmos-wide scale. A good sound system is going to help viewers appreciate a cinematic experience like this, and the 35XTi speakers are up to the task on this mark. 

Confused about what AV Gear to buy or how to set it up? Join our Exclusive Audioholics E-Book Membership Program!
See also:
Recent Forum Posts:
shadyJ posts on October 07, 2019 04:32
31730
Although MartinLogan is best known for their curved electrostatic panel speakers, one of their best-selling speaker lines is the 'Motion' series that uses more conventional loudspeaker cabinets. However, in keeping with their preference for flat-panel transducers, MartinLogan did opt to use AMT tweeters in the Motion series. While AMT tweeters have become more common in recent years, the Motion series had been using them as a design distinction for some years now, and MartinLogan was the first major speaker manufacturer to put AMTs in affordable speakers. MartinLogan very recently redesigned their Motion line, and in for review today we have the Motion 35XTi, which is the larger bookshelf speaker in this product line. This beefy bookshelf speaker is the successor to the Motion 35XT and is MartinLogan's largest and highest-performing bookshelf speaker. And so, with a pair of Motion 35XTi speakers fresh in hand, let's see what MartinLogan can do in a bookshelf speaker format for $1.3k/pair….
READ:
MartinLogan Motion 35XTi Bookshelf Speaker Review
Post Reply