Polk Brings Back SDA Technology with New Legend Series Loudspeakers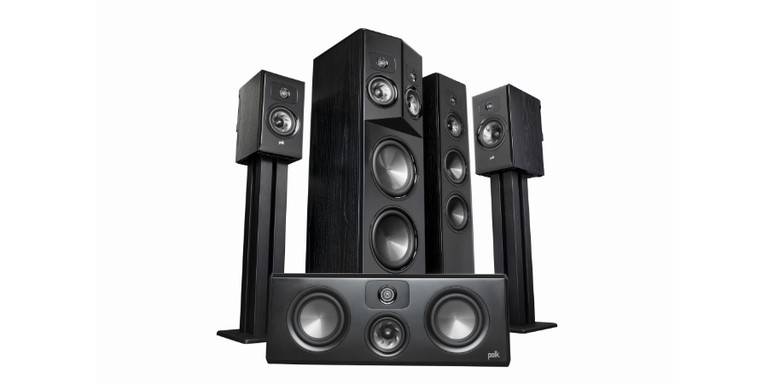 Polk Legend Series
Summary
Executive Overview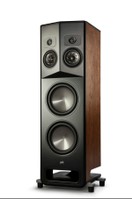 One of the most exciting new product introductions to come out of this year's Rocky Mountain Audio Fest is Polk Audio's new flagship Legend Series loudspeakers, which Polk describes as "the most sophisticated and intensively engineered loudspeakers the company has ever introduced." Polk's engineers have designed these new speakers from the ground up, developing a number of new technologies along the way. The tweeter, mid-bass driver, woofers, bass port, cabinet design, and crossover network have all been improved compared to those found in previous Polk designs, and the line's flagship floor-stander includes a unique "stereo dimensional array"  — but more on that later. For two-channel listening, the Legend Series includes the L100 5.25-inch bookshelf speakers ($1,199 per pair), the L200 6.5-inch bookshelf speakers ($1,799 per pair), the L600 tower speakers ($3,998 per pair), and the range-topping L800 SDA tower speakers ($5,998 per pair). Any of the above can also be used in a home theater setup, in conjunction with the L400 center channel speaker ($1,799 each) and the L900 Height/Elevation module ($599 per pair). The Legend Series will be available in two real wood finishes starting October 1st, except for the L800 SDA, which arrives at select Polk Dealers on November 3rd.
"The Legend Series is the culmination of decades' worth of acoustic engineering and loudspeaker development. Whether placed in a traditional two-channel orientation or home theater system, the new flagship series offers incredible imaging, perfectly balanced mids, and deep lows. We're confident these are the speakers that will remind Polkies and enthusiasts why they love Polk Audio."
— Michael Greco, Senior Director of Global Brand Management at Polk Audio
Polk Legend Series & SDA Technology @ CEDIA 2019 YouTube Video Interview

The whole Legend Series lineup benefits from intensively engineered cabinet designs with rigid bracing designed to minimize audible distortion by controlling cabinet vibration. These advanced cabinets are home to three important technological advancements that were realized during the development of the Legend Series: a new Pinnacle ring radiator tweeter, new Turbine Cone mid-range drivers, and an upgraded Power Port. The new 1-inch high-definition Pinnacle ring radiator tweeter features a damped rear-chamber to defeat unwanted resonances, and a custom waveguide, which "dramatically improves the dispersion of high frequency energy, ensuring a broad sweet spot," according to Polk. The new Turbine cone mid-range drivers combine a proprietary foam core with a molded Turbine geometry said to increase both stiffness and damping, without adding extra mass. The result is mid-range performance that Polk describes as smooth, detailed, and natural. The low-end gets a boost from an enhanced Power Port with a smoothed-out flare design, which reportedly offers a smoother transition into the listening area while delivering extended, effortless bass performance with "less port noise and more bass than traditionally ported loudspeakers."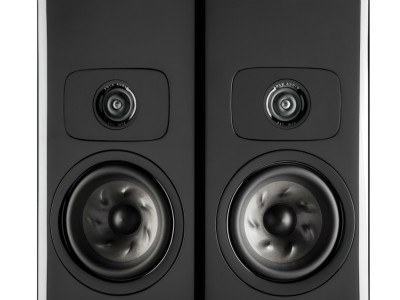 At the top of the Legend Series lineup, the L800 SDA floor-stander is a very special speaker with some unique technology at work. Polk calls the L800 SDA a "True Stereo" speaker, claiming that it is "the only speaker in the world to maintain full stereo separation from the source to the listener's ears." The L800 uses a next-generation Stereo Dimensional Array — a double set of drivers specially situated to minimize an audio phenomenon known as interaural crosstalk (IAC), which is a natural distortion resulting from two or more channels of audio crossing before they reach the listener's ears. Matthew Polk invented and debuted the first Stereo Dimensional Array in the early 1980s, and the L800 is the first new SDA speaker introduced in over 20 years. This next-gen SDA-PRO technology includes new advancements, allowing the L800 to minimize interaural crosstalk even further than its predecessors. 
"It's a fundamental problem not only for stereo reproduction, but also for any system with more than one speaker. Polk Audio was the first to think of dealing with the problem acoustically in the listening space. By positioning additional drivers to deliver a precisely derived cancellation signal to your ears, SDA enables you to hear the sonic image just as the recording captured it. Individual instruments appear across a wide stage, as if the performance were in front of you at that very moment."
— Polk Audio
The newly patented SDA-PRO technology in the L800 loudspeaker employs a special "Head Shadow"  filter, along with double driver sets mounted to 15-degree angled baffles, to acoustically isolate the two stereo channels and cancel out IAC. The L800's angled baffles — the unique design of which was granted a separate patent — also serve to direct the sound more precisely toward the listening position, eliminating the need for speaker toe-in and preserving high frequency extension.
"From the beginning we wanted to make loudspeakers that virtually transform the listening space into the performance space, creating an intimate, immersive and welcoming experience between the listener and the performer. When we originally developed SDA in 1982, our goal was the most lifelike imaging you ever heard. We called it True Stereo because we were the first speaker manufacturer to maintain stereo separation all the way from the source to the ears, and that is still true today. After more than forty years developing speakers at Polk Audio, I'm confident the Legend Series are truly exceptional for listeners of all levels. Everyone from discerning audiophiles to casual enthusiasts will immediately hear the difference."
— Stu Lumsden, Vice President, Engineering and Quality at Sound United
 Initial Impressions by Gene DellaSala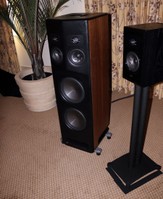 Theo Nicolakis and I were able to listen to the L800 SDA speaker system at the 1st Annual Sound United Event back in May 2019. It was hard to keep a tight lip on what an awesome sonic experience that was. When I first sat down in the room and saw the dual side by side dual mid/tweeter array, it reminded me of the Dominator MX speakers from the 80's comedy movie Ruthless People starring Danny Devito and Judge Reinhold. I thought to myself, this speaker is going to be a sonic disaster of comb filtering, unless they were doing some type of DSP to the signal or feeding 4CH discete channels of audio to it. From the first audio track they played for us, my concerns disappeared almost as quickly as the speakers in the room. I was left with a huge stereo soundstage that seemed to expand laterally past the sidewalls all while maintaining proper directional cues dead center when they should be. I just assumed we were listening to a multi-CH recording but Stu informed us after a few tracks that we were listening to nothing more than regular 2CH music. WOW! This was truly the most impressive speaker I heard at the Sound United event and had me fantasying about having a pair of these speakers in my own dedicated 2CH listening space. I thought to myself Polk has been reborn. Stu explained that the speakers had no DSP processing and they were only powered by a 2CH amp like any conventional speaker but with the addition of a proprietary cable attached between the two speakers to do the L-R and R-L cancellations similar to the old Hafler circuit. The L800 SDA is definitely a speaker we will be reviewing next year to further report on. I have fond memories of the old SDA series of speakers growing up in the late 80s so this is a nice homage to the past but with some impressive updates and what a great exit for Stu Lumsden. He must be proud of his 40+ year  tenure at Polk Audio.

Confused about what AV Gear to buy or how to set it up? Join our Exclusive Audioholics E-Book Membership Program!
See also:
Recent Forum Posts:
j_garcia posts on September 09, 2019 15:34
The old SDAs were some of the best Polks ever built. Glad to see them bring it back.
Gmoney posts on September 09, 2019 05:10
Danzilla31, post: 1338516, member: 85700
Siiiiiigggghhhhh okaaaaayyyy . Gotta wait for some real reviews any way. It's just it looks so frickin cool man can you just imagine 3 of those mamba jambas as your front 3!!!!!!! EPIC!!!!

I still don't understand why you build a 3000 dollar flagship that can only be used a certain way! Bummer bro!
Well have you taking a look at RBH speakers? With their module speakers? Lots of speaker manufacturers, do design a speaker to be used a certain way. Take tower speakers with a Sub that's mounted on the side of the cabinet. There a L/R specific also placement critical. Untill Gene or someone can run those through the mill, but with Polks passed history of cutting corners with their flagship line, no one really knows till Gene or any others can get ahold of a pair. Polk has a history of being top-end bright or distortion at higher volumes with their entry level Monitors.
Gmoney posts on September 09, 2019 05:01
Wait! Everyone is speculating.
ryanosaur posts on September 08, 2019 22:21
Or the Tower next down the line!

Or forget Polk. Those Studio 6 speakers look like they might be great. Or a 5-channel system with the JTR Noesis210RTs!

Anyway, Danzilla, my instinct tells me Shady is spot on. I'm certain you could go in and connect the drivers in-phase and override their SDA system… but then as he said… "no point getting that speaker…."

I'm intrigued to know how flexible it is, in terms of room placement and acoustical phenomena. It could be a very clever technological advancement if it works for everyone in the room. But if the sweet spot is limited, and the effect of comb filtering or unwanted cancellations becomes prominant elsewhere in the room, then again… no point. I'm further intrigued to know if there is any additional XO work they did to assist in cancelling out the crossing signals, or if its just in the angled baffle for those drivers plus phase.

Regardless, there's a lot of good speakers at $3k each!
Danzilla31 posts on September 08, 2019 21:38
shadyJ, post: 1338507, member: 20472
I don't know that would work. The thing is, if you do only connect one channel of signal, this speaker loses its advantage. No point in getting this speaker if that is the case. But there is no reason why you could only use this speaker in a stereo pair- you just would have to use a different speaker in the center channel. The center in this series looks like it could be good, so why not use that one.
Siiiiiigggghhhhh okaaaaayyyy . Gotta wait for some real reviews any way. It's just it looks so frickin cool man can you just imagine 3 of those mamba jambas as your front 3!!!!!!! EPIC!!!!
I still don't understand why you build a 3000 dollar flagship that can only be used a certain way! Bummer bro!
Post Reply