Starke Sound Combines High Fidelity with Huge Dynamics in the P Series Loudspeakers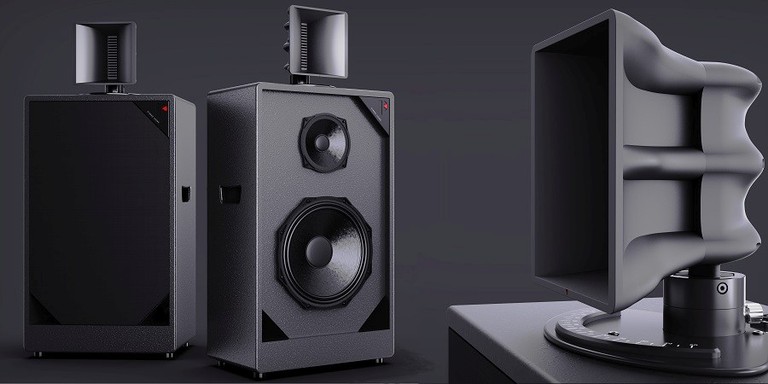 Starke P Series
Summary
P3 / P3i:
Max SPL output (1m): 126dB
Frequency Response: (+/-2dB): 55Hz - 40kHz
Power (AES / Peak): 250W/750W
Nominal Impedance: 8 ohms
Sensitivity (2.83v @ 1m): 94dB
Drivers:
(1) AMT70 Horn (28mm x 35mm)
(1) 8" bass driver
P5:
Max SPL output (1m): 131dB
Frequency Response: (+/-2dB): 45Hz - 40kHz
Power (AES / Peak): 500W/1500W
Nominal Impedance: 8 ohms
Sensitivity (2.83v @ 1m): 97dB
Drivers:
(1) AMT160 Horn (25mm x 120mm)
(1) 12" bass driver
P7:
Max SPL output (1m): 133dB
Frequency Response: (+/-2dB): 45Hz - 40kHz
Power (AES / Peak): 550W/1650W
Nominal Impedance: 8 ohms
Sensitivity (2.83v @ 1m): 97dB
Drivers:
(1) AMT70 Horn (28mm x 35mm)
(1) 6.5" midrange driver
(1) 8" bass driver
Executive Overview
There are a lot of different ways of designing loudspeakers, so there are a lot of choices in loudspeaker systems for high-end home theaters these days. Starke Sound is now jumping into the high-powered home theater front with their own take on the kind of loudspeaker that can handle a large-scale home theater, and it looks to be a formidable effort. The launch of Starke Sound's P Series will surely propel these speakers behind the screens of many high-end home theater systems with the intention of producing extreme output levels but not at the cost of fidelity. The secret ingredients in their recipe are new approaches to traditional transducer elements that raise the bar in sensitivity and dynamic range. Let's go over a few of the methods they use to achieve this end…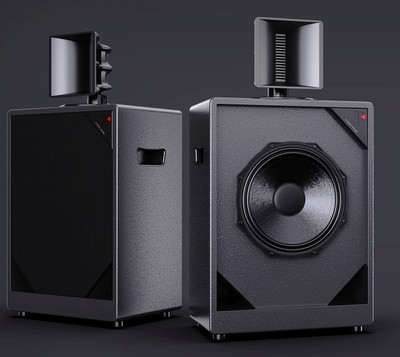 Firstly, Starke Sound employs AMT tweeters to cover the top end. AMTs are becoming increasingly common these days, but the way that Starke Sound utilizes them is unique. The P series AMTs are considerably larger than standard AMT tweeters, and this gives them many times the surface area of dome tweeters. Starke Sound claims their AMT160 diaphragm has 30 times the surface area of a dome tweeter, and that should give them a huge dynamic range advantage. What is more, is that it is made from an extremely light film material called Kapton that enables it to have an extended response out to 40kHz which is well beyond the abilities of most dome and compression drivers.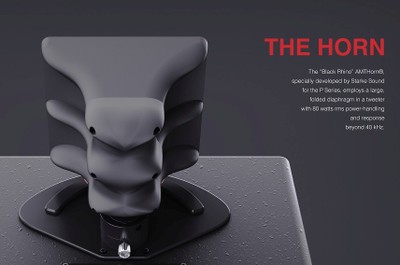 We have heard what heavy-duty AMTs can do in our reference RBH SVTRS system with amazement, but Starke takes this concept even further and loads the AMTs into a specially-designed waveguide that they call the 'Black Rhino' AMTHorn. This horn-loading heightens the dynamics by restricting the acoustic energy to a narrower area which increases the dynamic range of the system as well as tightens up control of off-axis behavior. The horn is produced from a die-cast aluminum alloy, so there will be no resonance or ringing from flimsier materials that do not react to the gigantic SPLs that can be generated around the throat and mouth of the waveguide. That certainly isn't a cheap step to take, but it is a necessary one if you want wide dynamics without the harshness of traditional horns.
One innovative feature used to get the most out of the tweeter is a swivel mount for the horn that is damped for low vibrations. It allows the horn to be aimed at a precise direction for an optimal sound at the listening position instead of having to angle the entire speaker for the same effect. Once the optimal angle for the horn is found, it is locked into place with a mechanism that is damped to keep any of the mid-bass enclosure vibrations from affecting the tweeter's sound. Not that there should be much cabinet vibration since Starke uses sophisticated software to model the enclosure under high mechanical stress to see points of resonance, and then they address these points to reduce any cabinet resonances and then they continue this cycle until they have achieved an inert enclosure.
Starke's tweeter looks impressive indeed, but a speaker is more than just a tweeter, and Starke has also invested efforts into developing a mid-bass driver that can keep up with their tweeter system. Their mid-bass driver cone is made from a unique blend of paper and carbon fiber which makes for an exceptionally light diaphragm while still being very rigid. The problem of making something rigid yet light is ever-present in loudspeaker design. Light materials tend to bend easily as the transducer is tasked with playing higher frequencies, and this registers as a distorted sound, while rigid materials tend to be heavy which greatly decreases the transducer's frequency range and dynamic ability. Starke claims their solution allows a larger cone for wider dynamics without running into bending modes or reduced range and dynamics.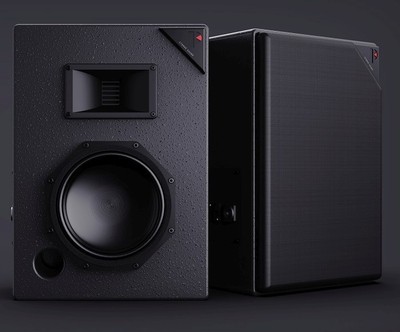 Creating a new cone material isn't all that Starke has done to improve their mid-bass driver. Thermal compression is a significant problem in high-output loudspeakers systems; these kinds of speakers get hit with hundreds of watts to push them to reference level loudness, and all of that electrical current creates heat that can reduce the magnetic power of the driver's motors. A reduced magnetic field means lowered dynamic range, and the effect can be heard as speakers simply losing loudness capability after they have warmed up. Starke addresses this problem with a solution they have termed the 'TurboColling System.' The TurboColling System accelerates the convection speed of air inside the voice coil, so the heat generated by the coil is squeezed out more quickly which Starke claims improves the power endurance of the driver by more than 20%. This can help to maintain the driver's sensitivity so that the loudspeaker hasn't gone soft by the movie's climax from the build-up of heat.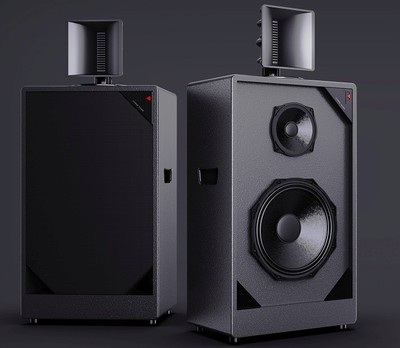 Starke Sound spent two and a half years developing and refining the P Series and has employed some interesting new technologies in order to get an edge in the highly competitive high-end home theater loudspeaker market. Those home theater enthusiasts looking for something to bring that big-screen sound to their own home theater would do well to check them out. They are powerful enough that Starke also promotes their use in small commercial cinemas as well as clubs. We are hoping to have a chance to hear them in person since the design looks so promising. Starke Sound's P Series is being launched with the three-way P7, the two-way P5, and the two-way bookshelf/in-wall P3 P3i. There will also be a flagship uber P speaker in the built-to-order P9 as well as a subwoofer. More P Series speakers will be launched thereafter to fill out every speaker role for a high-performance private theater. They can be had through installers and dealers that carry Starke Sound products.

Confused about what AV Gear to buy or how to set it up? Join our Exclusive Audioholics E-Book Membership Program!