Polk Introduces Incredibly Affordable Monitor XT Speaker Lineup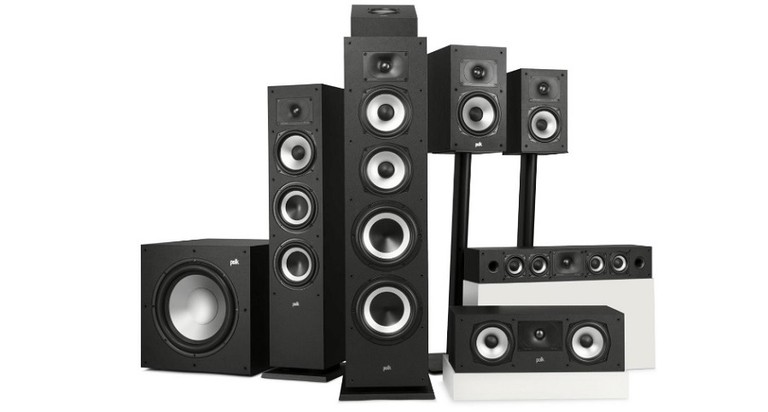 Polk Monitor XT
Summary
Product Name:

XT12 Powered Subwoofer, XT15 Bookshelf, XT20 Bookshelf, XT30 Center Channel, XT35 Center Channel (slim), XT60 Tower, XT70 Tower, XT90 Height Channel

Manufacturer:

Polk Audio

Review Date:

September 06, 2021 23:30

MSRP: $299/each - XT12 Powered Subwoofer, $150/pair - XT15 Bookshelf, $250/pair - XT20 Bookshelf, $150/each - XT30 Center Channel, $250/each - XT35 Center Channel (slim), $200/each - XT60 Tower, $300/each - XT70 Tower, $150/pair - XT90 Height Channel
First Impression:

Gotta Have It!
Executive Overview
We recently released information on Polk Audio's new Signature Elite line of speakers, a competitively priced lineup designed to be a more affordable yet hi quality alternative to their Reserve Series. Polk Audio has now released information on their Monitor XT series, what they call "A complete Hi-Res Audio and Dolby Atmos Certified speaker lineup." Polk Audio has been building speakers for over 50 years and the Monitor Xt will be a redevelopment of their older Monitor speaker line.   
The new series takes advantage of Polk's latest advances in superior sounding, but still cost-effective, woofers, tweeters, crossovers, and cabinetry, all designed to deliver dynamic, lifelike sound and effortless bass from today's high resolution and Dolby Atmos streaming services. Monitor XT speakers enhance the experience of music, movies, TV and game sound, and further Polk's mission of making great sound affordable.
--Polk Audio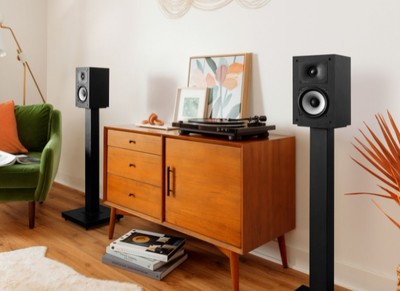 The Monitor XT Series is available in a wide variety of models, enabling customers to build a home theater or Hi-Fi system that suits their listening space and budget while satisfying their quest for outstanding performance. The Monitor XT Series lineup includes two floor-standing towers, slim and full-size center channels, two bookshelf models, a 12-inch powered subwoofer and a height module for immersive surround sound. All models are finished in Midnight Black.
Monitor XT provides all listeners an entry point into Polk Audio's 50 years' worth of experience building iconic loudspeakers that deliver clarity, high-output and effortless bass. As high-resolution audio is becoming the norm on music streaming services and 'Direct to Streaming' movie releases in Dolby Atmos proliferate, Monitor XT offers consumers an affordable way to take advantage of improved quality source material.
--Frank Sterns, President of Polk Audio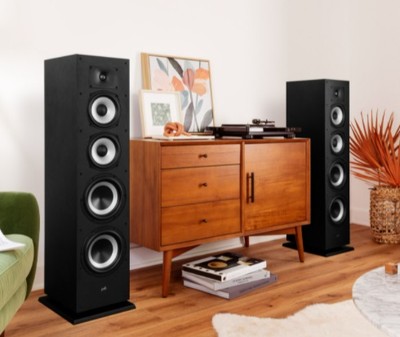 The entire Monitor XT loudspeaker lineup will include Hi-Res Audio Certified Terylene dome tweeters that are designed to operate near and beyond 40kHz. The new line also features Dynamically Balanced woofers paired with responsive passive radiators (in the floor-standing models). For those that can't ceiling mount height channels, Polk Audio is helping consumers achieve realistic, multidimensional  Dolby Atmos, DTS:X, and Auro 3D audio through the use their XTMXT90, an affordable up firing height speaker.
MXT12 Powered Subwoofer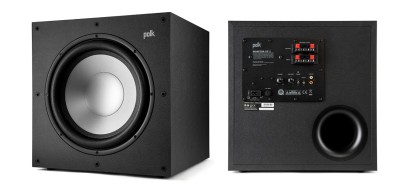 Unlike the newly released Signature Elite line, the Monitor XT lineup also offers a subwoofer to complete the series.  The XT12 powered subwoofer is a 12-inch long-throw, Dynamically Balanced woofer powered by a 100-Watt Class A/B amplifier designed to replay frequencies down to 24 Hz. The XT12 offers line-level (RCA) and LFE inputs and is compatible with the latest Dolby Atmos and DTS:X enabled AV receivers. The subwoofer also comes with variable crossover, polarity and volume adjustments.
What We Think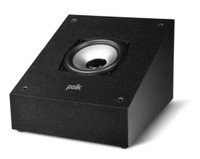 Polk Audio covers the gamut for their speaker lines in a variety of price ranges. The Monitor XT Series is the culmination of five decades of research and design to create an affordable speaker design by Polk engineers in the company's original facility outside of Baltimore, MD. The Monitor XT Series offers a five-year limited warranty which makes this an easy pick for a budget friendly home theater. For $1,250 you could setup a 7.1.2 Dolby Atmos or DTS:X system with true separate height channels and front tower speakers. All Monitor XT Series products are currently available for purchase at PolkAudio.com and at authorized Polk dealers worldwide. 

Confused about what AV Gear to buy or how to set it up? Join our Exclusive Audioholics E-Book Membership Program!