HECO Aurora 1000 Floorstanding Loudspeaker Review
HECO Aurora 1000 Floorstanding Loudspeaker Review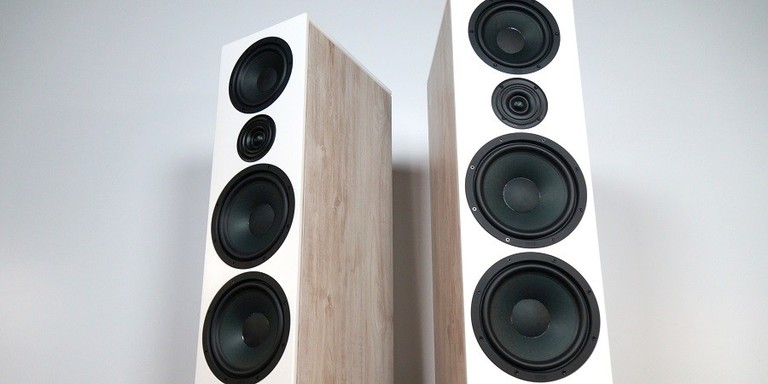 Heco Aurora 1000 Loudspeakers
Frequency Range: 22 - 42,500 Hz
Drivers:
Tweeter: 1.1" fabric dome
Woofers: Two 7.9" paper cone
Midrange: 6.7" paper cone
Design: 3-way floor-standing loudspeaker, bass reflex
Crossover frequency: 260 Hz, 3,300 Hz
Load capacity (RMS/ max): 230/380 watts
Impedance: 4 - 8 ohms
Efficiency (2.8V / 1M): 93 dB
Finish options: Ebony Black, Ivory White
Size (WxHxD): 9.25"x47.2"x14.7"
Weight: 58.6 lbs.
Heco Aurora 1000 Speaker Review Youtube Discussion
Pros
Tonally accurate
Wide dynamic range
Broad and even dispersion
Good sensitivity
Not difficult load for amps
Not back-breakingly heavy despite size
Cons
Imitation wood veneer isn't very convincing
Enclosure could use more damping or rigidity
Heco Aurora 1000 Speakers Introduction
While I am by no means an encyclopedia of loudspeaker brands, as a speaker reviewer, I fancy myself as being pretty familiar with the current landscape of the loudspeaker market and most of the available brands. This is why I was surprised when I was approached by the retailer Audio Advice about reviewing some HECO loudspeakers, since I had never even heard of the brand. A few internet searches didn't reveal much, except that HECO (pronounced "hey-ko") had been an older brand in Germany that produced loudspeakers from the 50s to the 80s. The brand is now owned by the German loudspeaker manufacturer Magnat. They seem to have more of a presence in Europe than in the USA. Audio Advice would like them to be better known in the USA, which is understandable on Audio Advice's part since they are the only place that HECO can be purchased in the USA. I quickly agreed to the review since it is rare that I can approach a brand with no preconceived notions that come from their history or reputation. It is on that blank slate today that we take a look at the HECO Aurora 1000 floor-standing loudspeakers. They are a largish three-way tower speaker pair for $1,600/pair: not very expensive for large three-way towers but they aren't giving them away either. There are a lot of other tower speakers around this pricing, so how do they fare amongst the competition? Let's dig in to find out…
Unpacking and Appearance
The Aurora 1000 speakers arrived in sturdy cardboard boxes. Internal packing was some Styrofoam blocks that capped the ends and a packing piece to shore up the midsection. The speaker was covered in a cotton sleeve to protect against moisture and scuffs. This level of packing should give it adequate protection for typical shipping, but the Styrofoam pieces will get busted up if the transit gets rough. Were these heavier speakers, I would say this packing provides insufficient protection, but they don't weigh a whole lot considering their size, so this packing should be ok.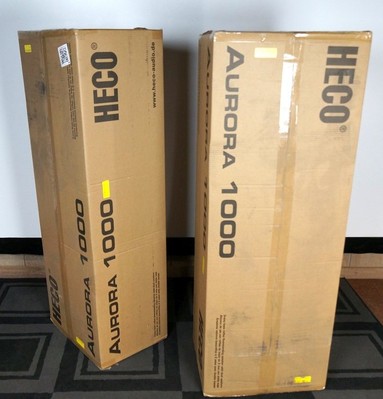 Once unpacked, the Aurora 1000s turn out to be nice looking given the pricing but not luxuriant. Many towers at this price point just turn in a black box with a textured black vinyl veneer, but the Aurora 1000s have a white finish option available that looks considerably less dour than most loudspeakers. The front baffle and top use a white finish that HECO calls satin white. It isn't quite a real satin finish, but it is not bad-looking. The side panels use an 'ivory' woodgrain laminate that isn't bad looking at a distance, but up close it is easy to see that it is not a real wood finish- not that anyone should expect such large speakers to use a real wood finish at this price. The black driver cones stand in contrast to the light finish, but an included grille with white fabric can be used to hide the driver cones. The outriggers are some thick plastic pieces, and there is a HECO badge in the lower part of the front baffle. The binding post plate and the ports look like brushed aluminum, but a closer inspection reveals them to be a disguised plastic. Overall, the Aurora 1000s like nice and should not clash with a typical interior decor, but they aren't going to be mistaken for a true luxury product, especially with a close inspection. But again, they do not have the pricing of a true luxury product. 
Design Analysis
To state the obvious, the HECO Aurora 1000s are large three-way ported floor-standing speakers. Getting deeper into their design, let's first talk about the drivers, and we will start with the tweeter. The Aurora 1000 uses a 1.1" fabric dome tweeter surrounded by a corrugated flange in a system that HECO calls the "Fluktus" tweeter. The faceplate of the tweeter has computer-modeled waves shaped into it that are supposed to assist with the dispersion, so they act as a waveguide somehow. I don't understand how they could do that with ripples in the faceplate, except perhaps by modulating baffle diffraction in some manner. The tweeter uses a ferrite motor with a bucking magnet attached. In the 'old days,' bucking magnets were used to contain stray magnetic fields from interfering with CRT televisions. They can also have the added benefit of slightly raising driver sensitivity which is why I would imagine HECO is using them here.
Moving on to the midrange, we have a 6.7" treated paper cone attached to a stamped steel frame with a relatively large half-roll surround and Nomex spider. The motor uses a 3" diameter x ¾" thick magnet and is vented under the spider. It also has a bucking magnet attached, presumably to raise sensitivity. In the product brochure, HECO boasts that the paper pulp used in the cones comes from renewable forests in Canada and Europe, but whatever environmental points that get them are negated by using Chinese MDF for the cabinets. A good idea in the design here is the mounting of the midrange above the tweeter; other manufacturers might have placed the tweeter above the midrange but that would have lifted the optimal listening angle a bit too high for regular seating. The way HECO has arranged the tweeter and midrange driver, the tweeter is much more likely to be level with the ears of listeners which is the ideal height.
There are two 7.9" bass drivers that use the same paper cone material as the midrange attached to a stamped steel frame. The motor uses a 4 ¼" diameter magnet with a ¾" thickness (although what really counts is the actual magnetic field strength in the voice coil gap rather than the magnet size and HECO doesn't tell us that). The backplate is bumped out a bit, and venting is done through the pole piece. There are no bucking magnets for the bass drivers.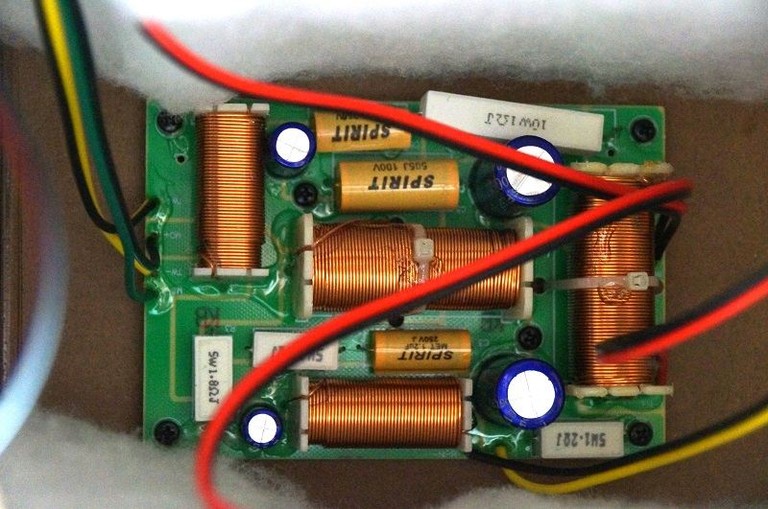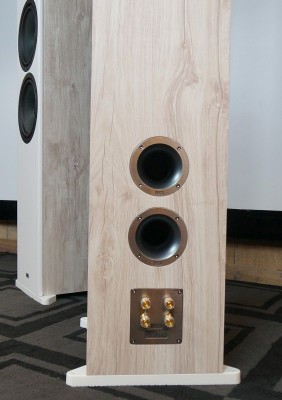 The bass drivers cross over to the midrange at 260Hz, and the midrange driver crosses over to the tweeter at 3.3kHz, and that gives the midrange a fairly wide range of operation. This will be a welcome attribute to those who do not want any phase rotation from crossover frequencies in the midrange frequencies where human voices are most prominent. The crossover circuit itself looks adequate for the job and uses a host of steel laminate inductors, polypropylene and electrolytic capacitors, and resistors. I would guess, from the number of components, that this crossover circuit is largely using 2nd-order filters. Dual five-way binding posts enable the Aurora 1000 to be bi-amped or bi-wired, but those shopping for speakers in this price range are not likely going to buy extra amplifiers in order to do any of that. That being said, the 230-watt RMS power handling spec of these speakers suggests that they could handle a beefier amp than what normally comes in a typical mid-level AVR. 
One thing HECO could have done with the bass drivers that might have been a bit better in placement is to mount them on the bottom of the front baffle instead of in the middle; that way the speaker would have greatly reduced ground bounce cancellation where the woofer's acoustic reflections off the floor interfere with the direct sound from the woofers at the listening position. By mounting the woofers near the bottom, the sound waves coming from the woofers cannot bounce off the floor since they originate near that point. The wavelength of the crossover frequency from midrange to bass driver should allow for such a layout without much penalty. However, this speaker does have one unusually good attribute that such an arrangement might have compromised, as we will see when we get to the measurements section…
The Aurora 1000 cabinet is made from MDF. The front baffle is 1" thick, and the side panels are ½" thick, as are the three window-pane braces that divide the interior of the enclosure. Corner bracing lines the inside of the enclosure edges to give the cabinet some reinforcement at the edges. There is some polyfill-type stuffing lining the interior as well for some acoustic damping. The enclosure uses some thick plastic outriggers to hold it upright, and they do their job; this would not be an easy tower speaker to knock over. There are two ports: each port is about 5" in length with a 1 ⅞" diameter. The ports are flared on both ends to minimize audible turbulence. The Aurora 1000 cabinet isn't overbuilt, but it does intelligently allocate its budget to the places where a significant difference would be made, i.e., the front baffle and internal bracing. 
The overall design implies a fairly sensitive tower speaker with significant bass ability: a large enclosure with relatively large diameter cones combined with their very light material. The speaker is spec'd at 93dB for 2.83v at 1 meter, which is certainly above average for a floor-standing speaker in this price range (although that spec differs from our measured value somewhat, which we will discuss in the 'Measurements' section). Let's now see how this design comes together in some actual use…
Listening Sessions
In my 24' by 13' (approximately) listening room, I set up the speakers with a few feet of stand-off distances between the back wall and sidewall and equal distance between speakers and listening position. I experiments with toe-in angles and ended up angling the speaker to face my listening position directly. The listening distance from the speakers was about 9 feet. No equalization was used and no subwoofers were used.
Music Listening
One recent release that I found on Qobuz which had superlative production qualities was "Regina Angelorum" by Ensemble Vox Arcangeli which is a choral group founded in 2010 that focuses on sacred vocal music of the 16th century. In "Regine Angelorum" (Latin for "Queen of the Angels"), they perform a selection of works by Hans Leo Hassler, an important Nuremberg composer of the late 1500s who was one of the first to usher in the baroque sound in vocal and organ music. The performance is recorded in St. Michael's Church in Vienna, an 800-year-old church, one of the oldest in Vienna, with its celebrated Sieber organ that was installed in 1714. This astonishingly gorgeous production from the Naxos label features their usual top-notch sound engineering and is available in 24-bit/96kHz streaming. Needless to say, this album makes for a terrific demonstration of sound system fidelity.
The Heco Aurora 1000s were able to render an impeccable sense of depth from the singers and organ being centered in a reverberant space.
From the speaker's ability to image, I could tell pretty quickly that the mic was rigged at a medium distance above the performers, close enough so that they had distinctive positions within the soundstage, but also far back enough that the reverberation of the church had a strong presence in the recording as well. Indeed, these performers within this acoustic environment sounded utterly ethereal, very much living up to their name. Through the Aurora 1000 speakers, I could understand why St. Michael's Church has been such a desirable performance location for so long, hosting the likes of Haydn and Mozart performances in their day; the reverberation gave the voices a sonorous body but without swamping out the singers with endless decay. Likewise, details of the Sieber organ could be heard through the enveloping reverb of the church nave, and this rich sound was beautifully delivered by the Aurora 1000s. Tonally, everything sounded evenly balanced, and the voices sounded realistic and uncolored. This wasn't a bass-heavy recording, but what bass was there was ably reproduced. The speakers were able to render an impeccable sense of depth from the singers and organ being centered in a reverberant space. In the end, I did not find the Aurora 1000s lacking in any way for this exquisite recording.  
Another brand-new release with an excellent recording quality that I found on Qobuz was "Opening" by the Tord Gustavsen Trio. This music is fairly minimalist jazz and is played by Tord Gustavsen on piano, Steiner Raknes on double bass, and Jarle Vespestad on percussion. Given the austere nature of the compositions as well as the exquisite recording quality, this album gives these instruments a high level of scrutiny thereby making "Opening" a good demonstration of a sound system's ability to resolve these instruments. This release comes courtesy of ECM Records and can be streamed at 24-bit/96kHz.   
The cymbal details were relayed with veracity, and muting, brushing, and ringing techniques were all vividly realized through the Aurora 1000s.
It was evident right away that each of the instruments was close mic'd from how they individually spread across the soundstage. The effect of this kind of recording is to make the speakers the instruments' location instead of having the speakers recreate the performance as well as the acoustic environment that the performance occurred in. This puts the performers in your room rather than converting your room into the performance space. The different heads of the percussion set spanned the width of the soundstage, and the pitch of the piano keys increased as they moved further to the right. Double bass was planted firmly in the center. Through the Aurora 1000s, it was easy to tease out the subtleties of the shifting positions of sound sources within each instrument. I would imagine that to listen to this recording with headphones would be like having your ears inside the instruments themselves. The details of the way that the heads and cymbals were being played were relayed with veracity, and muting, brushing, and ringing techniques were all vividly realized through the Aurora 1000s. Likewise, double bass playing techniques were easy to hear, and I could discern the minutiae of picking, muting, and sliding of the instrument throughout the tracks. The low-frequency extension of the speakers was deep enough to give the double bass a solid foundation and made it the rhythmic anchor of each track. "Opening" was an oh-so-satisfying listen on the Aurora 1000s; I have been on a minimalist jazz kick recently, and this album on these speakers really hit the spot for me.
Tangerine Dream has been around for over 50 years in one incarnation or another and should be considered an electronic music institution more than a mere music group at this point. They have been through many different phases, some that I enjoy more than others, but their current phase is a delightful mix of new sounds and modern production methods combined with the familiar musical structures their fans know very well. A new release from them in February 2022 is "Raum," and it shows us what Berlin-style electronic music can achieve with modern production techniques. The intricate compositions, wide array of synthesizer sounds, and sophisticated studio trickery all combine to make this a vibrant album that is best experienced on a serious sound system.
the bass was strong without being overbearing on the Aurora 1000s.

In "Raum" by way of the Aurora 1000s, I could hear the lead synth hold a center image while arpeggiated accompaniments swirled all around against a background of ethereal atmospherics. In some tracks, lead synths would playfully pan across the soundstage as though the sound itself were dancing. Some tracks used purely electronic percussion but others used acoustic percussion, or at least emulated acoustic percussion, and those moments lent the music a slightly psychedelic rock vibe. In the more ambient tracks, slow attack pads swept over the scenery, and the Aurora 1000s seemingly projected this soundscape well outside the bounds of the speakers' placement. A warm synth bass sound shored up the intricate sequencer patterns, and on the Aurora 1000s the bass was strong without being overbearing. At times, banks of synths would form dense patterns of interlaced melodies and rhythms, and the speakers never lost the individual definition of each synth in either tonality or spatial location. "Raum" was an engaging and delightful album that proves Tangerine Dream is still a musical force to be reckoned with after all these years, and I am glad to have listened to it on speakers as capable as the Aurora 1000s proved to be.  
For something that could exercise the dynamic range of the Aurora 1000s as well as demonstrate their capability in bass, I listened to The Upbeats' "Not Forever," a 2021 release from Vision Recordings. This album is a blend of pop music with drum'n'bass, so it goes heavy on electronic percussion and bass. As such, it is a good stressor for loudspeakers at elevated levels. It also happens to be a lot of fun to listen to. The speakers looked like they could handle high volumes, but it was something that had to be checked to be sure, so, as my duty as a reviewer, I cranked the volume to see if the Aurora 1000s could take some of that drum'n'bass heat. 
While the Aurora 1000s had bass, it was not exaggerated bass. Nonetheless, they could belt out the low frequencies when called upon to do so by "Not Forever." Kick drums were given genuine punch, and bass lines had enough muscle that subs were not needed to get the intended sensation of this music. Subwoofers might have added a bit more grunt and made the lower notes a bit thicker, but the Aurora 1000s definitely brought the mid-bass thump as well as some deep bass rumble. The speakers could take the higher volume levels without complaint, and I think I would need a more powerful amp to get them into trouble. My 120-watt RMS per channel amp was more than sufficient for the loudness level I could tolerate, and I am sure that level is likely more than what most people would crank these speakers at. Lead synths and vocals remained crystal clear at any loudness level, and the snares had the snap I would have expected of a live drum kit. One highlight (among many) was the track "Villain's Cowl," and the last track "Horizon" sounded terrific at a high level. These speakers killed it with "Not Forever," and anyone looking for a speaker that can rock without breaking a sweat at a reasonable price has a great option in the Aurora 1000s.
Movie Watching
if your ready to move up from your soundbar system, the Heco Aurora's are a HUGE step up in sound quality!

While I had the Aurora 1000s, I watched the recent horror movie "Antlers," which is about a boy hiding a terrible secret in a Northwest Pacific community where people are going missing. The trailer promised a creepy supernatural thriller and possibly a good demonstration of what the speakers could do for a traditional monster movie. In any monster movie with good sense, the source of the scares is kept out of sight until the end, and so the movie relies largely on sound cues to gin up its scares until then. "Antlers" wisely follows this formula, and so good sound reproduction is critical to getting the full experience in a movie like this. A surround sound system might have put more effects sounds behind or above my listening position, but the Aurora 1000s did a great job of sourcing effects noises anywhere in the space in front of me. I did not miss surround speakers at all nor the center for that matter, although I was listening at an equidistant point between the speakers where a center speaker isn't as advantageous. Javier Navarrete's evocative orchestral score was led by an eerie piano melody backed by some apprehensive strings, and it shined on the Aurora 1000s. The speakers gave the music a wide breadth and depth that is fitting for a cinematic score, or, to put it another way, the speakers gave the music an open, big-screen sound instead of a squashed presentation that a soundbar might have had. Watching "Antlers" proved that the Aurora 1000s can bring a movie theater sound experience into my living room rather than just get louder than normal speakers, although they have no problems getting loud. If you are ready to move up from your soundbar system, a pair of these would be a huge step up in terms of sound quality.
One film I had a chance to watch using the Aurora 1000s was 2022's "The Batman." Word of mouth had been very good for this film, and I wanted to see it but hadn't yet found a chance, so its arrival on HBO Max along with my tenure with the Aurora 1000s provided me with an opportunity to see what they could do with a major action movie sound mix. A near 3-hour Batman movie with a 185-million-dollar budget is undoubtedly going to be an aural endurance test, so I cranked the volume to see how close the Aurora 1000s could replicate a night at an IMAX.
The Aurora 1000s delivered the big-screen sensation I was hoping for.
"The Batman" proved to be a thrilling movie experience, and the Aurora 1000 speakers turned out to be a great choice to hear this movie. The Aurora 1000s conveyed the sonic palette of Gotham City in fine detail, from the light tapping of raindrops, distant sirens, leaking music from clubs, and the hustle-bustle of everyday city life. I was surprised that this movie, despite its length and budget, was more subdued than the Christopher Nolan or Zach Snyder Batman movies, so it didn't quite leave me as fatigued by the end despite its 3-hour length. That isn't to say it wasn't lively, and the Aurora 1000s were able to give the action scenes with the kind of gusto one would expect from such a large speaker, but rather there were much smaller scale, personal interactions that didn't need blazing loudness, and the Aurora 1000s attended to those moments with an eloquent reproduction as well. Micheal Giacchino's pensive musical score was a great match for this Batman's moody and methodical character style, and, on the Aurora 1000s, it gave the movie a deep undercurrent of tension that was reminiscent of a horror film. The other aural highlight of the movie was undoubtedly the Batmobile, which, in this version, is a melange of muscle cars with a rear-mounted V10 that had absolutely ferocious growl. It sounded fantastic on the Aurora 1000s, although I do think a subwoofer might have added a bit more of an infrasonic buzz. All in all, "The Batman" sounded fabulous on the Aurora 1000s, and they definitely delivered the big-screen sensation that I was hoping for. 

See also:
Confused about what AV Gear to buy or how to set it up? Join our Exclusive Audioholics E-Book Membership Program!
Recent Forum Posts:
lovinthehd posts on May 27, 2022 23:59
Eric Myers, post: 1559287, member: 98737
Maybe…who knows really. Sure am having a lot of fun jamming out on them!

Well now I really doubt you can tell (let alone did any actual convincing comparisons)….but glad you're enjoying the speakers
Eric Myers posts on May 27, 2022 23:37
Maybe…who knows really. Sure am having a lot of fun jamming out on them!
lovinthehd posts on May 27, 2022 23:25
What does loosened up mean, you got accustomed to them?

ps enjoy the rocking out!
Eric Myers posts on May 27, 2022 23:24
I can say they loosened up no question at all, and I generally don't buy the whole break in jive. Didn't run Fear yet…tonight is Rush and Triumph from new acquisitions!
lovinthehd posts on May 27, 2022 23:18
You could tell when the speakers were "broken in"? That's quite an accomplishment. How's Chocolate Chip Trip on 'em?
Post Reply