Ultra High-End Loudspeakers of AXPONA 2019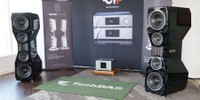 The AXPONA show for 2019 was bigger and better than ever, and Audioholics was there to see and hear much of the best that was on display. In this segment of our coverage, we take a look at the more over-the-top speakers on exhibit, the 'dream speakers' that comes to mind when we purchase a lotto ticket. They may not be affordable, they might not be at all practical, but these are some of the most unrestrained, dramatic, and mind-blowing speakers that AXPONA had to offer.
Audioholics was at the 2019 AXPONA show and in this segment of coverage we look at the most outrageously expensive tower speakers manufacturers have to offer. Which is your dream speaker? Read on.