Definitive Technology Demand D15 Tower Speaker Review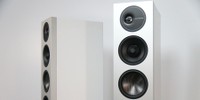 More than two years after Definitive Technology launched their Demand series bookshelf speakers, they have expanded the line to include some tower speakers. However, the Demand tower speakers look to be a lot more than simply larger versions of the bookshelf speakers. They show a significant design departure from past Definitive Technology floor-standing speakers, and that has us interested in this new direction. In our review of Definitive Technology's new Demand D15 floor-standing speaker, we will look at why Definitive Technology has changed their direction in loudspeaker design and see what advantages this new direction holds.
Definitive Technology Demand D15 Tower Speaker are beautifully crafted and sound terrific. But, how do they compare to the similarly priced BP-9000 in their product line? Read our review to find out.