Bowers & Wilkins New 801 & 805 D4 Signature Speakers Demo Audible Improvements!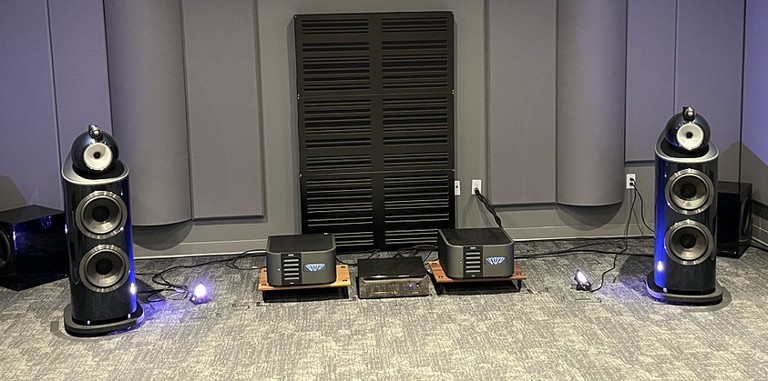 Bowers & Wilkins 801 D4 Signature
Summary
Bowers & Wilkins 801 D4 Signature
Diamond tweeter
Solid-body Tweeter-on-Top
Continuum™ cone FST
Anti-Resonance plug
Biomimetic Suspension Turbine™ Head
Matrix™
Aerofoil™ cone bass units
Flowport

Description - 3-way vented-box system
Drive units -

1x ø25mm (1in) diamond dome high-frequency
1x ø150mm (6in) Continuum cone FST midrange
2x ø250mm (10in) Aerofoil cone bass units

Frequency range - 13Hz to 35kHz
Frequency response (+/-3dB from reference axis) - 15Hz to 28kHz
Sensitivity (on-axis at 2.83Vrms at 1m) - 90dB
Harmonic distortion -

2nd and 3rd harmonics (90dB,1m on-axis)
<1% 30Hz – 20kHz
<0.3% 100Hz – 20kHz

Nominal impedance - 8Ω (minimum 3.0Ω)
Recommended amplifier power - 50W – 1000W into 8Ω on unclipped program
Max. recommended cable impedance - 0.1Ω
Dimensions -

Height: 1221mm (48.07")
Width: 451mm (17.76")
Depth: 600mm (23.62")
Net weight 100.60 kg (221.79 lbs)

Finishes -

Gloss Black Cabinet, Black Grille
White Satin Cabinet, Grey Grille
Rosenut Cabinet, Black Grille
Satin Walnut Cabinet, Grey Grille
Executive Overview
Recently, I was invited to Masimo's Sound United facility in Carlsbad, California to take part in a two-day event celebrating a behind the scenes look at Bowers & Wilkins newest and possibly most ambitious speaker yet, the 800 Signature Series floor standing loudspeaker. The press event was much more than a glorified listening test. It was a time for professional audio journalists to come together and talk about sound and the history of an iconic loudspeaker institution. Sound is something that Bowers & Wilkins does well. After all, their motto is, "We will never stop trying to make a better loudspeaker."
Bowers & Wilkins 801 D4 Signature Loudspeakers Perfect Pairing w Classe Electronics?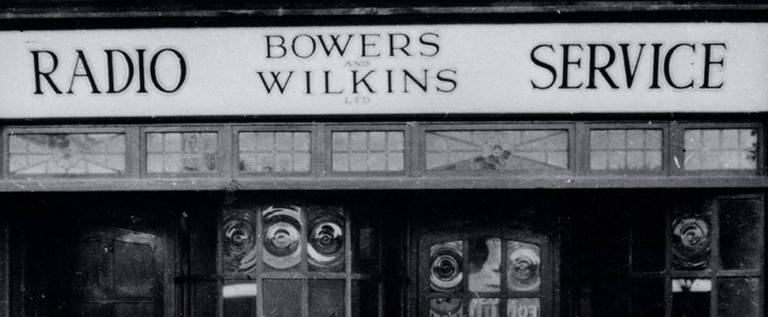 Andy Kerr, Director of Product Marketing for Bowers & Wilkins, relived the history of Bowers & Wilkins in great detail. It's a well-woven story, an extraordinary journey from MI6 (think James Bond) to Abbey Road studios. During their fifty-plus years, Bowers & Wilkins (formerly B&W) underwent and incredible transformation from a simple radio and electronics shop in Worthing, England, to the Steyning Research Establishment, one of the most advanced speaker development and design facilities in the world.
Fans of Bowers & Wilkins speakers often call them by their original name, B&W. Kerr pointed out that the name officially changed to Bowers & Wilkins over a decade ago. Ironically, they are found in all new BMW cars, and it's the BMW name that precipitated the change. Computer search engines have a hard time distinguishing between BMW and B&W!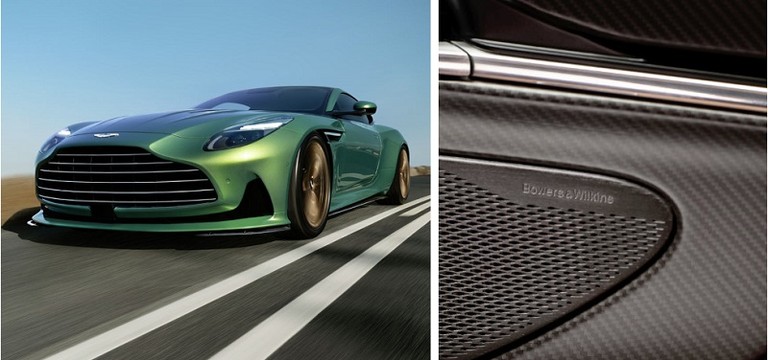 Kerr painted the picture in great detail bringing the story to life, eventually bringing the lore around to today's Bowers & Wilkins products found in everything from noise cancelling headsets in all Fly Emirates Airplanes to Phillips displays, to Aston Martin cars, which is not accidental considering John Bowers history with MI6 and James Bond's affinity for Aston Martins. Needless to say, it doesn't hurt that Andy Kerr recounts the story with quite the British accent.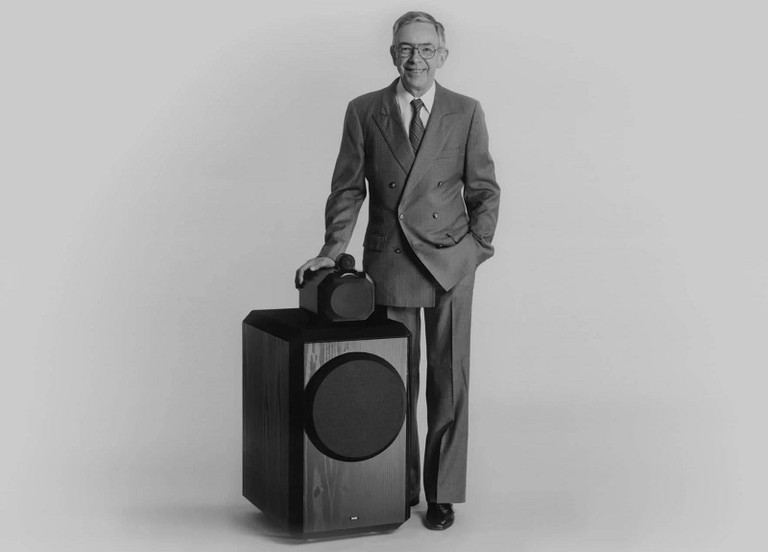 Kerr goes on to tell the story of Bowers & Wilkins iconic 801 series speakers. "The brief to the engineers was absolute free rein to develop the very best loudspeaker they could, without any of the usual restrictions." After four years of research and development in 1979, the 801 was released and shortly thereafter the reviews came in dubbing the 801 one of the most refined speakers in the world. The breakthrough moment for the 801 came when EMI adopted it as its reference monitor at Abbey Road Studios, leading many other facilities around the world to follow suit.
More accolades on the 800 series ensued. The Matrix, The Nautilus, The Diamond Series (sometimes called the D3) and most recently, the 801 D4 were all given great attention by us all.
Our attention was turned to the rear of the room as the fabric was lifted from an amorphous object revealing Bowers & Wilkins' newest speaker, the 801 Signature D4 – the ultimate version of their acclaimed 800 Series Diamond loudspeaker range. Bowers & Wilkins only uses the Signature name sparingly, reserving it for the rare and radically upgraded versions of its conventional loudspeakers and technologies. Since the brand was founded in 1966, only seven series of loudspeaker have carried the prestigious Signature mark – a reflection of its prestige and exclusivity.
The new Bowers & Wilkins 801 D4 Signature speaker builds on a heritage that stretches back to the acclaimed Silver Signature loudspeaker of 1991, originally developed as a posthumous tribute to the founder of the company, John Bowers. The new models build on the already exceptional performance and aesthetic benchmarks of the 801 D4 and 805 D4 models that form the basis of their respective designs, featuring carefully upgraded componentry plus luxurious and beautiful new finishes.
-Bowers & Wilkins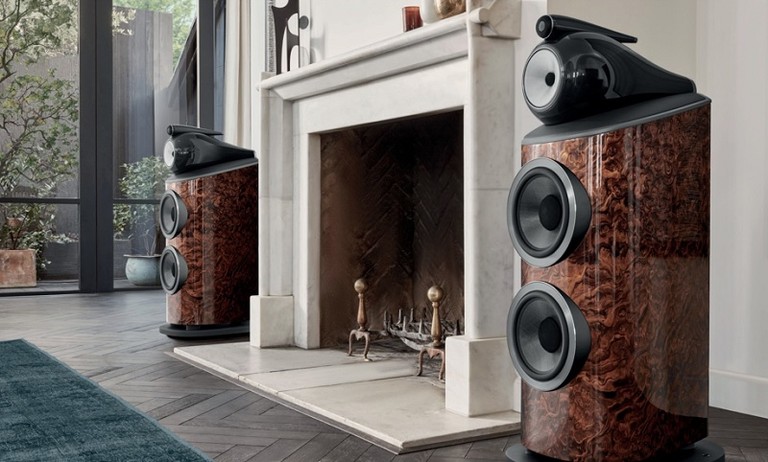 The speakers looked exquisite. A new California Burl Gloss wood version intertwined reddish hues with darker browns, featuring unique wood figuring and a luxurious high gloss finish trimmed in black leather by Connolly. The wood veneer is sustainably sourced engineered wood from Italian specialist, ALPI. All said, the finishing process takes no less than fourteen coats of lacquer and multiple sanding processes. The total finishing time for a single 801 D4 Signature in California Burl Gloss is over 24 hours!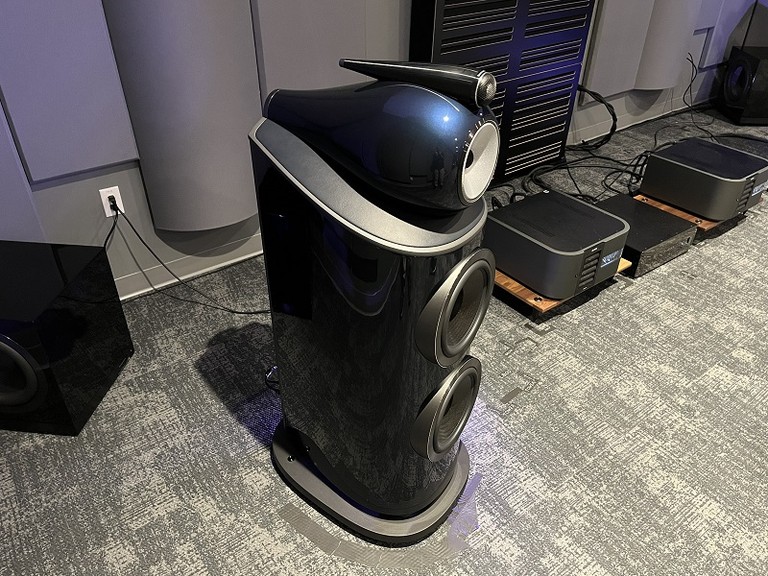 Beautifully Acoustically Controlled Demo Room - Notice the Superb Classe Monoblock amplifiers powering the 801 D4 Signature Speakers

The other new color was just as appealing. The Midnight Blue Metallic paint is the same as offered on the iconic Nautilus loudspeaker, featuring eleven coats of paint and lacquer that are machine polished to a gleaming and lustrous finish. Excluding curing times, the paint application process alone is over 18 hours of labor. The Midnight Blue Metallic loudspeakers are also trimmed with blue leather by Connolly on the top plate.
The 800 Series Signature represents the coming together of everyone across the Bowers & Wilkins brand, from our colleagues in manufacturing to our world-class engineering teams in R&D, to produce the very best loudspeakers that we have ever made. I'm incredibly proud of the collective effort that has gone into producing the new 800 Series Signature models and I can't wait to hear what both reviewers and our customers make of them.
--Dave Sheen, Brand President of Bowers & Wilkins
The new 801 D4 Signature is more than a simple change in veneer colors. The $12k price difference would imply as much, but what has changed?
Design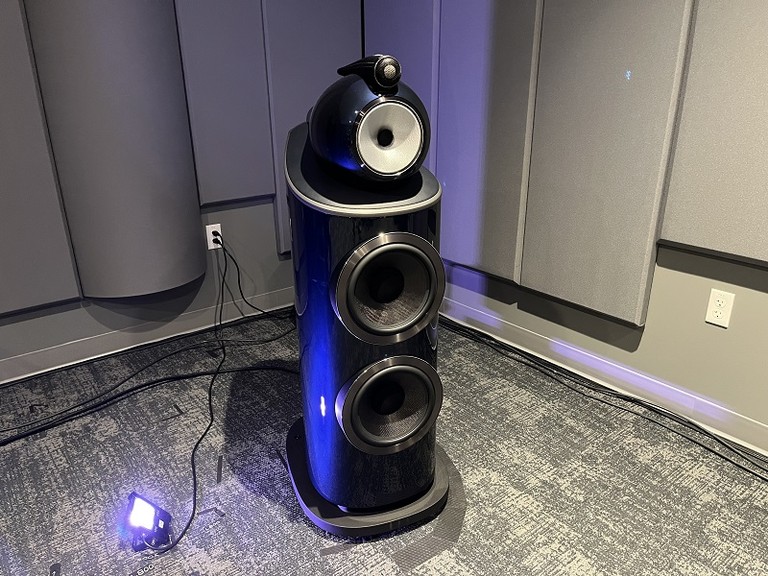 The 801 D4 Signature is a three-way floor standing loudspeaker that builds on the specification of the 801 D4. The new speaker is based on the brand's Diamond Dome tweeter and Continuum Cone FST midrange drive unit.
For bass, the 801 employs powerful twin 10" Aerofoil Cone bass drivers with upgraded and improved magnets to their motor systems compared to the 801 D4 model.
We got a chance to see the newly enhanced aluminum top plate beneath its Turbine Head midrange enclosure. This new design uses a new optimized skeletal structure and carefully placed damping material. Bowers & Wilkins says these advancements "Greatly reduce unwanted resonance from the top of the enclosure."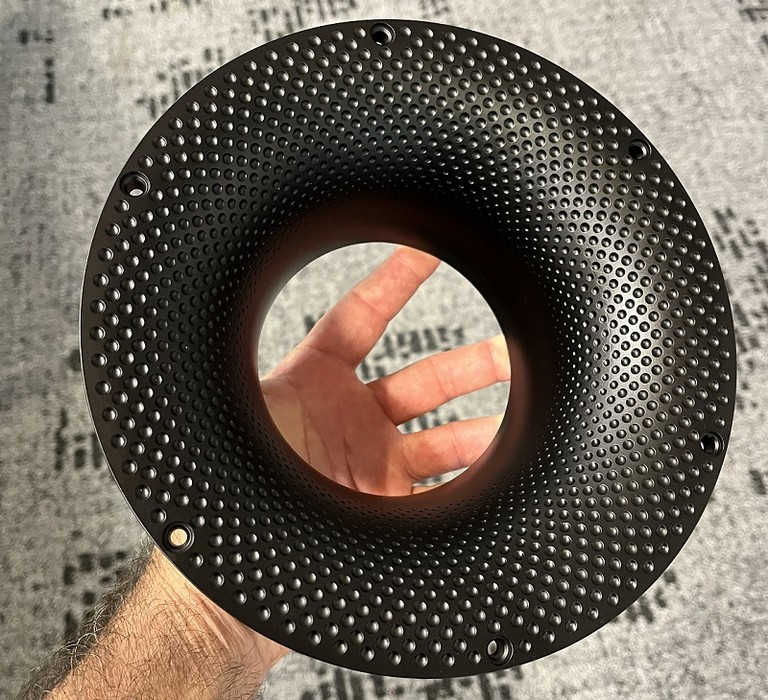 The port assembly on the 801 D4 Signature has also received some significant upgrades. It is now cast from aluminum, creating a stiffer and quieter structure that is less prone to unwanted port noise. Many speakers have a plastic surrounded port that has a tendency to vibrate at certain frequencies. Bowers & Wilkins claims that the updated aluminum port along with the Aerofoil Cone bass drivers results in "even cleaner, lower distortion and more accurate sounding bass."

There are also substantial changes to the 801 D4 Signature crossover aimed at further increasing transparency with new bypass capacitors for every element of the assembly.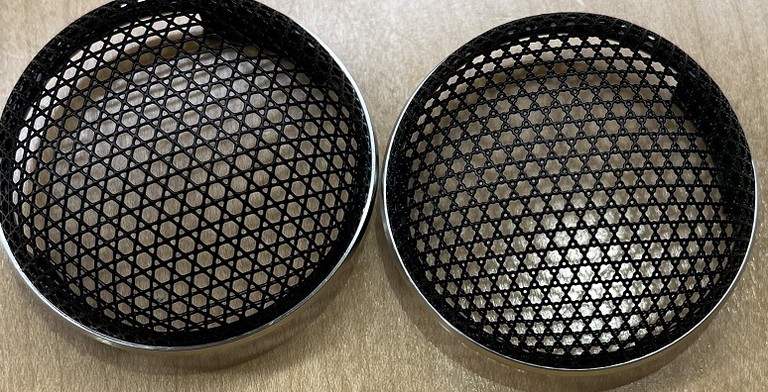 original grille (left)                     New more open grille (right)
Finally, the 801 D4 Signature introduces a new FEA-optimized design of tweeter grille mesh that builds on the transparency offered by existing Bowers & Wilkins loudspeakers. The new mesh provides a new blend of transparency and stiffness, designed to allow for even more energy from the Diamond Dome tweeter into the room while guarding the diaphragm against unwanted damage.
Listening Tests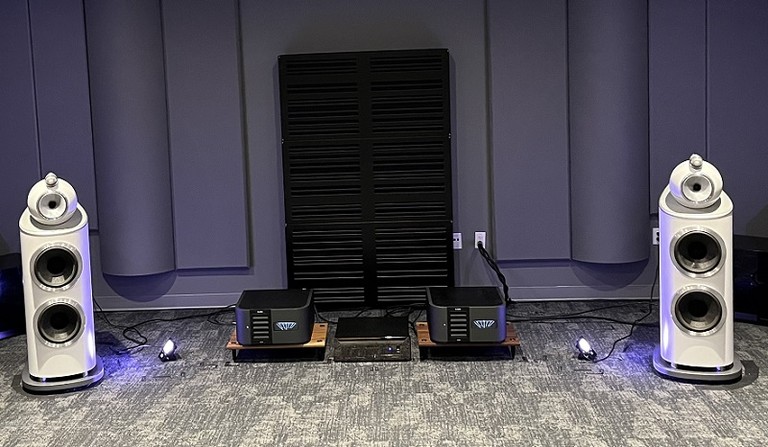 Our group gathered in one of the many listening rooms for an interesting demonstration. Our first session was with the original 801 speakers. Just a few snippets of songs to remember how clean they sound or for those of us who had never heard the 801s to hear firsthand how good they really are. We moved places between songs so everyone could get a chance in different seats to see the dispersion of sound from different areas. The speakers sounded as I remembered them – incredible. The room-filling sound was bright without being brittle, the bass was deep and clean without distracting resonances.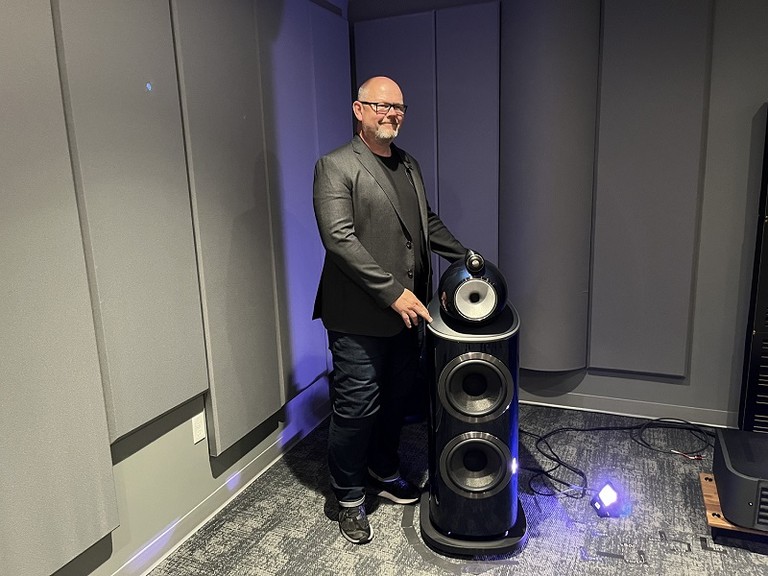 Andy Kerr asked for silence at the end of the last song while the new Signature 801s were brought into place and laser leveled to the same accuracy of toe in as the original 801s that we'd had just heard.
We listened to an Audioholics.com favorite, Dominique Fils-Aime's "Birds".  I was very familiar with the song and have used it as material for many listening tests on a variety of speakers. The bass did indeed feel deeper with the new Signature series. It was still as accurate as the original, but just a bit more punch. I was seated near the Classe amplifier and confirmed that the speakers were playing at the same level as they were with the originals. As a scientist, I like to compare apples to apples, after all. There was a subtle fluttering at the end of each drum hit that I had not heard before and thought that the speaker might actually be breaking up, but further listening determined it was part of the song that I had missed even after extensive time with the song.
The demonstration played through songs from Taylor Swift to Billie Eilish. The difference was there, the improvement definite. It was subtle, as it should have been. Better bass, midrange, treble, soundstage, and dynamic range were all discernable.
805 D4 Signature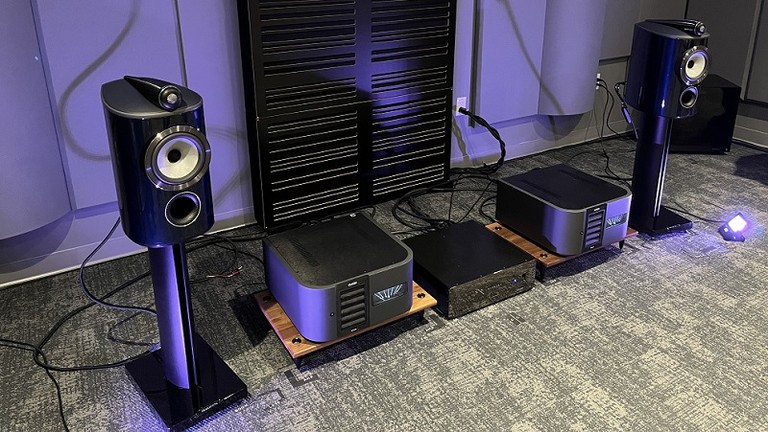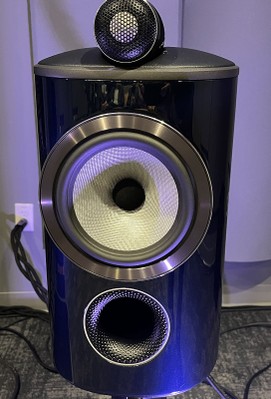 During our time at Masimo, we also got a chance to see and listen to Bowers and Wilkins' other new release, the 805 D4 Signature. The $12,000/pair 805 D4 Signature is a stand mount speaker designed to bring "category-defining levels of transparency and accuracy to a more compact loudspeaker footprint." I was completely blown away from the sound coming out of a 6.5" driver without the use of a subwoofer.  Before the demonstration I asked Andy if any of the subwoofers around the room were plugged in. He reassured me that they weren't.
As with the larger 801 D4 Signature model, the 805 D4 Signature comes in the two Signature colors, California Burl Gloss Wood and Midnight Blue Metallic.  The 805 Signature also includes the new grille mesh for more openness and transparency, plus a new upgraded crossover with bypass capacitors.
In addition, an all-new bass / midrange motor system features upgraded performance from its 6.5" drive unit, ensuring both a cleaner delivery through the midrange plus more extended bass. Finally, it features mechanical revisions to its aluminum top plate aimed at further reducing unwanted noise and vibration from the structure.
The 805 D4 Signature brings new standards of performance and capability in a smaller, more room-friendly form factor than its mighty sibling.
--Bowers & Wilkins
Conclusion
Masimo and Bowers & Wilkins put on quite a show for the release of their newest Signature models, although no grandiose parlor was needed: the best part was the speakers. They truly were works of art in both visual presence and sound. Bowers & Wilkins fans with the means to purchase the 801 Signature Speakers at $50,000/pr. will be quite happy with their acquisition of such a fine piece of machinery or as Gene often points out "furniture that sounds good".
As with all Signature loudspeakers over the decades, both our new 800 Series Signature models are the perfect embodiment of Bowers & Wilkins' product philosophy and are a proud addition to our heritage in this category. The company remains passionate about providing the best, truest listening experience we can. The 800 Series Signature models are the next step in the journey towards this goal. This is the best of our best.
--Bowers & Wilkins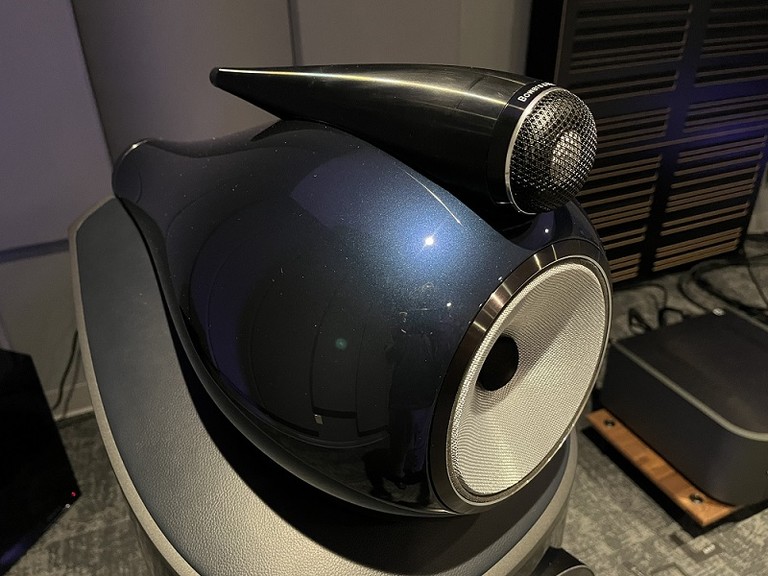 Both the 801 D4 Signature and the 805 D4 Signature will be available now through selected Bowers & Wilkins dealers and our channel partner Audio Advice. Gene will be at the Audio Advice Live show Aug 4-6th, 2023 and will be giving his own listening impressions in an up coming Youtube video on our channel so stay tuned.

Unless otherwise indicated, this is a preview article for the featured product. A formal review may or may not follow in the future.