Sound United Sold to Medical Supplier & What the Future May Hold
Sound United Sold to Medical Supplier & What the Future May Hold

Sound United sold to Masimo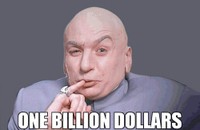 Sound United is an audio company that needs no introduction here, its portfolio is easily one of the largest in the market and includes heavy-hitters Denon, Marantz, Definitive Technology, Classe, Polk, HEOS, Boston Acoustics and most recently, Bowers & Wilkins. On Feb 15th, the legendary brand-collective announced that it will have a new owner as Sound United has just entered a definitive agreement to sell to Masimo Corp for $1.025 billion dollars. Besides the complete stable of brands, Masimo will acquire all Sound United assets including global and online distribution, retail and custom install channels, cloud-connected home ecosystems and Sound United's R&D and industrial design.
Cue Obligatory CEO Press Statements
Sound United CEO Kevin Duffy says of the deal:
"We're excited about this transaction and see significant potential in combining our expertise in consumer electronics and audio engineering with Masimo's strengths in healthcare and monitoring. With our track record of industry-first innovation, best-in-class products, and a global distribution network, we are the ideal partner for Masimo to transform the consumer healthcare experience. I look forward to working with the Masimo team to enrich the lives of consumers."
Masimo founder and CEO Joe Kiani says:
"I have long been a fan (and now proud owner) of Sound United's iconic brands and am honored to steward them through the next generation of technological evolution. Masimo shares Sound United's commitment to providing innovative, best-in-class products and experiences, with a relentless focus on improving the consumer experience."
According to the official Press Release mutual benefits of the deal look like this: 
Sound United's iconic audio brands will benefit from Masimo's expanded organizational resources to drive long-term innovation and development




Masimo will benefit from access to Sound United's consumer-centric brands, global omnichannel go-to-market expertise, connected cloud-based ecosystem, and ever-present relationship with millions of consumers.



What Parameters Can Sound United-Brand Fans Expect?

The deal came as a surprise to all of us at Audioholics. The initial reaction was disappointment, a natural reaction when faced with change to an already good thing. But there might be reason for cautious optimism. Sound United under DEI Holdings has a reputation for not being overly hands-on with the various brands it acquires, as each brand retains their individuality while benefiting from being part of a larger firm. Under Masimo however, the parent firm just got larger.
After some light searching to get an idea of the involved company's relative size, a couple of recent sources shows Sound United parent company, DEI Holding with revenue around $500-million per-year, a small part of that is likely Sound United. Masimo had a great year in 2020, with revenue at over $1-billion and 19% growth in the year of COVID-19. The pandemic has likely been good for medical supply company revenues.
Joe Kiani and Masimo Corp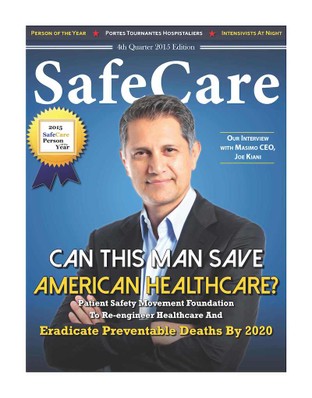 I found nothing prior to the Sound United deal's press release connecting Kiani to the audio world. But no doubt, after buying one of the top audio companies in the world we have no reason to doubt the statement that he's "...always been a fan." Sound United seems like an oddly specific acquisition for a medical tech firm. But Joe Kiani is not just a Johnny-come-lately CEO dropped-in to fill a specific purpose at Masimo. Kiani is also the company's founder and chairman of the board. He seems to be the charismatic entrepreneurial type of leader in the "noninvasive medical monitoring" market, complete with Elon Musk-like aspirations beyond running a successful company. But instead of outer space, Kiani's attention is toward saving lives from hospital error.
Originally from Iran, Kiani came to the US with his engineer father and nurse mother, the apple didn't fall far from either parental-tree. After earning a degree in electrical engineering himself, he started his medical technology company, Masimo in 1989. The Masimo story is an Apple-like startup tale of humble beginnings in the garage of his own home. The company's breakthrough was an innovation in pulse oximetry technology, a noninvasive way to measure blood oxygen in patients. So, Kiani seems to be no stranger to either electronics or lifelong dedication.
Alongside the success of his business, Kiani has been something of a change agent in medicine promoting what's called the Patient Safety Movement. Starting in 2002 he began writing a series of pieces for the New York Times where he advocates for better management of medical suppliers for the sake of patient safety. By 2013 he founded the Patient Safety Movement Foundation, dedicated to eliminating medical errors that harm patients all over the world.
What do you think about the Sound United buyout? Please share your comments in the related forum thread below.
What's the Connection Between Patient Monitoring and Audio?

Apparently none, according to initial investor reaction.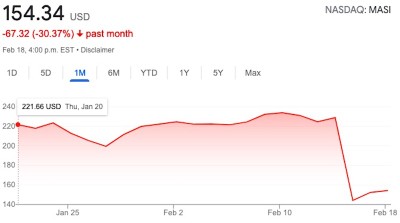 Masimo's NASDAQ listing didn't seem to share Kiani's enthusiasm about the Sound United deal. In the days immediately following the announcement Masimo stock took a serious nosedive. But is there method behind the purchase? Research analyst at Needham & Co, Mike Matson has this to say about the sell-off reaction to Masimo's acquisition:

"While we understand investors' consternation over the Sound United deal, we believe that the sell-off was overdone and note that we expect the deal to be highly accretive to EPS, and we believe that investors get a free call option on MASI's consumer pipeline."
Obviously, Masimo and Kiani sees benefits in Sound United's research. This wouldn't be the first time the medical industry has employed home theater technology. Apple's Steve Wozniak famously sold his company CL9, through which he designed CORE the first-ever programmable universal remote control, to a medical supply company called Caledon. Caledon used CORE to control X-Ray machines and other medical devices for over a decade after the sale in 1991. But what can expect from the union of two very different areas of technology?
Uninformed Speculation: Equipment I'd Like to see from Masimo/Sound United
Voice-activated, multi-zone patient alarms that signals your duty-nurse's personal assistant, powered by HEOS
A groundbreaking Denon smart-watch that monitors blood composition in ways Liz Holmes of Theranos could only dream about

Acoustic heart monitoring with Dolby Atmos... "Hear every ventricle in immersive surround to pin-point problem-areas"

More serious speculation from those in-the-know have pointed to Masimo moving toward direct-to-consumer health monitors, which is an area that may benefit from wireless communication, in-ear technology and patents that Sound United may already hold. Brian Johnson, President of another medical technology company called MassMEDIC speculated on LinkedIn about the deal.

"I think it's a wearables play for a company that needs more opportunities to put its sensors into use on the consumer side... The ear is a perfect diagnostics hub, and we all wear our headphones all the time."
I know that "making the world a better place" is such cliched posture for technology startups that it's been duly roasted by Mike Judge in his HBO comedy show Silicon Valley. But new health monitoring technology and a foundation dedicated to better and reduced cost to patient care, there might really be something to it in Masimo. But as another cliche goes... Business is business. Only time will tell if Sound United's sale was good for consumers and what will come of its various brands. But if Joe Kiani and Masimo brings half the passion to audio that they bring to helping the sick, Sound United might receive the care it deserves after all.
Confused about what AV Gear to buy or how to set it up? Join our Exclusive Audioholics E-Book Membership Program!
Recent Forum Posts:
Knottian posts on March 10, 2022 14:49
M Code, post: 1540428, member: 43612
Can't speak for Gene but…
Clearly Sound United has too many loudspeaker brands, look for the new owner to spin a few off…
Here is where in my opinion they missed the boat..
SoundBars, BT smart speakers and headphones categories all had significant sales growth for the last 3 years and are projected to increase by 12% up to 2025. The soundbars have grown along with the flat panel HD displays, as the market demand for bigger screen sizes also to support increased demand for better surround audio including Dolby Atmos and DTS-X. Here the audio brands need to compete in the growth categories as they deliver a higher profit margin than AVRs…

Just my $0.02…

My hope is that Boston Acoustics is the one spun off, if any are; they haven't been active for some time and unlike Polk and B&W (and some cases DefTech) aren't being awarded honors from some of the bigger outlets/reviewers. Spin them off and you have coverage for three market sectors. Not sure if any others would
need
to be sold or spun off, as I don't see too much in the way of overlap of Denon, Marantz, and Classe.
Of course, this is assuming the most positive intent from Masimo post-closure. I'm wary of course, but seeing other markets where acquisitions have been beneficial to the purchased company (including with Polk and Sound United, arguably), I'm trying to be cautiously optimistic.
TLS Guy posts on March 07, 2022 18:46
M Code, post: 1544582, member: 43612
IMHO…
Besides Sound United just being sold, is that they have too many loudspeaker brands..
One can see even with (2) electronic brands, they are having difficulty positioning them strategically….
Today the CE marketplace besides Best Buy, has fewer sellers and is dominated by internet sellers who sell mainly on price. So the only other distribution channel options are the Custom AV Install specialist or the higher-end esoteric component guys that sell $2K AC cables….

Just my $0.02…

Let me translate that for you. They can not sell the products they have and can only make money by fraud. Why is this and what is the solution?
The solution is partnerships. The partnerships need to be broad.
There are too many products, especially speakers and most not very good.
The other issue is complexity. Members here are an elite tech savvy group. Most of the public, especially most potential customers have no clue how to connect modern equipment up. They often search and pay high prices for vintage gear as id you connect A to B and switch it on, it works, with no GUI fussing.
The arts are trying valiantly to produce high quality AV streams, but their potential customers have no clue how to get the stream except on an iPhone, iPad or computer speakers.
So manufacturers need to partner with arts organizations, retailers, installers architects and builders. This now requires everyone on board. That also involves getting involved with certification of all parts of the chain. That means partnership with organizations like CEDIA.
The obsolescence issue also needs to be solved. Gene on a YouTube video was talking about people selecting speakers for life, and I agree. Electronics needs to be modular, upgradable and easily serviceable, preferably onsite. So people need to able to choose their electronics for life. Reliability needs to improve enormously.
Peter Walker of Quad was always a visionary. His last preamp, the Quad 44 was modular. After his death no one had the wit to produce updated modules. This brings us to another point there needs to be far greater standardization, so that you can have a power supply rack and slot in units for the functions you need, easily, and keep your equipment current instead of regular trips to the recycling center and polluting the world, throwing out badly designed black boxes inappropriately stuffed with inaccessible circuit boards. Design currently is just awful
Things need to change radically, and that would increase income for all with a stake in the game form artist to vendor, designer, builder, installer. The end result would then be a huge increase in the quality of life for many. What we have at the moment is complex mayhem excluding the many from the benefits this technology can and should provide.
Out-Of-Phase posts on March 07, 2022 18:45
I can't help but wonder what's going to happen to Classé stereo? Designed in Canada, made in Japan with quality parts.
M Code posts on March 07, 2022 17:40
IMHO…
Besides Sound United just being sold, is that they have too many loudspeaker brands..
One can see even with (2) electronic brands, they are having difficulty positioning them strategically….
Today the CE marketplace besides Best Buy, has fewer sellers and is dominated by internet sellers who sell mainly on price. So the only other distribution channel options are the Custom AV Install specialist or the higher-end esoteric component guys that sell $2K AC cables….

Just my $0.02…
Knottian posts on March 07, 2022 14:31
ryanosaur, post: 1541377, member: 86393
An intriguing write-up, Wayde. Thank you.
In the end, patience is still advised!
We likely won't see any effect until 2023 at the earliest. I think most telling will be how long until they spin off unwanted parts…
What the hell is Boston Acoustic doing for the last couple years, anyway!?!!
The rest of the different brands all hold some promise.

(And I do have fond memories of my Dad's BA Speakers and would love to see them stick around! )

Just read the writeup as well, making a little less concerned I suppose… I was just getting used to having a single support account for my Sound United brand products, so at the very least I hope they don't piecemeal any of my favorites. I'm with you though, I hadn't heard anything from Boston Acoustics for some time and in fact, their website had been running an expired SSL cert for months; I contact them last October and I never received a response but their site is working with a proper cert now… so someone got the message.
Post Reply