Q Acoustics 5000 Series Loudspeakers Packs C3 Tech and Value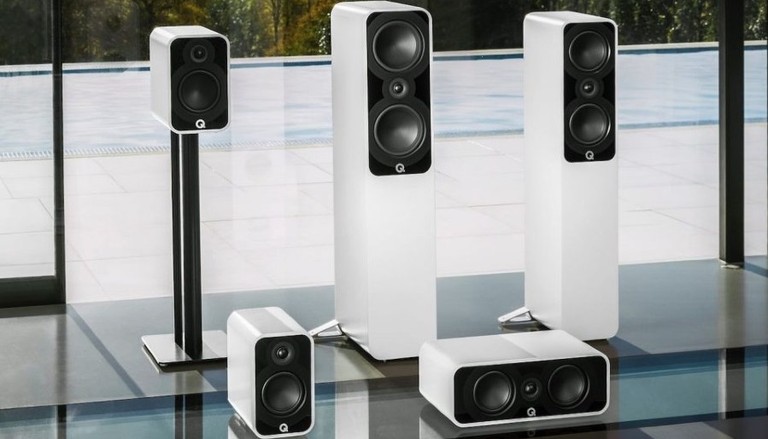 Q Acoustics 5000 Seires
Summary
Executive Overview
Q Acoustics used the recent Axpona audio show to debut an all-new range of loudspeakers called the 5000 series, which sits between the affordable 3000i range and the company's flagship Concept speakers. According to the British brand, the 5000 series borrows cabinet and driver technology from the Concept series, but the main attraction is the completely new C3 (pronounced "C cubed") Continuous Curved Cone mid-woofer. This design represents "genuine advancement in driver design," according to Q Acoustics, and will "form a technical platform for years to come." Other innovations at work in the 5000 series include Helmholtz Pressure Equalizers (HPE) that reduce internal pressure and standing waves inside the floorstanders' cabinets, and a separate tweeter chamber that is hermetically sealed and mechanically isolated from the front baffle, thus protecting the tweeter from internal cabinet pressure and resonances from the low-frequency driver(s). The speakers also feature Point-2-Point (P2P) internal bracing, designed to stiffen the cabinet in order to "minimize lower-frequency vibrations, while focusing stereo imaging and improving soundstage," according to Q Acoustics.
The 5000 series includes:
Q Acoustics 5010 ($749/pair): a small bookshelf speaker with a 4.5-inch mid-woofer.
Q Acoustics 5020 ($899/pair): a larger bookshelf speaker with a 5-inch mid-woofer.
Q Acoustics 5040 ($1499/pair): a small floorstander with a pair of 5-inch mid-woofers.
Q Acoustics 5050 (Price TBA): a larger floorstander with a pair of 6 inch mid-woofers.
Q Acoustics 5090 ($599 each): a center-channel speaker with a pair of 4.5-inch mid-woofers.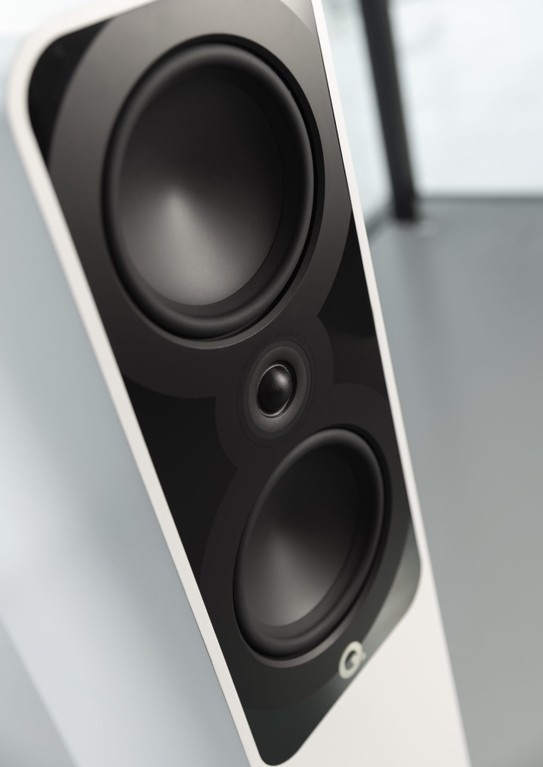 The most significant component of these new speakers is the new C3 Continuous Curved Cone design in the mid/bass driver, which reportedly provides both superior bass dynamics and smoother high-frequency integration with the tweeter. Q Acoustics says that this cone profile is the result of an extensive R&D effort aiming to combine "the bass performance benefits of a traditional straight conic cone with the high/mid-range frequency control of a flared cone." The advantages of the C3 cone design are said to include excellent dispersion and a well-controlled frequency response, which both contribute to the smoother integration with the tweeter. Meanwhile, the deep bass dynamics are improved, and a tighter, damped low-end sound allows for improved flexibility in loudspeaker placement within the listening room, according to Q Acoustics. Harmonic distortion is also reduced, helping the 5000 series deliver "a sonic performance and wide soundstage that belies its ranking."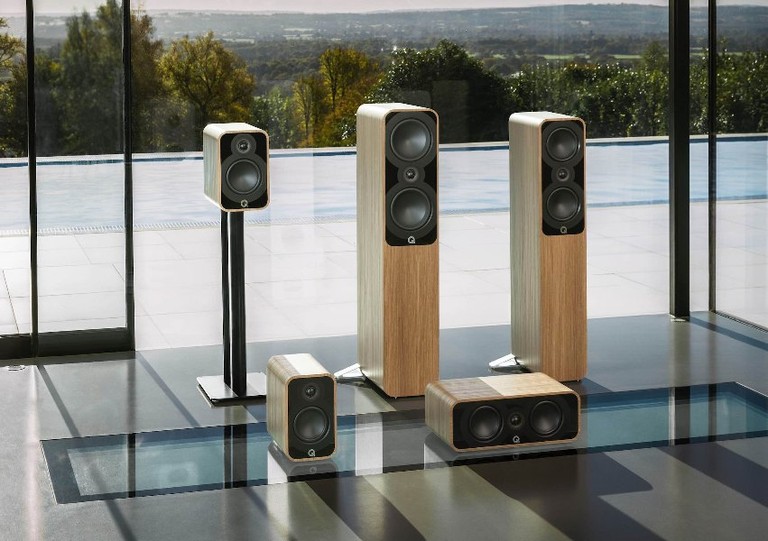 Like all Q Acoustics speakers, the 5000 series offers contemporary industrial design, with sophisticated curves, and front baffles laminated with a layer of butyl rubber and trimmed in black acrylic. This lamination process isn't just an aesthetic choice, however. It also provides a damping layer to suppress vibration occurring in the baffle. The speakers do look exceptionally clean, with their front baffles uninterrupted by any visible screws or fixings. High-quality finishes include Satin Black, Satin White, Santos Rosewood, and Holme Oak.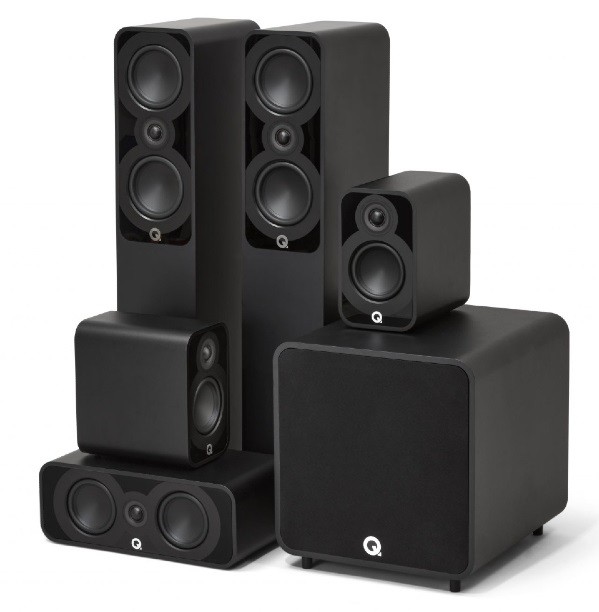 Here in the USA, the Q Acoustics 5000 series is launching exclusively at Dreamedia. The 5020 bookshelf speakers and 5040 floorstanders are available now; the 5010 bookshelf speakers and 5090 center-channel speaker is available for order now. The launch date of the large 5050 floorstanding model has not been announced. For home theater customers, Q Acoustics will be offering two specially-priced 5.1-channel packages (in Satin Black or Satin White finishes only), which pair 5000 series speakers with the brand's $999 QB12 subwoofer. The small package uses the 5010 bookshelf speakers for both fronts and rears, and costs $2,845. For larger rooms, a package including the 5040 floorstanders for the front channels costs $3,595.
More information: Q Acoustics 5000 series

Unless otherwise indicated, this is a preview article for the featured product. A formal review may or may not follow in the future.