New Focal Theva Speaker Line: Is Affordable & Made in France!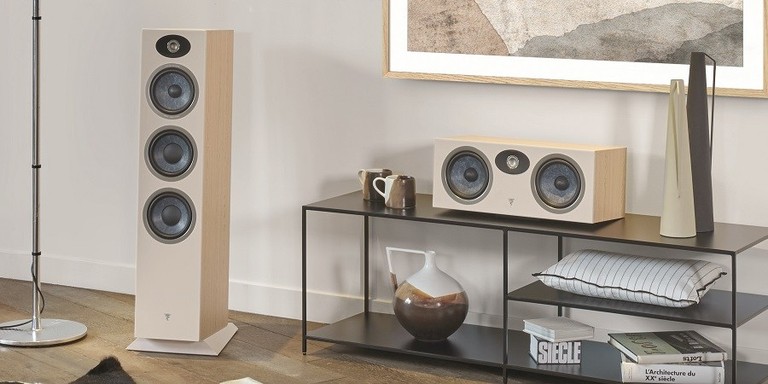 Focal Theva
Summary
Product Name:

Theva N°1, Theva N°2, Theva N°3, Theva N°3-D, Theva Center, Theva Surround

Manufacturer:

Focal

Review Date:

April 17, 2023 00:15

MSRP: $499/each - Theva N°1, $899/each - Theva N°2, $1,199/each - Theva N°3, $1,499/each - Theva N°3-D:, $649/each - Theva Center, $649/each - Theva Surround, $269/pair - Theva Stands, $149/each - Theva Center Stand
First Impression:

Pretty Cool
Executive Overview
Focal has just unveiled a new line of high-fidelity loudspeakers that have an unusual combination of being affordable yet NOT manufactured in China. The Theva line looks to have Focal's traditionally good engineering in a new entry-level speaker line from the brand while still being made in France. The Theva line replaces the Chora series which had already received wide praise for its sleek design, good sound quality, and low cost. Focal's Theva line doesn't increase the pricing much from the Chora series it replaces but brings in a more sophisticated design that advances performance for a more improved entry-level speaker. This can only be regarded as a win for the consumer, since most other brands are increasing prices without changing the speaker, especially in their entry-level products.
Focal Theva No2 (LEFT) and No3 (RIGHT)
At a glance, the Chora series shares many of the same attributes as the outgoing Chora series: similar aesthetics, similar TNF tweeter, and Slatefiber cones. Focal again employs their TNF tweeter: an inverted dome with a small-diameter voice coil and an aluminum/magnesium diaphragm. One of the unique aspects of this tweeter is the use of a Poron surround instead of the usual soft rubber. Poron is a soft material with shape memory that Focal claims can dramatically reduce distortion in the critical 2-3kHZ region where human hearing is the most sensitive. One significant difference that can be seen between the Chora tweeter and the Theva tweeter is the shape of the waveguide. The Chora uses a round waveguide whereas the Theva uses an oval one. The oval waveguide will do more to limit dispersion on the vertical plane while broadening dispersion on a horizontal plane, whereas the circular waveguide in the Chora series wouldn't have any dispersion difference for any plane angle.
The Theva line also borrows the Slatefiber cones that Focal uses in a number of other products including their professional studio monitors. The Slatefiber cone is made from non-woven carbon fibers that have been spun so that all the fibers are oriented in the same direction. Focal has found that woven carbon fiber doesn't damp the cones as much but that aligning the fiber pattern offers better stiffness than cones without a direction orientation. The fibers are impregnated with a thermoplastic polymer for added stiffness and damping.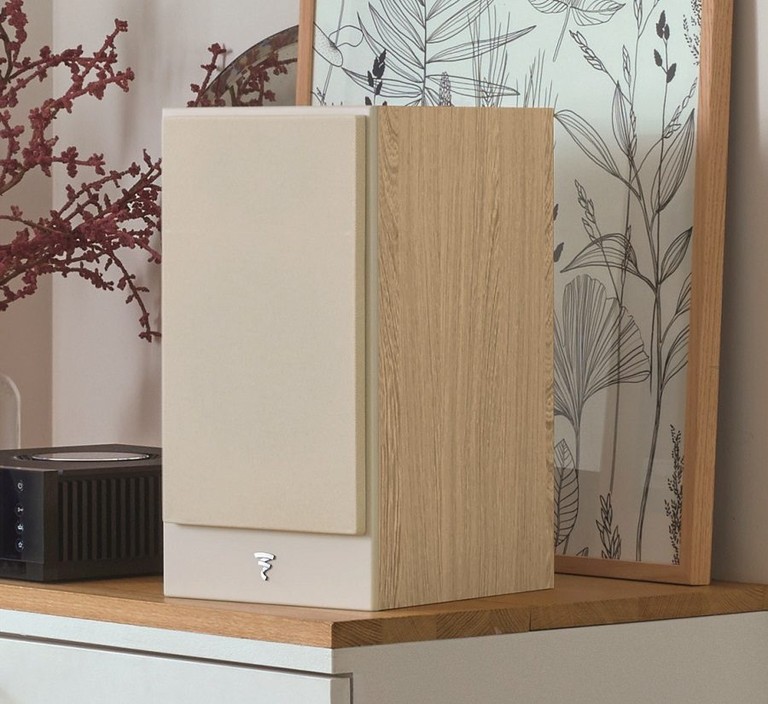 One visible change in the Theva enclosure design is that the port has been moved to the rear of the speaker as opposed to the front-mounted orientation of the Chora speakers. This will help reduce the audibility of port turbulence as well as do more to load the bass against room surfaces. It also cleans up the look of the front baffle of the speaker. Speaking of a cleaner look, the Theva grille now covers most of the front baffle instead of only part of it. The Chora grille was always an awkward design that only protected the woofers and did not cover the port or tweeter. That was strange since the tweeter is the most delicate part of the speaker, and low-mounted ports have always been an enticing compartment for small children to stuff toys or any other object that would fit.
The Theva shares a similar plinth base to the Chora that gives the tower speakers a slight backward tilt. This is done to time-align the tweeter with the woofer since the acoustic center of the woofers will usually be a bit behind that of tweeters for the same mounting frame depth. That is Focal's explanation for the lean, however, I think it was done more for visual style, and that would be good enough for me, so the speakers don't have as staid of an appearance.
The Theva line hits most of the necessary components for a home theater if that is desired. There is a bookshelf speaker (Theva N°1: $499 each), a slim tower (Theva N°2: $899 each), a full-sized tower (Theva N°3: $1,199 each), a full-sized tower with Atmos modules (Theva N°3-D: $1,499 each), a center speaker (Theva Center: $649 each), and surround speakers (Theva Surround: $649 each). The one thing that would round out this speaker line better is a more appropriate subwoofer. Focal has subwoofers but not one that quite fits the Theva line. The pricing for Focal's 600P sub seems like a better fit for the Vestia or Aria series, and their Cub Evo and Sub Air subwoofers would be underpowered for the Theva speakers. It's possible that Focal wants to keep most of the manufacturing in France, and that would be too difficult to do within a reasonable cost with a product that has a plate amp. A missing sub for the line isn't a big deal, since there are a lot of good subwoofer manufacturers with products that could fit this line just fine. Subwoofers in this class are a crowded market, and I don't blame Focal for not wanting to struggle for attention in this space.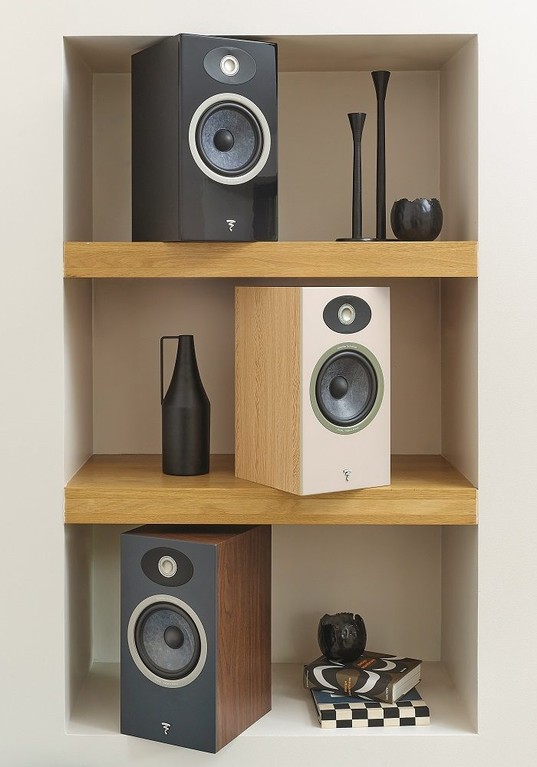 Focal Theva: Raising Performance Without Large Price Increases

Overall, the Theva series looks like an evolution rather than a revolution of their entry-level speakers, but that is just fine since there is not much need to fix something that isn't broken to begin with. The fact that they can make improvements without raising costs is a minor miracle, and to do so without moving manufacturing to China is even better. We are looking forward to hearing the Theva line in the future, so stay tuned to Audioholics to see what we think with some hands-on (or ears-on) experience.

Unless otherwise indicated, this is a preview article for the featured product. A formal review may or may not follow in the future.
Confused about what AV Gear to buy or how to set it up? Join our Exclusive Audioholics E-Book Membership Program!