RBH Sound's SFTR Speakers: Flagship Performance, More Compact Package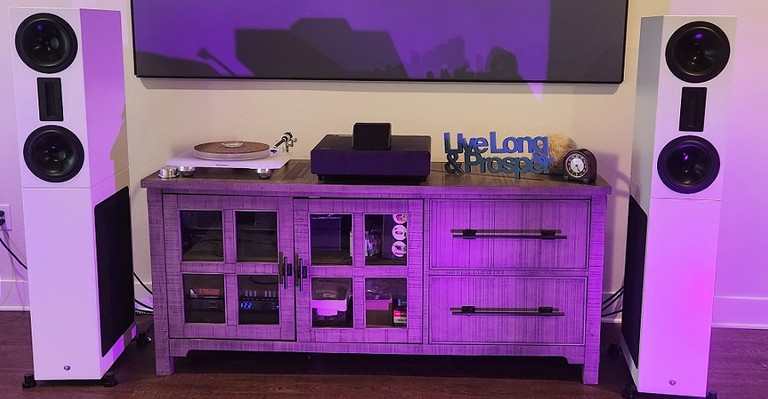 RBH Sound SFTR/AX Active Speakers
Summary
Product Name:

SFTR passive and UNRIVALED SFTR/AX active speaker

Manufacturer:

RBH Sound

Review Date:

August 15, 2023 00:00

MSRP: $14,500/pair (passive rack mounted amps), $16,500/pair - SFTR (passive internal sub amps), $22,000/pair - UNRIVALED SFRT (passive), $30,000/pair - UNRIVALED SFTR/AX (active)
First Impression:

Gotta Have It!
Frequency Response: 20Hz-35kHz (±3dB)
Sensitivity: 92dB
Impedance: 821-SF/R: 6Ω; 1212-MS/R: 4Ω; SFTR/AX: 4Ω
Dimensions: 13 ¼" x 57 ¾" x 17" D
Weight: Passive 137 lbs each, Active 160 lbs each
Executive Overview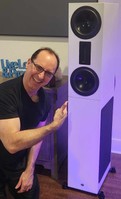 It's no secret that we're fans of RBH Sound. The Utah-based company makes some of the finest loudspeakers we've ever reviewed, as well as other products for the home audio, custom integration, professional audio, and portable audio markets. Although RBH founder Roger B. Hassing passed away in January of 2023, the company is still privately-held and operating with the same core team members who have been with RBH for decades. RBH has been designing and building high-quality audio gear since 1976, and the current product offerings include freestanding speakers, in-wall and in-ceiling speakers, on-wall speakers, subwoofers, outdoor speakers, amplifiers, and audio distribution products. Most notable among these is the massive RBH Sound SVTRS loudspeaker, which serves as the foundation of the elite home theater in the Audioholics Smart Home. At 92 inches tall and 310 pounds each, this $50K active speaker system is not for the faint of heart, but it delivers performance that more than justifies its size and price. If you can't quite accommodate the hulking SVTRS but you crave that speaker's undeniably impressive sound, RBH Sound's new SFTR modular speaker system might be just what you've been waiting for. The SFTR was developed to provide "a similar reference-grade, audiophile experience as achieved through the monolithic RBH SVTRS flagship tower, but with a considerably smaller footprint and lower price," according to the company. It is available in both passive and fully active versions, though it's worth noting that the passive version still has powered bass. The fully active version, called the SFTR/AX, features a number of advantages that allow it to deliver a level of performance simply not possible from a passive speaker system.
RBH Sound SFTR/AX Active Speaker System Transforms Your Room!

In-Room Bass Response Comparison: Revel F328be (red) vs RBH SFTR/AX (green)
Editorial Note on Bass by Gene DellaSala
My office is a very difficult room to get great bass response in from just a pair of pass full-range speakers. As you can see in the measurements above, my seating area has a large null from 30-45Hz that isn't fixable with a passive speaker like the Revel F328Be as easily as it is with an active speaker like the RBH Sound SFTR/AX. The Revel's limited bass extension sharply rolls off below 25Hz while the dual active 12" subwoofer drivers of the RBH Sound sealed bass modules produced flat room extension down to 7Hz! The end result is epic proportions of deep bass for music and movies.
Shane Rich, Technical Director of RBH Sound, recently flew down to Florida to install a prototype of the SFTR/AX in the Audioholics Smart Home. While the regular SFTR uses analog crossovers, the SFTR/AX uses active DSP crossovers and other features that supercharge its performance. In a recent YouTube video on the Audioholics channel, chief Audioholic Gene DellaSala goes over the details of this new active speaker system with Shane. They show some preliminary in-room measurements and compare the speakers' performance with that of the Revel F328be speakers to demonstrate the power of an active, DSP-tuned loudspeaker system.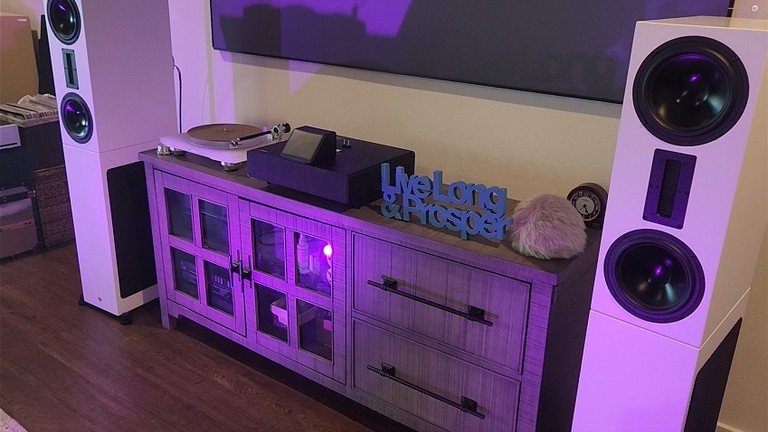 Passive or Active - How Do You Want Your RBH Speakers?

Both the passive and active versions of the SFTR modular towers promise top-tier performance in their price categories. The standard SFTR provides a passive upper module paired with 2400-Watt active subwoofers. The 821-SF/R module on top uses two newly-developed, 8-inch, proprietary aluminum cone woofers, situated above and below an acclaimed Aurum Cantus air motion transformer tweeter. This large AMT tweeter "integrates perfectly with the proprietary aluminum-cone mid-bass woofers," according to RBH Sound. The slender profile and traditional MTM alignment reportedly contribute to astounding stereo imaging. The 8-inch driver is a new design and is said to be better suited to midrange duties, thanks to the addition of shorting-rings and a new voice coil. The 1212-MS/R subwoofer module that serves as the speaker's base uses dual proprietary side-firing 12-inch long-throw aluminum cone subwoofers in a sealed enclosure. The two modules are secured to one another with steel plates. Customers have the option of choosing between internally mounted 2400-Watt RBH DSP-controlled amplifiers (with a total system cost of $16,500/pair) or a rack-mountable 2200-Watt RBH DSP-controlled DA series amplifier (which brings the cost of the SFTR down to $14,500/pair). RBH says that either option provides the subwoofer modules with enough output to create an in-room frequency response down to a seismic 12Hz in most listening environments. Buyers of the passive SFTR can choose the UNRIVALED upgrade path ($22,000/pair), which includes internal wiring by Kimber Kable, additional wall damping, and the inclusion of the RBH's newly-developed G.A.D.S. (granular acoustic damping system) technology, which further increases the performance of the speaker by making the enclosure more resonance-free, inert, and well-damped. Other upgrades include better binding posts, internal damping panels, and a wool upgrade over poly fill.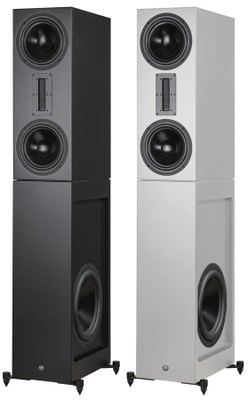 The fully active UNRIVALED SFTR/AX ($30,000/pair) offers all of the above bells and whistles, including the aforementioned patent-pending G.A.D.S. technology built into the speaker cabinet. A rack-mountable RBH Linear Phase Loudspeaker Processor unit (by Marani) and a rack-mountable six-channel RBH UNRIVALED alpha amplifier provide both speaker processing and tri-amplified power to the SFTR/AX. The fully-active version's digital crossover delivers near-perfect time alignment, resulting in the highest performance available from the SFTR form-factor. The included amplification provides 250 Watts-per-channel for the AMT tweeters, 500 Watts-per-channel for the 8-inch woofers, and 1,500 Watts-per-channel for each of the dual 12-inch long throw subwoofers. According to my calculator, that's a staggering total of 4,500 Watts for a stereo pair. The Linear Phase Loudspeaker Processor unit offers granular control with slopes of up to 48dB/octave. Finite impulse response (FIR) filters are used to correct the time and phase alignment problems inherent in almost all speaker designs. This is a major contributing factor to the superior performance offered by the SFTR/AX. The processor time-aligns the drivers and linearizes the frequency response of the speaker system to within an unprecedented ±1dB — this would be virtually impossible in a passive loudspeaker system with analog crossovers. RBH says that the customized DSP "provides active crossover management with linear phase filters for optimal time alignment at the listening position." Does that mean you need degrees in electrical engineering and computer science to set these speakers up in your space? Nope! Each system will be set up and calibrated on-site by an RBH Sound team member, so nothing is left to chance. Every SFTR/AX customer will be guaranteed the same VIP experience that Gene got in the Audioholics Smart Home. The result, according to RBH, will be "a degree of precision so sonically clear and pristine (that) it has been described as the audio equivalent of seeing an 8K video source compared to standard definition."
The SFTR is a phenomenal system. It takes a lot of the technology from the flagship SVTR system and shrinks it down to a more manageable size. Being a music lover, I'm quite fond of the tight and accurate bass response of the sealed enclosures combined with DSP and MTM design of the top module. If you're not needing concert level SPLs that is capable on the bigger SVTR system, then the SFTR is a solid compromise with a smaller footprint and a lower cost. The SFTR/AX takes everything that is great about the SFTR and dials it up to 11. Between the impressively inert construction, high end class D amplification, and all the finesse and control of the flagship DSP, it is truly a system that must be heard. Words cannot describe the remarkable performance that outperforms its cost.
— Kenny Muhlestein of RBH Sound
Although not nearly as enormous as the flagship SVTRS towers, the SFTR towers are still substantial speakers, standing nearly 58 inches tall and weighing in at 137 pounds each for the passive version (the active version adds another 23 pounds). They are available in satin black or satin white finish. If you go with the active version, you need only bring a music source and volume control to the party. A streamer with a built-in volume control would work — anything from a $599 Bluesound Node to a six-figure stack from DCS or MSB. Or you can use an analog preamp and the analog or digital source of your choosing. With the passive version, you will of course need to supply your own amplifiers. But the passive module offers high sensitivity — it's rated at 92dB (2.83V @ 1M) — so you won't necessarily need a big bruiser of an amp. With a frequency response of 20Hz-35kHz (±3dB), both versions of the RBH Sound SFTR will deliver true full-range performance. The speakers are available now from the company's authorized dealer and distributor network including our own channel partner Dreamedia. 
Are you sold on the benefits of active speaker systems like the RBH SFTR/AX, or would you rather go old-school with the passive version and your own amps? Share your thoughts in the related forum thread below.

Unless otherwise indicated, this is a preview article for the featured product. A formal review may or may not follow in the future.