RBH Sound 21-SF/R 4kWatt 21" Subwoofer - World's First Maximus Bassaholic Rated!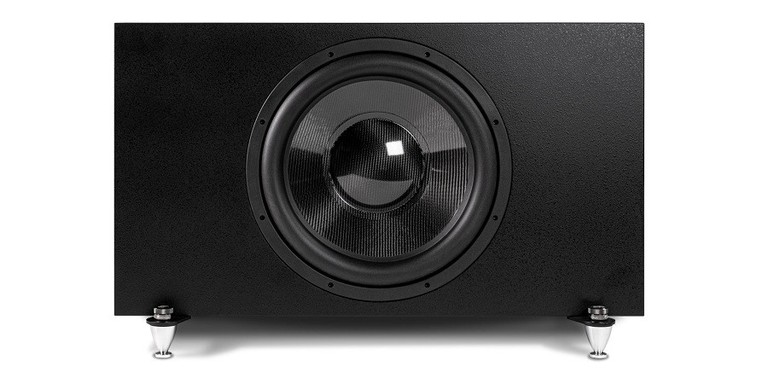 RBH 21-SF/R Subwoofer
Summary
RBH Sound Breaks the Bassaholic Sound Barrier with 21-SF/R 21" Subwoofer!
DRIVE UNITS: (1) 21" Carbon Fiber Driver
ANECHOIC FREQUENCY RESPONSE: 12Hz-80Hz ± 3dB
AMPLIFIER POWER: 4000 Watts Bridged w/ customizable DSP
CROSSOVER FREQUENCIES: 40Hz-180Hz (variable in software)
CROSSOVER SLOPE: 6dB/Octave-48dB/Octave (variable in software)
LFE INPUT: XLR, RCA (with adapter) / DSP Mode Switchable
LFE OUTPUT: XLR
PHASE CONTROL: 0-180 + delay control (available in software)
FINISHED DIMENSIONS: 43" W x 27-1/4" H x 21" D
WEIGHT: 371lbs (151.05 kg)
CABINET: Textured Black High-Density Fiberboard (HDF) w/ Magnetic Grille (black fabric)
WARRANTY: *10-year/amp 3 years limited
RBH Sound is no stranger to monstrous bass output as we saw in our review of the SX-1212P/R. Even though that model is a bit older, it still has the ability to rattle your fillings, and its performance is still very high by modern standards. However, instead of just resting on the performance accomplishments of that model, RBH sought to raise the bar once again with something so extreme that Audioholics needs a new Bassaholics room rating to accommodate it. They have just launched the UNRIVALED 21-SF/R subwoofer, a 330 lbs. behemoth with a mammoth 21" driver that has to be one of the highest displacement subwoofer drivers that can be had in any commercial subwoofer to date.
Note: We will be updating our Bassaholic Room Rating with the new Maximus category shortly, so stay tuned....
How does RBH go about creating such a powerful subwoofer? Let's start to answer that question by talking about the driver. This 21" behemoth uses a carbon fiber cone that attaches to a massive cast aluminum basket with a correspondingly large half-roll rubber surround. It has a staggering 38mm of Xmax (one-way linear travel) and 50mm of Xmech (one-way mechanically limited travel). The motor uses eight neodymium slugs for the magnet since iron ferrite would have been too large and heavy to support within the enclosure. Even though neodymium is very expensive, RBH did not want to compromise on their performance targets for the 21-SF/R, and the resultant magnetic flux is tremendously powerful at 35 Tesla Meters. It has a ton of power handling courtesy of an enormous 4" diameter copper voice coil wound on an aluminum former. Cooling is done through a vented pole piece. It is just as well that the driver should be so powerful since the sub is a sealed design so it does not get any assistance from ports or passive radiators (not that it needs any). All that oscillating copper is bound to cause a fair amount of inductance on its own, so RBH has mitigated that by way of an aluminum shorting ring and full-length copper sleeve.
This beast of a driver needs a beast of an amp to achieve its potential, and RBH has supplied that in the form of the DA-2602DSP: a 4,000-watt class-D amplifier that likely will need its own power circuit to those users intended to run the system at full-tilt. The DSP control has a huge amount of flexibility with phase control, crossover slope control, delay control, XLR inputs and outputs, and an incredible 30-band equalizer for those who want to get obsessive about tweaking their system to perfection. 
Along with a monster amp, the 21-SF/R has a monster enclosure as well. It uses a 43" wide heavily-braced cabinet that has a 27" height and a 21" depth. As an oblong-shaped sub, it exchanges depth for width, and that should allow it to fit in tighter spots than if it was cube-shaped. It is made from high-density fiberboard (HDF), a much tougher and heavier material than the standard MDF. One unique aspect of the 21-SF/R construction is the G.A.D.S. system which stands for Granular Acoustic Damping System (patent-pending). This involves chambers on both sides of the enclosure that contain granular material where the acoustic energy created by the rear motion of the driver can be dissipated. Something else that we don't see on monster subs are premium outriggers so the 21-SF/R has a more stylish footprint. It also has a heavy-duty curved magnetic grille for those users who want more protection for the undoubtedly expensive driver. Of course, all of this extensive cabinetry does not come without a substantial weight penalty, and the 21-SF/R weighs in at a whopping 371 lbs. Prospective buyers will need to have a serious plan for getting this sub into place.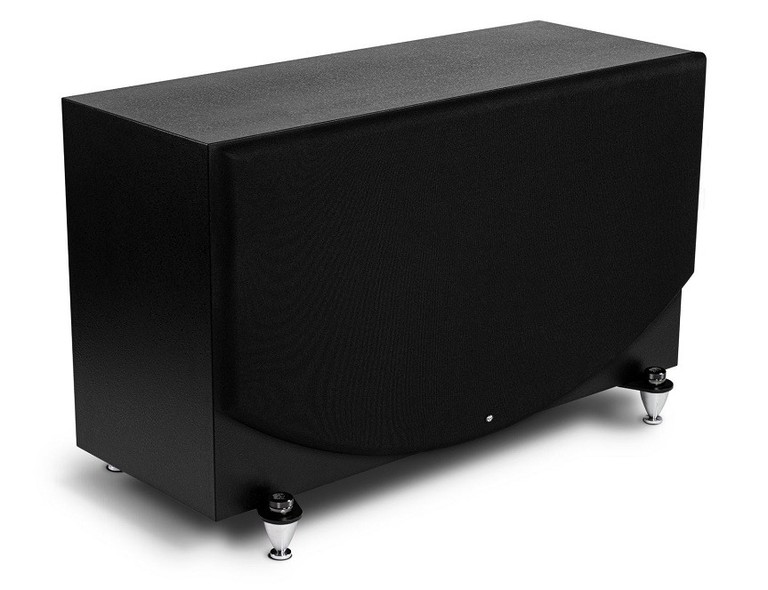 What does all of this design amount to? In terms of numbers, the 21-SF/R knocks burst test measurement out of the park so far that it helped to push us over the deciding whether to add a new category for our Bassaholics Room Rating. We call our new rating the Maximus Room Size Rating, and any sub that can achieve it should be able to handle any domestic room size at all. Obviously, only larger home theaters need subwoofer systems that can supply such tremendous SPLs, or perhaps users who are looking for a huge amount of thump in a normal-sized room. 
So what does the 21-SF/R do? Here are the 2-meter (RMS) CEA-2010 burst numbers supplied by RBH Sound: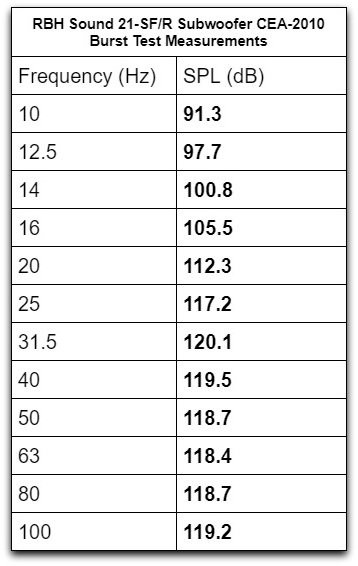 RBH Sound 21-SF/R CEA-2010 Output (2-meter, RMS)
Note: If you wish to know the 1-meter peak output as called out in CEA-2010, simply add +9dB to each number in the table above. RBH Sound reports their data as 2-meter peak so their figures will be +3dB higher than how we report CEA-2010 data.
Infrasonic Bass for Maximus Bassaholic Awesomeness

Those are some BIG numbers, especially in deep bass (infrasonics). In fact, compared to the many subwoofers we have reviewed and tested, the 21-SF/R would be among the most powerful ever tested at 25Hz and below. It is no slouch in providing mid-bass punch, but a design like this particularly excels at infrasonic grunt. The science of psychoacoustics has shown that as frequencies go lower in bass, a lot more output is needed just to make it audible, and extremes below 16Hz need major SPLs just to be heard. Owners of the 21-SF/R certainly won't have to worry if their system can surpass the threshold of audibility, because the ultra-deep bass on display here is colossal. When we factor in room gain, triple-digit SPLs in single-digit frequencies become a very real possibility for many owners. Gene is already reporting flat in-room extension to 10Hz in his theater room!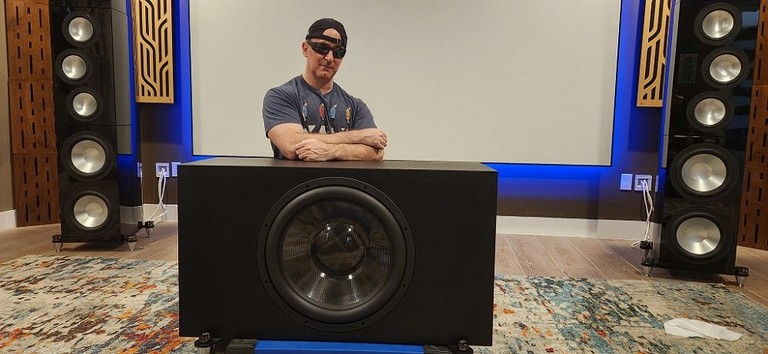 This tremendous level of performance does not come cheap, and the 21-SF/R starts at $10k each, in versions with a built-in plate amp or outboard amp for rack-mounting. This sub can also be customized to different enclosure sizes and porting options too. That is a lot of money, but the 21-SF/R looks like a lot of sub. Audioholics will be doing a full review of the 21-SF/R, so stay tuned to see our thoughts on this subwoofer and whether it can live up to the promise of its design.

Unless otherwise indicated, this is a preview article for the featured product. A formal review may or may not follow in the future.