PSB's Synchrony Series Goes BIG with T800 Premium Tower Speakers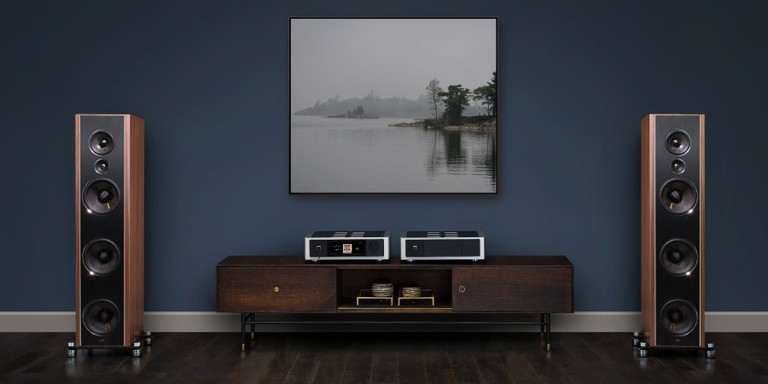 PSB Synchrony T800
Summary
Frequency Response: 21-23,000Hz, On Axis @ 0° ±3dB
Sensitivity: 91 dB (in-room), 89 dB (anechoic)
Impedance: 4 ohms
Dimensions (W x H x D): 14 7/8 x 47 3/4 x 15 5/8 inches
Weight: 100 lbs each
Executive Overview
About a year ago, PSB launched its new flagship Synchrony Series with the T600 floor-stander ($8,000/pair) and the B600 bookshelf model ($2,500/pair). These speakers definitely have flagship DNA, including all new drivers, more extensive internal bracing than in any other PSB speaker in the company's history, and 5mm-thick aluminum baffle plates decoupled from the rest of the enclosure by 10 "isolation cups," to suppress baffle talk and preserve fine detail. The T600's outrigger feet are fitted with IsoAcoustics Gaia II isolators — an $800 "tweak" included in the purchase price — while the B600 bookshelves have custom IsoAcoustics isolators built directly into the bottom of their cabinets. All of this comes packaged in classy, if understated, rectangular cabinets finished in satin walnut veneer or high-gloss black paint, with acoustically-transparent, magnetically-attached grilles. These are impressive-looking speakers with prices that reflect both the high build quality on offer and PSB's dedication to providing value. But when they came out last fall, eagle-eyed readers noticed a couple of things that hinted at a potential expansion of the Synchrony Series down the line. First, there was the obvious lack of a dedicated center-channel speaker — and for now, we're still waiting on that. But second, some longtime PSB fans couldn't help but notice that the T600 was noticeably smaller than the company's previous flagship model. Standing just over 41 inches tall and weighing in at 77 lbs, the T600 wasn't what I would call petite, and its trio of 6.5-inch woofers can make substantial bass. The previous Synchrony Series (launched in the mid-2000s, and out of production for some time) was headed up by a speaker not much larger — the top-of-the-line Synchrony One was 43 inches tall, and also used three 6.5-inch woofers. But in the interim, PSB had launched a larger flagship, 2014's Imagine T3 floorstander, with a cabinet nearly 48 inches tall, and 7-inch woofers. It remained the leader of the PSB pack until the T600 arrived on the scene in 2021. Compared to the Imagine T3, the T600's shorter cabinet and smaller woofers left me wondering: did designer Paul Barton decide to scale things back for his new flagship, or was something bigger on the horizon? Now we know that he, in fact, had a big ace up his sleeve: the new PSB Synchrony T800 ($12,000/pair).
IsoAcoustics GAIA: Does this Speaker Tweak Really Work?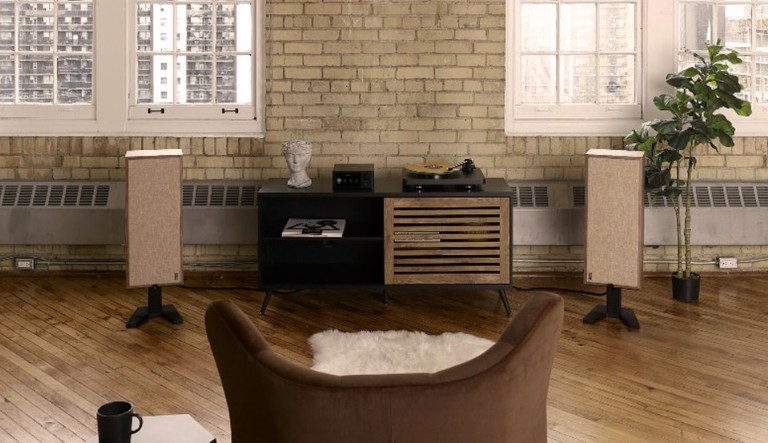 PSB Passif 50 Retro-Style Speakers

Hot off the heels of PSB's retro-styled Passif 50 Anniversary Edition loudspeakers comes the Synchrony T800, a new flagship model marking the company's 50-year milestone. Like the T600, the T800 features a 5-way transitional array (more on that later), employing three larger 8-inch woofers and a 5.25-inch midrange driver, all featuring cast baskets, woven carbon-fiber cones, mass-loaded rubber surrounds, and advanced motor structures that maintain constant magnetic force in the voice coil gap. The 1-inch titanium dome tweeter is a PSB signature, featuring ferrofluid damping and a neodymium magnet. Thanks in part to the larger woofers, the T800 delivers wider full-frequency bandwidth than the T600, and can play louder than any other PSB design, while offering greater efficiency and lower distortion across all volume levels. Power handling capacity is also greater than on the T600, making the T800 appropriate for large rooms and the powerful amplifiers that tend to go with them. The T800 "carries the largest and most accurate performance envelope of any PSB loudspeaker to date and delivers a caliber of micro-detail and realism that exceeds previous flagship designs," according to the company. Among the most salient improvements is a new driver platform yielding a significant reduction of non-linear distortion. This reportedly keeps THD and intermodulation distortion low while delivering higher sound pressure levels without compression, resulting in deep bass impact and a more open midrange. The new driver platform is also said to provide dramatically better micro-dynamics (small gradations in sound) compared to PSB's previous designs. Reduced driver distortion is provided by a number of components working together in an advanced driver assembly, including Faraday rings, longer voice coils, and symmetrical magnetic drive.
PSB Synchrony T800 Tower Speakers

PSB is famous for its crossover designs, and the Synchrony T800 uses what the company describes as "the most advanced amplitude-perfect Linkwitz-Riley 4th-order crossover that PSB Speakers has ever utilized, featuring high-voltage poly film capacitors and oxygen-free interconnect wire for complete driver control." As in the T600, the woofers in the T800 form a transitional-array design, meaning that the three woofers cover progressively narrower frequency bands as you move down the speaker. The top woofer covers the entire bass region, from the lowest frequencies all the way up to the crossover point with the midrange driver. The middle woofer starts at the bottom as well, but rolls off much lower, well before the midrange crossover point. Finally, the bottom woofer plays only the lowest frequencies. According to Paul Barton, this unusual woofer array produces smoother bass response because it "randomizes" the phenomenon of floor bounce, in which the low-frequency sound waves that bounce off the floor interfere with the sound coming directly from the woofers. The T800 is specified to deliver bass all the way down to 21 Hz (-3dB), with "well-defined, extended low-frequency performance comparable to a premium quality subwoofer," according to PSB. But extension is only one aspect of bass performance; a speaker also needs to deliver high output at those low frequencies. The company says that the T800 plays deeper and louder than any other PSB speaker, with high efficiency (92dB at 1m) and low distortion at any level, delivering wide dynamic range and the kind of volume levels you'd experience at a live performance, even in large listening rooms. Those listeners with common room resonance problems at low frequencies can use the provided port bungs to fine-tune the T800's bass output.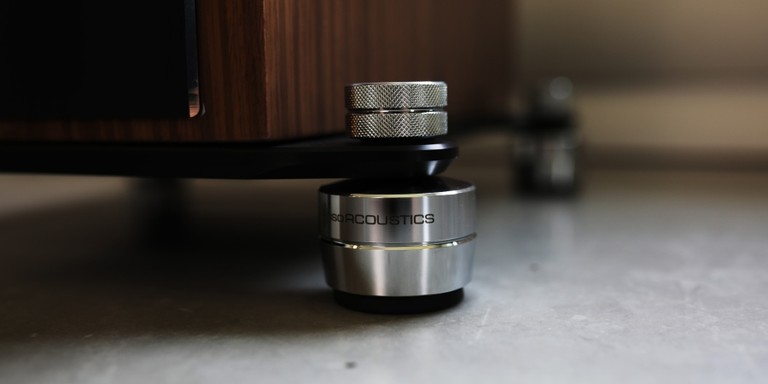 IsoAcoustics Gaia II Isolation Feet Included with PSB T800 Towers

The PSB T800, IsoAcoustics Feet Included!

The T800's impressive bass performance is helped along, of course, by the speaker's increased cabinet volume. It stands nearly 48 inches tall, 15 inches wide, and just over 15.5 inches deep. Each of the 8-inch woofers sits in its own individually-tuned chamber with its own rear-firing port to break up in-speaker standing waves. As in the T600 and B600, the T800's acoustically-inert MDF cabinet is strengthened by a decoupled aluminum front baffle plate, increasing the density of the baffle and the enclosure's overall rigidity. Each T800 speaker weighs a substantial 100 pounds, and sits on outrigger stabilizers fitted with custom-designed IsoAcoustics Gaia II isolation feet. These are said to "prevent mechanical energy produced by the drivers and cabinet from being reflected back into the enclosure," while at the same time "resisting lateral movement and oscillations to maintain accuracy and alignment with the listening position." According to PSB, the IsoAcoustics isolation feet offer greater sound clarity and openness by reducing internal reflections and protecting the speaker from external vibrations. (We have tested the larger Gaia I and Gaia Titan isolators from IsoAcoustics, and came away very impressed with their performance. See the November, 2021 review by Theo Nicolakis.)
PSB says that the Synchrony T800:
 "furthers the Synchrony Series and represents the finest application of True to Nature sound – one marked by the highest possible level of tonal accuracy, thrilling dynamics, impactful bass, transparent midrange, pinpoint imaging, and exquisite detail," giving it the ability to "handle the most complex recordings — be it an orchestral soundtrack, quiet nature sounds or live action movie - with a degree of dynamic and power handling unlike any other PSB speaker that has ever come before it."

  PSB Speakers Synchrony B600 & PWM Home Theater Speakers Review
Unlike the smaller T600, the T800 leaves us with no inkling that Paul Barton is holding out on us. It looks like a true flagship-level product, with a relatively high price to match (for PSB, anyway). The only question is whether PSB fans with aspirations of a Synchrony home theater will be satisfied using one of the brand's high-end on-wall speakers (the $1,599/each PWM2 or the $2,749/each PWM3) as a center-channel speaker. The company tells us that they "have been voiced and have very similar dispersion characteristics as the Synchrony T600 and B600," but I think that many of us would prefer a dedicated Synchrony Series center-channel speaker — preferably a 3-way design with a vertically-oriented tweeter and midrange driver. That said, YouTuber and friend of Audioholics Shane Lee reviewed a combo system using the Synchrony B600 bookshelf speakers and the aforementioned on-walls.
Would you be happy using a skinny on-wall speaker as the center channel in a home theater system anchored by PSB's beefy new towers? Share your thoughts in the related forum thread below.

Unless otherwise indicated, this is a preview article for the featured product. A formal review may or may not follow in the future.
Confused about what AV Gear to buy or how to set it up? Join our Exclusive Audioholics E-Book Membership Program!
VonMagnum posts on November 26, 2022 22:54
It's hard to believe anyone would still quote the King of Snake Oil (John Atkinson) these days. Even his relative over at AVS has disassociated himself from him.

Everything always seems to magically sound better than products costing 2x, 4x and even 12x as much. Sounds like a huckster to me. If they all sound better than their price, then what prices are being referred to that the sound better than?

Anyway, speaking as the owner of much cheaper T45 towers, the notion one needs a better tweeter on speakers rated +/- 1.5dB over most of their range is absurd. PSB has always stated most of the difference in the price lineups are higher end cabinetry as it's hard to improve on near perfection. I know a Trinnov Altitude-32 owner that mixed T3s with "lowly" CS1000s for overheads and are thrilled with them in their 13.4.6 system.

As for a matched center, the best solution is another T800. If you can afford $12k/pair speakers, you can afford to use an acoustically transparent screen or use a combo dialog lift system (send copies to front heights plus center height) if you're doing a TV instead. I use matched L/C/R and matching drivers everywhere else in a 11.1.6 system (soon to be upgraded to 11.2.10).
3db posts on November 03, 2022 23:22
AcuDefTechGuy, post: 1578381, member: 26997
Oh man. @3db loves 2 things here- PSB and Yamaha. So don't you dare talk trash about PSB or Yamaha.

I wouldn't dare.

Kinda but not really. Trollgod666 came across as such, misquoted and misinterpreted the reviews he read and sounded like an armchair quarter back. He deserved it for behaving like a kangaroo's ass. :P
AcuDefTechGuy posts on November 02, 2022 19:51
audiogod66, post: 1577864, member: 61876
Never really happy with the choice of tweeter used over the last few years ,it sucks for a high end speaker ok if you listen to ghetto rap . At the price they want for these ? Also very ordinary bass engineering in crossover design as shown in Sterophile measurements of T600 . In Australia they will sell bugger all of these just so overpriced . And yes before anyone says it doesn't matter what a tweeter is made of bla bla .I am very happy for you your probably deaf ,fired artillery shells all day long in Iraq etc . Why couldn't he have tried a decent Sb acoustics Satari beryllium in it and really give these expensive speakers some finesse . Instead they get a pile of the cheap tweeters used in there low cost models and test them and grade the better ones for the dearer range . I think Barton's best design days are well and truly over . Even cabinet resonance control is ordinary. Constrained layer damping ? Look at the results as evidenced by Q Accoustic Concept 500 and even the 50 really cut the extraneous noise down remarkably. Rant over ,maybe these are a step up from the T 600 other than just output. I hope after those Stereophile measurements they might have revised them a little . After your test of the Polk R 700 I am much more impressed with that engineering $3000 here and sold out so they must be damn good

Oh man. @3db loves 2 things here- PSB and Yamaha. So don't you dare talk trash about PSB or Yamaha.
I wouldn't dare.
mtrycrafts posts on November 02, 2022 18:04
speedr911, post: 1578359, member: 17848
I noticed that this can be tri-wired? Which set of posts go to which drivers?

Not knowing for sure, I would think the top binding post for tweeter, center for mid band and the low one for the low frequencies.
mtrycrafts posts on November 02, 2022 18:00
3db, post: 1577886, member: 3560
Have you sat down and listened to them or is this merely armchair speculation on your part?

You have your wish btw. You and JA are most definitely wrong. All PSB speakers are evaluated by a listening panel multiple times before they go into final production. Lots of R&D and lots of time is spent at the NRC tweeking the design. Look else where if you dont like their sound if you even have listened to them to begin with.

NRC? If PBS is still faithful to their original research at NRC when Toole was there that also includes DBT protocol listening, I am sure they still do this, then it must be excellent.
Post Reply