PSB Turns 50, Launches Retro-Chic Passif 50 Anniversary Edition Speaker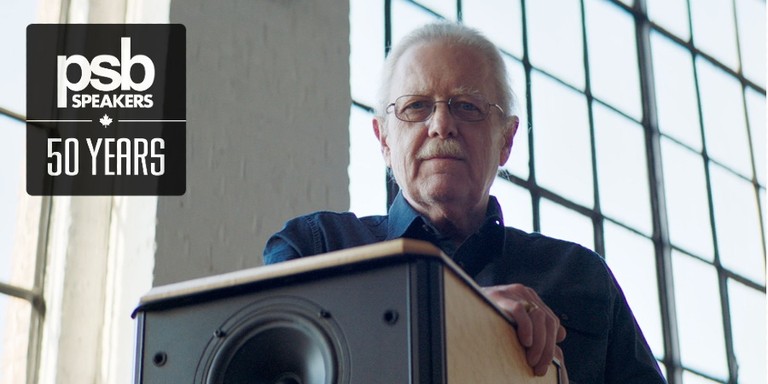 PSB 50 Years
Summary
Frequency Response (On Axis @0 +/- 3db): 50 - 20,000Hz
Sensitivity: Anechoic 87dB; In-room 89 dB
Impedance: 6 ohms nominal (4 ohms minimum)
Dimensions (H x W x D): 26" x 11" x 10"
Dimensions with stands: 34" x 11" x 10"
Weight: 30.3 lbs
Executive Overview
PSB is celebrating its 50th anniversary. What does it take for a loudspeaker manufacturer to reach such a milestone? I'm sure some of it comes down to savvy business practices, but I'd like to think it has more to do with the design philosophy and earnest practicality of the company's founder and chief designer, Paul Barton. The philosophy behind Barton's signature "True to Nature" sound was cemented in 1974 when a young Paul Barton met Dr. Floyd Toole, the renowned psychoacoustician, at Canada's National Research Council. Dr. Toole conducted research on the ways in which sounds are interpreted by the human hearing system at both the psychological and physiological levels. Upon learning about Dr. Toole's studies, Barton knew that he would have to consider sound perception in addition to the physics of sound reproduction in order to design loudspeakers that would sound organic, natural, and unfatiguing. Barton also understood that his opinion wasn't the only one that mattered. It may seem obvious, but a successful speaker manufacturer must make speakers that sound good to lots of people. A pure objectivist might build a speaker in pursuit of technical perfection on the test bench, while a subjectivist tinkerer might choose circuit designs and parts entirely by ear — measurements be damned! In either case, there's no guarantee that the resulting products will be pleasing to the speaker-buying public. Barton put his ego aside from the start. He used his own design philosophy and the NRC's famed anechoic chamber to develop prototypes, but then subjected them to extensive blind listening tests using a large number of test subjects with various backgrounds in audio. Barton allowed other people's preferences to influence his design direction, and he used what he learned to find correlations between listener preferences and various technical specifications. As listener preferences changed over time, so did the sound of PSB speakers, but always within the framework of Barton's quest for natural sound. According to the company, this ongoing process has "led to an unbroken series of products acclaimed by listeners and reviewers for their tonal fidelity, spatial realism, and effortless dynamics – even at high listening levels."
PSB Speakers - 50 Years | Full Documentary
Perfecting a listening experience, we find, cannot be done by simply listening, but by measuring the loudspeaker and by controlled… double-blind tests.
— Paul Barton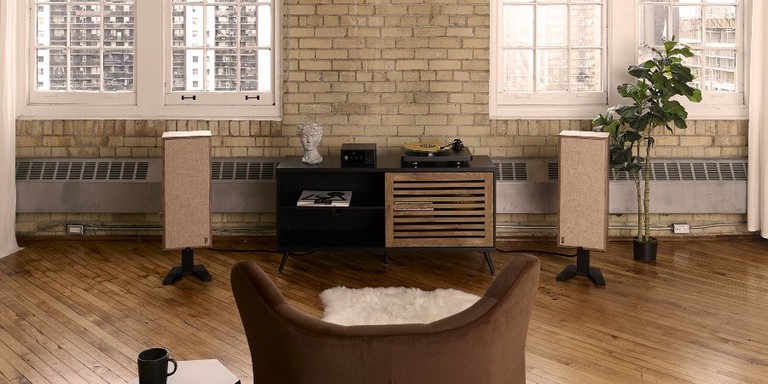 PSB's latest product is the Passif 50 Anniversary Edition stand-mount loudspeaker ($2499/pair including stands), which celebrates the company's five decades of innovation and success. On the inside, the Passif 50 leverages trickled-down technology from PSB's latest flagship Synchrony speakers, which launched last year. But there's no doubt that it's the Passif 50's retro styling that will attract the most attention. Hearkening back to the legendary Passif I and Passif II models that established the brand's reputation in the 1970s, the Passif 50 sports an open-grained walnut veneer enclosure, a magnetically-attached woven cloth grille, and a dedicated stand, coming together to evoke fond memories of one of home audio's golden ages. Of course, it doesn't hurt that nostalgia-driven styling is extremely on-trend at the moment — just consider the popularity of other retro-chic designs, such as the Klipsch Heresy IV, the Wharfedale Linton, the JBL L100 Classic, the KLH Model Five, and the Mission 770. But compared to these competitors, the PSB Passif 50 leans slightly toward the tall and slender dimensions of a modern-day design, with a cabinet that stands 26 inches tall and only 11 inches wide. The dedicated stand lifts the Passif 50 just 8 inches off the floor, placing the drivers at the ideal height while paying homage to the design of the Passif I and Passif II. The Passif II is particularly significant to the history of PSB because it was developed in 1974, and so was the first speaker to incorporate the principals and demonstrate the benefits of Barton's newly-established design philosophy.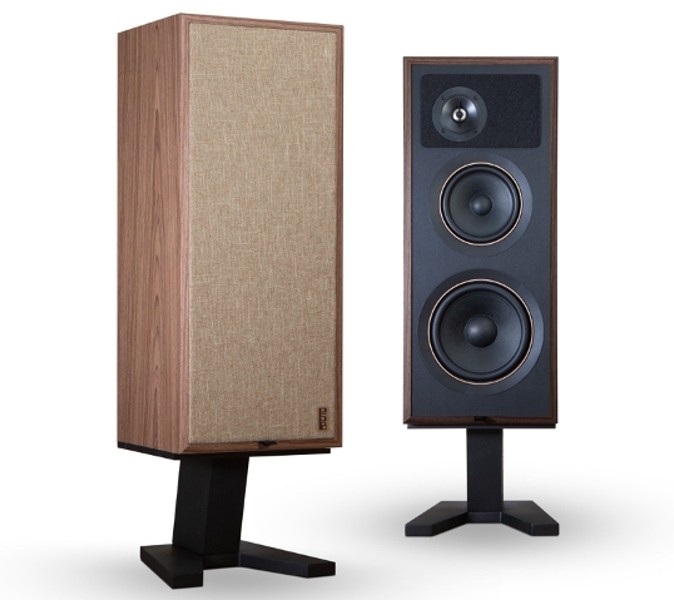 A Legacy Recaptured by PSB?
Nearly 50 years later, the Passif 50 captures that legacy while delivering a level of performance that would have been unimaginable in decades past. In order to achieve this, the Passif 50 uses flagship-level components, starting with the drivers. The Passif 50 is a 2-way design that pairs a 1-inch titanium dome tweeter with a 6.5-inch mid-woofer and an 8-inch passive radiator. The tweeter promises higher output, improved power handling, and reduced distortion thanks to a powerful neodymium magnet and ferrofluid damping. The tweeter also features a phase plug in front of the dome to direct its output and provide wide and consistent dispersion beyond the confines of a traditional sweet spot. According to PSB, the result is "a speaker which creates a wide and deep soundstage with very acute imaging (that) isn't reliant on a precise listening position." Surrounding the tweeter is a felt pad designed to minimize edge diffraction, thus improving transparency and providing more stable imaging. The paper cone mid-woofer and passive radiator both employ flex-resistant cast aluminum baskets and filleted rubber surrounds designed to dampen cone resonances, thereby reducing distortion and delivering smoother response. The interaction between the woofer and the passive radiator was carefully refined during the engineering process to ensure a perfect balance between the opposing push/pull forces, thus lowering cabinet vibration. In addition, the heavily braced enclosure features miter joints throughout. This design not only reduces cabinet vibration even further, it also lends a premium look for a fit-and-finish that offers more than a hint of old-school craftsmanship.
When I first saw the revamped Synchrony speakers last year, I said that I wasn't sure if I was sold on the look. The problem, as I saw it, was that the speakers had given up the curved cabinets of the previous Synchrony series in favor of straight lines and right angles. Well, call me a hypocrite if you must, but I'll be darned if I don't love the look of the meticulously rectangular Passif 50, with its real wood finish and that retro PSB logo (designed by Barton in the same 11th-grade geography class where he met his future wife) on the woven cloth grille. All things being equal, I would have preferred a 3-way design over a 2-way with a passive radiator, but I'll withhold judgment until I can hear the speakers for myself. With an in-room sensitivity rating of 89 dB and an impedance that never dips below 4 ohms, the Passif 50 shouldn't be too taxing a load for most high-quality amplifiers. Pre-orders have already begun, and the first units will ship out in September. If you're a hardcore PSB fan, try to snag one of the first 500 units sold. Those will come with a handwritten letter from Paul Barton including a QR code allowing the buyer to request a free PSB gift pack including a cotton canvas backpack, double-walled water bottle, and commemorative keychain.

Unless otherwise indicated, this is a preview article for the featured product. A formal review may or may not follow in the future.
Confused about what AV Gear to buy or how to set it up? Join our Exclusive Audioholics E-Book Membership Program!
CajunLB posts on August 14, 2022 13:38
I'm not sure why this is being Shown as a review when it is very clear that it is not. The " reviewer" even said he has not heard the speakers .
If I remember correctly there was a fuss made by newer members getting confused about an article like this being called a review when the "reviewer" has not even heard the product under "review ".
3db posts on August 10, 2022 13:14
I see the original Passifs being sold on Kijiji and the baffle doesnt look anywhere as cleans as this aniversary model. It would be nice to have a review done on these.
gene posts on August 10, 2022 04:23
Grounded in science and priced within reason, PSB is a perennial favorite among those who favor a non-fatiguing sound and a no-nonsense attitude. Now the Canadian loudspeaker manufacturer is celebrating its 50th anniversary. In honor of this milestone, the brand is launching the Passif 50 Anniversary Edition loudspeaker ($2,499/pair), featuring retro 1970s styling but thoroughly modern flagship internals.
57215
Read:
PSB Passif 50 Speaker Overview
Post Reply