Legacy Audio Pixel and Theater Towers Preview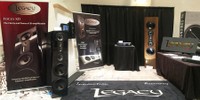 Legacy Audio introduced a couple new speakers at the 2016 AXPONA show which look to be ideal for situations where floor space must be preserved but not at the cost of sound quality. The Pixel on-wall solves the problem of weak bass for this speaker type by providing enough cabinet volume and depth to handle a woofer with a serious motor structure. The Theater towers are based on the highly regarded Focus XD's but in a taller, less deep cabinet for placement against a front wall and increased area coverage best suited for multi-row seating. These are some serious speakers to build an upscale professional theater room.
Legacy Audio unveiled the Pixel On-Wall and Theater Tower speaker systems at AXPONA 2016. These speakers are designed for great bass extension and serious output for professional theater usage.