Tower Speaker Roundup of 2017 AXPONA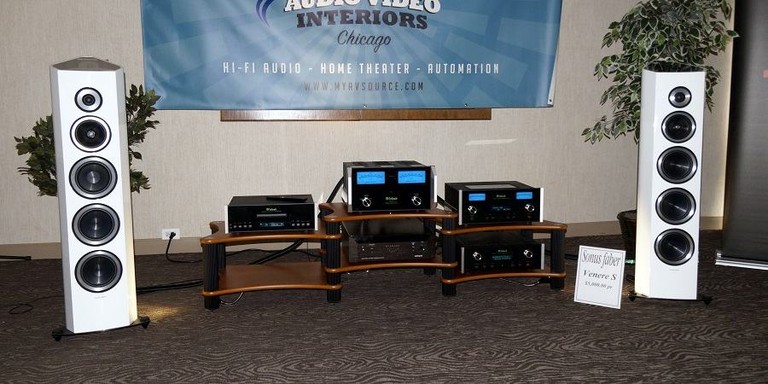 Summary
Product Name:

MB-5, Contour 60, Reference 3K, PL300 II, Veneres, Sopra N°3

Manufacturer:

Scansonic HD, Dynaudio, Canton, Monitor Audio, Sonus Faber, Focal

Review Date:

May 03, 2017 08:00

MSRP: $6,950/pr MB-5, $10,000/pr Contour 60, $15,600/pr Reference 3K, $14,495/pr PL300 II, $5,000/pr Veneres, $20,000/pr Sopra N°3
First Impression:

Pretty Cool
| | | | | | | | |
| --- | --- | --- | --- | --- | --- | --- | --- |
| Brand | Model | Price (pair) | Design | Midrange | Woofer | Tweeter | Weight |
| Scansonic HD | MB-5 | $6,950 | 2.5 way | Two 4.5" carbon weave woofers | Four 4.5" carbon weave woofers | Sealed ribbon | 53 lbs |
| Dynaudio | Contour 60 | $10,000 | 3-way | 6" MSP woofer | Two 9.5" MSP woofers | 1" 'Esotar2' fabric dome | 120 lbs |
| Canton | Reference 3 K | $15,600 | 3-way | 7" aluminum woofer | Two 8.5" aluminum woofers | 1" aluminum dome | 123 lbs |
| Monitor Audio | PL300 II | $14,495 | 3-way | 4" RDT II woofer | Two 8" RDT II woofers | 1" MPD tweeter | 120 lbs |
| Sonus Faber | Venere S | $5,000 | 3-way | 6" Polypropolene woofer | Two 8" aluminum woofers | 1" fabric dome | 63.5 lbs |
| Focal | Sopra N°3 | $19,999 | 3-way | 6.5" glass fiber / foam woofer | Two 8" glass fiber / foam woofers | 1.1" inverted Beryllium dome | 154 lbs |
Executive Overview
In our last article, we looked at some of the notable bookshelf speakers of AXPONA 2017. In this article we'll look at tower speakers for those who can handle the extra size and want a bit more kick in the bass frequencies. There was a plethora of tower speakers at AXPONA this year, and picking only a handful to cover is tough when there were so many good ones. As such, we divided our floor-standing speaker coverage into two articles: medium sized towers and less conventional designs. This article focuses on tower speakers that can fit in a normal living room or family room without too much fuss and will not dominate the room, which is not the case for the speakers in our next article. But even in the criteria of 'medium sized tower speakers' there were still so many good speakers on display at AXPONA. There may have been better speakers at AXPONA, but these were the ones we were able to listen to most extensively without too much interference in the din of this busy environment.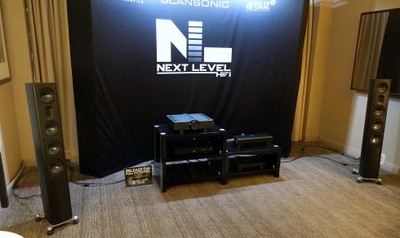 One speaker that caught my attention early in the show was the crisp clean sound of the Scansonic HD MB-5. One aspect of this speaker that took me by surprise was the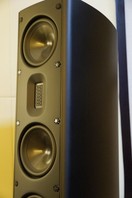 quantity of bass; how did such a slim speaker pound out kick drums and double bass with such authority? The HD MB-5's use all four of the 4.5" carbon weaved woofers for bass below 200 Hz in a ported enclosure. Four 4.5" drivers have identical surface area to a single 9" woofer, so they can add up to some actual displacement. What's more is that displacement is performed with four motors instead of one. They can dish out excursion with a lot of force and can be less affected by thermal compression and induction compared to a larger single driver. An advantage of these smaller drivers is that they can have a wider dispersion than large drivers, and this can create a nice spacious sound by way of side-wall reflections. The Scansonic HD MB-5 uses a sealed, extreme low-mass ribbon tweeter crossed over at 3.5 kHz, a high crossover point, but one which 4.5" woofers should be able to support without fear of severe beaming issues. The top two woofers that sandwich the tweeter are used up to the crossover frequency, while the lower two woofers are only used from 200 Hz and below. This is known as a 2 1/2 way design topology. This MTM configuration plus the waveguide around the tweeter should give the MB-5 nicely controlled horizontal dispersion. What I heard was likely nearing the limits of bass capability of the MB-5, but it was impressive nonetheless. The clean midrange and detailed treble pulled me in and made me want to stay in the room. The Scansonic HD MB-5 looks like a solid design that has a small footprint, and anyone in the market for such a speaker would do well to seek out a pair for a demo.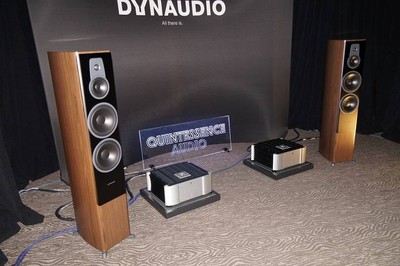 The rep at Dynaudio must have read my mind as I entered the room. As I seated myself, and without any exchange of words, he queued up Kraftwerk's 'Trans-Europe Express', a most welcome change of pace from the blues, jazz, and progressive-rock that fills the halls of AXPONA, an unfortunate byproduct in a hobby that is composed mainly of men in their late 50's and 60's. It might not have been the most high-fidelity recording, but what soul who claims to love music could not resist bobbing their head along with the simple melodies and uncluttered percussion of this seminal electronic album? The speakers sounded great, which is seemingly a tradition from Dynaudio. Two 9.5" woofers rocked the bass and a 6" mid-range woofer took the range from 220 Hz to 4,500 Hz (a very wide range for a midwoofer of that diameter). A 1" soft-dome tweeter design that Dynaudio calls Esotar² handled the treble. This is all stored in a hefty cabinet that weighs nearly 120 lbs. Plenty of bracing is evident for a solid, inert cabinet that has Dynaudio's characteristic aluminum front baffle resembling stylish armor plating. This is a speaker that was designed to play loud without losing fidelity, which is a fact that is reinforced by its 390 watt IEC power handling spec. I would have liked to stay in the Dynaudio room longer, but sadly the Kraftwerk recording ended. With it ended my brief respite from elderly men's preferences in music, although there are surely many people out there now that consider my own musical tastes to be archaic.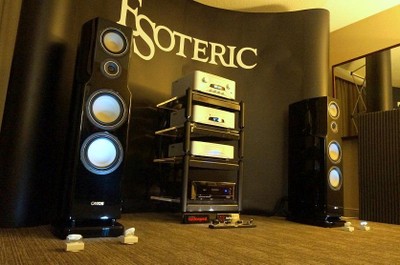 Don't b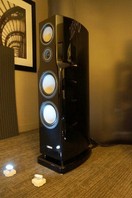 e distracted by its good looks, there is also a good speaker hiding behind the stately, almost imperial, aesthetic of the Canton Reference 3 K speakers. It is easy to be intimidated by their regal bearing, but the sound emanating from them was very easy to get along with. I wish I had asked what piece of music was playing during my stay in the Canton room, but I was too entranced by the vivid impression of a grand piano playing in a concert hall backed by an orchestral accompaniment that these speakers projected. Good speakers can be like that with the right recording: transporting devices to another place or time entirely. The heart of most three-way speakers like the Reference 3 K is the midrange driver. In this case it uses a 7" aluminum cone with a ceramic-tungsten structure and plays from 200 Hz to 3 kHz. Two 8.5" woofers with similar cone composition take the low end with the help of a down-firing port. The treble is taken care of by an aluminum oxide ceramic dome tweeter. The midwoofer is internally separated inside the cabinet and the cabinet itself is heavily braced weighing in at 123 lbs. If this speaker had an automobile equivalent, I would say it would be a S-Class Mercedes: luxurious, but high-performing. I certainly wouldn't mind owning a pair of these speakers (or the car).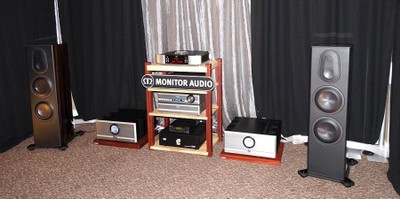 Monitor Audio's latest PL speaker series is a true tour-de-force of speaker technology, so it was a delight to see the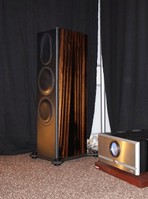 formidable PL300 II speakers at AXPONA. The music sounded like Miles Davis; with his distinctive trumpet that sounds like it's floating over the the percussion, piano, and bass guitar yet still perfectly in sync. The sound was quite vivid as replayed from the PL300 II speakers. I could nearly see the haze of smoke in a Harlem jazz club in the mid 50's (or was that smoke from a nearby electrical fire?) The speakers sounded terrific. The Monitor PL II series benefit from a long list of design innovations and attention to construction detail that can be read on their website, so I won't recount it all here. There is a couple of neat things going on in the PL300 II that I do want to mention. One interesting aspect of its design is that the drivers are not simply screwed in the front baffle; instead, they are held in by a bolt from the rear side of the cabinet. This creates an equal amount of force around the driver periphery, and it also acts as additional bracing for a more rigid cabinet. It also gives the speaker a cleaner appearance by doing away with the need for front-mounted screws. Something else I found interesting is the way the voice coil former is attached to the cone. Traditionally the former is simply glued to the cone directly, but in the PL300 II speakers, Monitor uses a patented design where a specially calibrated pliable nylon ring attaches the former to the cone. This ring is designed to be rigid up to the crossover frequency but becomes springy above that frequency.  This can damp high frequency energy thereby reducing cone breakup. It's also perforated to allow for better cooling of the voice coil. These are just a few of the many intriguing design decisions made for the PL II series speakers, and for those interested in speaker design, it is worth looking over their brochure to see some of the other neat details about their construction.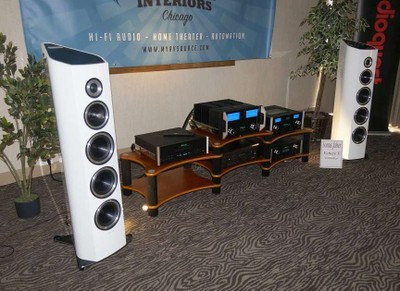 Though they might look like a five figure speaker, and even have the name of a five figure s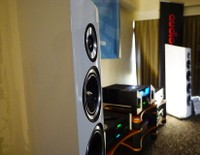 peaker, the Sonus Faber Venere S speakers only cost $5k a pair. They sounded as elegant as their name and managed to attract interest even in the same room as Martin Logan's flagship Neolith speakers. The vendors in the room alternated playback between the Neoliths and the Venere S speakers, and while the Venere S speakers could not match the Neolith's dynamic range, I heard many listeners around me compliment their sound quality, especially for the cost. Although the room they were in was quite large, they still managed to project palpable bass throughout the space. The three 7" bass drivers crossover at 250 Hz were doing their job impressively there. A 6" midrange takes the frequency range up to 2,500 Hz where it hands off duties to a 1" fabric dome tweeter. These drivers all are designed in-house by Sonus Faber. The elegant cabinet design is not just for looks; lack of parallel surfaces help to break up standing waves within the cabinet thereby reducing panel distortion, so form follows function here. The chic looks and nice sound belied the Venere S' $5k price point, and it was nice to see a speaker that made the sound- and look- of hi-fi more accessible than most of the other setups seen at AXPONA.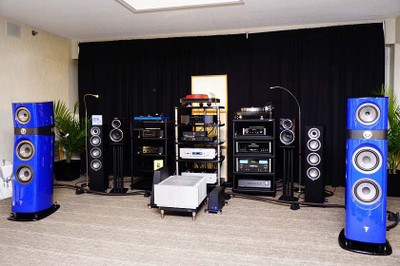 On the opposite end of the price spectrum is Focal's new Sopra N°3 speakers which made an appearance at AXPONA, and dazzled attendants with their looks a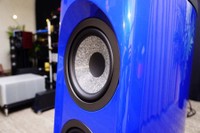 s much as their sound. The pounding kettle drums from a Hans Zimmer composition shook the large room while the brass section was rendered by the Sopras with lifelike intensity. The Sopras showed no sign of strain as they blazed Zimmer's music at volume levels that one would expect from an Imax theater. This all made for a stunning visit to the Focal room. The Sopra speakers are not inexpensive speakers, but they are jam-packed with innovative design and construction. The Sopra uses a 1.1" Beryllium inverted dome tweeter in its own enclosed section of the cabinet. It's engineered so that its backwave radiation is heavily absorbed and does not interfere with the tweeter's operation. The top section of the Sopra is the housing for the 6.5" midrange driver which takes the range of 250 Hz to 2,200 Hz. Careful modeling was performed to simulate induction effects in order to find the optimal placement of a shorting ring which reportedly resulted in a 70% reduction in distortion. Two 8.25" long-throw drivers cover the bass along with a down-firing port for a -3dB point of 33 Hz. The cones of the bass drivers and midrange use a sandwich construction of a woven glass fiber outer layers enclosing a structural foam that provides a very high stiffness with respect to its mass. Construction and bracing is extra heavy-duty as the speakers weigh 154 lbs each. The Focal Sopra N°3 speakers sounded and looked very pretty, but they also cost a very pretty penny.
Conclusion
As mentioned before, these are just a handful of some of the tower speakers that were at the 2017 AXPONA show that sport a more conventional form. There were many others that were also quite good. For our next article covering AXPONA, we'll look at some of the less conventional tower speakers, most of which are quite a bit larger than what we've seen here. Stay tuned for that and more as we deliver the speakers of AXPONA to you here at Audioholics.

Unless otherwise indicated, this is a preview article for the featured product. A formal review may or may not follow in the future.